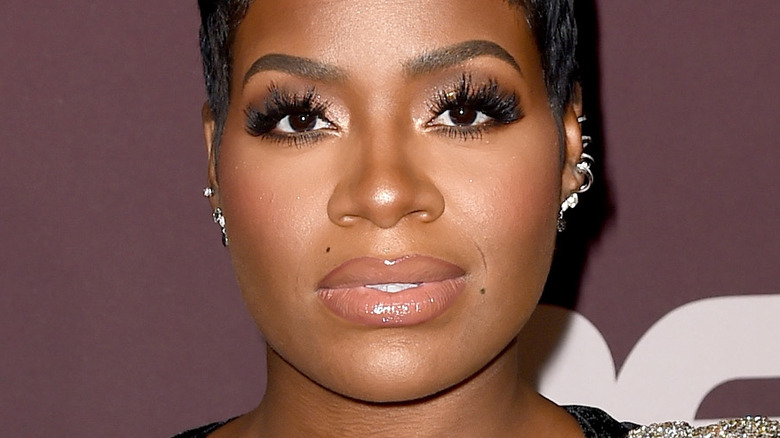 When Fantasia Barrino won the third season of "American Idol" in 2004, she was a 19-year-old single mother from North Carolina. Her seemingly gritty backstory was the very reason many "Idol" fans rallied around her, and Barrino continued to triumph over adversity throughout her post-"Idol" career. Barrino has had her share of successes after "Idol," including the memoir-turned-Lifetime movie "Life Is Not a Fairy Tale: The Fantasia Barrino Story," a starring role in "The Color Purple" on Broadway, several successful albums, and a Grammy win.
Barrino's personal struggles, though, have also followed her throughout her career. Her willingness to persevere through adversity served her well on "Idol," and that strength has also helped her maintain her career through her more difficult stretches, including a suicide attempt and the death of a family member.
Read on to learn more about Barrino's challenging life, from her difficult early years through her time in the limelight and the pressures of fame.
If you or anyone you know is having suicidal thoughts, please call the National Suicide Prevention Lifeline​ at​ 1-800-273-TALK (8255)​.
She was sexually assaulted in high school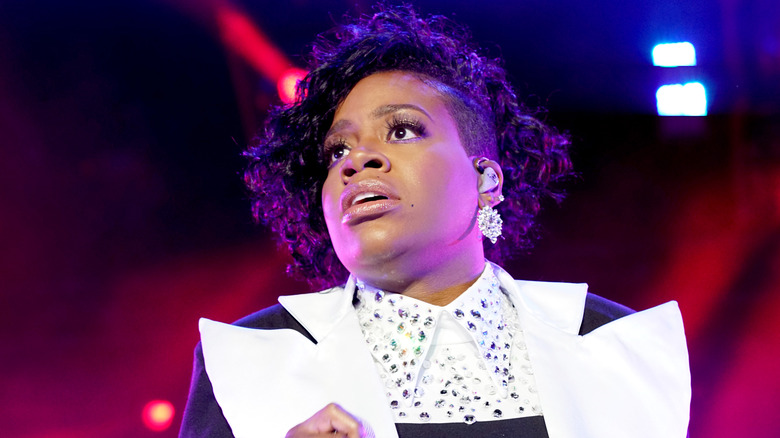 Fantasia Barrino first experienced tragedy at an early age, the star painfully described in her 2005 memoir, "Life is Not a Fairy Tale." Barrino revealed that she was raped by a popular boy in their high school auditorium. "I can barely recall the details," she wrote of the assault, which took place when she was in ninth grade. "I just know that I shudder to think of how that single act changed me in a way that I didn't need to be changed."
Eventually, Barrino told her mother about what happened, who helped her report the crime to her school. "He ended up getting into some trouble, but not the trouble he deserved for stripping me of the little innocence I had left," she wrote.
Barrino explained in a 2007 interview with "O, The Oprah Magazine" that — after reporting the boy — it became more difficult for her to attend school. "We turned the guy in, but going back to school was hell; his homeboys would say, 'I'm going to do to you exactly what he did,'" she said. "They thought it was funny. That's when I quit school."
If you or anyone you know has been a victim of sexual assault, help is available. Visit the Rape, Abuse & Incest National Network website or contact RAINN's National Helpline at 1-800-656-HOPE (4673).
Fantasia Barrino has had a long struggle with illiteracy
Fantasia Barrino revealed in her memoir her lifelong struggles with reading and called herself a "functionin' illiterate," writing, "I 'get by' in life, but my readin' isn't what it should be. I am workin' on it. I am still not confident enough with words or letters."
Barrino's reading challenges made her experience on "American Idol" more difficult, since portions of the show required her to read from a script. The singer told ABC News in a 2007 interview that she successfully faked her way through the scripted portions of the show. "Somebody would say, 'You know, it's pronounced this way' and I'd be like, 'Oh, I'm sorry, you know, I'm country,'" she recalled.
Barrino's famous "Idol" rendition of the George Gershwin standard "Summertime," which judge Simon Cowell once dubbed his favorite moment of the show, was a challenge for the star. As she wasn't familiar with the song, she was given a page of lyrics to learn, Barrino told ABC News. Fearful of the show's vocal coaches discovering her reading difficulties, Barrino instead listened to the song until she memorized the words, which resulted in her successful performance.
The singer experienced domestic violence
Three years after dropping out of high school and moving into her own apartment, 17-year-old Fantasia Barrino gave birth to daughter Zion. "When I moved out, started hanging out with the wrong people, and got pregnant, people were like, 'She ain't goin' nowhere now,'" Barrino told "O, The Oprah Magazine" in 2007 about her struggles during that period of her life. "I'd lost myself."
Barrino's struggles were made worse by the violence she said she experienced at the hands of her then-boyfriend and Zion's father, Brandel Shouse, who was later arrested and charged for the abuse he reportedly inflicted on Barrino. "I don't talk about it a lot but the relationship that I was in was very abusive," she divulged to ABC News in 2007. Per the outlet, court documents claimed that Shouse's behavior included "choking her with both hands" and "punching her about the face and head."
"I looked in the mirror and I said to myself, 'Look at me. I can't see out of one eye. I have knots on my head. My lips are swollen,'" Barrino recalled. "And my little brother came to me one day and I remember he says, 'Oh, you look bad.'"
If you or someone you know is dealing with domestic abuse, you can call the National Domestic Violence Hotline at 1−800−799−7233. You can also find more information, resources, and support at their website.
Fantasia Barrino's time on American Idol included controversy about race
Dubbed "The Three Divas," Fantasia Barrino and her fellow Season 3 "American Idol" contestants, LaToya London and Jennifer Hudson, were widely seen as frontrunners, with any one of them capable of winning the show. America was stunned, however, when all three women ended up in the show's elimination round on an April 2004 episode. Hudson, whose career exploded in the decades after "Idol," was famously eliminated from the show, while London and Barrino survived to compete in the next round.
Speaking about the episode in a press conference that same week, Elton John, who served as a mentor for a previous "Idol" episode, blasted the show's viewers for allegedly engaging in racially biased voting, considering that Barrino, London, and Hudson were all Black women.
"They have great voices," John said of the three singers, per E! News. "The fact that they're constantly in the bottom three — and I don't want to set myself up here — but I find it incredibly racist." John continued, saying, "The three people I was really impressed with, and they just happened to be black, young female singers, and they all seem to be landing in the bottom three."
Her father filed an eight-figure lawsuit against the star's publisher
Following the publication of Fantasia Barrino's "Life is Not a Fairy Tale" memoir in 2005, her father, Joseph Barrino, filed a $10 million libel lawsuit against the book's publisher, Simon & Schuster.
Joseph claimed his daughter's memoir contained "malicious untruths" and disputed several of the book's allegations, including ones that described him asking his daughter for money and valuing his children's musical careers over their education. His suit also alleged that Fantasia didn't write her memoir. Instead, Joseph alleged the book was ghost-written by Fantasia's grandmother, Addie Collins.
The "American Idol" winner shared some difficult claims about her father in her memoir, writing that he "needed everything to be perfect: the music, the house, and his appearance." In another passage, Fantasia described her father hitting her as a child when she appeared to sulk in front of other people. "I poked my lips out and acted mad in front of other people. My father popped me," she wrote. "I was so upset because I never did anything wrong. I was so ashamed of getting a beating in public. It never happened again."
If you or someone you know may be the victim of child abuse, please contact the Childhelp National Child Abuse Hotline at 1-800-4-A-Child (1-800-422-4453) or contact their live chat services.
Fantasia Barrino was accused of breaking up a marriage
Fantasia Barrino encountered legal woes in 2010, when a North Carolina woman, Paula Cook, claimed in a child custody case filing that Barrino had an affair with her husband, Antwaun Cook, leading to their divorce. According to Radar Online, Barrino was called to testify during the couple's divorce proceedings later that year in a North Carolina courtroom and allegedly claimed that she became pregnant with Antwaun's child and had an abortion.
Per Radar Online, Barrino, who allegedly got "Cook" tattooed on her collarbone in honor of Antwaun, further testified that she had been involved with him for almost a year and believed he was separated from his wife during that time. Paula's divorce petition (via E! News), however, reportedly claimed that Barrino had been confrontational with her in a phone call, allegedly saying, "[Your husband] don't want you. Maybe the next time that you get a husband you'll know how to keep him. That's why he is here with me." Barrino's manager, Brian Dickens, issued a statement to E! News at the time, claiming "Fantasia is certain that she is not responsible for the deterioration of the Cooks' marriage."
In 2011, Barrino welcomed a second child, a son, Dallas Xavier. While Barrino never disclosed the details of her child's father, People reported that the mother of two had been "romantically linked to Antwaun Cook since summer 2010."
She was hospitalized after an overdose
Shortly after Fantasia Barrino was accused in court documents of breaking up the marriage of her alleged beau, Antwaun Cook, Barrino's manager, Brian Dickens, found the star nearly unconscious in her Charlotte, North Carolina mansion in August 2010. According to a statement from her manager to TMZ, the singer was hospitalized after taking "an overdose of aspirin and a sleep aid." He continued, writing, "Her injuries are not life threatening. She was dehydrated and exhausted at the time."
Barrino later told VH1's "Behind the Music" (via People) in 2010 that she "just wanted out" when she took the potentially fatal dose of medication. "I just sat in the closet and looked at the mirror and took all the pills in the bottle," she revealed. "I wanted to go to sleep and just be at peace. I knew exactly what I was doing. You can't accidentally take a whole bottle of pills." Barrino attributed her low state to "people doing me wrong, constantly," claiming she was tired of "dealing with my family — my father, dealing with men and their [expletive]."
"Her emotions were extremely low," Dickens recalled. "She'd been crying all day." Fortunately, though, Barrino recovered and went on to win her first Grammy in February 2011 for Best Female R&B Vocal Performance for her song "Bittersweet."
If you or anyone you know is having suicidal thoughts, please call the National Suicide Prevention Lifeline​ at​ 1-800-273-TALK (8255)​.
The American Idol winner lost her home after a years-long battle
Fantasia Barrino struggled for years to keep one of her homes in Charlotte, North Carolina, almost losing it in 2008 when she was accused of nonpayment of a loan. Barrino's house, which she later saved, was set for auction to pay back the company Broward Energy Partners, which allegedly paid over $68,000 of Barrino's taxes in 2006. Barrino, speaking to CNN in 2010, disputed the rumor that she was "losing [her] house to foreclosure," saying, "I've always been a hard worker and I've always busted my tail to make sure me and my family have a roof over our heads."
Barrino also dismissed the buzz that "American Idol" judge Simon Cowell helped bail her out of debt. "I am still in my house, it wasn't a foreclosure and no, Simon Cowell did not help me pay any of my bills, though I thought that story was cute," she said.
Eventually, the singer listed the house in 2012, and TMZ reported in 2013 that — after failing to secure a buyer — Barrino gave up the house by transferring the deed to a bank, allegedly in order to avoid foreclosure on the property.
Fantasia Barrino provoked backlash with her social media commentary
Fantasia Barrino landed in the headlines over some social media drama in 2013 after the star shared a since-deleted Instagram post (via E! News) that many interpreted as homophobic. Mentioning current events, the star wrote, "It's a lot that going on that the Bible speaks about we should not be doing." Barrino added that "gay marriage [is] legal but yet I'm judged." She also highlighted the legalization of marijuana as another sacrilegious event.
As E! News reported, the "American Idol" winner later walked back her comments in statements from herself and her representatives. After her reps claimed that Barrino's words were "taken far out of context," she issued her own message, imploring folks to "stop misrepresenting the facts." She wrote, in part, "It has been brought to my attention that something I said was taken out of context. I, Fantasia Monique Barrino, don't judge anyone because I don't want to be judged. The gay community is one of my largest supporters. I support the gay community as they support me."
In a more fiery dispatch on Instagram, Barrino wrote in another deleted post (via Billboard), "My whole team is gay, my manager is gay, middle finger up to those who [speak] to destroy me. It won't work." Several months later, perhaps as a show of goodwill to the LGBTQ+ community, Barrino signed on to perform at the Long Beach Gay and Lesbian Pride Festival.
She almost lost her brother in an accident
In 2017, Fantasia Barrino's brother, Xavier Barrino, was injured in a motorcycle accident, with the singer telling Essence some two years later that "he's not walking yet, but he will be soon." Barrino also spoke about the transformative impact the accident had on her brother, who "probably would have killed himself" had he not been injured, she admitted. "[His generation], it seems that they're a lot different from how we were raised," she continued. "They're kind of lost and they want microwaveable careers; everything really quickly."
Barrino described the tough-love approach she was taking with her brother's recovery, with his Instagram posts showing him standing with the help of braces. "I'm not going to give you anything," she told Essence. "You've got to put the work in just like I did. When you put the work in, you cherish it more, you take care of it."
Barrino's brother's Instagram posts show his determination to recover from the injury, with him referring to his efforts in the caption of a March 2020 photo of himself in a wheelchair. "Hiking mountains on wheels [but] next time I'll be on foot," he wrote in part.
Fantasia Barrino's nephew was tragically murdered
Fantasia Barrino experienced more personal tragedy in 2018, when her 18-year-old nephew, Tyquan Vonricco Washington, died in a North Carolina shooting. His obituary praised Washington's talent for gymnastics and "passion for football, singing and dancing." In a since-deleted Instagram post (via CNN), Barrino mourned the death of her nephew, writing, "Auntie is so sorry baby … RIP to my oldest nephew." The singer also sent prayers to Washington's father, her brother, Ricco Barrino.
Washington's father shared his own tribute to his slain son in a poignant Instagram post, writing, in part, "I wanted to be there every day for you and there wasn't a day that went by I didn't wonder where you were. Well on this day you became a bigger man when you put on a pair of wings and did what I have yet to do."
After the shooting, 21-year-old David Lee White Jr. was charged with the first-degree murder of Barrino's nephew as well as robbery with a dangerous weapon.
The star angered fans with her views on gender roles
After enduring her fair share of relationship dramas, Fantasia Barrino married Kendall Taylor in 2015 after a quick courtship of just three weeks. Barrino raised some eyebrows with a 2019 interview she gave to "The Breakfast Club," in which she suggested that women should submit to men and let their male partners play the dominant role in their relationships.
"You've got to let the man be the head of the house," she said. "You have to learn how to submit. You can still be a queen, a queen plays a part, a king needs his queen … but a queen has to sit back and allow her king to be the king," she continued. Naturally, those comments didn't sit well with everyone.
Barrino and Taylor attempted to clarify their stance on gender roles in a September 2019 Instagram video captioned "A Talk with The Taylors: The Science Of Submission!" In the clip, Taylor said, "Submission is supposed to be a beautiful song and dance between two lovers. What's happened is men have abused that power. Forgive me, they've abused that gift."
She had a cyst on her vocal cords
Even now, 18 years after her momentous win on "American Idol," Fantasia Barrino remains one of the show's most successful stars, per Variety. This, of course, is thanks in part to her powerful vocals — an asset she almost lost.
Barrino has previously admitted to once having a cyst on her vocal cords — a condition that required her to undergo an operation. "I did Color Purple for a year, and after the Color Purple I had to have a surgery," she told Sister 2 Sister magazine in 2008. "I had a tumor — he said it was a cyst, and before I went under the knife, he came out and told my mother — he said, 'The joker was bigger than I thought it was.'"
Post surgery, Barrino began working on her third studio album, "Back To Me," which was eventually released in August 2010. The album's lead single, "Bittersweet," released in May 2010, was nominated for Best Female R&B Vocal Performance at the Grammys, an award she eventually snagged, according to IMDb.
Fantasia Barrino fought her record label over her music
Following the disbandment of J Records in 2011, Fantasia Barrino and all other artists under the label were neutralized to RCA Records, per Rolling Stone. For several years, all of Barrino's songs were released under RCA Records, until 2019, when she went independent. That year, Barrino released "Sketchbook," her seventh studio album, under her own label, Rock Soul Inc. And while this was no easy feat, the singer took pride in her effort, telling the Chicago Tribune that "it's all me."
Barrino would later admit to the Houston Chronicle that "Sketchbook" finally allowed her to produce an album that wasn't stifled by a record label. By going independent, she was more in control of what to do with her talent and ultimately, her songs. By producing albums under a major label, like RCA, Barrino admitted she never had creative control over her music. "It was a fight when I was with a label," she explained. "You can't really do things the way you want to do them. You have to bow down to everyone's vision."
Still, despite putting her foot down and going after what she truly wanted, Barrino was sure to part ways with her label amicably. "I was at a point to where I was like, 'If I can't do what I want to do, then I quit.' I walked away from the label with all good relationships on good terms," she told People.
She faced fertility issues
While Fantasia Barrino had little problems getting pregnant with her first two kids, having a child with her husband, Kendall Taylor, was something of a struggle. The singer first touched on her fertility struggles in November 2020, when she announced that she was expecting her third baby. Barrino likened herself to Rachel in the Bible, but encouraged fans to not give up. "Keep trying and you will conceive," she assuredly said on "Taylor Talks" — a video series she hosts with her husband.
In December 2020, while making an appearance on the "Tamron Hall Show," Barrino revealed she and Taylor had been trying for a baby for three years. "Everyone was suggesting IVF [in vitro fertilization] because it wasn't happening," she explained. "This was a three-year journey we've been on." Barrino told Hall that doctors diagnosed her with closed fallopian tubes, which limited her chances of conceiving. Still, Barrino and Taylor decided to stay positive. "We decided, 'Let's just pause' … But we said 'Let God be God and we're gonna sit back and just see what happens,' and truly Tam[ron], I kid you not, I forgot about it."
Of course, the singer's patience paid off in the end, as she ended up conceiving naturally. On May 23, 2021, Barrino and Taylor welcomed their first child together.
Fantasia Barrino had to relive her sexual assault
In 2006, Fantasia Barrino's best-selling autobiography, "The Fantasia Barrino Story: Life is Not a Fairytale," was adapted into a movie. Starring as herself, the singer wowed many with her impressive acting, eventually landing an Outstanding Actress in a Television Movie, Mini-Series or Dramatic Special nomination at the 2007 NAACP Image Awards, per IMDb.
But while Barrino's acting was critically acclaimed and earned her some accolades, it also brought back difficult memories. "I didn't think it was going to be tough going back playing myself, but it was because I had to relive those moments," the singer told the Associated Press (via People).
Even though filming the entire movie was difficult for Barrino, making it through a rape scene was particularly hard for her. The singer recalled telling director Debbie Allen that she wouldn't film the scene, but revealed that the two eventually worked through the experience together. "She talked to me, and she helped me out a lot," Barrino said. "The good part about it is her son played the part. He was so warm and funny. I said, 'If you touch me, I'm going to punch you.' He goes, 'I'm going to punch you back.' So it made it a whole lot easier for me."
If you or anyone you know has been a victim of sexual assault, help is available. Visit the Rape, Abuse & Incest National Network website or contact RAINN's National Helpline at 1-800-656-HOPE (4673).
The American Idol alum was caught up in a custody battle with her ex
In May 2014, Fantasia Barrino was forced to live through another distressing time when her ex-boyfriend, Brandel Shouse, filed a child custody lawsuit against her.
Per TMZ, Shouse requested primary custody of their daughter, Zion Quari Barrino, under the claim that he was a better parent to his then-teenaged daughter. In a statement released to Rumor Fix (via BET), a representative for the singer revealed that Shouse was also seeking visitation rights and child support from her — despite having been previously absent in Zion's life. "The case will not be heard until 2015," the rep added. "Fantasia hopes that her fans understand the sensitive nature of these matters and that she cannot share with them all of the details at this time."
Though it remains unclear what the court's final decision was, Fantasia still has a close relationship with her daughter, as seen on Zion's Instagram, where she shares pictures of herself spending time with her mama.