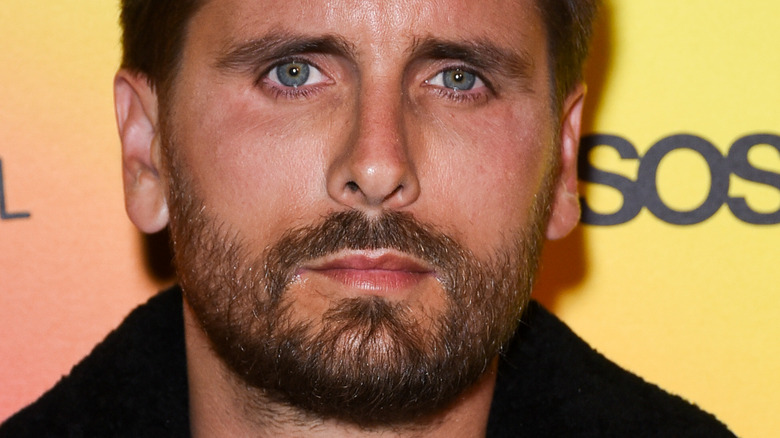 The following references suicide, mental health struggles, and addiction.
Scott Disick divides Kardashian fans as few can. There are those who can't stand him and have never really grasped his relationship with Kourtney Kardashian or why the family tolerates his behavior. It would be easy to write Disick off as a "talentless" (his words, not ours) reality star, weaving his way through life via a series of age-inappropriate relationships and rehab stints, but there's actually a lot more to Disick than just stuffing wads of money into waiters' mouths.
For every fan who thinks he's a waste of time, there's another who is charmed by his shenanigans (Todd Kraines or Art Vandelay, anyone?), rooting for Disick to come out on top. To those that love him, when you look past his drunken antics and serial cheating, there is a gentle soul who actually has not lived the sunniest of lives. Suffice it to say, Disick is a complicated man who is no stranger to tragedy.
Scott Disick lost both of his parents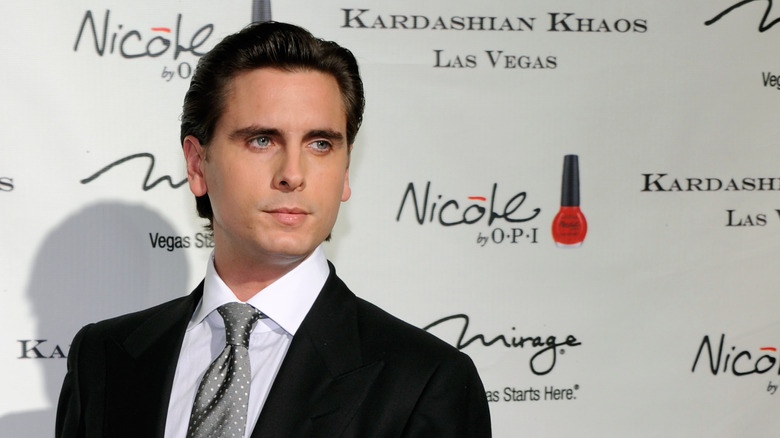 Kourtney Kardashian's ex hasn't always had a legion of supportive fans. In fact, he's often found himself on the receiving end of some major backlash from viewers. Fan views softened, though, in 2013, when Scott Disick lost both of his parents in a short amount of time. His mother, Bonnie Disick, died in October 2013 after struggling for years with failing health. Scott was only 30 at the time, per Radar. The reality star barely had time to grieve the loss before another hit him, the death of his father, Jeffery Disick, just three months later. Scott struggled with deep depression, which played out on the show. "I've hit rock bottom," he said in one episode, per The Mirror. "Hopefully, I'll wake up tomorrow, and it will be a better day."
For years, Scott tried to contend with the trauma, and in 2020 he checked himself into rehab to reportedly assist in his journey to overcome the loss. "Scott has been silently suffering for many years due to the sudden death of his mother, followed by the death of his father three months later, Scott made the decision to check himself into a rehab facility last week to work on his past traumas," a representative told People, adding that Scott sought treatment purely for his mental health, not for anything related to drugs.
If you or someone you know needs help with mental health, please contact the Crisis Text Line by texting HOME to 741741, call the National Alliance on Mental Illness helpline at 1-800-950-NAMI (6264), or visit the National Institute of Mental Health website.
Scott Disick had a hard breakup
Scott Disick and Kourtney Kardashian's relationship may be one of the messiest things to ever happen on the E! channel. Throughout their time together, Scott cheated numerous times, had various stints in rehab, and once forced Kim Kardashian, Kourtney, and baby Mason Disick to flee a hotel room. The breakup, which happened for the final time in 2015, was years in the making.
Kourtney (along with the rest of the world) was reportedly shocked to catch Scott front and center in the tabloids chilling with an ex in Monte Carlo while she stayed home with their three kids. Years later, though, during a reunion episode for the series finale of "Keeping Up with the Kardashians," the eldest Kardashian sister clarified that the overt cheating wasn't the only reason she called it quits. "The infidelity, I only knew about it at the end, so I think the substance abuse was the deal-breaker," she explained, per Newsweek.
Though the two seem to get along well these days, Scott still has a lot of regrets about how things went down all those years ago. "Kourtney has all [the] right to despise me and the way I treated her because it was horrible," Scott said during a 2022 episode of "The Kardashians," per Life and Style.
Scott Disick felt alienated from his family
Scott Disick's tumultuous relationship with Kourtney Kardashian was never easy, but it wasn't until Kardashian officially moved on that it seemed like it was really over. After splitting with Disick, Kardashian dated model Younes Bendjima for a few years, per Page Six. When that ended, she began seeing her neighbor, Blink-182 drummer Travis Barker. Within months, Kardashian and Barker were engaged.
Sure, Disick never seemed to be a huge fan of Bendjima, but he was especially concerned about Kardashian's relationship with Barker. It wasn't just that his ex had a new man; Disick felt alienated from the rest of her family. While he will always be part of Kardashian's life — they share three kids, after all — Disick expressed on "The Kardashians" that he feared that when she moved on, her siblings and mom Kris Jenner would cut him out. "Feeling left out and not being told anything is super hurtful, especially when I don't have another family to go to," he said of Kardashian and Barker's blossoming relationship, per People.
Things reportedly didn't get any easier for Disick when Kardashian and Barker said "I do," either. "Ever since Kourtney got married, he doesn't spend as much time with that whole group," a source told Page Six. "He's been kind of excommunicated because the priority is Travis." The source claimed that since the wedding, Disick has had to "regroup" and build relationships outside of the Kar-Jenner fam.
Scott Disick struggled to stay sober
Throughout his time on reality TV, Scott Disick has repeatedly tried to address his addiction issues. The first wakeup call came in 2014 when Disick accidentally overdosed on prescription pills while partying on the East Coast. "It's no secret that over the years I've suffered from drinking problems, and now I'm very depressed with everything I've gone through in the past year," he said on a 2014 episode of "Keeping Up with the Kardashians," adding that the next step would likely be treatment, per the Daily Mail. In June of that year, Disick checked himself into a rehab facility, per Us Weekly.
The following year Kardashian and Disick split for good. That same year, TMZ reported he headed to a Costa Rican rehab that utilized the hallucinogen iboga to treat addiction. Since then, Disick has been up and down with his sobriety, most recently entering treatment in 2020. A source told People that he wanted to work on himself away from the critical and omnipresent public eye. Disick's lawyer told the outlet that it was not drug or alcohol related but to deal with emotional trauma. However, the aforementioned source asserted Disick was dealing with numerous problems at the time. "He's looking into his next steps," they told the outlet. "He's talking to a lot of people who can give him psychological, emotional, physical, and spiritual health. He knows he needs all four."
If you or someone you know needs help with mental health, please contact the Crisis Text Line by texting HOME to 741741, call the National Alliance on Mental Illness helpline at 1-800-950-NAMI (6264), or visit the National Institute of Mental Health website.
If you or anyone you know needs help with addiction issues, help is available. Visit the Substance Abuse and Mental Health Services Administration website or contact SAMHSA's National Helpline at 1-800-662-HELP (4357).
Scott Disick has struggled with his mental health
Scott Disick's mental health has always compounded his other issues, but it seems like losing his parents took a toll on the reality star, from which he struggled to recover. After the loss, he continued to misuse substances, and his relationship with Kourtney Kardashian and her family deteriorated. In 2016, while "Keeping Up with the Kardashian" cameras were rolling, Disick threatened to hurt himself while on the phone with Khloé Kardashian — seemingly triggered by his recent split from Kourtney, who was on vacation with the kids at the time, per Radar. "My life is officially over. I just want it over. I just want you to know. I just can't do this," he said, while Khloé told Kim Kardashian to call 911. Eventually, a family friend was able to get to Disick and make sure he was safe.
With the support of the Kardashians, Disick began attending therapy and explored various rehabs, but by 2020 and the onset of COVID-19, he was still struggling. "I just can't handle staying home not working," he told Kourtney during an episode of "KUWTK." "I go to therapy every week, but I never have any breakthroughs, and I never feel happy. … Like I just didn't grieve my parents correctly or give it enough time." Finally, Scott explained to Kourtney that he felt he needed to enter an inpatient facility to really get to the bottom of his issues, which he did in May of that year.
If you or anyone you know is having suicidal thoughts, please call the National Suicide Prevention Lifeline​ by dialing 988 or by calling 1-800-273-TALK (8255)​.
If you or someone you know needs help with mental health, please contact the Crisis Text Line by texting HOME to 741741, call the National Alliance on Mental Illness helpline at 1-800-950-NAMI (6264), or visit the National Institute of Mental Health website.
Scott Disick hasn't been lucky in love
After failing to make it work with Kourtney Kardashian, Scott Disick's love life took a few more hits. Since splitting with Kardashian, Disick has been linked to a series of much younger women, including Sofia Richie and Amelia Hamlin. Disick dated Richie for nearly three years and seemed to be very much in love with the model and close friend of Kylie Jenner. Richie even accompanied Disick and Kardashian on family vacations. Things came to a crashing end in 2020 when Richie reportedly told Disick to choose between her or Kardashian, per The Mirror. "I thought I would give it a try and make [Richie] more of a priority, but then even when doing that, I feel like she just started wanting to push Kourtney out," Disick explained on "Keeping Up with the Kardashians."
Soon enough, Disick was spotted out and about with Hamlin, but that didn't last long either. "The split from Amelia was sudden and unexpected. He was pretty shocked about it," a source told People, adding that Disick had been keeping busy with his kids to help cope. And in June 2022, Disick ended things with Rebecca Donaldson when he reportedly realized that he wasn't ready to date anyone seriously at the moment, per E! News. Even though he's had more than his fair share of heartbreak, Disick reportedly isn't bothered. According to the outlet's insiders, Disick is more than fine with not being in a relationship.
Scott Disick couldn't get Kourtney Kardashian back
Scott Disick may have regretted many things, but losing Kourtney Kardashian is most likely around the top of the list. From the time they split till the time Kardashian married Travis Barker, she and Disick dated other people, but never too seriously. There was always speculation (mostly fueled by Disick) that he and Kardashian might get back together one day, but that went out the window when it became apparent just how serious she and Barker were. That's reportedly when Disick began to regret ever breaking up with her in the first place. "Scott Disick is still very bitter about Kourtney and Travis' relationship. He wants her to be happy, but behind closed doors, he will always have regrets about their relationship and why it didn't work out," a source told E! News. "He is bitter because he's never seen Kourtney this serious about someone."
As soon as Kardashian and Barker tied the knot, Disick accepted he'd missed his chance to reconcile. "Once she became serious with Travis, he stopped trying to win her back," a source told Us Weekly. "His feelings for her haven't gone away — he's always going to love her — he's just having a hard time accepting the fact that she's married." During a 2020 episode of "The Kardashians," Disick admitted he was struggling to adjust to the change. "Now we are really more coparents. I would say it is probably one of the more difficult things in my life," he said.
Scott Disick has a complicated relationship with fame
If you're a fan of Kourtney Kardashian, you probably have not always been the biggest fan of Scott Disick. After all, it's hard to root for him when he's spent the bulk of his time on reality TV partying and cheating on Kardashian. While the infidelity didn't exactly endear him to most viewers, the Talentless founder has a complex relationship with fame that goes far beyond his relationship with Kardashian.
In the eyes of some, Disick can do no right. Take, for example, Disick's brand, Talentless. In August 2022, Talentless premiered a new line of athleisure wear, which some followers were quick to point out looks a lot like Kim Kardashian's athleisure wear (which, to be fair, look a lot like Ye's designs). As one annoyed fan quipped, "Okay Skims." Disick has also raised some eyebrows thanks to the way he reacted to Kourtney's engagement (poorly) and for comparing himself to Jesus. One IG commenter called the post "blasphemy," and another suggested he "try being humble."
Disick's relationship with the Kardashians gave him wealth and opportunities most could only dream of. But for the troubled star, celebrity has been a double-edged sword. In 2020, when Disick decided to enter rehab, he opened up to Kourtney on "Keeping Up with the Kardashians" about the difficulty of living his life in the limelight. "And just like renting a house in Malibu for an escape, and then that turned into a total sh**show with paparazzi," he said. "It's like, okay, this is no sanctuary at all."
Scott Disick has a messy past
We've all seen Scott Disick be messy on E! (and now Hulu), but please don't think that bad behavior is just for the cameras. Scott actually had quite a reputation as a troublemaker long before "KUWTK," or meeting the family that would skyrocket him to fame. When Scott was just 18, he was arrested and charged with a DUI, in his home state of New York, per Us Weekly. Scott has rarely spoken about the experience, but, it's something Khloe Kardashian couldn't help but tease him for. When Scott turned 31, Kardashian shared side-by-side photos of their mugshots with the caption: "Happy birthday to my partner in crime."
2001, the year Scott was arrested for drunk driving, turned out to be a legally strenuous year for his entire family. When he was 18, his father, Jeffery Disick, was arrested for allegedly robbing a bank in New York state. Jeffery turned himself in, agreed to pay restitution, and spent 30 days in jail, per Radar. That was the tip of the iceberg, though. For someone who's become famous for flashing his wealth, Scott evidently did not grow up in a financially stable environment. Over the years, his parents battled a series of liens from individuals and the state and federal government, totaling nearly $400,000. Jeffery also has a mugshot, but Scott has never opted to share it on his social media.
Scott Disick was in a scary accident
In August 2022, Scott Disick made headlines after he was involved in a scary car accident in Los Angeles. The reality star was reportedly involved in a traffic incident that resulted in him flipping his car off the road. Scott hit a mailbox while driving, causing the Lamborghini to roll, per TMZ.
Scott, who has struggled with alcohol addiction for years, was reportedly sober during the incident. "It was determined the primary cause of the traffic collision was speed, and alcohol was not a factor," the release read, per People. "Mr. Disick suffered minor, non-life threatening injuries and declined medical treatment. He was picked up from the scene by family members, and his vehicle was towed away per his request."
While it remains unclear exactly how Scott came to hit the mailbox, it's a miracle no one was hurt. He was spotted dining in Malibu with daughter Penelope Disick and niece North West the next day, per People. He was left bruised but okay — and in desperate need of a new Lamborghini.