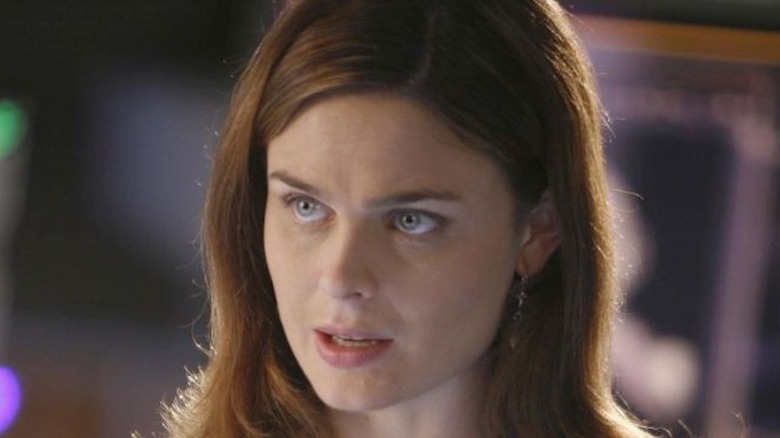 During its 12-season run, "Bones" was one of the go-to shows on TV. With drama, mystery, science, romance and plenty of gross dead bodies, it ticked plenty of boxes. Based on the series of novels by Kathy Reichs, "Bones" followed the forensic anthropologist, Temperance Brennan (Emily Deschanel) — fondly known as Bones — in her work and personal life. A forensic anthropologist, for fans who may have forgotten, examines human bones to find out more about a person's death.
Along with Temperance Brennan, the show gave us Seeley Booth (David Boreanaz), the FBI agent who works with Brennan to solve crimes; Angela Montenegro (Michaela Conlin), the facial deconstructionist; and Dr. Jack Hodgins (T. J. Thyne), the botanist — or, as Booth calls him, the "bug boy."
When "Bones" came to an end in 2017, we said goodbye to the colorful cast of characters for good. So what have the actors from "Bones" been up to since the show's final episode? Read on to find out more.
Emily Deschanel, aka Temperance Brennan, is the lead of a new Netflix show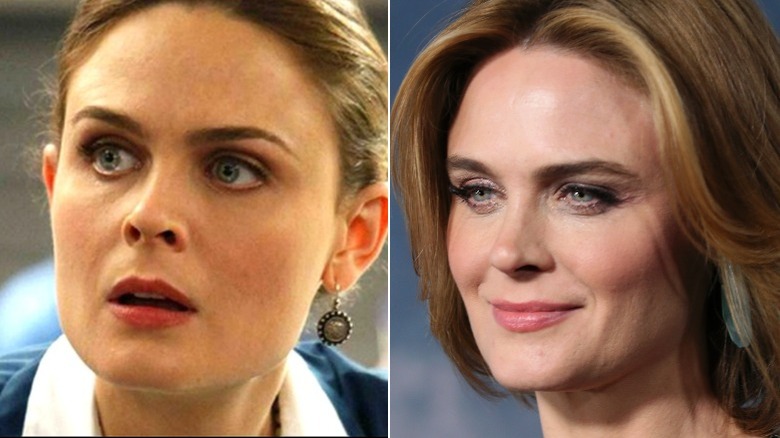 As Temperance Brennan, Emily Deschanel (sister of Zooey) was the heart and soul of the show. For Deschanel, "Bones" was a career-making role. Prior to the show, she had only appeared in a number of guest roles on TV.
Since the end of "Bones," Deschanel has continued acting. But, as she told The Hollywood Reporter, her approach is a little different. "I loved playing that character for 12 years. … I loved all of it. For me, going forward, I just don't want to do the same thing twice. At this point, I have no interest in doing 22 episodes of a television show," she said.
In 2019, she appeared as Angela in one season of TNT's crime show "Animal Kingdom." In 2021, she took on a role in the podcast series "Agent Stoker." 2022 brought the actress' next big role when she starred as Suzanne in the Netflix thriller "Devil in Ohio." As Deschanel told Collider, the role immediately appealed to her. "When I took the role on, I just found it really fascinating," she said. "The character was really fascinating. You have to do things to protect yourself from getting too dark."
David Boreanaz, aka Seeley Booth, has been starring in (and directing) SEAL Team
After shooting to fame in "Buffy the Vampire Slayer" as Angel, David Boreanaz landed his second career-defining role in "Bones" as FBI agent Seeley Booth — and one-half of the show's famous will-they-won't-they pairing. Even though Boreanaz loved his time on the show, he was happy when it came to an end. "I feel great," he told Entertainment Weekly at the time. "There's pressure to [being on] a show for 12 years. You get weight off of your shoulders and realize how much it takes to shoot one episode, one day's work, to create moments."
Since "Bones" came to an end, Boreanaz has been acting in yet another successful TV show: "SEAL Team." The show follows a team of Navy SEALs throughout their training and various missions. Boreanaz is also a producer on the show. On the show's exploration of the impact of war on mental health, Boreanaz said to ET Online, "It's a blessing and I'm so humbled to play a character that can show this. … To be able to play this role, and with this group of guys that are involved, has allowed us to really kind of get into these issues of what they're struggling with [and] mental health."
Michaela Conlin, aka Angela Montenegro, has popped up in loads of TV shows
Michaela Conlin played the sweet and smart Angela Montenegro on "Bones." For Conlin, the show was a lot of fun. "I just remember laughing constantly," Conlin told the Observer. "The things we had to memorize were so bananas. … We just had very similar senses of humor, so there was just a lot of laughing going on all the time." The role came after Conlin appeared in "MDs," "Enchanted," and "The Lincoln Lawyer."
Since her 12-year stint on "Bones," Conlin's career has taken off. In 2018, she starred in "Yellowstone" as Sarah Nguyen. Then in 2021, she played Helena in "For All Mankind," and in 2022, she took on a guest role in "Dollface."
As Conlin explained, she is constantly looking for roles that differ from Angela — and ones that don't last for too long. "It's sort of like you've been married or dating someone for 12 years," she said. "After being on a show like 'Bones,' you're like, 'Okay, all right, maybe I want to date a little bit before I settle down again.' So, I really wanted to jump around a little bit and try different shows."
T. J. Thyne, aka Jack Hodgins, is still acting in shows like The Offer
T. J. Thyne played fan-favorite Jack Hodgins, aka Bug Boy, in "Bones." Prior to that series, Thyne had played several small characters on TV, but it was "Bones" that shot him to fame. Saying goodbye was bittersweet. "I think there is this moment of like, 'Wow, it's time,'" he told Showbiz Junkies. "These characters are kind of ready to go on their journey and leave us. It's sad, but also really exciting."
Since the final season of "Bones," Thyne has continued to appear on TV, with bit roles on shows like "Grey's Anatomy," "American Crime Story," and "The Rookie." His biggest role post-"Bones" was playing Gordy Willis, the cinematographer of "The Godfather," in "The Offer" alongside the likes of Miles Teller and Matthew Goode. According to his Instagram bio, Thyne is currently single and lives in between Los Angeles, New York, and Denver.
Tamara Taylor, aka Camille Saroyan, has become an even bigger TV star
Tamara Taylor played the no-nonsense Camille Saroyan, the head of the forensic division at the Jeffersonian Institute. Before "Bones," you may have seen Taylor in shows like "City of Angels," "Hidden Hills," or "Sex, Love & Secrets." After "Bones," the actress continued appearing in high-profile shows.
In 2018, Taylor played Oumou Prescott in Amazon Prime's "Altered Carbon." In 2020, you may have seen her in Netflix's "October Faction" or the Marvel show "Agents of S.H.I.E.L.D." as Sibyl. In 2021, she took on the role of Angela in "Law & Order: Organized Crime." As Taylor told Assignment X, Angela was her darkest character to date. "I think ['Law & Order' is] one of the only TV shows I've been on where it got to get gritty and emotionally dark," she said. "Usually, television doesn't allow you to go that far, or as far, certainly, as indie film does."
Even though Taylor has moved on to new TV roles, she hasn't forgotten "Bones." "I especially miss my 'Bones' family," she said. "I was actually just texting with Emily [Deschanel] and Michaela [Conlin] the other day. Yeah. You become a family over the course of 12 years, and then everybody goes their separate ways."
John Francis Daley, aka Dr. Lance Sweets, has moved behind the camera
John Francis Daley joined the cast of "Bones" in the third season as Dr. Lance Sweets, the psychologist assigned to the team. Daley got his start in the '90s as Sam Weir on "Freaks and Geeks," before appearing on "Boston Public," "Regular Joe," and "Kitchen Confidential." Daley left "Bones" in 2014 because he chose to direct the film "Vacation." "The directing job was not something that I could walk away from," he told TV Line. "It was such a huge opportunity. It feels like a good next step in my career and my life; I always dreamed of being a director." Nevertheless, he was sad to see Sweets go in such a horrible way.
Since leaving "Bones" to focus on directing, Daley has continued his work behind the camera. He's been on the writing teams of films like "Horrible Bosses," "Spider-Man: Homecoming," and "Dungeons & Dragons." He's also directed films including "Game Night" and "Dungeons & Dragons."
Carla Gallo, aka Daisy Wick, is still best-known for Bones
Carla Gallo was introduced to "Bones" as the intern Daisy Wick in Season 4. After initially annoying Temperance, she developed a relationship with Sweets and became a recurring character on the show. Gallo had mostly appeared in guest roles prior to "Bones." Since the show came to an end, she has appeared in "Room for Rent," "Happiest Season," and "Sneaky Pete," but her biggest role to date was Daisy on "Bones."
As she told Film Inquiry, "I'm back pounding the pavement. When 'Bones' ended — that was just a very dreamy nine-year job. It was a recurring, and as we're shooting the finale, I was very, newly pregnant with my second child. So, I sort of have taken the time … And so, now I can emerge back into my life and my career."
As of 2022, Gallo is set to appear in "Sid Is Dead" as Dr. Capanna, alongside Joey Bragg.
Patricia Belcher, aka Caroline Julian, has had dozens of TV guest roles
Patricia Belcher was a recurring actor on "Bones" as Caroline Julian, the federal prosecutor who frequently worked with Temperance and Booth. Before "Bones," Belcher had appeared in dozens of shows and movies. Her CV includes stints on "Sister, Sister," "Twins," "The Jake Effect," "Boston Legal," and "Good Luck Charlie," to name just a few. You probably also remember her as the voice of Principal Hightower on "The Proud Family" or as Millie from "500 Days of Summer."
After "Bones" came to an end, Belcher didn't slow down for a second. She appeared in "Trial & Error," "Teachers," "Young Sheldon," "Will & Grace," "Lucifer," "The Proud Family: Louder and Prouder," and the "Villains of Valley View," among other projects. In other words, she's been super busy since her time as Caroline Julian, and chances are, you've seen her on your screen more than once.
Eric Millegan, aka Zack Addy, has focused on theater rather than TV
On "Bones," Eric Millegan played Zack Addy, the forensic anthropologist who began as an assistant before landing a role on the team in Season 2. Millegan began his career with a few small TV roles and a few film parts before his career-defining role on "Bones." Even though Millegan was a fan favorite on the show, he decided to step away from TV and film after the show came to an end.
These days, Millegan is living in New York and is focusing on theater. In recent years, he has directed a community theater production of "The Fantasticks" and appeared in a community production of "Elf: The Musical."
Even though Millegan has left his TV roots behind, he clearly still holds a soft spot for "Bones." In fact, in 2022, he tweeted, "Thinking about rewatching the first three seasons of 'Bones.' Most of them I only saw the night they first aired. Seems like a fun 'scrapbook' to look back at."
John Boyd, aka James Aubrey, has been acting on the show FBI
On the series "Bones," James Aubrey was a young FBI agent who worked with Booth. Played by John Boyd, the character became more and more prominent as the series went on. Boyd had previously appeared in "24," "Agro," and "The Carrie Diaries." "Bones" was his first go at playing an FBI agent — but it wasn't his last. "I guess my only real training ground was doing Arlo on Season 8 of '24,'" he said to Assignment X. "I was a CTU tech, which was definitely different, but sort of a young spirit in that way, but I hadn't done FBI." Luckily, he picked up a lot from his costar, David Boreanaz.
Since "Bones," Boyd's biggest role has been in "FBI" as another FBI agent, Stuart Scola. It seems Boyd's time on "Bones" definitely paid off, as he's now made a whole career out of playing FBI agents.
Michael Grant Terry, aka Wendell Bray, has become a producer of the SmartLess podcast
You probably remember Michael Grant Terry as Wendell Bray, the Season 4 intern. "It was sad man, that's another family that you're with for a long period of time and to say goodbye was hard," he said in an interview about the finale of the show. Terry had previously appeared in dozens of TV show guest roles; he went on to appear in several other guest roles after "Bones," in shows such as "Errands" and "Roswell, New Mexico."
However, he soon turned his focus to producing. In 2020 and 2021, he co-produced the "Screen Actors Guild Awards," and from 2020 to 2022, he became an executive producer on the podcast "SmartLess." The podcast features Jason Bateman, Sean Hayes, and Will Arnett, who interview actors and musicians.
Terry lives with his wife, Christine Terry, and their daughter.
Eugene Byrd, aka Dr. Clark Edison, is doing lots of voice acting alongside TV roles
You probably remember Eugene Byrd as Clark Edison, one of Brennans "squinterns" on "Bones."
"The only thing I'd like to say about 'Bones' is that it's a ton of fun to work on and that the character's actually a blast," Byrd, a prolific TV actor, told Assignment X before Season 8. "I just hope that they show more of him."
Byrd's previous projects included "Sesame Street," "The Cosby Show," "Night Stalker," and Jerome on "True Blood." After his time on "Bones," Byrd continued appearing on TV with roles in "Secrets of Sulphur Springs" and "Reasonable Doubt." However, his main focus since the show has been voice acting. Byrd's voice has appeared on "Spidey and His Amazing Friends," "The Legend of Vox Machina," "Rise of the Teenage Mutant Ninja Turtles," "Family Guy," "American Dad!" and "Lego Star Wars." For Byrd, joining the "Star Wars" world felt "crazy," as he said in an interview. According to IMDb, Byrd even provided some "additional voices" for some of the live-action "Star Wars" movies.
Pej Vahdat, aka Arastoo Vaziri, went on to star in shows like Empire and Dynasty
Another of the revolving "squinterns" on "Bones" was Arastoo Vaziri, played by Pej Vahdat. The actor had previously appeared in shows like "Shameless" and "Arrested Development." As Vahdat told Assignment X, he loved his time on the show — especially the time he spent with costar T. J. Thyne. "Everybody's great, but I have a lot more scenes with him — like a bromance," he said.
Since "Bones," Vahdat has had several large TV roles. In "The Village," he played Hamid. In "Empire," he played millionaire Kelly Patel. In "Dynasty," he played Dex, the charming hedge fund manager. He also starred in "The Old Man" alongside Jeff Bridges. "Sometimes something like this comes along and you're like, 'Oh, this is why you're doing this. This is why you started doing this. This was the dream,'" he told Looper of the show.
By the sounds of things, Vahdat's TV career has really taken off.
Sunnie Pelant, aka Christine Booth, is still focusing on dancing
Sunnie Pelant was just 5 years old when she was cast as Christine Booth, Brennan and Booth's daughter. That same year, the young actress appeared in the Natalie Portman film "Jackie" as Caroline Kennedy. After her stint on "Bones," Pelant took on a few more TV roles, playing a dancer in "Crazy Ex-Girlfriend" and Lily in an episode of "NCIS" in 2019. However, since then, Pelant has turned her focus away from acting to spend more time on dance.
According to her Instagram bio, Pelant as won several dance awards this year, including Hollywood Vibe Dancer of the Year. As the dancer revealed in one 2022 post, she's currently starting seventh grade and is being homeschooled. By the looks of things, we haven't seen the last of Pelant — but when we see her again, she'll probably be dancing rather than acting.
Ryan O'Neal, aka Max Keenan, was in a play before COVID
Ryan O'Neal joined the "Bones" cast as Max Keenan, Temperance Brennan's father. Of course, O'Neal was hardly new to the world of film and TV — the actor first rose to fame in the 1970s with roles in films like "Love Story," "Paper Moon," and "Barry Lyndon." As of 2022, "Bones" was O'Neal's last screen role.
Instead of film and TV, O'Neal has been focusing more on theater work. In fact, prior to the COVID pandemic, the actor was appearing on stage in the Broadway play "Love Letters" opposite Ali MacGraw, his "Love Story" co-star. "She's a terrific woman," he told LUX&Ent. "The play is related to the movie in a way. It's a Broadway play where I read letters that she wrote to me and she reads letters that I wrote to her." Even though the play had to shut down due to the pandemic, O'Neal and MacGraw went on to receive their Hollywood Stars on the Walk of Fame in 2021.
Jonathan Adams, aka Daniel Goodman, works mainly as a voice actor
Jonathan Adams appeared in Seasons 1 and 2 of "Bones" before his character, Daniel Goodman, left on a "sabbatical." While his departure from the show was originally meant to be temporary, Adams never returned. According to WhatCulture, the team behind "Bones" simply felt that his replacement, Tamara Taylor, was a better fit for the show. After his time on "Bones" in 2005 and 2006, Adams remained incredibly busy, appearing on shows such as "One Tree Hill," " NCIS," "Boston Legal," "Desperate Housewives," and "Last Man Standing," to name just a few. He also provided the voice for Ronan in the "Guardians of the Galaxy" TV series and Absorbing Man in several Marvel TV shows.
As Adams told FanFest, he loves doing both on-screen roles and voice acting. "I don't have any preference whatsoever between doing voice and on-camera," he said. "I meet a lot of on-camera actors who don't understand voiceover, and I meet a lot of voiceover actors who don't understand on camera. To me, there's really no difference." Lucky for him, he seems to have plenty of offers for both types of roles.
Joel David Moore, aka Colin Fisher, is best-known for the Avatar movies
Joel David Moore first joined "Bones" in 2008 as Colin Fisher, the intern hired to replace Zach Addy. Prior to joining the cast, he had appeared on several other shows such as "LAX," "House M.D.," and even David Boreanaz's show "Angel." He had also had a role in "Dodgeball: A True Underdog Story." Shortly after joining "Bones," Moore landed one of his biggest roles to date as Norm Spellman, the anthropologist, in "Avatar."
These days, Moore is still acting, having appeared in "American Housewife," "Agents of S.H.I.E.L.D.," and "The Immaculate Room." He's also set to reprise his role in the "Avatar" sequel. Moore has also been working as a director and writer. "I gotta say I enjoy directing and being behind the camera more than acting at the moment," he told Infamous Horrors in 2021. By the sounds of things, we'll probably see more of Moore in the future — both in front of and behind the camera.