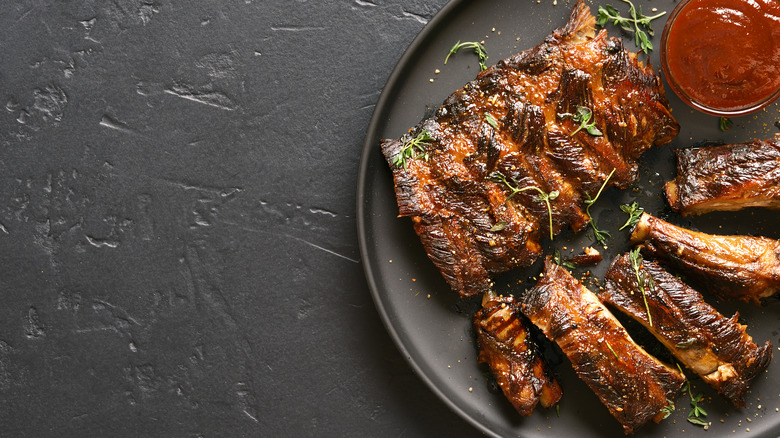 Not much screams "Americana" louder than a piping hot, perfectly sauced, fall-off-the-bone plate of ribs. Whether you love your ribs baby back or St. Louis style, full or half rack (or just the tips), there's a good chance that you have a soft spot in your heart for ribs. Although you can certainly smoke or grill up some fantastic ribs from the comfort of your own home, there are also tons of options to get an authentic plate of the best meat on the planet in every state.
From Alaska all the way down to the bayou, creative cooks are using old-school techniques and new inspiration to serve the humble rib. From New York's behemoth Brontosaurus rib to petite baby backs glazed in a tangy sauce, No matter where you are in the United States, you can hop into your car and chow down on a hot plate of ribs within hours.
Alabama: Dreamland BBQ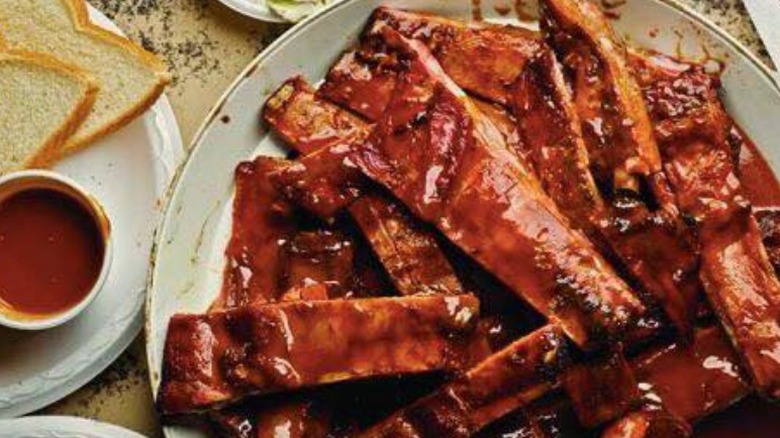 Alabama's Dreamland BBQ is one of the best barbecue restaurants in the U.S., a true titan of traditional cooking styles and techniques with plenty of top-notch meats. One of the best things on the menu has got to be the ribs. Whether you opt for a full or half slab or get your ribs in sandwich form, definitely try out these slow-cooked goodies with a side of Dreamland BBQ's famous sauce.
USA Today calls Dreamland BBQ a "destination unto itself," and it's tough to disagree, especially after you've sampled the ribs.
Alaska: Turnagain Armpit BBQ
For fantastic ribs, you don't need to head to the deep south; the far north will do. Alaska's Turnagain Armpit BBQ features fantastic smoky, tasty ribs with maple sauce that are a fun diversion from your standard rib fare. Although the name might be offputting, the only aromas you'll be getting from Turnagain Armpit BBQ are the delicious smells of fresh barbecue.
TripAdvisor has rave reviews, and Alaskans and visitors know that Turnagain Armpit BBQ is where it's at.
Arizona: Little Miss BBQ
According to ABC 15, Little Miss BBQ offers one downright delectable thing that puts it squarely on the short rib map — a burrito. This luscious combination of barbecue meat and Tex-Mex fixins satisfies all of your cravings and stays true to Little Miss BBQ's Arizonian roots.
The Phoenix New Times notes that Little Miss BBQ's beef short ribs are another restaurant classic, so if you prefer your ribs in a more standard style, you can get them on Friday and Saturday, along with some jalapeno cheddar grits.
Arkansas: McClard's Bar-B-Q Restaurant
McClard's Bar-B-Q Restaurant has plenty of panache and credibility with the celebrity set. According to THV11, Arkansas elites like the Clintons have graced this restaurant, as well as Jerry Jones, Joe Perry, and Clark Duke. There's an excellent reason they flock to McClard's Bar-B-Q Restaurant; the big portions of fabulous comfort food.
The ribs and fries, ribs with slaw, or meat platters cater to bigger appetites, whereas smaller fare like the rib sandwich will give you a little taste without bursting your belly.
California: Holy Cow BBQ
California's Holy Cow BBQ masterfully smokes and prepares its meats, bringing a smidge of the south to the Golden State. Gorge yourself to barbecue nirvana with pulled chicken, pork, and brisket, but make sure you save special space for the ribs. Between the baby backs and the giant beef ribs, Holy Cow BBQ has you covered.
Be warned, though, according to the website, the beef ribs are super popular, so there's a two rib per person limit.
Colorado: Georgia Boys BBQ
Despite the name, Georgia Boys BBQ is a Colorado-based, southern-style rib joint featuring tasty treats from the pit. According to the Greeley Tribune, Georgia Boys BBQ offers burgers and sammies alongside more conventional barbecue fare, with tons of rubs and sauces to treat your taste buds.
One of the restaurant's fave dishes, and arguably what makes it so unique, is the ribs. Expect smoked salt and tons of flavor in each meaty bite. If you're super hungry, you can get your ribs with a bit of brisket, although they're outstanding on their own.
Connecticut: Hoodoo Brown BBQ
For stacks of ribs the height of a small child, it's got to be Hoodoo Brown BBQ. Connecticut's favorite ribs joint features fiery and sweet honey barbecue sauce and incredibly sumptuous pork ribs. Expect a massive crowd because Hoodoo Brown BBQ's tastes are legendary (via CT Insider).
Restaurant Guru reviewers love Hoodoo Brown BBQ's beef ribs and draft beers, and if you have a smaller appetite, you can certainly get a half rack of the pork ribs with a few slices of cornbread.
Delaware: Young's BBQ
Youngs BBQ is a modest, unassuming little place that all the locals know. According to Delaware Today, you can order some of their world-class ribs, or even the whole hog online, or stop in for ribs smothering in their vinegar-heavy sauce. Youngs BBQ is a fantastic nod to southern BBQ with half and full portions of ribs, brisket, and sides.
Both TripAdvisor and Yelp reviewers laud the ribs, sides, and sauces.
Florida: 4 Rivers Smokehouse
Featured in Fodor's Travel, 4 Rivers Smokehouse proves that the Sunshine State is still very much part of the south. With St. Louis Style ribs available in quarter, half, or full rack portions, 4 Rivers Smokehouse is the place to visit on an empty stomach. The ribs are rubbed with all-purpose seasoning and then touched with honey for a sweet and spicy flavor that's hard to beat.
As TripAdvisor reviewers note, these ribs are "to die for," so do yourself a favor and stop by.
Georgia: Blind Pig BBQ
Only in Your State calls Georgia's Blind Pig BBQ "small but legendary," which seems a fitting moniker for the restaurant with the state's most savory ribs. These fall-off-the-bone beauties are prepared old-school style, with tons of talent and time going into each order.
As TripAdvisor notes, the ribs are the thing to order at Blind Pig BBQ, with some reviewers noting that they were the "best they'd ever eaten." So, try them for yourself next time you're in the Peach State.
Hawaii: Sunset Texas Barbecue
According to Honolulu Magazine, Sunset Texas Barbecue pairs its mouthwatering ribs with fantastic sides like "voodoo pickles" and buttery Hawaiian rolls for a sun-drenched take on traditional barbecue that will make you want to jump on a plane ASAP.
As Yelp notes, while the sides might be slightly different, the ribs are a classic perfection with fall-off-the-bone consistency and plenty of hearty smoke flavor. Some reviewers even commented that you didn't need the sauce at all.
Idaho: Grandpa's Southern BBQ
Grandpa's Southern Bar-B-Q in Boise, Idaho, is the place to visit if you're looking to sate your rib fix and don't want to break your bank account or have to fast for several days beforehand. With a tasty baby back snack option and addictive and delicious rib tips, Grandpa's Southern BBQ puts a brand new spin on an old favorite.
According to Boise State Public Radio, Lloyd Westbrook, pitmaster and owner, makes his ribs special daily. Grandpa's Southern BBQ's loyal customers appreciate the consistency and come back every time.
Illinois: Honky Tonk BBQ
Illinois' Honky Tonk BBQ serves two delectable and different styles of ribs: St. Louis and baby back. If you're in the mood for several renditions of rib goodness, you can order both in a sampler platter or try out Honky Tonk BBQ's other meats, sides, or delicious sauces. With consistently good TripAdvisor reviews for both the ambiance and the food, Honky Tonk BBQ is a solid choice for vast plates of ribs done just right.
Indiana: Smokin' Barrel BBQ
Smokin' Barrel BBQ's owners have a sweet love story that started when they worked together at a different barbecue restaurant (via Indy Star). The two have a passion for incredible cooking, keto-friendly meats, and delicious dry rubs. According to Yelp, the nice, meaty, and perfectly seasoned rib tips are a draw.
The secret to Smokin' Barrel BBQ's fantastic ribs is a low and slow process, a robust dry rub, and high-quality wood. You can totally taste the difference.
Iowa: Smokey D's BBQ
Featured on Diners Drive-Ins and Dives, Smokey D's BBQ is a ribtastic extravaganza of fabulous, slow-cooked barbecue ribs served by themselves, alongside wings, or with some tasty sides. Some reviewers on TripAdvisor cite these ribs as being "the best I've ever eaten," and they certainly qualify as being tops in the state.
Unassuming, unpretentious, and just plain amazing, Smokey D's BBQ will definitely knock your socks off and have you coming back for more.
Kansas: Joe's Kansas City Bar-B-Que
If you think it's unlikely to find amazing ribs in a gas station, we offer you Joe's Kansas City Bar-B-Que. Feast on a heavenly dinner of burnt ends and ribs. The fall-apart flavor and texture of the ribs are the perfect foil for the crispy burnt ends. Plus, although you can have sauce with your meal, you don't really need it.
According to Roadfood, the meats at Joe's Kansas City Bar-B-Que are so tender and decadent that you don't need anything else. Bring your appetite, though, because each portion comes with a massive pile of fries.
Kentucky: Red State BBQ
Sensational barbecue and great ribs are par for the course in Kentucky, but what really sets Red State BBQ apart is the restaurant's commitment to excellence and ability to make great gluten-free fare. According to Find Me Gluten Free, the sauces are mostly celiac-friendly, and the ribs are to die for, with substantial meaty portions that pull apart easily with a fork.
TripAdvisor concurs, citing Red State BBQ as the best restaurant ever, thanks to its tasty ribs.
Louisiana: Cou-Yons
Louisiana's Cou-Yons mixes bajou and barbecue with Cajun-inspired sides like rice dressing and hushpuppies. Cou-Yons also has a fab take on ribs, with partial and full racks of baby back and spare ribs seasoned with a little Cajun kick. According to Yelp reviews, you don't even need a sauce to enjoy these tender, perfectly cooked morsels.
The West Side Journal notes that Cou-Yons is one of the most beloved restaurants in the region, and with their lip-smacking ribs, it's no surprise why.
Maine: Buck's Naked
Maine's Bucks Naked BBQ is a fun and funky juke joint that also happens to have an impressive gluten-free selection. According to Find Me Gluten Free, Bucks Naked BBQ has gluten-free cornbread and rolls and some of the best barbecue and ribs north of Mississippi.
Plus, calling the portions at Bucks Naked BBQ generous is an understatement. You can get a behemoth order of baby back ribs with a sweet and spicy dry rub, St. Louis Ribs, or put a whole meaty platter together with chicken, brisket, ribs, and sausage. If you have any space left, the potato salad and beans are excellent.
Maryland: Mission BBQ
Maryland's Mission BBQ offers some of the most mouthwatering morsels near the nation's capital, with slow smoked meats, fresh sides, and plenty of robust sauces to dip everything. According to Yelp, the service and sauces are spectacular, and it's the ribs that really help Mission BBQ make the cut.
Get individual ribs by the bone, or load up on 10 or 5 bone dishes. You can also enjoy flavor-packed baby back ribs or St. Louis Style spare ribs. If you're super hungry, try the Black Plate Special with several different types of meat.
Massachusetts: Blue Ribbon BBQ
Massachusetts's Blue Ribbon BBQ is so popular with the locals that it opened another, more spacious location for more barbecue binging (via Eater Boston). While the original Blue Ribbon BBQ was just a tiny counter serving up outstanding ribs and other meats, people still waited in line to get a taste of the good stuff, namely the St. Louis cut ribs.
Dry rubbed, tender-smoked, and treated with a touch of Blue Ribbon BBQ's signature BBQ sauce, these ribs are easily the best in the state and in the running for best on the East Coast.
Michigan: Slows Bar BQ
Michigan's Slows Bar BQ enjoys plenty of ultra-rave reviews on Yelp for incredible sides, succulent chicken, and amazing ribs. Baby back ribs are a hugely popular menu item at this Great Lake State eatery, and it's simple to understand why. Like many fabulous barbecue joints, Slows Bar BQ takes a cue from its name and cooks the ribs low and slow with plenty of love.
This restaurant is so popular that there's a Slow Bar BQ pop-up ghost kitchen, so hungry locals don't have to trek to the original spot (via Hometown Life).
Minnesota: C&G's Smokin BBQ
C&G's Smokin BBQ is not for the faint of heart or the full of stomach. This Minnesota phenomenon serves ginormous portions of ribs, chicken, and wings. Although all the meats are gorgeously cooked and served piping hot, it's the ribs that stand out as amazing (via TripAdvisor).
In an interview with the Spokesman-Recorder, owner Greg Alford humbly describes C&G Smokin BBQ as a "hole in the wall," but clearly, he and his team are doing something very right, especially in the ribs department.
Mississippi: The Shed Barbecue & Blues Joint
While there's no shortage of fab rib joints in Mississippi, The Shed Barbecue & Blues Joint is a cut or two above the rest, with traditionally served plates of ribs mingling with menu faves like baby back rib sandwiches and gargantuan sampler platters. Plus, the price is right, and the portions are sharable.
One of the Shed Barbecue & Blues Joint's most popular platters has two types of ribs, chicken, sausage, and pork, and is a little slice of culinary heaven on a plate. According to the Sun Herald, the Shed Barbecue & Blues Joint even got nationwide acclaim on Michael Symon's BBQ USA.
Missouri: A Little BBQ Joint
Missouri's A Little BBQ Joint might have a diminutive name, but it's got some colossal flavor. According to Kansas Travel, the ribs are treated right, with plenty of seasoning, smoke, and fall-of-the-bone goodness. With conventional barbecue joint sides and good attention to detail, A Little BBQ Joint is the real deal.
Yelp reviewers call the ribs "delicious with a capital D" and love A Little BBQ Joint's selection of signature sauces
Montana: Notorious PIG BBQ
Cleverly-named Notorious P.I.G BBQ is a rib powerhouse in Big Sky country, offering decadent dishes of ribs at market price, along with fiery pickles, beans, and hearty servings of slaw. If you have room after all those ribs, you can always dig into some gouda macaroni and cheese or homemade potato salad.
According to Yelp, expect ribs that are nothing short of fantastic. If you want to round off your meal with something else that's also excellent, try the burnt ends or a slice of Texas-style brisket.
Nebraska: Phat Jacks
Nebraska's Phat Jacks has a hungry, loyal following on both TripAdvisor and Yelp, with patrons singing the praises of both the brisket sandwich and the ribs. Some reviews call Phat Jacks' ribs the "best ever" and celebrate the excellent ratio of sauce to meat. So if you're a real rib connoisseur, put this place on your "must-dine" list.
The demand is so massive that Phat Jacks' website warns rib-desiring customers to arrive early because the restaurant regularly runs out.
Nevada: Carson City BBQ
Carson City BBQ in Nevada is a humble, quirky barbecue joint with award-winning ribs, a galaxy of different sauce options, and tantalizing dry rubs for every taste. According to Nevada Appeal, this local legend consistently wins awards with its fresh take on juicy chicken and fall-off-the-bones ribs.
The secret to the perfect Carson City BBQ rib is time and cooking temperature, and the patience certainly pays off in tender ribs coated in an expert mix of seasoning.
New Hampshire: Goody Coles Smokehouse
Goody Coles, a New Hampshire local fave, proves that Yankees can do barbecue justice with a staggeringly huge full rack of St. Louis style dry rubbed pork ribs. Goody Coles' secret recipe and hickory smoked technique yield some fabulous results.
According to TripAdvisor, the sheer aroma of these ribs is reason enough to make the trek to Goody Coles. Try them alone or with a signature sauce, but definitely get them onto your plate ASAP.
New Jersey: Big Ed's Barbecue
The sign outside New Jersey's Big Ed's Barbecue proudly states that you can find the best ribs inside, and they aren't lying. The hearty bucket is jammed with rib tips, full baby back dinner, or meats combos featuring dry rubbed, perfectly smoked meats, served with tons of different sides.
According to Only in Your State, Big Ed's Barbecue serves the absolute best all-you-can-eat ribs in Jersey, and the Garden State gives its southern counterparts a big run for their barbecue money.
New Mexico: Mad Jack's Mountaintop Barbecue
Texas-born and New Mexico-perfected MAD Jack's Mountaintop Barbecue brings a touch of the Lonestar State to the desert, and folks are salivating for some premium oak smoked meats (via Texas Monthly). Since Mad Jack's is high in the mountains, hungry patrons have to work for a taste, hiking up to the little restaurant serving big Texan flavors.
Local reviews praise the brisket, sausage, and giant portions of ribs and promise that the long lines out the door are more than worth it (via TripAdvisor).
New York: Mighty Quinn
If New York City isn't the first spot that leaps to mind when you think of incredible ribs, you have never been to Mighty Quinns Barbecue. Their brontosaurus rib takes a total of 12 hours to cook, and you can taste the love in every morsel. If you adore ribs and have a huge appetite, visit the Big Apple just to get one.
These sizable and succulent beef ribs are a hit with loyal customers, who also recommend tucking into a plate of Mighty Quinns baked beans (via TripAdvisor).
North Carolina: Grady's Barb-B-Q
Grady's Bar-B-Q is an unassuming North Carolina joint specializing in whole-hog barbecue (via ABC 11). Instead of relying on gimmicks or tricks to make the ribs sing, the Grady's serve their smoked pork old-school style. TripAdvisor reviews are full of people who drive hours just to sample the ribs and don't mind waiting close to an hour for minimally-seasoned, delicious, tender ribs. Round off your rack of ribs with a classic side, and you're in foodie heaven.
North Dakota: Bones BBQ Smokehouse & Grill
According to Minot Daily News, locals and visitors flock to Bones BBQ Smokehouse & Grill for the ultra-fresh meats and cooked-from-scratch sides. From soups to sides and desserts, it's all made in-house daily, with particular attention paid to the star of the show; the meats.
Rave reviews laud the fork-tender meats, flavorful sauces, and hearty portions, and some even say that you'll find the best ribs on the planet in this North Dakota gem (via Yelp).
Ohio: Woodstock BBQ
Ohio's Woodstock BBQ serves up massive orders of half and full rib tips and prides itself on both its dry rub ribs and family-style atmosphere. Using traditional hickory-fueled smokers (via Woodstock BBQ website), it brings a bit of the south to the Buckeye state.
This nod to southern-style barbecue isn't lost on the patrons either, with glowing TripAdvisor reviews complimenting the "great BBQ ambiance," delicious ribs and homestyle turkey, and amiable staff.
Oklahoma: Iron Star Urban Barbecue
Iron Star Urban Barbecue is Oklahoma's ultimate celebration of all things carnivorous, featuring a stellar boneless bbq rib sandwich packed with flame-grilled rib meat, cheese, fiery jalapenos, and slathered in sauce. If you prefer your ribs served more traditionally, check out the dry rub, slow-cooked St. Louis cut pork ribs.
Full of hickory smoke and plenty of TLC, these ribs are one of the reasons why Iron Star Urban Barbecue has more than its fair share of return customers (via TripAdvisor).
Oregon: Botto's Barbecue
According to Eater Portland, Botto's BBQ is a "major player" in Portland's competitive culinary scene, and you only need to sample the exquisite ribs to understand why. Yelp reviews champion the beautiful portions of peppery ribs and the incredible sides on offer at Botto's BBQ.
If you like your ribs hot, falling off the bone, and packed with pepper, Botto's Barbecue is the only spot to go next time you find yourself in Portland.
Pennsylvania: Redd's Smokehouse
According to Penn Live, Redd's Smokehouse BBQ specializes in unconventional fare like meaty bacon on a stick and more standard barbecue delights like pulled pork, brisket, and ribs.
Starving patrons can snack on the full rack of smoked ribs, tender and cooked to absolute perfection, while less hungry diners can get their hands on the equally tasty half rack. Make your meal complete with some jalapeno cheddar sausage and a side or three.
Rhode Island: Durk's
The tiny state of Rhode Island has some of the biggest, boldest barbecue ribs in the country. According to Durk's Bar-B-Que, this rib joint offers unique hospitality and unique riffs on old faves, like short rib pierogis.
Rhode Island Monthly calls them "Southern street food," but patrons know them as simply delicious fare from one of the most exciting restaurants on the East Coast. So, get your rib fix at Durk's.
South Carolina: Midwood Smokehouse
According to The Charlotte Weekly, Midwood Smokehouse derives its unique style from a myriad of different traditions. This unique approach to barbecue, paired with a passion for great meats, puts Midwood Smokehouse on South Carolina's culinary map for sure.
Customer reviews rave about the sides, tender brisket, and chicken, but there's a remarkable amount of praise reserved for the fall-off-the-bones ribs (via TripAdvisor). Pair some tender ribs with a tangy mustard sauce, and you'll understand.
South Dakota: JRs Rhodehouse BBQ Pit
Check out Rapid City for the best ribs in South Dakota. JRs Rhodehouse and BBQ Pit is a legendary waterhole recognized for its stellar barbecue and simple, effective preparation techniques (via KOTA TV). According to KOTA TV, Justin Rhodes uses a combination of slow cooking, exceptional meats, premium wood, and basic seasoning to get that taste on point.
Although all of JR Rhodehouse and BBQ Pit's meaty offerings get accolades, the ribs stand out as a fave in plenty of TripAdvisor reviews.
Tennessee: Martin's Bar-B-Que Joint
For top-notch spare ribs in Tennessee, there's only one local haunt to visit, Martins Bar-B-Que Joint. This southern icon embraces whole-hog style cooking, and the cooks still get up at the break of dawn to cook the meats, sauces, and sides fresh for that day (via The Epoch Times).
Martin's Bar-B-Que Joint's commitment to consistent hard work and culinary excellence pays off in the form of amazing ribs that TripAdvisor reviewers laud as "the best ribs I've ever had."
Texas: Salt Lick Barbecue
The Lonestar State's famous Salt Lick BBQ has a loyal following and some tested-and-true family fave recipes, including decadent brisket and some of the best, juiciest ribs you'll taste in the country.
Although Salt Lick BBQ has had fires in the past (via Community Impact), the Texan staple still sears and cures its scrumptious piles of meats over raw open flames, lending the food a flavor that you won't find elsewhere.
Utah: R&R BBQ
R&R BBQ brings two delectable things to the table; towering plates of ribs and tons of sauces to dunk them in. According to TripAdvisor, the quartet of tangy and flavorful barbecue sauces is a must-savor on your visit to R&R BBQ, and the massive plates of rib tips and shareable full racks are too.
Make your meal super memorable with some andouille sausage, macaroni and cheese, or pulled pork on the side.
Vermont: Big Fatty's BBQ
Vermont's big, boozy, and beef Big Fatty BBQ is a craft beer haven with a rocking vibe and all the tasty smoked and barbecued meats (via USA Today). According to TripAdvisor, Big Fatty's also does southern food justice, with fabulous classic sides like baked beans and coleslaw.
The real unsung hero of Big Fatty's has got to be the rib combos. Hungry patrons can feast on ribs, burnt ends, and brisket or sink their teeth into some incredible pork spare ribs with slaw on the side.
Virginia: Dave's BBQ
Since Virginia is southern, the acceptable standard for good ribs is pretty high, and Dave's BBQ meets it with flying colors. This modest restaurant does a robust business in Virginia Beach, cooking fresh food daily (via Yelp). If you're lucky, you'll find smoky spare ribs on the menu.
According to Yelp reviews, these spare ribs are second to none, with some reviewers celebrating them as the best ribs they've ever had. So prepare for high quality and massive portions at this Old Dominion haunt.
Washington: Moose Creek Barbecue
Washington's Moose Creek Barbecue specializes in all things cooked low and slow, like tender brisket, pulled pork, and especially smoky, meaty ribs. But, according to Yelp, the ribs are really what makes patrons stand up and pay attention.
The ribs are packed with flavor and fork-tender, ideal alongside some homemade baked beans or creamy potato salad. Round off your meal with some dense cornbread, and you'll be in taste bud bliss.
West Virginia: Dee Jays BBQ Ribs & Grille
Dee Jay's BBQ Ribs & Grille has mastered the art of melt-in-your-mouth ribs with a sweet and smoky hick of hickory and plenty of flavorful, tangy sauce. According to Trib Live, the restaurant chain is expanding throughout the state and into neighboring regions, drawing high-profile fans like Philadelphia Flyers players.
Although everything on Dee Jay's BBQ Ribs & Grille's menu is delectable, people have a special soft spot for the ribs (via TripAdvisor.)
Wisconsin: Big Guys BBQ Roadhouse
Wisconsin's culinary claim to fame may be oodles of America's finest cheese, but the ribs aren't bad either, as Big Guys BBQ Roadhouse proves. According to Kare 11, owner Jethro Lund learned the art of the perfect barbecue as a small child. Although Lund dabbles in eccentric goodies like candy bacon, his old-fashioned comfort food hits the mark.
Big Guys BBQ Roadhouse specializes in ribs cooked low, slow, and St. Louis style with cravable riffs on classic sides.
Wyoming: Fat Racks BBQ
Fat Racks BBQ in Wyoming is a splendid spot to get your rib fix, along with some tempting and tasty sides. Grab one of Fat Rack's signature sauces, and you'll be in hog heaven with fall-off-the-bone meat accompanied by creamy coleslaw.
TripAdvisor suggests that meat-loving customers made a point to visit this Wyoming gem, and we tend to agree. So whether you order the full pound of ribs or one by one, you won't regret stopping by.