As one of the most public and famous athletes in history, it's impressive how Venus Williams has managed to remain private when it comes to her personal life and dating history. At the time of this writing, the most that has been shared publicly by Williams is that she has been in three serious relationships, and that she's not overwhelmingly concerned about settling down and getting married.
While Williams joked that she might be "undateable" in a 2021 interview with ESPN (per Twitter), she's more seriously explained that she's really happy with her life how it is, with or without a man in it. As she told Cosmopolitan, she's really in no rush to do anything in terms of her personal life that she isn't already doing. Williams explained, "I have a lot of friends who don't believe me when I say that I like my life and I don't want to change it for any reason. I'm not desperate and they don't believe me."
Here's a look at the men we know Williams has dated, and how each of those relationships ended up.
Venus Williams has been open about not settling down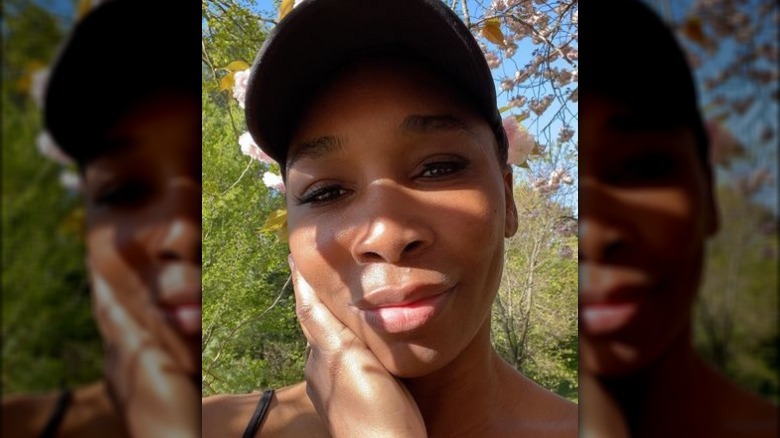 While some women are clear that they want to pursue marriage and motherhood as serious goals, Venus Williams has been just as clear about how happy she is in the life she has built for herself. As she explained during an interview with Cosmopolitan, she is often grateful for the freedom that she enjoys in her life, even if her friends don't believe her when she says it. Venus said that her friends worry she is secretly desperate to get married, but nothing could be further from the truth. As she put it, "They say things like, 'You're going to miss your window.' I'm like, 'Please, relax. You might feel this way, but I don't. I promise you I don't.'"
This mentality has appealed to other women who look to Williams as a kind of role model. As journalist Jemele Hill explained to Cosmopolitan, Williams is challenging the idea that women of a certain age – and especially Black women – are desperate. For Hill, Williams proves the opposite. As she put it, "The joy that she has both on the court and off it is kind of an indirect retaliation to that narrative" (via Cosmopolitan).
She revealed she's single in 2021
Venus Williams was in the middle of the 2021 Wimbledon tournament when she gave an interview on ESPN that resulted in a funny conversation about her personal life. After former tennis player and commenter Chris Evert asked Williams about how she's managed to stay in the game for so long, Williams admitted she has grown tired of being asked the question. With that in mind, Evert promptly changed course and asked a question that Williams likely never expected: She inquired, "How's your love life?"
It's clear in the video footage that Williams was clearly caught off guard by the question, but also entertained. She began laughing and commented, "I'm very single. I'm actually, I might be undateable" (via The Shift). Fans were delighted by the turn in conversation, and left multiple comments indicating that they would love to see this side of Williams more often (per Page Six).
Venus Williams wants to know what a man will do for her
As one of the greatest tennis players of all time, Venus Williams is a woman who has accomplished incredible things, both on and off the tennis court. As such, it makes sense that when looking for a partner, she wants to know what the men she might date will bring to the table — because we all know she brings a lot.
Williams filmed a question-and-answer segment for her YouTube channel in March 2022, and part of the conversation was about this very topic. She was first asked if she would ever want to date a "regular" guy. It was clear that she thought the question was interesting, and the tennis legend commented that every person is capable of doing extraordinary things. As she put it, "For me, the difference between regular and extraordinary is the effort that you make. We're all normal folks. So are you willing to do something extraordinary? Are you willing to do something extraordinary for me?"
Williams returned to the topic after a fan asked if he could be her boyfriend. In fact, she offered a challenge: "So let me know what you're gonna do for me down in the comments box. I am single, so maybe there will be something that will move me" (via YouTube).
She has confirmed she didn't date Reilly Opelka
In 2021, there were several rumors that Venus Williams was dating fellow tennis player Reilly Opelka, especially after the two were photographed together more than once. In December of the same year, Williams finally cleared up any misconceptions.
She chose to address the rumors in her Instagram story. After adding an option for fans to send her questions, she ended up fielding a few about what exactly was going on with her and Opelka. One fan asked, "Are you and Reilly dating?" to which Williams pointedly answered, "No @ReillyOpelka shot me down" (via Tennis.com). The reply was typical of Williams' open sense of humor, and most fans seemed content with knowing that she and Opelka were just good friends.
As Tennis.com has noted, the pair are frequently photographed traveling together, and Opelka was on hand for the premiere of the movie "King Richard," which tells the story of the rise of Williams and her sister Serena in the world of tennis.
Venus Williams dated Nicholas Hammond in 2017
In December 2017, Page Six reported that Venus Williams had been photographed out on a date with financier Nicholas Hammond. The photos were taken after Hammond had made an appearance in Williams' family box at the US Open that year — and after he more notably accompanied Williams to her sister Serena's wedding in New Orleans. However, a source close to Williams cautioned Page Six that at the time, Williams and Hammond weren't totally sure if they were official.
As the source explained, the two had been on a couple of dates, but it wasn't clear whether they had adopted a label. The source said, "It's relatively new. I'm not sure she's calling him [her] boyfriend yet. They've been going on dates." The outlet also spoke to someone who was eating at the restaurant where Williams and Hammond were photographed who commented, "They were cuddled up the entire time they were inside the restaurant, even kissing while waiting to be seated and continuing the affection at their table" (via Page Six).
Nicholas Hammond gave Venus Williams a friendship ring
In August 2018, Page Six reported that Venus Williams and Nicholas Hammond were still very much in a relationship and that things had progressed for the pair. A friend told the outlet that Hammond had gifted Williams a ring that was being described as a "friendship ring," and Hammond himself simply commented, "We have a firm commitment to one another to keep our relationship private."
While some were quick to speculate that the two might have been planning to walk down the aisle, another source told the outlet that while the pair were very much in love, getting married hadn't been mentioned. As they put it, "They are in love, but no one has mentioned any engagement" (via Page Six).
Sadly, the pair broke up in June 2019. A source explained to Page Six that the relationship had simply run its course and there were no hard feelings between the two. As they put it, "They dated for two years and have broken up. It's not because they don't love each other, they do. They are still friends."
Venus Williams and Elio Pis were together for five years
Before dating Nicholas Hammond, Venus Williams was in a serious five-year relationship with Cuban model Elio Pis. The two were first linked back in 2012, when People reported that they were seen kissing and holding hands at Arthur Ashe Stadium in Queens, New York, and Pis was seen sitting alongside Williams' family as they cheered her on during the New York Grand Slam Tournament that year.
While it wasn't clear where the two met, People noted that Hammond had worked with Williams at EleVen, her athletic wear clothing line, and that his Facebook listed Williams as his sports hero. Williams and Hammond were even photographed modeling for EleVen.
It's unclear when or why the pair broke up, but they were photographed having dinner together in 2017 and sparked rumors that they might be getting back together. A source who was at the same restaurant told Page Six, "The two seemed to be enjoying each other's company."
Venus Williams dated Hank Kuehne for three years
Rumors of engagement and marriage also followed Venus Williams and her ex-boyfriend Hank Kuehne. The two made a lot of sense on paper, as Kuehne is a professional golf player. Their relationship lasted for three years, from 2007 to 2010.
Williams and Kuehne had a very private relationship, which was something she would go on to repeat in the future. The pair were photographed together in 2008 when they both attended that year's Masters Tournament (per Golf Channel).
It's possible that Williams and Kuehne bonded in part because they both have experience playing alongside their siblings. Just like Venus and her sister Serena are both incredible tennis players, Kuehne's older brother Trip went into golf before he did (per D Magazine). The pair never revealed why they broke up or even when. Kuehne married his wife Andy in 2011, and they have three children together.