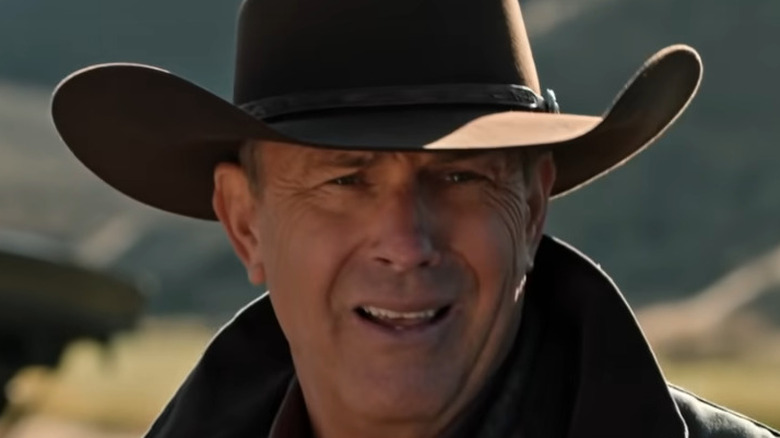 Performer-turned-writer Taylor Sheridan has seen massive success in television, with the Paramount series "Yellowstone." The show, which follows a family of Montana ranch owners, has remained a hit throughout its run. Season 4 continues to keep viewers invested as the Dutton family deaths with the aftermath of the attacks on their lives. After John, Beth (Kelly Reilly), and Kayce (Luke Grimes) survived the assassination attempts that closed out the third season, Rip (Cole Hauser) went after Roarke (Josh Holloway) while John (Kevin Costner) and Kayce hunted down the hit squads that were sent after them.
Tensions in the family further solidified as Jamie (Wes Bentley), already under suspicion by both John and Beth, discovered that the organizer of the hits on the Dutton family was a former cellmate of his biological father, Garrett Randle (Will Patton). Jamie ultimately found himself pitted against John in the race for governor, with John receiving the endorsement of the incumbent. A shootout at a diner also leads to the death of the Sheriff, despite John and Rip's best efforts to kill the robbers first.
With the show's fourth season winding to a close, fans have been eager to know what Sheridan and the show's writers and performers have up their sleeve for Season 5. Here's what we know so far about what's next for "Yellowstone."
What is the release date of Yellowstone Season 5?
Opening the season with a two-hour event, "Yellowstone" Season 5 is set to premiere on November 15, 2022. Paramount has been on a roll lately with "Yellowstone"-adjacent content, as the network has greenlit and produced multiple Taylor Sheridan-helmed spinoff series, including "1883," "1923," and "6666," proving that they're all in on "Yellowstone."
Star Cole Hauser confirmed during the Hall Family Wines Happy Hour (via YouTube) in November 2021 that Sheridan was already working on the show's fifth season while the fourth was still airing, which excited fans long before any official announcement was made. More recently though, series executive producer David C. Glasser caught up with Hello Magazine to promote the next season.
"Episode one will immediately surprise everybody," Glasser stated, "where our story starts and what has happened." It sounds like he's implying a possible time jump in the "Yellowstone" narrative, or some other major event that will kick off the next season. While we're hard pressed to figure out how you could start a new season with more intensity than Season 4 did, there's no doubt that Taylor Sheridan and company will deliver — and it will be explosive.
While the first three seasons premiered in late June, Seasons 4 and 5 both share November release dates, likely due to the show's shooting schedule and the western Montana weather. Arriving just in time for Thanksgiving, we'll be more than thankful when "Yellowstone" returns and the Dutton saga continues.
Who is in the cast of Yellowstone Season 5?
The central cast members of "Yellowstone" are expected to return for Season 5. This includes Kevin Costner as the Dutton family patriarch John, Kelly Reilly as Beth, Cole Hauser as Rip, Wes Bentley as Jamie, Luke Grimes as Kayce, and Kelsey Asbille as Monica; not to mention Jefferson White as Jimmy and a host of others from the bunk house.
When Season 4 ended, Kayce was immersed in an initiation ritual that cut him off from the world, only to have a spiritual revelation of his own … one that would be "the end of us." While there's plenty of speculation as to what Kayce meant, we're bound to find the answers in the two-hour Season 5 premiere.
The fifth season is also guaranteed to bring a new sheriff to town following the death of Donnie Haskell (Hugh Dillon). A new cast member has yet to be announced, but it's also possible that an existing character will step into the role. Matthew Jones, introduced as the sheriff's deputy in Season 4, is the most likely choice.
Sadly, Will Patton, who plays Jamie's biological father Garrett Randle, won't be returning as a regular after Jamie killed him in the Season 4 finale, though Katherine Cunningham, who plays Christina, is likely to return since she and Jamie have a child together. How will that all play out now that Beth has Jamie under her thumb? We'll have to wait and see!
What is the plot of Yellowstone Season 5?
It's unclear what the central storyline of Season 5 will be. In the Happy Hour with Hall Family Wines (via YouTube), Cole Hauser admitted, "The way Season 4 ends, the audience … will be happily surprised with a lot of things." Between the marriage of Rip and Beth, Kayce's own personal revelations, and the strange arrangement between Beth and Jamie, the next season of "Yellowstone" promises to be something completely different than before.
The biggest question heading into Season 5, though, is regarding the race for governor, which currently has John and Jamie pitted against each other. Since John now "owns" Jamie once again, and is now trying to take his job prospects, fans have felt sorry for how Jamie has been treated — though perhaps John may reassesses their relationship after notifying the sheriff's daughter that her father is dead, and recognizing that Beth could easily have killed his adoptive son. Hopefully, John and Jamie will reconcile.
Kayce's arc will also be a crucial part of Season 5. His decision to undergo the warrior initiation rites is sure to earn the respect of Monica's family, and will undoubtedly affect his view of the world and what he holds dear. There's been speculation that Kacye may join the side of the Broken Rock Indian Reservation, and if that's the case, it will absolutely destroy his father.
If you need to catch up before the Season 5 release, here's a quick 15-minute recap.
How many episodes will there be in Season 5?
So far, every season of "Yellowstone" — excluding the first season, which had a 90-minute series premiere — has featured 10 hourlong episodes. This allows for more focused storytelling and gives each of our favorite characters ample time to develop and pursue their own interests. The next season of "Yellowstone," however, is taking a different turn: Rather than 10 episodes, the season will be split into two halves with 7 episodes each, totaling a 14-episode fifth season (via Wall Street Journal).
The fifth season is also expected to help launch several other streaming shows for Paramount's in-house streamer Paramount+ beyond Taylor Sheridan's other series' "1883" and "Mayor of Kingstown." Among these shows are the Prohibition-era "1923" — originally titled "1932" and set during the Great Depression" — and the Sylvester Stallone-led "Tulsa King."
How these shows will connect to the greater "Yellowstone" story has yet to be revealed. Although the "spinoff" plotlines in Season 4 were heavily criticized by fans, there's no doubt we'll get some "backdoor pilot" action in Season 5 that will whet our appetite for more Sheridan-helmed goodness.
With an extended fifth season, and a 10.4 million viewership average on the Paramount Network, "Yellowstone" shows no signs of slowing down. By far the most profitable and beloved show on the network, "Yellowstone" and all its prequels and spinoffs are high priorities for Paramount, meaning we'll likely see a lot more in the future.
Where was Season 5 of Yellowstone filmed?
In May 2022, Paramount officially announced that production on Season 5 of "Yellowstone" had begun in Montana (via Taste of Country). Though the series is largely set in Paradise Valley and Bozeman, Montana, it hasn't always filmed there.
When "Yellowstone" premiered, the series was primarily filmed in Park City, Utah, a city just southeast of Salt Lake City that's even been referenced on the show. The series has traveled all across the Beehive State to capture the picturesque Western landscape, bringing people in droves to visit the "Wild West" (per The Salt Lake Tribune).
Though contrary to popular belief, not everything seen on "Yellowstone" early on was filmed in Utah. Since day one, the Chief Joseph Ranch in Darby, Montana has served as the infamous Yellowstone-Dutton Ranch, and most likely will until the series comes to a close. A family-owned ranch, the Chief Joseph was known throughout Montana long before "Yellowstone" came around.
After the third season, "Yellowstone" moved its production from Utah to the film-friendly state of Montana, hoping to honestly brand the show as a "Made in Montana" production. Season 5 continued this tradition, filming in and around the Missoula area in the western part of the state — Bozeman's bitter rivals. For taking place primarily in Gallatin and Park Counties, "Yellowstone" rarely films there, opting instead to keep the production on the western end of the state instead.
Is there a trailer for Season 5?
While there is no official trailer for Season 5 of "Yellowstone" just yet, there is a new teaser that promises to excite. Claiming that "all will be revealed," we're left wondering what it is that needs revealing. Is it about who will win the election, John or Jamie? Is it referring to the results of Kayce's vision quest? Or is it something else entirely?
From what we can see from the teaser, which admittedly isn't much, Kayce seems distraught, putting his head in his hands as he sinks on his front porch. Could this be the start of some potential conflict between Kayce and Monica? Or, more than likely, some tension between his family and the rest of the Duttons? All will be revealed…
Next we see Rip saddling up, which is nothing out of the ordinary for someone who works on a ranch — though this time, he's saddling up with a scoped rifle, which means there's some real trouble brewing. Whether this is human or animal-related is up for debate, but one thing is clear: Rip aims to teach someone a lesson.
The final shot shows John Dutton walking down a hallway looking all respectable. No doubt this is involving his campaign for governor, and he's most likely on his way to give a speech of some kind. While we don't know much about where Season 5 of "Yellowstone" is headed, this teaser trailer makes us anxious to find out.
Where can you watch previous seasons of Yellowstone?
For those looking forward to Season 5, or even if you haven't watched a single episode but want to catch up before the next season premiere, "Yellowstone" is available to stream: Currently, all four seasons can be found on Peacock if you have the premium option. There, you can revisit some of the series' best moments ahead of the Season 5 premiere, especially given the intensity of Season 4.
If Season 4 taught us anything, it's that paying attention to even the smallest details in previous seasons will be rewarding in the future. Kayce's vision of his dead brother Lee Dutton came as a surprise at the end of the last season, and was rewarding to longtime fans who remember that the eldest Dutton son was killed in battle in the series' opening episode. Those who have no interest in going back to binge through the complete series can find complete season recaps on the "Yellowstone" YouTube page, all under 20 minutes.
If you're curious about some of the characters from the Season 4 flashbacks, or if you're interested in continuing the "Yellowstone" story beyond the flagship show, the prequel series "1883" can be streamed in its entirety on Paramount+. The Yellowstone" origin story follows the Dutton family from Fort Worth, Texas across the great plains as they journey to what would eventually be known as Paradise Valley, Montana. If you love classic westerns, then this one's for you.
Will there be another Yellowstone marathon?
Since its premiere in 2018, "Yellowstone" has taken the country — and especially the Paramount Network — by storm. Because of its high production value, stellar cast, and raging popularity, the Paramount Network has runs "Yellowstone" marathons seemingly all the time. There's no doubt that the Paramount Network will run another ahead of the Season 5 premiere.
The network has a history of running "Yellowstone" marathons during holidays and in the weeks leading up to the next season premieres, which makes this a sure bet, even if there has been no official confirmation. To some, there seems to be something quite patriotic about "Yellowstone," which obviously lends to the network's desire to run a series-long marathon for every big American holiday — especially the Fourth of July.
If marathons do anything, it's increase interest and excitement leading up to the return of a popular program, and some of the greatest TV shows in history have done the same in preparation for a new season — especially if it can get their networks some more consistent viewership going forward.
For those interested in bingeing all of "Yellowstone" with commercials, The Cord Cutting Report has an excellent resource on how and where to watch these marathons that is updated every time a new one is announced. Of course, you could easily binge the past four seasons on Peacock, but where's the fun in that?
Will this be the final season of Yellowstone?
It's entirely possible that Taylor Sheridan could end the "Yellowstone" saga here with the fifth season, especially since he has a half-dozen other projects in the making with Paramount, though it seems unlikely that the network would want to fold on this modern western just yet.
Many episodes throughout Season 4 felt like backdoor pilots to other shows, which was a huge criticism even from longtime fans of the show. Jimmy's time down at the Four-Sixes Ranch in Texas was no doubt a ploy to explore the world of "6666" long before the first episode, and the flashbacks to the late 1800s Dutton family — led by Tim McGraw and Faith Hill — was an obvious precursor to "1883." It seems that Sheridan is doing everything he can to expand his "Yellowstone" empire before it loses steam.
It's unclear where the story of the Dutton family can still go. If they aren't going to give up their land to developers, natives, or the government, then who else is there left to fight? And if Kayce and his family really are done with the Yellowstone for good, then who is John Dutton actually fighting for?
If "Yellowstone" has taught us anything, it's that one day it will all be gone — the Duttons, their legacy, and possibly their open land. Though we hope "Yellowstone" sticks around a while longer, everything eventually comes to an end.