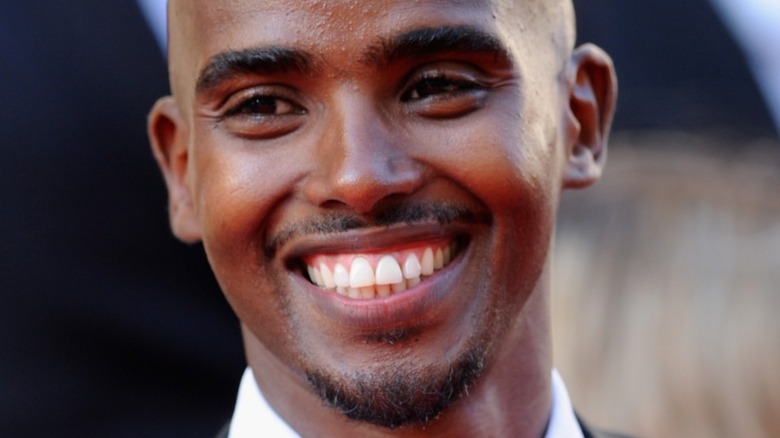 Thursday, September 8, 2022, brought news that Queen Elizabeth II had died, marking the end of a historical era. She had recently reached her platinum jubilee mark, completing her 70-year reign, the longest reign of any monarch in British history. By the time Her Majesty was crowned, the role of the monarchy was less political and more representational. According to the official Royal Family website, "The Sovereign acts as a focus for national identity, unity and pride; gives a sense of stability and continuity; officially recognizes success and excellence; and supports the ideal of voluntary service." Knighting individuals was a part of these duties.
Although the queen was responsible for giving out accolades and official recognition, she didn't actually have much say in who was chosen amongst the nominees, per BBC. Individuals typically receive such honors (which are divided into lower orders and higher orders) after making great contributions to British society, such as scientific advancements, charity work, artistic achievements, and accomplishments in sports. One of the highest orders of the Honors System of the United Kingdom is Damehood/Knighthood. Let's take a closer look at some of the impressive athletes Queen Elizabeth II knighted during her reign.
Sir Alastair Cook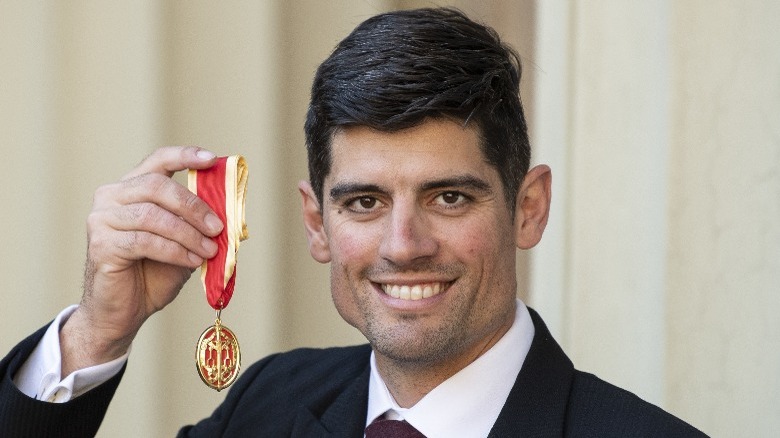 There arguably isn't a sport more British than cricket. The game is England's national summer sport, per Britannica. So it's no surprise that there are a few cricket players who have experienced the honor of becoming a knight. One of those cricketers is Sir Alastair Cook, who was knighted in 2019 for his services to the English team in international cricket. During his time on the team, he captained England 59 times and made 12,472 runs, a record-breaking number for the nation, per Daily Mail.
On the day he received his knighthood and had to kneel before Her Majesty the Queen to make the title official, nerves almost got the best of Cook. "I have played cricket in front of many thousands and done okay but you get just as nervous just walking and kneeling, which is very strange," he admitted to ESPNcricinfo. "I don't think I will ever get used to seeing my name with a 'Sir' before it," he added.
Sir Ian Botham
Ian Botham, known as "Beefy" to many Brits, had a prosperous cricket career from the 1970s to the 1990s, and has gone down in English history as one of the greatest cricket players of all time. In 2007, he was knighted not only for his achievements in the sporting world but also as an active philanthropist, raising millions for leukemia research, according to The Northern Echo. He told the news outlet, "What I achieved on the cricket field and the status I achieved with the public has allowed me to then go and raise the money for leukemia … I'm delighted that I've been honored, not only for myself but for the people that have helped me get there."
In a statement on his site, he wrote, "As a patriotic Englishman, nothing compares with having my work recognised by Her Majesty the Queen and its an honour and an occasion that I'll never forget. It eclipsed great events in my life like my first Test match, Ashes victories and even Headingley 1981."
A knighthood is not the only honor he has received. In 2020, he was awarded peerage, per ESPNcricinfo. According to Britannica, to be awarded peerage is to be given a title of nobility. For the cricketer, this meant becoming "Baron Botham of Ravensworth" and taking a seat in the House of Lords, one of the chambers of the U.K. Parliament. From "Beefy" to "Baron," he's come a long way from his cricketing days.
Sir Mo Farah
Born in Somalia, Mo Farah shared his heart-wrenching story of being trafficked to Britain at a young age in a 2022 documentary, per BBC. Running track became his place of solace during a difficult adolescence. His mentor and physical education teacher, Alan Watkinson, helped him apply for British citizenship in 2000 so that he could begin competing in national competitions, according to BBC. Excelling in long-distance running, Farah went on to win four Olympic gold medals, along with a host of other impressive achievements, as listed in his career highlights on his official website.
Farah was knighted in 2017 for his contribution to sports on behalf of England. "Over the years you dream of becoming something or doing something in your career, to take it to the highest level and become an Olympic champion — that was always the dream … As an 8-year-old coming from Somalia and not speaking a word of English, to be recognized by your country, it is incredible," he told Independent on the day of his investiture ceremony. "It was amazing to be knighted by the queen," Farah said in a video on his YouTube channel, noting that he had "a decent conversation" with Her Majesty about his running career and post-retirement plans.
Dame Ellen MacArthur
While you may not initially think of sailing as a sport, English sailor Dame Ellen MacArthur is undoubtedly an athlete and received a damehood (the female equivalent to knighthood) for her achievements in sporting. In 2005, she broke the record for the fastest solo nonstop global sailing voyage, per Britannica. When she completed her record-breaking trip, Queen Elizabeth wrote a personal congratulations to the young yachtsperson, stating, "I am delighted to learn that you have completed your round-the-world journey in record time. Since you set sail last November your progress has been followed by many people in Britain and throughout the world, who have been impressed by your courage, skill and stamina." The prime minister at the time, Tony Blair, stated, "The whole country is very proud of Ellen," per The New York Times.
Shortly after, her damehood was announced. At 28 years old at the time, she is the youngest known woman to ever become a dame, according to The Guardian. An official statement from Buckingham Palace read, "The Queen has been pleased to approve that Ellen Patricia MacArthur MBE be appointed a Dame Commander of the Civil Division of the Most Excellent Order of the British Empire on the occasion of her record-breaking, solo circumnavigation," (via The Guardian).
Sir Steven Redgrave
Steven Redgrave is a bit of a living legend in the sport of rowing. According to the International Olympic Committee, he is the only rower to win five gold medals at five consecutive Olympics, from 1984 to 2000. With a record-breaking achievement like that, it's not surprising the nation would be proud of him and that the queen would grant him one of its highest honors — knighthood.
Dubbed "Britain's greatest Olympian" by the BBC, Redgrave was knighted by Queen Elizabeth II at Buckingham Palace in 2001. Reportedly, the queen asked Redgrave if his feet were sore from recently running the London Marathon. "I told the queen I still have a couple of blisters and my legs were so stiff I had to walk downstairs backwards," he detailed to the news outlet. If living with the pride of five gold medals wasn't enough, he now has the medal and the title of knighthood to add to his list of impressive achievements. "It's a great honor — it's great to have an honor from your country," Redgrave added.
Dame Tanni Grey-Thompson
Welsh wheelchair racer Tanni Grey-Thompson has represented Great Britain in the Paralympics on more than one occasion and has won a whopping 11 gold medals, per the Wales government website. Born with spina bifida, Grey-Thompson started wheelchair racing at 12 years old and immediately fell in love with the sport, and has devoted much of her life to it, per Stylist. Not only does she have a host of medals to show for it, but she also broke over 35 world records during her wheelchair-racing career.
In 2005, she received a damehood from Queen Elizabeth II for her "services to disabled sport," per The Guardian. She told the publication, "It was really emotional," adding, "I never thought this would happen in my life … It shows how far Paralympic sport has come in this country." And like Sir Ian Botham mentioned earlier, she has also been awarded the honor of peerage and serves in the House of Lords as Baroness Grey-Thompson of Eaglescliffe, per the National Paralympic Heritage Trust.
Sir Alex Ferguson
Alex Ferguson, nicknamed "Fergie" by fans, is a former Scottish footballer and manager. Though he played professionally in the '60s and '70s, he's famous for managing the football team Manchester United from 1986 to 2013, per Britannica. He received his knighthood, becoming Sir Alex Ferguson, in 1999 for his services to football. According to Independent, he was awarded the honor after he achieved a number of wins for the team, including the Premier League, the FA Cup, and the European Cup. At the time, he had played a big role in getting the team 12 major trophies.
When he made his trek to Buckingham Palace to officially be knighted by Queen Elizabeth II, naturally, he was nervous. "It is nerve-wracking, yeah. Yes, I think everyone who experiences it has the same feeling. I've been here [to Buckingham Palace] for the third time but you still have that sort of trepidation. It's a wonderful day nonetheless," he said in a 1999 interview after the ceremony.
Sir Bradley Wiggins
Cyclist Bradley Wiggins has had an impressive career. Not only did he win the 2012 Tour de France, he's also taken home four Olympic gold medals, one silver, and two bronze, per Britannica. So it's no wonder he would be nominated for and awarded a knighthood. He was knighted by Queen Elizabeth II in a ceremony at Buckingham Palace in 2013. "I can't remember what she said or what I said," he told Sky Sports (via NBC Sports). "It was quite nerve-wracking actually. I'm still shaking now, to be honest," he confessed to BBC after the investiture. "I was just talking to some of the other people getting stuff, and asking them what they've been honored for, and they're historic things, ground-breaking sciences or whatever. I've won a bike race, you know, and I feel a little bit inferior to everyone, really," he further explained.
His humble approach to the honor has intensified over the years. On a 2019 episode of his podcast, "The Bradley Wiggins Show," he confessed that he had destroyed many of his medals and trophies, explaining, "I smashed my knighthood in front of my kids and chucked them in the flower bed to make a point to them," (via Daily Mail). Apparently he was trying to teach them a lesson about not striving for material items in life.
Sir Nick Faldo
After winning three Masters tournaments and three British Open championships, golfer Nick Faldo was knighted by Queen Elizabeth II in 2009, per PGA Tour. He is one of the few golfers to ever receive the honor. "As you can imagine, it's quite something. This has been a very special day," he said in an interview after the investiture ceremony (via AP Archive). He noted as a young golfer, he only ever had dreams of winning tournaments. "But you don't dream of this," he told the PGA.
Faldo has remained proud of his knighthood. "It's the highest honor a civilian can get in our country," he said on the NBC Golf show "Feherty." He also explained why insisting that people use the title "Sir" in front of his name isn't pretentious, but rather respectful. "We're actually asked by our government to uphold the tradition of this title," he said. And it's a tradition Sir Nick is happy to uphold.
Sir Bill Beaumont
Former player and World Rugby Chairman Bill Beaumont was given a knighthood in 2019 for his services to rugby. He played and captained teams Fylde, Lancashire, England, and the British & Irish Lions. After retiring from the game, he continued to commit his life to the sport as the Chairman of the major rugby organization, per World Rugby.
After the investiture ceremony, Beaumont tweeted, "Honored and humbled to have been knighted by Her Majesty The Queen at Buckingham Palace today. A very special day, shared with my family, that I will remember for the rest of my life. Proud to be serving rugby." He also noted that the honor is an achievement for all of rugby, saying, "The knighthood is as much recognition for everyone who gives their all to this great sport as it is me," per World Rugby.
However, not everyone was in agreement about the appropriateness of the award at the time. The knighthood came about the same year a French player, Nicolas Chauvin, died from injuries after a tackle during a rugby match. The Times raised the question: "Is it right to honor the man in the very top position in World Rugby in the very same month that a young French player died when playing the game that he is administering?"
Dame Laura Davies
Laura Davies is one of the most famous golfers in the LPGA. She's won 84 victories as well as four major titles, and was inducted into the World Golf Hall of Fame in 2015, per LPGA. She's also the only golfer, regardless of gender, to ever win tournaments on five different continents in a single year, per NBC Golf. All of these impressive achievements made Britain proud and ultimately resulted in her being nominated and awarded a Damehood by Her Majesty Queen Elizabeth II in 2014 for her services to golf.
Of all her trophies and awards, she seems to be most proud of the Damehood. She told SkySports, "It really is the greatest honor I have received in my career and what makes it even more special is that it is an honor that transcends golf," adding, "It is a nice recognition for women's golf." The Princess Royal bestowed the honor upon Davies on behalf of the queen, who was engaged with other official matters at the time, per Daily Mail.