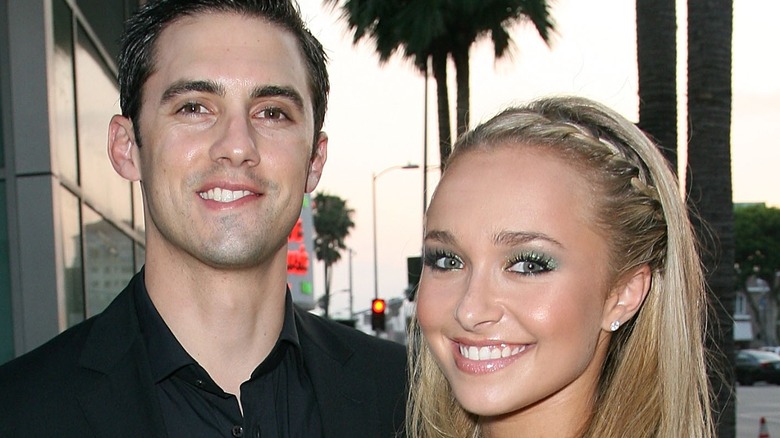 Falling in love on set, as Hayden Panettiere and Milo Ventimiglia did, is not exactly anything new for celebrities. We've seen many co-stars take things off screen — from Brangelina to Bennifer to, yes, Halo. Back in the 2000s, Panettiere and Ventimiglia starred in the NBC sci-fi show "Heroes," which took the world by storm. And not too long after the show premiered, so did the co-stars' romance.
For those of you who weren't around or don't remember the "Heroes" frenzy, it was a sci-fi show that changed the game for the genre. Remembered for its catchphrase "Save the cheerleader, save the world," the story revolves around ordinary people who discover that they have superhuman abilities. They come together to save the world and grapple with their newfound powers.
Both Panettiere and Ventimiglia were rising stars during the "Heroes" era, and their roles as Claire Bennet (Panettiere) and Peter Petrelli (Ventimiglia) helped make them household names. Rumors of the two leads dating, a cult following, and a hit show on the rise definitely got people's attention.
They had a significant age gap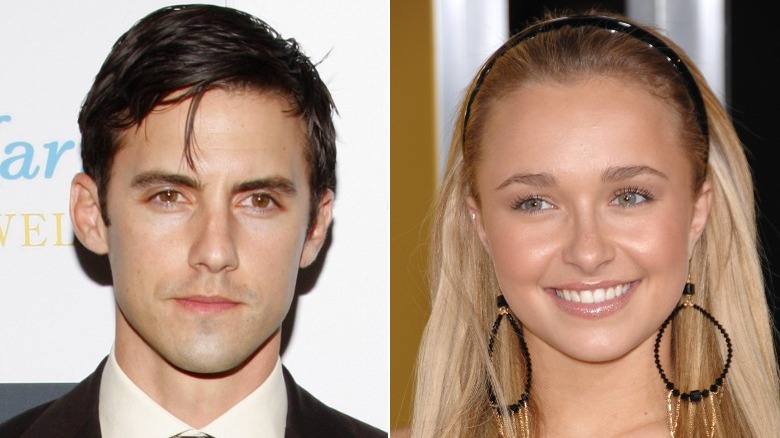 The combination of fame and the questionable age gap between the two was a recipe for a media spectacle. Hayden Panettiere and Milo Ventimiglia were often on the front page of tabloids. Not to mention, Panettiere had just turned 18 around the time they officially announced they were a couple. It doesn't help that they met on set when Panettiere was only 17, and Milo was 29.
As noted by The Telegraph in 2013, Panettiere's "relationship history features some significantly older beaus." However, she told the publication while reflecting on her older partners, "It was never a case of me making a decision, saying, 'I want to date older men.' But I am drawn to people who make me up my game, who bring me up to their level. I want to be with somebody who is more worldly than me, somebody who can give me guidance and is completely secure and comfortable with who they are."
They initially denied all rumors that they were dating
Hayden Panettiere and Milo Ventimiglia squashed dating rumors often, dismissing any speculations by saying that they were merely "close friends" (via People). These questions happened often enough that co-star James Kyson Lee, who played Ando on "Heroes," asked the press to respect their privacy. He gave his two cents to People, saying "The rumor is not true. Let's just end it there." A cycle of denying was a mainstay from when the rumors began up until the relationship fizzled out. Talk about media training.
As of this writing, Ventimiglia remains mum on his personal life. In an interview with Jess Cagle for People in 2022, the "This is Us" star explained why he keeps his private life under wraps for his craft. "There's a currency to your personal life and your performance — your acting, your work — and if that personal life starts to outweigh what the work is then your work suffers, your actual performance suffers, because then the audience won't see the character, they'll see you."
Ventimiglia is one to 'love very deeply'
It doesn't take grand gestures to sweep Hayden Panettiere off her feet, "I think little things are what counts. I think flowers, or just little things that say they care" she once told People. She recounted a specific instance where things were taken a step further. "One time, a boyfriend went out of town, and he left notes all over the house in places he knew I'd find them." Due to the timing of the interview, which was a couple of months after relationship rumors had started, she was asked if this story was about Ventimiglia. In true Halo fashion, she followed up with, "I don't know. don't think I ever said I had a boyfriend."
Giving and attentive? All signs seem to point to Ventimiglia — if we're to take his word for it. "Yes, I love very deeply" Ventimiglia earnestly responded in an interview with Bevy Smith after she suggests "You're probably a magnificent lover … giving." Well, if that's the case, it's no wonder that Panettiere fell for him, and why he's still considered a heartthrob.
Milo Ventimiglia was well-liked by Hayden Panettiere's family
Despite the age gap between Hayden Panettiere and Milo Ventimiglia, the Panettiere family stamped their seal of approval on the pair. A source reportedly told People that Ventimiglia spent time with Panettiere's family, who he got along with quite well. "He's even met her grandparents," the source claimed. "He fits in perfectly with the family."
It comes as no surprise that Ventimiglia won them over though, especially if we're to base it on Mandy Moore's glowing recommendation of him years later. His "This Is Us" co-star gushed to Entertainment Tonight, saying, "[Milo] is so remarkable as a human being – his constitution, his view of the world and how to treat people, men, and women. He walked on set the very first day and every day he shakes everyone's hand on the crew."
Not to mention, Ventimiglia is a family man himself. His parents are his biggest role models (via E! Insider). They might not have understood the importance of his Emmy nom — which they got teased about on Jimmy Kimmel – but when they finally showed up on the red carpet they had nothing but praise for their son.
There was an awkward Heroes plot twist during their offscreen romance
As if Hayden Panettiere and Milo Ventimiglia's age gap wasn't controversial enough, a sudden plot twist on "Heroes" reveals that their characters, Claire Bennet and Peter Petrelli, are related. Yup, you read that right. Claire was revealed to be Peter's niece. The "Heroes" writers knew how to keep the audience on their toes, but this was not exactly the twist anyone was hoping for. A bond between Claire and Peter was unmistakable in earlier episodes, but it was apparently a familial one — all while their romance was transpiring offscreen.
In season 1, episode 19 "0.7%", Peter is on the brink of death when, just in the nick of time, Claire arrives and uses her powers to remove a piece of glass from the back of his head. When Peter is brought back to life, it is revealed that Claire is the daughter of his brother, Nathan Petrelli. Fans, naturally, had some feelings about the revelation. "God, the biggest mistake in the world was making them family instead of being together," one viewer remarked. "They just had that chemistry."
They started dating after they each came out of long-term relationships
It wasn't the first time either of them dated a fellow celebrity, but neither Hayden Panettiere nor Milo Ventimiglia's previous relationships attracted quite so much attention. With all the events they needed to attend, it was difficult to keep their relationship out of the spotlight. Not to mention, the show and their careers were gaining momentum.
Due to the nature of their relationship — one that mixed business with pleasure — Ventimiglia and Panettiere appeared in many charity and red carpet events together. Outside of those events, the press still hounded them like moths to a flame. Tabloids were filled with photos of the stars going about their lives together, and even shots of them getting hot and heavy at the studio.
Before their romance, they both came from long-term relationships. Ventimiglia dated "Gilmore Girls" co-star Alexis Bledel for nearly four years, and Panettiere had just recently broken off her two-year relationship with "Laguna Beach" alum Stephen Colletti (via Page Six).
The pair tried their best to keep their personal life out of the spotlight
"Heroes" definitely opened doors for the two stars professionally, but it also busted open the doors of their private life. They both wanted to keep the media out of their romance. Unfortunately for Halo, though, the early 2000s were the heydays of the paparazzi.
In 2008, Hayden Panettiere told Teen Vogue in response to rumors about dating Milo Ventimiglia, "I'll not comment on it until the day I die." And again, in true Halo fashion, Ventimiglia echoed the same in an interview with GQ. "When you're in the public eye, you try to keep whatever you can private. People can speculate and talk," he said (via People). "But what can you do — stop living your life?"
As for dealing with the paparazzi, Panettiere made it a point not to let them get the best of her. "I just keep my head up, my eyes down, my mouth shut, a pleasant look on my face, and I keep walking and hope that they'll eventually get bored," she told Teen Vogue.
They continued to work together on Heroes after the breakup
After dating for roughly two years, the pair officially broke it off in 2009. "Heroes" ended a year later — talk about divine timing!
When the show started in 2006, it earned critical acclaim. During the first season alone, the show won a People's Choice Award, Teen Choice Award, Critics Association's Program of the Year Award, numerous Emmy nominations, and a Golden Globe nomination. However, after the first season, the show had generally mixed reviews.
The initial hype was hard to live up to, so much so that Tim Kring, the show's creator, publicly apologized to the show's fans after the release of Season 2 (via EW). He went as far as to enumerate the pitfalls of the show. They were heavily affected by the 2007-2008 Writers Guild of America strike, with the show incurring a 15% rating drop. "Heroes" never fully recovered after that, and the show's quality and ratings continued to decline until its conclusion in Season 4.
The couple didn't explain their breakup to the press
Breakups are tough, and probably a thousand times worse when you need to go through them under the watchful eyes of the press. In February 2009, the pair broke up and a source reportedly close to the couple alleged to People, "They lead different lifestyles. He's 31, she's 19. She still has growing up to do and he's very low-key. The relationship never seemed like it had legs." Neither Ventimiglia nor Panettiere publicly addressed the breakup. The rumor mill speculated on possible causes, including a pregnancy scare, which was later denied by Panettiere.
Panettiere was no stranger to the rumors that were circulating at the time and, for the most part, the press was quite harsh on the star. In a 2008 interview with Teen Vogue, she divulged, "Nothing is private, and when they write about you, it's almost always completely false. I've never been pregnant." As a young woman in Hollywood, she often felt the pressure to uphold a certain image. "I think people look at me as just one of those girls who's going to screw up," she once told Cosmopolitan.
Hayden Panettiere was especially impacted by the endless scrutiny
Having the press follow you around 24/7 is no easy feat, especially for Milo Ventimiglia and Hayden Panettiere who both valued their privacy. Panettiere told People, "When it comes to relationships, it's nice to have something that is your own and not everyone else's."
Privacy was something the couple came to lose more and more as their careers took off. Regarding the success of "Heroes," Panettiere divulged to People, "It completely ruined my personal life. I mean, you walk out the door and you've got ten cameras in your face. Obviously, everything in my life is on display whether it be true or false — 99 percent of it false."
The impact of the press on their relationship may have had a lasting effect on Ventimiglia, as he remains secretive about his personal life. In 2017, when the New York Post asked about rumored girlfriend Kelly Egarian, he responded without a second thought: "We won't talk about it."
They learned from their relationship and went their separate ways
People deal with breakups differently. Despite remaining mum with the press about her breakup with Milo Ventimiglia, she admitted to Seventeen in 2009, "My instinct when I go through heartbreak or a bad situation is to talk about it" (via MTV). "But that's me, that's not everybody, " she continued. "A lot of people, you know, their instinct is to bury it and distract themselves from it."
Ventimiglia did not have much to say after the couple's breakup until years later. "Don't s**t where you eat," he quickly answered when asked whether or not dating co-stars is a good idea (via E! News). Nevertheless, in an interview with Mr. Porter, he explained, "There are things that happen to you in your life that shape who you are. Everything I've been through from jobs to friendships to partnerships, everything has built me to who I am. You learn from it. You learn a better way of doing things." He continued, saying, "It wasn't until my mid to late twenties that the job wears on you, relationships wear on you. But I wouldn't change a thing."
It can't be said for sure how things turned out for the two after the relationship, but we'll take what we can get from Panettiere's interview with Glamour in 2013. As she shared, "I've always had great relationships and stayed really good friends with the guys I've dated." Let's hope Ventimiglia isn't an exception.