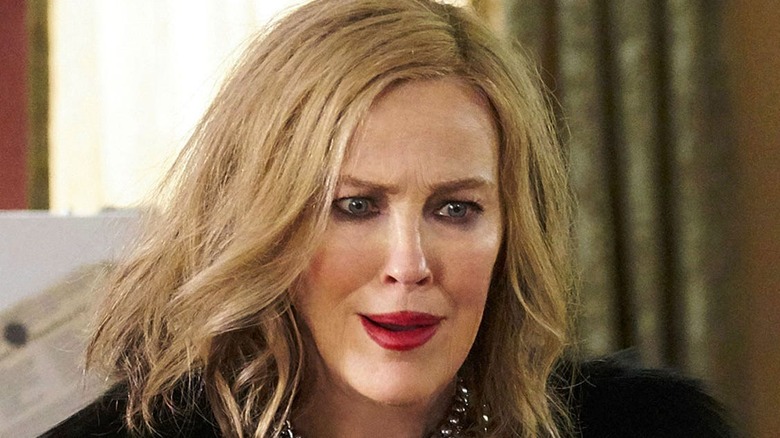 How would a wealthy family cope if they suddenly lost their fortune and found themselves living out of a motel on the edge of a small town in the middle of nowhere? Such is the basic premise of Canadian sitcom "Schitt's Creek," created by father-and-son duo Eugene and Dan Levy. Across six seasons, the series follows the Rose family (parents Johnny and Moira, played by Eugene Levy and Catherine O'Hara, and siblings David and Alexis, played by Dan Levy and Annie Murphy) as they learn to adjust to a life without wealth, and learn a plethora of lessons along the way.
It's a series about learning to appreciate the things that truly make life worth living: family, friends, love, community — they all hold a higher status to the people of Schitt's Creek than wealth, and it's these ideas that feed the show and its protagonists as they grow from selfish to selfless.
The Roses are joined by a cast of eclectic characters on their journey to self-awareness as the series progresses, from mayors and motel owners to mechanics and mothers. In its final season, the series swept all seven major categories in the 2020 ceremony (including all four major acting categories, Outstanding Comedy Series, Outstanding Writing for a Comedy Series, and Outstanding Directing for a Comedy Series). The cast is undoubtedly a huge part of the show's success, as recognized by the Screen Actors Guild in 2019 — but where are they all now?
Dan Levy snagged a deal with Netflix
Ew, David! Co-creator Dan Levy played David Rose on the show, and made waves for the virtually unparalleled queer representation the character became a part of in the show's later seasons. Levy himself is part of the LGBTQ+ community, which is always a plus for queer characters. David's unwavering confidence in himself, even in the face of overwhelming obstacles, should serve as an inspiration to us all – as should Levy himself.
After his dual Emmy wins for acting and writing (as well as several other collaborative wins), Levy went on to host "Saturday Night Live" in February 2021, backed up by Phoebe Bridgers as the show's musical guest. He has also been extremely vocal in his support of LGBTQ+ youth across North America, and in September 2021 announced a deal with Netflix which will see him write, direct, and produce a variety of movies and series for the streaming service.
Notably he's set to appear in Season 4 of "Sex Education."
Eugene Levy has continued his charity work
"American Pie" actor Eugene Levy put in an incredible turn as Johnny Rose throughout "Schitt's Creek" as the former breadwinner turned struggling patriarch of the Rose family. Forced to think on his feet without his usual financial stability, Johnny is an excellent reminder that we can achieve anything if we put our mind to it.
Though he has a plethora of pre-"Schitt's Creek" credits to his name, since the conclusion of the show and his Emmy win he appears to have been taking a well-earned rest from much of the industry. Aside from small appearances on "Ellen" and "Saturday Night Live," Levy hasn't appeared in much of note since the show ended in 2020, aside from an excellent Super Bowl ad for Nissan in 2022, which he starred in alongside Marvel actors Brie Larson, Danai Gurira, and Dave Bautista. The time away from filming and writing has, however, allowed Levy to continue his charity work: he is an advocate for autism awareness in Canada, and a member of the global charity Artists Against Racism.
Annie Murphy has a starring role in Russian Doll
She's a little bit Alexis. For many, Annie Murphy's Alexis Rose is the highlight of "Schitt's Creek," with her trademark wit and overconfidence. She's also one of the show's most complex characters, as her initial extreme selfishness eventually gives way to a warm and compassionate woman who realizes it's just as important to give love as it is to take it.
For Murphy, her Emmy win in 2020 has resulted in a cascade of guest television appearances in shows including "American Dad!" and "Robot Chicken," as well as playing a fictionalized version of herself in the Netflix series "Murderville," in which a celebrity must improvise their way through a murder mystery. Murphy also plays the lead in AMC's "Kevin Can F**k Himself," which sees her character go through a messy divorce to a petulant man-child as she tries to take back control of her life, with both single and multi-camera perspectives. Arguably her biggest role was in the second season of Natasha Lyonne's time-loop Netflix hit "Russian Doll."
Catherine O'Hara became an honorary mayor
Moira Rose is an excellent example of how we may find strength in community. From treating her fellow Schitt's Creek residents with disgust and disdain to co-directing a winning production of "Cabaret" at the end of Season 5, Catherine O'Hara's portrayal of Moira was one for the ages, and more than earned her that Emmy.
Her industry roles are thin on the ground since "Schitt's Creek" concluded, but the "Home Alone" actor hasn't been slacking. She had a supporting role in the animated children's comedy "Extinct," made a cameo appearance in Nissan's 2022 Super Bowl ad opposite Eugene Levy, and went viral on TikTok for her reprisal of her role as Kate McAllister. In 2021, she was named honorary mayor of the city of Brentwood, CA, where she and her family have resided for many years. The Brentwood Community Council notes that honorary mayors do get hands on in the community, supporting the local projects and people. Coincidentally, Eugene Levy was named the 2021 honorary mayor of the neighboring community of Pacific Palisades.
Emily Hampshire is the star of a British TV show
Stevie Budd is your average Canadian gal. Unfussed about other people's perception of her, she's perfectly happy to carry out her life with as little fuss as possible. Until, that is, the Roses arrive at her motel. Stevie quickly cements herself as one of the most important people in David's life, and becomes inseparable from the family once she and Johnny go into business together. Emily Hampshire plays her wonderfully, and Stevie goes on to become one of the show's most endearing characters.
In the wake of "Schitt's Creek," the "12 Monkeys" actor has starred in several more TV series and movies. She was cast alongside Adrien Brody in "Chapelwaite," an adaptation of "Jerusalem's Lot" by Stephen King, and she plays the lead character in Amazon's "The Rig," a supernatural horror series which sees the crew of an oil rig cut off from the outside world. Hampshire co-stars opposite Iain Glen ("Game of Thrones") and Martin Compston ("Line of Duty").
Noah Reid went on tour with his album
The introduction of Patrick Brewer in Season 3 of "Schitt's Creek" added a whole new dimension to the show. David Rose's sexuality had been touched on briefly, but this was the first time he'd had an actual love interest — and Patrick was the perfect man for him. Not only did they make for an excellent pair, but Patrick was given plenty of emotional moments all his own, not least his proposal to David and coming out to his parents. No one other than Noah Reid could have played him, and Reid has been up to plenty of things since the series ended.
Hints were dropped regarding Reid's musical talent when Patrick serenaded David with a rendition of Tina Turner's "(Simply) the Best," but Reid is a musician in his own right. When the Covid-19 pandemic hit, he was on tour with his then-upcoming album "Gemini," but was forced to put an early end to it thanks to the pandemic. "Gemini" was eventually released in May 2020, and Reid's next album, "Adjustments," was released in 2022. He also replaced Armie Hammer in the Broadway cast of Tracy Letts' play "The Minutes."
Dustin Milligan competed in Drag Race
Sweet, funny, and ever so loyal, Ted Mullins is the ideal boyfriend for many. His on-again, off-again relationship with Alexis is a romantic highlight of the show, and culminates in perhaps the most heartbreaking moment in the entire series. Dustin Milligan's comedic timing is stellar, and results in some of the best character laughs in many episodes — but it appears he spent his entire run on the show hiding a hidden talent.
In May 2020, Milligan appeared in an episode of "RuPaul's Secret Celebrity Drag Race" under the drag name Rachel McAdamsapple. After a stellar lip sync to Celine Dion's cover of "It's All Coming Back to Me Now," Milligan was voted joint winner of the episode (alongside fellow contestants Alex Newell and Matt Iseman), and took home $20,000 for Project HEAL, a nonprofit organization dedicated to securing healthcare access for people with eating disorders. Outside of "Drag Race," Milligan is part of the main cast of Peacock's "Rutherford Falls," and can be seen alongside Allison Janney and Kristen Bell in the film "The People We Hate at the Wedding."
Chris Elliott is still making audiences laugh
Repulsive and hilarious in equal measure, town mayor Roland Schitt is an excellent player in the series, and a perfect opportunity for Chris Elliott to show off his comedy skills. The former "Late Night" regular had a lot of material to sink his teeth into in "Schitt's Creek," all while adding a surprising amount of depth to a seemingly simple character. Roland is undoubtedly a strange man, but over the series we see he's really a sweetheart — and Elliott suits him perfectly.
Next up for Elliott was "Maggie," a comedy series that aired in 2022 on Hulu in the U.S. and on Disney+ worldwide. It follows a psychic young woman (Rebecca Rittenhouse) who's forced to start living in the present after witnessing her own fate in a vision. The series is based on the short film from Tim Curcio, and Elliott plays Jack, the father of Rittenhouse's character, Maggie. He also played a supporting role in the comedy flick "Christmas vs. the Walters" that was released in 2021, and is confirmed to be part of the cast for Isaac H. Eaton's "Redville," the director's first project since 2005.
Jennifer Robertson is in a bunch of Netflix projects
Jocelyn Schitt is an example to us all: a woman who juggles her stressful teaching life, a stressful home life, and also a local a cappella group without ever once dropping any of them. Jennifer Robertson adds some big laughs and beautiful levity to the show as Jocelyn, the woman who can seemingly do everything.
"Schitt's Creek" found international acclaim after it landed on Netflix in 2017, and it's Netflix where Robertson has continued her career. In 2021, she starred in the Christmas romcom "Single All the Way" alongside Michael Urie and Jennifer Coolidge, as well as the first season of "Ginny & Georgia" on the streaming service, which was renewed for a second season less than two months after its premiere. She also appears in an adaptation of the Jennifer E. Smith novel "Hello, Goodbye, and Everything In Between," also for Netflix. That novel tells the story of a young couple about to leave home for college trying to decide whether they should stay together or break up.
Sarah Levy starred in a lockdown comedy
Café Tropical waitress Twyla Sands is a sweet young woman with big dreams. Head in the clouds but feet firmly on the ground, Twyla refuses to let anything get her down. Sarah Levy (daughter of Eugene and sister of Dan) is the perfect person to bring Twyla to life, adding big laughs and an even bigger heart to an already wondrous show.
Levy found work during the height of the pandemic in 2020, starring in the independent film "Distancing Socially." The film was shot remotely on the iPhone 11 Pro, and is composed of a series of interconnected vignettes taking place during various Covid-19 lockdowns. Alan Tudyk, Jim O'Heir, and Jessika Van also starred in the project. Levy was also one of the leads in the TV series "SurrealEstate" alongside fellow "Schitt's Creek" alum Tim Rozon, who played Mutt Schitt in the show's first two seasons. The show's first season aired on Syfy in the U.S., and followed a real estate team tasked with selling haunted and possessed houses — but SyFy did not commission a second season.
Karen Robinson bagged a recurring role on Titans
Ronnie Lee really brings "Schitt's Creek" down to earth. Not that that's a bad thing, of course: her deadpan humor and constant sarcasm are sources of constant giggles, and Karen Robinson is wonderful at playing the whole thing so straight. Her interactions with David and Patrick are of particular note, as the characters clash due to a variety of factors, but always in good jest.
Since the show's conclusion, Robinson has moved more toward television drama, starring in two police procedurals in the form of "Pretty Hard Cases" and "The Missing," with the latter directed by "Rain Man" and "Good Morning, Vietnam" director Barry Levinson and based on Dror A. Mishani's novel "The Missing File." She also plays a sheriff in the Netflix series "Echoes." Meanwhile, Robinson also had a recurring role in the third season of DC's "Titans" on HBO Max as a character named Margarita Vee. This character does not exist in DC comics, so speculation runs rampant about what she'll do on the show in the future.
John Hemphill is a Canadian comedy icon
John Hemphill is a longtime collaborator of Eugene Levy, with the pair writing the movie "Sodbusters" and working for various "SCTV" sketch shows in the early 1980s, so it was probably a foregone conclusion that Hemphill would figure prominently on Levy's "Schitt's Creek." Hemphill appeared on 29 episodes of the series as passive-aggressive, needling townie, councilman, and garage proprietor Bob Currie.
A veteran of cult classic movies ("Adventures in Babysitting") and Canadian TV comedies ("Little Mosque on the Prairie," "Puppets Who Kill"), Hemphill has worked in front of and behind the camera for more than 40 years, with "Schitt's Creek" his most prominent project to date. As of the show's 2020 conclusion, it's also the last thing in which Hemphill has been an active participant. He's either taking a self-imposed hiatus or taking a deserved resting on his laurels before he moves on to another intriguing comedy series.
Robin Duke keeps making ensemble television
"Schitt's Creek" leads Eugene Levy and Catherine O'Hara aren't the only members of the sitcom's cast who got their big break on the '70s-era "SCTV" brand of sketch comedy TV series. Robin Duke was an early member of that franchise's repertory collective for five years, following it up with three years as part of the cast of "Saturday Night Live" in the 1980s. After a lengthy career as an in-demand voice actor, Duke wound up back in Levy's orbit when he cast her on "Schitt's Creek" as Wendy Kurtz, the shy proprietor of the Blouse Barn, a clothing boutique in nearby Elmdale, who hires fashion forward David Rose (who promptly ruins the store).
Since popping up on six episodes of "Schitt's Creek" across its run, Duke continued to costar on the FX comedy "Man Seeking Woman," landed some more voice roles, and is a main cast member on "Shelved," a workplace comedy about a group of kooky librarians set to run on Canada's CTV in 2023.