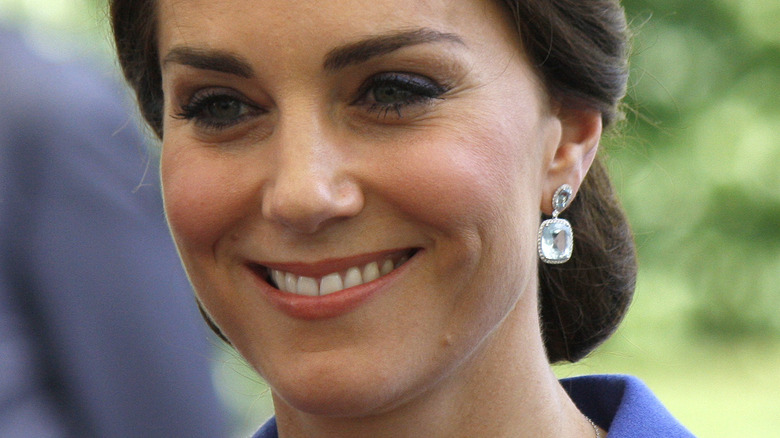 While the everyday person is no stranger to wearing and re-wearing plenty of items from their closet, it still comes as a stunning (yet pleasant) surprise when we see a royal family member showing off some previously seen apparel. While Page Six has noted that being royalty typically provides accessibility to wear whatever they desire, they're still ultimately sticklers for a particularly chic style of fashion that they seem to love wearing repeatedly. But, of course, being a member of the royal family also means that, unlike the average individual, re-wearing a previously seen ensemble (or items from it) is a newsworthy occasion. From the look of it, there have been plenty of stunning royal wardrobe revivals.
Some members of the royal family — like Princess Catherine — have re-worn items of clothing and accessories so often that there's no questioning that she's not shy about showing off her love for recycling looks. Still, Catherine is far from the only member of the royal family that's been an outfit repeater, as everyone from Princess Diana to the late queen herself had found some of their ensembles so lovely they could help but wear them (at least) twice. With plenty of eye-catching outfits to choose from, here are ten of the most memorable times that our favorite royals have repeated their outfits.
Princess Catherine revived a 10-year-old Alexander McQueen dress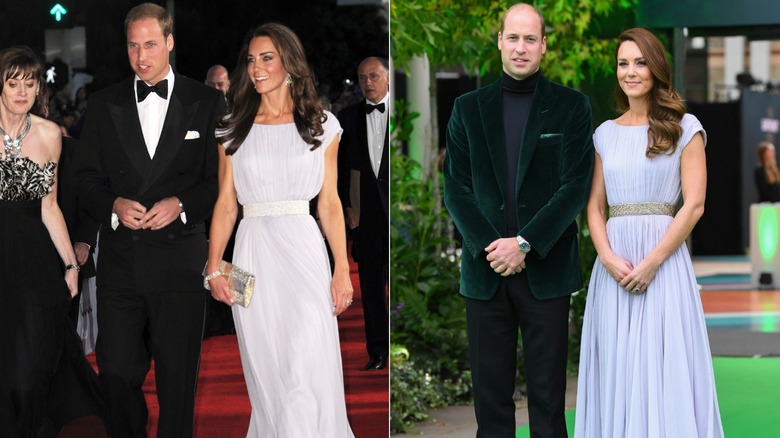 As noted by Page Six, Princess Catherine is no stranger to repeatedly wearing various items from her closets, such as her go-to pair of boots or some of her favorite coats and dresses. Likewise, for the 2021 Earthshot Prize Awards held in London, Catherine chose to pull out a previously worn Alexander McQueen Grecian-style dress in an eye-catching lavender color. As stated by the outlet, Catherine initially wore the gown (cinched with a white belt) to a July 2011 BAFTA event in Los Angeles shortly after she got married to her husband, Prince William.
However, for its reappearance ten years later, Catherine chose to switch things up by adding a glittery gold belt to the dress. The dress was clearly appropriate for the venue, as the environmentally-focused ceremony requested that attendees avoid purchasing new garb for the awards. Prince William similarly followed suit, given that the prince revived a green velvet jacket that he'd previously worn in 2019 to an event celebrating Centrepoint's 50th anniversary (via People).
The queen re-wore an outfit for a sad reason
Fashion journalist Elizabeth Holmes told Insider that the queen's ability to revive her royal wardrobe had limitations. In her book, "HRH: So Many Thoughts on Royal Style," Holmes wrote, "After the second or third public outing, [her outfit] will either be reworked into a new design or relegated to private holidays or meetings." Still, while the write-up noted that Queen Elizabeth II had repeated some eye-catching ensembles — such as her pastel-blue coat and dress — MyLondon reported that there was a second, less cheery cause for the queen's wardrobe revival.
Queen Elizabeth surprised onlookers during 2021's Trooping the Color birthday celebration with her long light gray dress coat (decorated with yellow flowers on the collar) and matching hat. Previously, the queen was said to have worn the exact ensemble just weeks before attending the State Opening of Parliament. It was also the third time the queen's coat appeared in public. The source added that this fashion choice was far from accidental, as the queen's outfit followed a centuries-old royal custom that states that a widow should wear a second set of mourning clothes (in colors like gray and lilac) two years after their partner's passing. While the queen's late husband, Prince Philip, passed in April 2021, it's clear that this fashion choice is a tribute with a modern twist.
Camilla recycled her outfit for the Platinum Jubilee
As noted by Page Six, Camilla, Queen Consort, has also chosen to recycle her wardrobe, wearing a blue striped dress — created by British designer Bruce Oldfield — and a Philip Treacy hat for 2021's Trooping the Color.
Similarly, the write-up declared the whole royal family sported various shades of blue for the event (as it has been speculated that blue was Queen Elizabeth's favorite color.) Camilla's look previously made an appearance in June 2021 when she attended the Royal Ascot. As reported by People, the 2021 British horse racing event was the first to welcome back in-person visitors after being previously closed to public spectators due to COVID-19 pandemic restrictions. While Camilla wore the aforementioned striped coat and Philip Treacy hat, she added an additional accessory to the look: a blue striped face mask that noticeably matched the stripes on her jacket.
Princess Catherine re-wore her sparkling green Jenny Packham dress
Princess Catherine is unquestionably a fan of wardrobe recycling. Vogue has reported that Catherine chose to bring back another previously seen look in 2021 for the Royal Variety Performance at London's Royal Albert Hall. The annual event is considered a platform to raise funds for U.K. performers who require aid, and 2021's big night offered plenty of star-studded performances from artists like Ed Sheeran and the cast of "Moulin Rouge: The Musical." Catherine is a well-known supporter of the yearly event, which she first attended in 2014. Still, for 2021's Royal Variety Performance, the royal family member chose to go with a previously seen ensemble.
According to Harper's Bazaar, Catherine re-wore an emerald green gown by designer Jenny Packham and accessorized her gown with gold Missoma earrings and a matching green clutch. While her look was unquestionably a show-stopper, the article noted that the Duchess of Cambridge was previously photographed wearing the dress in 2019 during a royal tour of Pakistan. Likewise, Harper's Bazaar in 2019 reported that Catherine's glittering green gown first appeared when she and her husband, Prince William, attended an event hosted by the British High Commissioner at the Pakistan Monument in Islamabad. Catherine accessorized the dress with earrings by O'nitaa and metallic heels on that occasion.
Princess Diana gave her Victor Edelstein dress a makeover
As stated by Bustle, the late, great Princess Diana was a big fan of re-wearing her ultra-classy wardrobe. But of course, Diana didn't just recycle her ensembles: She also had them altered or updated to put a fresh spin on an old getup. While the people's princess served plenty of memorable outfit repeats over the years, Page Six has reported that one rather notable ensemble was her stunning Victor Edelstein polka dot dress, which she first wore to the Epsom Derby in 1986. While the look was unquestionably iconic, Princess Diana decided to revive the dress a year later for her appearance at a polo match. This time, it was clear she altered the original dress and removed the frill around the waist, which provided the updated dress a sleeker look and a clear indication that Princess Diana's stellar fashion sense was far ahead of its time.
Princess Catherine later paid homage to the princess' iconic look. At the 2022 Royal Ascot, she donned a very similar black-and-white dress. She paired the look with the same earrings Diana wore with her polka dot dress: South Sea pearl and diamond earrings (via Yahoo). Not only did Princess Diana wear these earrings multiple times, but Catherine has also been seen in public donning the same pair several times over.
Meghan Markle re-wore her green engagement dress
As reported by Popsugar, Meghan Markle and Prince Harry chatted with BBC in 2017, giving their first interview as an engaged couple. For the meeting, the "Suits" actress wore a Parosh brand hunter green dress featuring a bow on the right side of the waist. The star completed the look with a pair of lace-up Aquazzura pumps. While the outlet noted that the stunning dress immediately sold out online after its televised appearance, it would seem that Meghan also had a soft spot for her green garment, as it later reappeared in 2019 (via The Indian Express). Meghan recycled the dress when she and her husband, Prince Harry, attended London's WellChild Awards. Still, even though the Duchess of Sussex chose to revive the outfit, the outlet noted that the actor's look had a fresh feel, as she paired it with brown suede pumps and a camel coat. Instead of a simple clutch, Meghan accessorized the ensemble with a scarf-handled Montunas bag.
Princess Catherine brought back her Alexander McQueen coat
Cosmopolitan reported that Princess Catherine re-wore another beloved wardrobe item. This time, Catherine re-donned her ivory-colored Alexander McQueen coat dress to attend a service at Westminster Abbey that marked New Zealand and Australia's Anzac Day. The then-Duke and Duchess of Cambridge were reportedly at the ceremony on behalf of the queen. In addition to re-wearing her McQueen coat, Catherine and her husband both sported striking red poppy pins, which served as a commemorative symbol.
The article noted that the ivory dress coat was previously worn by Catherine back in 2015 for the christening of her daughter, Princess Charlotte. Hello! reported that the christening was the first time Prince William, Catherine, their then two-month-old son George, and their then-baby daughter were publicly seen as a family of four. While waiting for the ceremony at St. Mary Magdalene Church in Sandringham, the happy couple greeted onlookers. For that memorable event, Catherine wore the aforementioned coat and a Jane Taylor hat as she pushed Princess Charlotte in a vintage Millson stroller.
Princess Catherine really loves wearing her blue coat
If there's one thing Princess Catherine loves, it's her blue Alexander McQueen coat dress. The princess has been spotted wearing this beloved wardrobe staple not once, not twice, but four times. Its first appearance on the beloved royal was in April 2014, when Catherine wore the eye-catching coat to a WW1 commemorative and Flying Day. She then re-wore the blue coat dress just months later in June when she celebrated the 70th anniversary of D-Day landings before reviving it once again for the 75th anniversary of the RAF Air Cadets in February 2016. More recently, it was spotted on the royal in 2019 for the RRS Sir David Attenborough ship-naming ceremony.
According to Elle, Catherine's well-loved coat initially retailed for $3,875 when the princess debuted it in 2014 during her royal tour of New Zealand. Likewise, the fashion-focused outlet stated that Catherine has made slight style alterations each time she wears it to keep the ensemble feeling fresh each time). Similarly, Vogue noted that it's no surprise that Catherine keeps reviving this staple piece as Prince William's wife has had a long-standing relationship with the British designer. Their friendship is said to have started back in 2011 when Catherine wore a McQueen dress for her wedding day. Since then, the princess has commissioned many other stunning pieces from the label.
Princess Catherine's Jenny Packham dress re-appeared for the red carpet
Like a true queen of outfit recycling, Princess Catherine has brought back plenty of items from her wardrobe in order to give them a second (or even third) life. So naturally, it came as no surprise when Page Six noted that this popular member of the royal family had dusted off her previously worn teal Jenny Packham gown for an event in 2018. The princess' ultra-fancy dress features a sheer lace back, cap sleeves, and a Swarovski crystal belt. It initially retailed for more than $5,000 and was originally envisioned as a wedding dress. However, Packham had the gown dyed blue for Catherine.
The eye-catching gown initially appeared on the then-Duchess of Cambridge in 2012, just one year after her royal wedding to Prince William. Catherine wore it to the Our Greatest Team Rises gala dinner. She finished off the look with a matching teal clutch that similarly made its reappearance when Catherine brought back the gown in 2018. Likewise, the outlet noted that the only major difference between the two looks was that Catherine initially wore her hair up during the dress' first appearance but wore her hair down when she revived the look for the Conservation Awards.
Camilla, Queen Consort, recycled almost her entire outfit
While Princess Catherine is well-known for recycling outfits, it looks like another member of the royal family has also taken to the idea of repeating items from their wardrobe. According to a 2018 article by Town & Country, Camilla, Queen Consort, hopped on the trend of being an ensemble repeater, having re-worn almost her entire outfit shortly after its first appearance. The outlet stated the initial look first popped up in June 2018 when the then-Duchess of Cornwall donned an off-white coat, a printed ivory dress, and tan shoes during her attendance at the Royal Cornwall Show in Wadebridge, England.
The outfit quickly reappeared when Camilla showed up at an event honoring the 20th anniversary of the Omagh bombing, which occurred less than a week later. The revived look was identical to the first, with the only noticeable difference being that the queen consort left out the gray purse she'd carried the first time and had an umbrella. For the outfit's second outing, Camilla also added a necklace to give the ensemble a hint of something new.