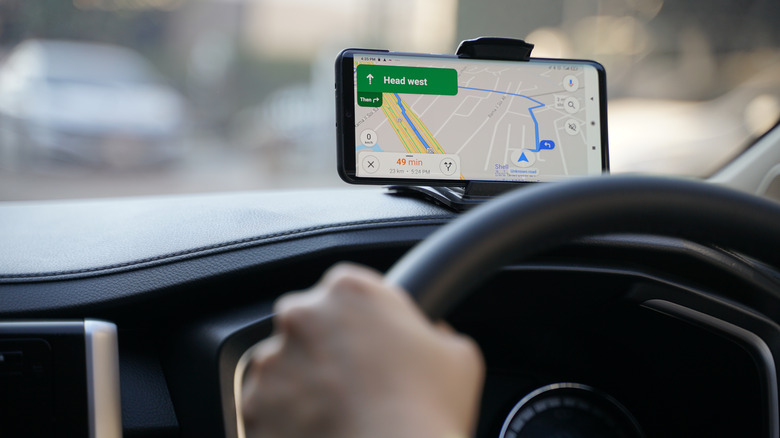 Google Maps is widely regarded as one of the best, most reliable navigation apps for both Android and iOS devices. But the app isn't for everyone. Whether you have particular needs in a navigation app that Google Maps just isn't meeting, or you simply don't want an app made by Google, there are a ton of great alternatives. (If you don't want an app owned by Google, you should avoid Waze, as well.)
There's never going to be a perfect navigation app for everyone, because people have different needs. If you drive your own car to work every day, the best app for you is going to be different than the best app for someone who frequently goes on long-distance road trips where they don't have service, or someone who uses public transit to get around. Many of the navigation apps on this list have similar features with unique user interfaces and customizations, but there are some that are wildly different and focus on one or two modes of transportation.
Whatever you need, one of these apps is bound to be perfect for you.
Waze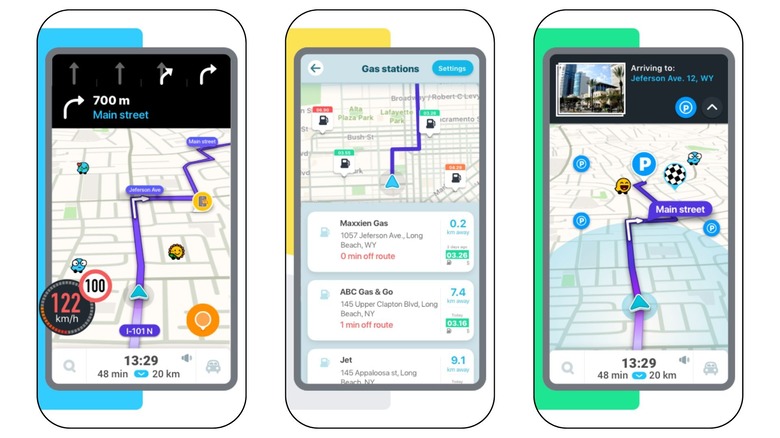 Though Google Maps and Waze are both wonderful apps for navigating the roads of your city, there's one big difference between the two. Google Maps collects a ton of information via satellites and actual people driving around town with a camera setup on their cars. Alternatively, Waze relies heavily on crowd-sourcing, using everyday drivers to provide the app with info on traffic, accidents, speed traps, and more.
With over 140 million Wazers, you can expect the info you come across in the app to be accurate. And if it's not? Well, you're able to state in real-time that an accident is no longer there, or that you've run into a new road closure. If you're in a highly populated area, this is great for getting to work well before you need to clock in. But if you're going on a road trip where other Wazers might not be present, you won't have as much insight.
If you're familiar with Google Maps, you've likely experienced the app asking you whether you want to change your route if a quicker option becomes available. The Waze driving experience is dedicated to getting you to your destination as fast as possible, and won't ask you if you want to switch routes; it'll just do it. It's also worth mentioning that Waze isn't the best option for you if you rely on public transportation, walking, or cycling. Instead, the app is targeted toward people driving personal vehicles or motorcycles.
All that said, Google acquired Waze in 2013, so both Google Maps and Waze are now owned by Alphabet, Google's parent company.
Download: Waze (Android), (iOS)
MapQuest
If you lived before smartphones and Google Maps changed the navigation game, you're probably familiar with a company called MapQuest. It was a common task before road trips to print off directions from MapQuest, because that was the only way to take navigation on the go with you. Of course, there were also physical road maps to reference, but printed MapQuest directions were such an innovative idea around the early 2000s.
Unlike Blockbuster in the Netflix era, MapQuest adapted, and is now a worthy competitor to Google Maps. Much like Google Maps, MapQuest is rich in features and customizable to your unique preferences. While you can't get info for public transit or cycling, you can see routes for both driving and walking.
You can choose to show traffic slowdowns or incidents to better understand your route estimate. Then, there are also a ton of layers you can enable based on what you want to see at that time, including Food, Gas, Hotels, Shopping, and Coffee. You can enable as many of these layers as you want; if you enable too many, however, it might clutter up your view.
Download: MapQuest (Android), (iOS)
MAPS.ME
All the information you see in Google Maps is owned by Google, whether that's info Google sought out or was given by the public community. Other apps, like MAPS.ME, rely on OpenStreetMap (OSM) for information. OSM is a collaborative project created by the community, for the community, for use around the entire world. You could even download the entire world map for offline use if you wanted.
When you first download the app, you'll see measurements in kilometers instead of miles. So if you're in the United States, you'll want to change this to miles in the app's settings as soon as possible. That is, unless you like using the metric system.
As long as you give the app location permission when you first set it up, it'll automatically download an offline map of your local area. With the app's handy toggle in the top right corner, you can easily see if you're online or offline while using the app.
Because this app has information from tons of users, it's very detailed. Individual street names show up even if they're tiny streets, water stands out as blue, park areas stand out as green, and important landmarks are noted, like gas stations, pharmacies, grocery stores, and restaurants. You can also add a Terrain or Subway layer on top of the traditional map.
Download: Maps.Me (Android), (iOS)
OsmAnd
Like the MAPS.ME app, OsmAnd also relies on OpenStreetMap (OSM) for its community-based geographical information. In addition to OSM, the app has another open-source project built in. OsmAnd also makes use of Wikipedia POIs, or Points of Interest, to help its users find the most exciting things to do while traveling to a new city, or simply exploring their local area.
When you first open up OsmAnd, the app will predict your location and let you download the local map for use offline. Then, even if you find yourself in an area with no internet service, you'll be set. The app is colorful and feature-rich. You can switch between the American road atlas and others, customize map details, text size, or language, and see routes for cycling, hiking, and running. However, the most notable feature involves Wikipedia's POI overlays, which include restaurants, emergency places, gas stations, parking, sightseeing, and more.
Download: OsmAnd (Android), (iOS)
Citymapper
Google Maps shows public transit routes and time estimates for local buses and other vehicles, but it's not dedicated to this group of commuters. For the most part, Google Maps is marketed toward those who drive their own vehicles, because that's the majority of its users. Citymapper is an alternative to Google Maps that'll show you the best way to get around town without your own vehicle.
After you enable your location, Citymapper shows you a map of your local rail system, if you have one in place. For example, the Dallas metroplex has the DART Rail. This way, you can see how all the tracks intersect, and know exactly which rail you need to hop on.
If you map yourself somewhere specific, CityMapper shows you estimates for walking and biking, as well as the estimated calories you'll burn, and options for local cabs or rideshares near you. But for the most part, Citymapper shines when it comes to picking the best public transit route from all available buses, trams, and rails.
Download: Citymapper (Android), (iOS)
Sygic GPS Navigation
Sygic GPS Navigation is yet another app that relies on offline maps to help you get around town. By doing so, the app ensures you can navigate your local area even if you have no service. This is incredibly helpful if you're in a mountainous area where you might frequently lose signal.
The app gets its data from TomTom Traffic, which is sometimes what you'll see in use for car navigation systems. It has useful features like turn-by-turn navigation, speed limit notifications, voice-guided directions, and wrong-way warnings, which can detect you driving the wrong way, or warn you of another wrong-way driver on the road.
If you've got an extra $19.99 per year to spare, there's a Premium+ subscription within Sygic that comes with quite a few handy features. One of the coolest Premium+ features is Real View Navigation, which uses AR, or augmented reality, to display the map over your actual surroundings, as long as your phone is propped up on the dash and your camera is pointed toward the road.
Download: Sygic GPS Navigation (Android), (iOS)
Scout
The Scout app is more social than any other option on this list. You can quickly send out real-time driving updates to friends with your location and estimated time of arrival, or ETA. Many other navigation apps can do this, too, but they can't send out automated alerts to your loved ones when you arrive and leave set locations. No more worrying about texting your mom when you've made it to your destination on a road trip, because Scout will do it for you!
Scout also provides easy shortcuts for your daily commutes, favorite places in your area, and chats among friends and family. If enough of your friends and family download Scout as well, you can discover commonly-liked locations among your group, and share the best restaurants or bars you come across on the Foodie tab.
Similar to how Google Maps shows business information, the Scout app shows you extra information about certain retail locations, like their open to close hours, complete address, phone number, and the ability to easily share or favorite the location. Then, the actual navigation experience is like most other navigation apps. You can turn off the voice-activated commands and view the entire route while you're currently in drive mode on your way to a destination.
Download: Scout (Android), (iOS)
MapFactor
When you first start up MapFactor Navigator, you'll be prompted to customize your profile based on where you are in the world and what you drive. You can choose between Metric, Imperial (British), and American for the unit system. Then, there's a unique vehicle profile for quite a few modes of transportation, including Bicycle, Bus, Car, Motorcycle, Motorhome, Pedestrian, and Truck.
From there, you have the option to navigate around town with free maps powered by OpenStreetMaps (OSM) contributors. Or, you can pay for professional maps crafted by TomTom, the company that powers a lot of car navigation systems. Because OSM is a wonderful open-source project, most people will likely gravitate toward this free option.
For larger countries, like Canada or the United States, you can download smaller maps by subregion. If you have a modern smartphone with plenty of storage, the map for the entire United States doesn't take up much room at 3.3GB. Download all the maps you want over Wi-Fi, and you're good to go offline when you're out of the house.
Download: MapFactor (Android), (iOS)
Polaris
Polaris combines data from all the best sources, including Google Maps, OpenStreetMap, MapQuest Maps, and Cycle Route Maps. With all this info, you're bound to get the fastest route possible and be aware of any and all traffic incidents you might run into.
While you could use Polaris to navigate through your city or on a road trip, it's most useful for outdoorsy types who frequently find themselves on trails for snowmobiles, ATVs, or other off-road vehicles. The app even has a Garage feature where you can add certain vehicles and easily see the fuel level, maintenance reminders, and enable some remote features. Unfortunately, only certain off-road vehicles are compatible with the RIDE COMMAND+ Plug-In, or have RIDE COMMAND+ pre-installed.
If you often hit the trails with a group of friends or family, Polaris makes it easy to keep track of everyone. So even if you run into bad weather and someone has to stop away from the group for safety, it'll be easy to reconnect once the weather settles.
Download: Polaris (Android), (iOS)
Avenza Maps
Avenza Maps is the best navigation app for offline maps, no matter how you plan to use them. Though you can import your own maps via Dropbox, another cloud storage app, or the web, Avenza Maps also has maps you can download from within the app. Some of these maps are free, and many of the paid maps only cost $0.99.
There are so many ways to find the perfect map in Avenza Maps. You can browse by activity if you want to find a topographical map specific to your needs, like hiking, backroading, hunting, camping, fishing, snowmobiling, and more. Or, you can search through broad categories to find what you're looking for, including Parks & Forests, Trails, Tourist, Hunting & Fishing, Roads, Nautical, Educational, Historical, and so on.
If you're just looking for maps in your local area, you can explore by your location. While many of the everyday maps you need for daily commutes and local navigation are free, there are also a ton of interesting historical and educational maps to look at in your area.
Download: Avenza Maps (Android), (iOS)
Petal Maps
If you hate navigating new locations, Petal Maps is the app for you. One of its most notable features is lane guidance for complex intersections, which includes giving you an aerial view of what the lane situation looks like, and highlights the lane you need to be in. Never again will you have to cross five lanes of traffic at the last minute because you had no idea where you were supposed to be.
For people getting around on foot with Petal Maps, the app has built-in AR navigation that makes the experience easier and more immersive. And no matter how you're traveling to your destination, you can check out the route options in advance and figure out which way works best for you before you even leave the house.
Petal Maps is otherwise very similar to Google Maps, with support for multiple modes of transportation, and a user interface that's easy to use. You'll get real-time traffic updates and can even report incidents yourself if you come across them. Plus, if you sign up for an account within Petal Maps, you can partake in the community and earn points and medals.
Download: Petal Maps (Android), (iOS)