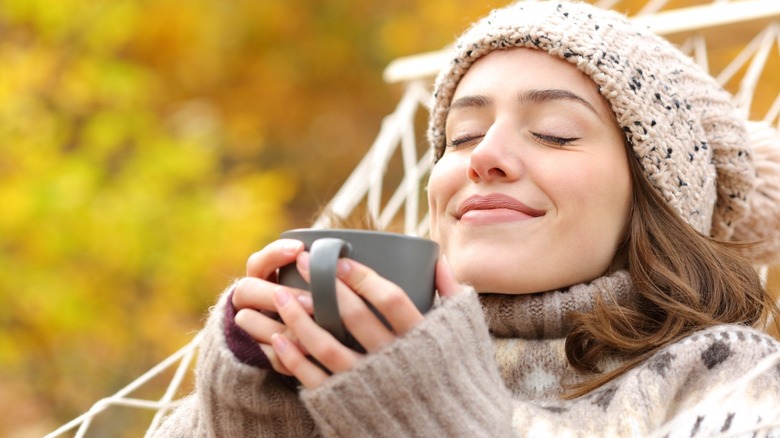 We may receive a commission on purchases made from links.
Sometimes, the only signs of fall are the pumpkin spice latte signs that spring up in coffee shops everywhere come late August. Cool weather may be weeks away, so kickstarting the sensation of autumn with a flavor blend that screams hayrides and bonfires is a stroke of marketing genius. Clearly it works, if Starbucks' Pumpkin Spice Latte sales figures are any indication. Even the variations of this classic slay. But there are flavors that represent the fall season just as much as PSL, and they have a cozy partner in coffee of all blends and brews. So rather than just going with the pumpkin-flavored flow, coffee lovers get to have a say in how they herald the changing of the season. Freedom of choice has never been sweeter!
If you're bored with the gourd and looking to sidestep the pumpkin parade, but still want in on the fall weather coffee cavalcade, you're in luck! We've rounded up your best bets for autumn coffee house drinks that bring apples, toffee, cinnamon, and more center stage. Get your best flannel on and head to the drive-thru for these fantastic alternatives that will keep you from falling into the same old pumpkin groove.
Starbucks' Apple Crisp Oatmilk Macchiato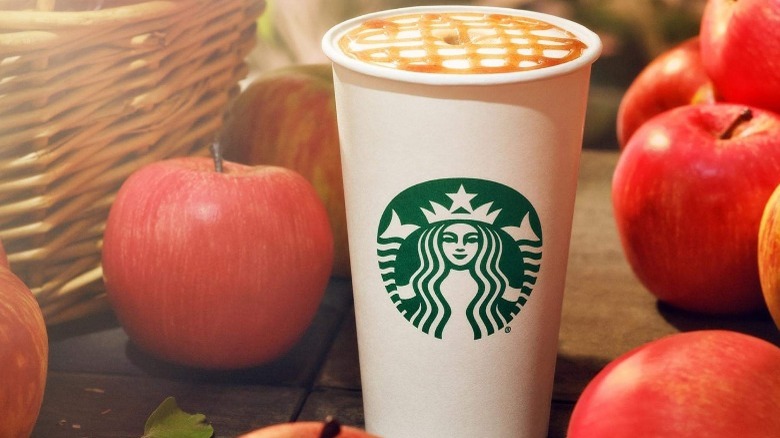 Apples get their due in a dozen ways when autumn rolls around, so why shouldn't they be honored in java form, too? Starbucks is flexible enough with their designer flavors to throw in a twist or two to keep fans excited, and this year's surprise selection is Apple Crisp Oatmilk Macchiato. It's a luxury version of the way apple can taste, turned into a dessert with buttery vanilla notes. Brown sugar, cinnamon, and apple share the brew with Starbucks Blonde® Espresso. A spiced apple swirl on top does the heavy lifting that caramel usually would, giving an extra bump of autumnal flavor and turning this pour into what amounts to a dessert you can drink.
One of the not-so-hidden perks of this fall beverage is its plant-based milk, placed front-and-center in the name. Rather than having to request alternative milk, herbivores and dairy-sensitive drinkers can trust that the order is cruelty-free and safe to drink without special consideration. It's a novel twist for a fall drink and one that adds a natural touch to the seasonal warmth of the recipe.
Caribou Coffee's CariBOUsted Apple Blast
You may have high expectations for the Caribou Coffee fall menu, in which case it'll come as a delight to find out they've picked orchard goodness as part of their holiday menu. Apple Blast is a sweet, juicy drink with the caffeine goodness of real coffee beans added. While not technically a coffee beverage, this addition of coffee-based caffeine in the BOUsted version provides non-coffee drinkers with a caffeinated option. The juicy apple profile made creamy with buttery caramel tasting notes is entirely unhindered, but the sizzle of instant energy that comes from a shot of your favorite brew is still a part of the experience.
For those who can take on the morning or afternoon without needing a jolt and aren't looking for the extra buzz, the Apple Blast is also available as a hot drink without the added caffeine. It's a great choice for an evening around the backyard fire pit or a slow-rolling road trip to higher elevations while watching the leaves shake off their summer greens in favor of fiery fall colors.
Costa Coffee's Maple Hazel Latte
The autumn lineup at Costa Coffee takes the U.K. in a cozier direction with the addition of Maple Hazel Latte to the menu. The gently sweet maple flavor combined with the warmth of hazelnut is a blend that transports drinkers to a cabin in the woods, no matter where they place their order. For non-coffee drinkers, the maple-hazel combo is also available as a hot chocolate drink that does an equally great job at turning chilly autumn mornings into impromptu celebrations. As true coffee aficionados know, chocolate is a welcome addition to any seasonal beverage.
When a drink is this unique, it's worth trying to turn it into a viral sensation, right? Costa Coffee thinks so. They were so excited about their new beverage, they took to TikTok and posted a behind-the-counter clip of a barista brewing one up, complete with candy corn-colored sprinkles on the whipped cream crown. The hyper-caffeinated Halloween matches the energetic vibe of what's in the cup, giving autumn a jazzy maple-and-hazelnut-flavored boost — while pumpkins take a seat on the sidelines.
Starbucks' Cinnamon Dolce Latte
Cinnamon Dolce Latte is a standing order at Starbucks everywhere, but something about the harmony created by the sweet cream and spicy cinnamon makes it especially delicious as an autumn treat. It's particularly soothing as a hot drink, with the sweet cinnamon flavor reaching notes somewhere between chai and coffee. It's also available in a skinny version with fat-free milk and sugar-free syrup for autumn coffee fans watching their calorie count.
When rumors circulated that cinnamon dolce syrup had been discontinued, ripples of fear cascaded through the java world. It turned out that supply chain issues had delayed delivery, leaving latte lovers frazzled, and the spiced sweetener needed for one of Starbucks' signature drinks was indeed still in production. Bottles of the sugary concoction can even be purchased from Amazon, as well as flavored grounds and beans that are perfect for homemade versions when it's too tempting to hang around the house and soak up the gentle laziness of fall mornings.
Starbucks Reserve Hazelnut Bianco Latte
For an upscale take on autumn flavors, Starbucks offers their Reserve Hazelnut Bianco Latte. Unlike the other espresso drinks on the menu, this special recipe is made with two shots of Starbucks Reserve espresso. The Reserve coffees are described on the company website as "the rarest, most excellent coffees Starbucks has to offer." With a write-up like that, you know you're getting a premium drink that elevates your coffee experience. The sweetener in the cup is milk infused with hazelnut pralines, a heavenly substance made in-house. As with most Starbucks drinks, this sipper is available as an iced beverage, though watering down such a select set of ingredients might also dilute the autumnal experience.
Though word around the internet is that Starbucks Reserve Hazelnut Bianco Latte can only be found at Starbucks Reserve roastery locations, the 'Bucks website says that certain in-season roasts can be found at other locations in the 1500+ chain. It's worth checking into if you're looking for an un-pumpkin fall coffee flavor to savor.
Peet's Caramel Apple Latte
Who doesn't love caramel apples in the fall? Whether you're slicing into them at the farmers' market or trying to pry your teeth loose from one at a pumpkin festival, the tart and creamy tongue tingle of this timeless treat summons memories of autumn like few other flavors. Peet's captures the nostalgia with its Caramel Apple Latte, a mix of espresso, gooey caramel apple butter syrup, and steamed milk, topped with a sweet spiral of caramel for good measure. It's a dose of orchard-level sweetness that makes a tasty iced drink for those who love their crisp apple-flavored treats on the colder side.
Bonus beverage: Coffee lovers who sign up for the Peet's app get special access to another apple-flavored drink, the Apple Cinnamon Oat Latte. It's only available to Peetniks, the name for app users. The blend of tangy apple, warm cinnamon, and creamy oat milk as mix-ins for an espresso base is more than enough of a reason to download the app and upload the autumnal goodness.
Coffee Bean and Tea Leaf's Salted Toffee Latte
Skip the pumpkin brew brouhaha next time you head to Coffee Bean and Tea Leaf, take a look at their official fall menu, and try the new Salted Toffee Latte — their latest autumn-ready selection. Sweet, buttery toffee tempered with a sprinkle of salt to surprise the tastebuds is a welcome addition to the fall flavor spectrum. Coffee Bean and Tea Leaf even concocted a bespoke salted toffee sauce syrup to use in its candy-coated cuppa, along with its signature espresso. The result is a trip to the sweet shop, but as an adult with more distinctive, grown-up tastes and more money to spend on indulgent treats.
Enjoy this rich sipper as a hot latte and you'll be indulging in a new form of mocha, where toffee is the star instead of chocolate. Or order it whipped up in its iced, blended form and you can have a sweet and salty ice cream-style coffee experience one last time before the chill of the changing season drives the cold drinks to the back of the freezer. Either way, you win. Go ahead and be salty about it.
Starbucks' Smoked Butterscotch Latte
If you're looking for sweet autumn flavor with a touch of sophistication, the Smoked Butterscotch Latte at Starbucks is a great sip for the fall season. The coffee colossus adds a swirl of smoked butterscotch flavor to a double shot of espresso, bringing balance to the sweet, smoky, and roasted goodness of all three elements. Smoke is a novel addition to the coffee shop flavor set, likely because the aroma of roasted coffee itself has something of a smoky essence. So when you find a little smoke in your cup next to the luxurious butterscotch and sprightly espresso, it's reason enough to celebrate.
Reviews of this Starbucks special menu item call out the true butterscotch essence in the cup, enough to draw comparisons to Butterbeer, the beverage from the Harry Potter universe. If this autumn alternative gives grown-up Potter Heads something magical to sip on when the winds turn to chill, and Hogwarts fires up its wands for the new semester, some may find it an enchanting option.
Dutch Bros' Sweater Weather Chai with White Coffee
The name of this fun creation says it all! Sweater Weather Chai with White Coffee is Dutch Bros' newest entry in the suite of non-pumpkin fall-flavored beverages. It takes a base of the Bros' famous white coffee and jazzes it up with white chocolate, cinnamon, and a dusting of nutmeg resting on a fluffy soft top, a marshmallowy cream topping. It's a creative seasonal specialty that makes pumpkin seem passé, and unlike actual sweaters, it comes in hot or iced versions to warm you up or cool you down.
In case the cozy name calls to mind a tamer version of what you usually find in your Dutch Bros cup, java jammers beware: the white coffee in this creamy, spicy concoction contains 70% more caffeine than the Bros' regular brew. So while it might sound like a perfect beverage to curl up in front of a fire with, maybe think about keeping your jogging suit on under that sweater. You just might need to run off some of the extra energy when you reach the bottom of the brew.
Starbucks' Maple Pecan Latte
Maple and pecan are the lost twins of autumn flavors, two contenders for the fall crown that get pushed aside in favor of the flashier, spiced concoctions. Luckily, Starbucks throws these two together in their own featured combination: a Maple Pecan Latte. Lovers of pancakes and waffles will find their new favorite fall beverage in this soothing mix of sweet and nutty flavors, with the sharp roast of Starbucks espresso pulling it all together like a hug in a cup.
Though this lovely latte may signal the crisp weather fall brings, the truth is that sometimes seasons don't change on time. Coffee lovers are left waiting for brisk mornings, wondering when hot beverage autumn will return. Luckily, there's an iced version of the Maple Pecan Latte that compares pretty closely to the heated iteration. According to Elite Daily, "The iced beverage will give you all of the autumn flavors without the heat, and it's super refreshing." Sounds like a great way to pass the time while waiting for the apple-picking season to make its annual appearance.
Starbucks' Gingerbread Latte
Why wait until winter to savor the warmth of gingerbread when Starbucks offers its Gingerbread Latte as a fall-forward beverage served year-round? It's always available, even in iced form, which means you don't have to wait until PSL season kicks off to get your autumn on. Think of it as a transitional beverage that does double duty, a gateway flavor that leads you from the freshness of fall to the sharper chill of winter.
This all-the-time favorite did go through something of an identity crisis when it tried to exit the seasonal drink scene. In 2019, Starbucks removed the spicy sip from its holiday menu, leading to a social media revolt that included one customer starting a petition to bring their beloved beverage back. Maybe the worst-kept Starbucks secret ever is that if you know what you want in your drink, your barista can make you a Gingerbread Latte even if you don't see it on the menu. The season will not hold you back when it comes to pumpkin-free fall beverages.
The Human Bean's Mexi Mocha
Mocha lovers know that chocolate and coffee are a match made in café heaven. The Human Bean brings a bit of international flair to its version by adding brown sugar and dark chocolate for its robust Mexi Mocha. With a steaming cup of cocoa-fied coffee in their hands — minus the spicy cayenne or other peppery ingredients that sometimes lend extra heat to the old-fashioned Mexican recipes — connoisseurs of autumn coffee flavors will find this grown-up take on hot chocolate pairs nicely with hayrides, leaf piles, and bonfires on the beach after sundown.
Coffee lovers who can't wait for the seasons to shift before diving into their holiday drinks will be thrilled to know that The Human Bean offers its seasonal menu all year long. So if autumn signals the need for eggnog, peppermint, or salted caramel instead of the quintessential fall flavor sensations, by all means, fast forward and indulge. With enough caffeine in your bloodstream, you could be the coffee adventurer that discovers the secrets of time travel. Coffee is magical that way.