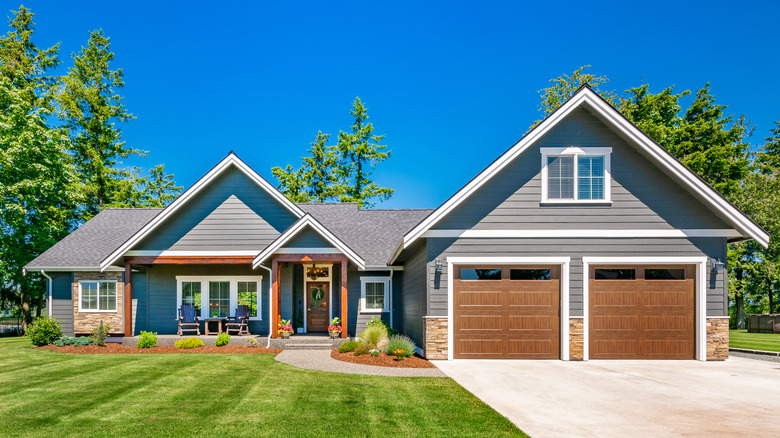 Whether you're thinking about selling your home, completing your look, or just keeping up with the times, selecting a new garage door is one way to increase your home's curb appeal and overall value. The experts at Banko Garage Doors say it's one of the first visuals to catch a passing visitors' eye or to intrigue a potential buyer checking out your house online.
Some homeowners wonder if a simple new coat of paint might do the job, so getting more than one opinion in the mix is probably a good idea. Is there something inherently special about the door you have in place? Does it carry or project some sense of history as it is? And, most importantly, how well does it work these days?
Most garage doors are function first. They perform the necessary task of keeping your car, lawn mower, and other yard and household items out of view and protected against the weather. But that's only what they do for the inside. On the outside, you can think of a garage door as a billboard advertising who lives at your address.
Homeowners are reluctant to replace their garage doors simply for aesthetic reasons, especially if it's still working. But that "if it ain't broke, don't fix it" mantra won't help your home's curb appeal. So get those second and third opinions. If your garage door isn't helping sell you as a homeowner, we have some suggestions.
1. Custom doors
Garage doors can swallow up between 25 to 40 percent of your front facade, according to Crosby Garage Doors. That's a lot of real estate — enough to show a movie on and invite the neighbors over.
It only makes sense that you look at your garage door and ask if it complements the complete package of your home. For example, look at the home pictured above and how its custom door adds luster to the entire landscape image. It might be any ranch house, but the garage door gives a slight nod to Japanese architecture and deftly brings to mind the Shōji wooden latticework style of sliding outer doors covered in translucent paper (via Britannica). So rather than a simple piece of well-crafted homebuilding, there's a unique architectural style.
This brings us to the point: the outside of your home can tell a story about you and your family, and your garage door is a big part of that. A custom garage door can be much more than a device that swings up, down, or closes from side to side.
The specialists at Cambeck Designer Doors will tell you there aren't that many variables at play: a garage door is basically materials, windows (or no), and the mechanism that operates the door for you. But your choices among those are wider than ever.
2. Panel doors
But what if custom work doesn't suit your style or budget? The professionals at C.H.I. Overhead Doors say there's an available garage door that can accommodate most modern homes. The traditional panel twin garage doors you see above are a versatile option compatible with many homes.
There are several different subsets of this style, according to Garage Living. The raised panel model door is exactly as described: the panels are raised from the surface of the door and provide a casual dignity to the surrounding facade. They are sold with fully insulated windows as well, making them a favorite for people who like a bit of sunlight in their garage and those who use the space as a game room or for entertainment.
Then there are the transitional recessed panel doors, which are a small departure from the original concept. And one of the principle differences is that the panels are recessed rather than raised. Most often, these are constructed from steel and win plaudits for ease of maintenance. They're considered a contemporary spin on the panel garage door look and are currently a favorite of developers.
Yet another possibility is modern flush panel doors, which display a modern look that's flat with slightly raised paneled doors. These are having a moment, as new subdivision developers have latched onto them to show off new homes.
3. Carriage house
If you're looking for an aura of history, carriage house garage doors are definitely what you seek. They're also known as barn style, and you can see from the image above that these harken back to the days of the horse-drawn carriage.
In locales up and down the east coast, you'll often find examples of the all-wood originals dating back to the Civil War era and earlier (via MasterClass). The charm of these antique-appearing doors is self-evident. You would almost expect to see stables and hay behind them.
These doors are often given natural finishes, even if they're not actually wood, which was a good deal heavier, as well as unwieldy and prone to splintering over time. You'll find an expansive selection of choices playing off this theme from the pros at Clopay, including several in steel and at a variety of insulation layers from two to three and even five-layer models. One of the fun features is that many of these can be field stained, which means they'll put the door in and stain it to your color and texture specifications. These doors are typically painted in stately neutral colors that range from white to numerous shades that mimic natural wood. Most come with windows at the top that can be removed for wiping. There's also an option for designer etched glass, or you can purchase them without any windows.
4. Modern style
One of the best ways to let your neighbors, passersby, and potential buyers know that they're not visiting decades past is to have a garage door that looks contemporary. And while the modern garage door has an easily identifiable visual signature of clean lines (often horizontal, as opposed to the chessboard panel style), light weight, and simplicity, there is again a multitude of variations to appeal to an ever-expanding and more discerning customer base.
Overhead Door has an online catalog that shows you what they have to sell and illustrates the diversity in modern garage door styles. They begin with doors made of impression fiberglass, which feature molded surfaces intended to appear made of wood. They're known for durability, flexibility, and lightweight composition.
On the other hand, insulated steel doors give off industrial vibes and are resistant to weather extremes. They're made of two outside layers of corrosion-resistant steel covering a layer of polyurethane to create a door that maximizes thermal efficiency.
Because so many garages today are built to different specifications, most manufacturers and sellers showcase just how much variety they have to offer, not just in style but in size, shape, and materials, too. Modern garage doors also veer more often to the warm side of the color palette, including hues like sandstone, desert tan, almond, and white.
5. Wooden doors
To the minds of many, technology has yet to improve on nature — which is one reason why garage doors made of real wood remain a timeless classic. Artisans and manufacturers continue to debate the merits of natural wood, and Plank and Pillow is well-versed in explaining why.
While wood is used elsewhere outdoors (think of porches, for example), your garage must brave the elements 24/7 and 365 days a year until you replace it — that means maintenance to keep it looking great. Still, only real wood smells like real wood and has the heft, gravitas, and old-world beauty of the real thing.
As the folks who craft garage doors have faced increasing competition from faux-wood manufacturers, they have stepped up their game. At Artisan Custom Doorworks, they promise to sell you natural wood crafted to the most exacting standards with design and stain possibilities galore — and they'll top that off with a 50-year warranty to dispel your fears of pests, rot, and other possible factors that could lead to degradation. They've also made a study of their craft that's led them to develop their proprietary system for laminating and to offer a window system that's reinforced and stronger than the industry standard. Each door component will be pre-finished before its assembled and uniformly finished before shipping.
These doors appeal to those who are uncompromising about having as much of the natural environment around them as they can afford.