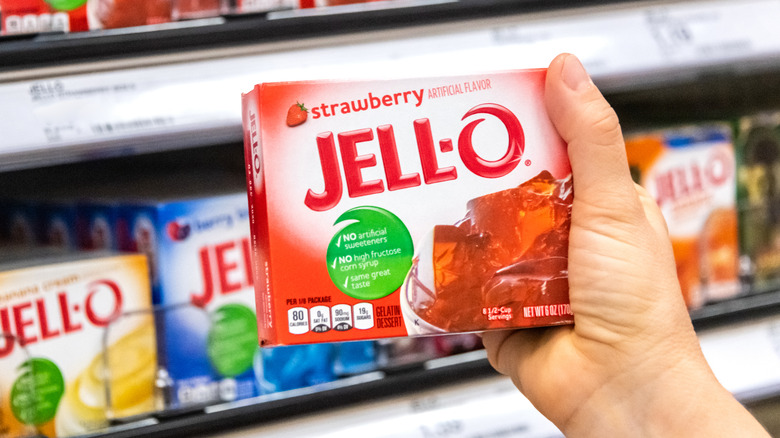 We may receive a commission on purchases made from links.
Jell-O has been our favorite jiggly dessert for more than a century. Many of us remember using cookie cutters to make Jell-O jigglers as kids — they were as much fun to make as they were to eat. Surprisingly, the wobbly, fruit-flavored concoction got its start 125 years ago when, in 1897, Pearle Wait stumbled upon the recipe while trying to make a cough remedy (per Jell-O Gallery). The fruit-flavored dessert was dubbed Jell-O by his wife, May.
It took several years and a couple of ownership transfers to really take off, but when it did, it was a hit. By 1909, the company that now owns the business — Genesse Pure Food Company — was raking in over a million dollars in sales.
The iconic brand started with four Jell-O flavors: strawberry, lemon, orange, and raspberry. Lime came into the picture in 1930. Those are all winners that we still enjoy today. Some flavors, on the other hand, have been flops. Celery-flavored gelatin, anyone? Or how about seasoned tomato? Not all of the discontinued flavors are savory in nature, though. Some were beloved by fans of the dessert, such as Jell-O 1-2-3 or the mixed fruit flavor.
Wondering what you're missing out on? Let's take a look at some of the flavors that have moved on to the Jell-O graveyard but remain alive in our memories.
Mixed Fruit Jell-O
Even though Mixed Fruit Jell-O has been discontinued for at least 10 years, fans still ask for its return. On the maker's official Facebook page, dozens have asked about their favorite flavor. Lack of support led to the removal of the mixed fruit, according to the brand.
In the words of its fans, it is a "staple" for their family dinners, a "crucial" component of their cranberry salad, and "no other flavor compares." They drank it warm, added it to pie and Jell-O salads, and enjoyed it in punch. While there have been many requests to bring it back, the brand has said they don't plan to do so; there weren't enough customers purchasing it to continue production.
One Facebook user noted that the Royal brand of gelatin makes a mixed fruit flavor, but it seems they've discontinued it as well. To our disappointment, we can't find another brand in the United States that makes a mixed fruit flavor. To recreate it, you will have to experiment in the kitchen by combining different flavors — cherry is a good base to start with.
Jell-O 1-2-3
What do you serve for dessert when you want to impress? Why, a three-layered Jell-O dessert of course. As the commercial puts it, it's "the only dessert that tops itself." Sophistication and ease were the goals of the formula behind Jell-O 1-2-3 — just serve it in a parfait glass to make it look fancy. It was first introduced in 1969 and then reintroduced in 1989 (per Mid Century Menu). Food 52 notes that it came in the classic five flavors: strawberry, cherry, lime, orange, and raspberry.
Jell-O 1-2-3 achieved its layered look by adding boiling water and ice water in different steps and using a blender to mix it to perfection. When placed in the fridge for three hours, it separated into a creamy layer on top, a fluffy layer in the middle, and a gelatin layer on the bottom. The thickness of the layers varied, but you get the gist.
Sadly, it was discontinued in 1996. Will this dessert ever make a comeback? Perhaps. Mid Century Menu features a snapshot of a recipe from the Jell-O Gallery that reads, "Until it comes back, here's a way to make your own." So, there's a chance. But even if it doesn't, you can clearly make your own, which is almost exactly the same as the one featured on the Kraft Heinz website. And the great news is that you can use any flavor of Jell-O you like!
Sparkling White Grape Jell-O
To celebrate its 100th anniversary, Kraft came out with its Sparkling White Grape Jell-O flavor (per Daily Press). Dubbed "the Champagne of Jell-O," it became quite popular, with several users on the Jell-O Wiki noting that it was their favorite.
As the commercial notes, it "fizzes, bubbles, and wakes up [your] tongue." The mix acquired its fizz thanks to the addition of cold club soda to the gelatin instead of cold water. One fan said that Champagne makes it even sparklier, though ale or seltzer could also give it a fizzy effect. It seems like it would be well-suited for Jell-O shots, so it's a shame the flavor has been discontinued.
You can, however, turn any gelatin flavor into its sparkling version by substituting club soda for the water. To try your hand at recreating the white grape version, start with Welch's recipe for white grape juice fruit jigglers (via Welch's). Omit the lemons, and swap one of the cups of grape juice for a cub of club soda, and boom! You have your own version of jiggly champagne. Sparkling apple cider would also make for a yummy addition to unflavored gelatin.
Cola Jell-O
How does a cola-flavored Jell-O sound to you? According to the Jell-O Facebook page, it was totally a thing in 1942. Intriguing as it sounds, the brand gave no information about why the flavor was discontinued. Mid Century Menu, however, tells us that it was discontinued that very same year. Seems that it flopped hard and fast.
Negative reactions on the Facebook thread range from "gross" and "yuck," with more extreme reactions calling it "nasty" or "vile." Others, however, were game to try it. One commenter, in particular, suggested substituting Coke for the water when making Cherry Jell-O. She notes that it tastes like Cherry Coke, which wouldn't be a bad flavor for gelatin at all. It would have the same fizzy kick as the sparkling varieties of yesteryear. Rum and Coke Jell-O shots would also be winners.
Redditors have discovered a recipe for Coca-Cola salad in an old Southern cookbook, and of course, some people dared to try it. One such version turned into a layered brown dessert that looked fairly unappetizing. It was made with Orange Jell-O, Coca-Cola, cream cheese, and crushed nuts. The Redditor who made it noted that each of the layers had distinct flavors, none of which were good. So, while cola and Jell-O may or may not be tasty, it seems that adding cream cheese and nuts into the mix is a recipe for disaster.
Wild Cherry Jell-O
You may think a cherry is just a cherry, but ask any aficionado, and they'll tell you that the flavor of wild cherry or black cherry is quite distinct from other cherries. Advanced Biotech explains that wild cherry is more tart and sweet than regular cherry whereas black cherry has a deeper, richer flavor. And while you can still find Black Cherry Jell-O and Cherry Jell-O on store shelves, their Wild Cherry flavor is nowhere to be found.
The flavor was introduced in 1968 along with wild strawberry and wild raspberry (per Mid Century Menu). We can't find any details on when the flavor was pulled from shelves, but it left the other two cherry flavors behind. If you miss the tart, sweet flavor of wild cherry, try adding wild cherry extract and red food coloring to unflavored gelatin to try to recreate the flavor.
Jolly Rancher's Cherry Gelatin may have the pop of tartness you're craving. Or, if you're looking for new cherry gelatin to love, try Sonic's Cherry Limeade flavor. You can find it in stores, and if it's anything like the drink by the same name, it'll be delicious.
Imitation Apple Jell-O
Jell-O's Imitation Apple Flavor debuted in 1955, according to Mid Century Menu. Because it's no longer available, we're left scratching our heads wondering what it tasted like. Was it sour with a little bit of pucker to it, like a green apple? Or did it try to mimic the taste of real apples, like apple juice? As Popular Science notes, fake fruit flavors don't really taste like the fruits they're named after. Why? Because flavor chemistry is hard.
Let's assume for a moment that they were going for the green apple taste. While you can't get the Jell-O version, Jolly Rancher has a Green Apple gelatin that tastes like the tart, yet, sweet candy by the same name. Sonic, too, has a gelatin dessert by the same name. Both are excellent for making Crown Apple Jell-O Shots.
However, it's easy enough to make apple-flavored Jell-O — or any fruit-flavored gelatin — on your own, as described in a 1980 article from the Washington Post. Start with plain gelatin, add some apple cider or apple juice in place of the water, and add chopped apples if it suits you.
Mr. Wiggle Jell-O Flavors
Though we often think of Jell-O as a kid-friendly dessert, there was a time the company decided to expand its marketing to children with a group of flavors in the Mr. Wiggle line. According to Mid Century Menu, the line launched in 1965. The campaign promised that it was made without sugar so you can "eat all you want."
Mr. Wiggle, along with his Dracula-like nemesis Sweet Tooth Sam, encouraged parents to buy this candy-flavored Jell-O for their kids with a fun cartoon commercial. It debuted with six flavors: Candyball Cherry, Candycorn Orange, Gumdrop Grape, Jellybean Strawberry, Lollypop Lime, and Rockcandy Raspberry (per Gone But Not Forgotten Groceries). General Foods wasn't interested in launching a line for kids at first. However, in response to news that Pillsbury planned to enter the market with a product aimed at kids called "Jiggly," they decided to move forward.
Things got interesting when a lawsuit was filed in the 70s claiming that the Jell-O brand took an idea pitched by marketing agency Young & Rubicam on behalf of their client without compensating them. Their client, per Casetext, alleged that he introduced the idea of a kids' Jell-O line called "Wiggley," while Jell-O said they independently created the name. In the end, the court decided in favor of General Foods.
Coffee Jell-O
For a moment time, it was possible to actually eat your cuppa joe thanks to Coffee Jell-O. Mid Century Menu's Jell-O timeline shows that this flavor first appeared in 1918. Back in the day, it was 10 cents for a dozen packages of the stuff (via Flickr). However, a recipe for Coffee Jell-O dates back even earlier to 1904. That recipe called for 1 cup of coffee, a package of Raspberry Jell-O, a teaspoon of vanilla extract, and of course, boiling water. The instructions say to serve with whipped cream when firm.
Atlas Obscura notes that an even earlier recipe for coffee jelly — a close contender to coffee Jell-O — was published in 1896. They report that coffee jelly, though it has fallen out of favor in the United States, is still popular in Japan. A Japanese newspaper first published a recipe for coffee jelly in 1914 that they received from a student who had studied in America. The Mikado coffee chain sold coffee jelly in the 1960s, and as recently as 2016, Starbucks added a Coffee Jelly Frappuccino to their Japanese menus. The Butterscotch Coffee Jelly Frappuccino was released nationwide in 2020 (per Sora News 24) and sounds incredible. It boasts a butterscotch sauce with a milk base and coffee jelly cubes.
Mixed Vegetable Jell-O
If you've ever looked at Jell-O and thought, "That could use some meat or vegetable flavoring," you would have loved this vegetable-flavored line of gelatin. According to Click Americana, the line debuted in 1964 with four flavors: Mixed Vegetable, Celery, Seasoned Tomato, and Italian Salad. The flavors may seem strange now, but this was at the height of Jell-O salads' popularity, so the savory flavors were expected to be a hit. Kind of like aspic in European countries. And while people did enjoy vegetables in Jell-O, it seems that they didn't quite take to vegetable-flavored gelatin.
To get an idea of the intended fare for these savory flavors, take a look at the recipe on Click Americana. It recommends adding a can of flaked tuna, tomato, hard-boiled eggs, olives, green peppers, onions, Italian salad dressing, and lettuce to the Mixed Vegetable or Celery Jell-O. Would you try it? While the savory gelatins aren't on store shelves now, you can recreate them using vegetable juice and unflavored gelatin mix (per a comment on The Society Pages).
Celery Jell-O
Celery flavor is one of the vegetable gelatins released around the same time as Mixed Vegetable. Unlike mixed veggies, this one has a pronounced celery flavor. According to this YouTube video showing vintage Celery Jell-O boxes, the flavor was discontinued in the mid-1970s "when Jell-O's popularity started to decline."
Looking at the back of the box, you'll find the regular instructions to make a simple Jell-O with a suggestion to serve it on salad greens. However, you'll also find these suggested additional ingredients: grated carrots, shredded cabbage, chopped green pepper, and diced celery. However, the kind folks at Jell-O also offered an array of other meat and veggie combo on the pouch, like ham, tuna, and chicken along with diced celery.
The video creator notes that it smells "great, just like celery." He even tasted it (which we don't recommend), and noted that it tasted perfect. Upon seeing a box of the celery-flavored gelatin, a Reddit user noted that it may have been good for making Bloody Mary Jell-O shots.
Seasoned Tomato Jell-O
The veggie blends continue with Seasoned Tomato Jell-O. We imagine it must have tasted a little like gelatinous tomato soup, but since the flavor has been discontinued, we'll never know.
If you're passionate about getting these long-forgotten flavors back, however, you can sign the Change.org petition from the Show Me Your Aspics Facebook group to do so. It is noted in the description that reviving these "vintage gems" would allow "exploration and creativity among [the] customer base." Indeed. The goal is to get 200 signatures, and since this petition was started more than 4 years ago, it doesn't seem like there's a lot of support for bringing the flavors back to the market.
A Reddit user mentions recreating a similar flavor using V8 (or Bloody Mary mix) and plain gelatin along with celery, green onion, tomato, basil, parsley, and bell pepper served over greens. However, a comment on The Society Pages notes that the old veggie-flavored gelatins were not unsweetened. Instead, the commenter notes, it had the same amount of sugar as the fruit-flavored Jell-O making it "repugnant."
Sparkling Wild Berry Jell-O
The Champagne of Jell-O line debuted a new flavor in 1998 called Sparkling Wild Berry flavor (per YouTube). Just add club soda to get that signature fizzy, bubbly effect. A post about this flavor in the '90s subreddit brought back fond memories for many. One commenter noted that their grandmother made it for them and added Sprite instead of club soda or seltzer.
Seeing this nostalgic flavor made us wonder — what flavors are actually in wild berry? According to Simply Flavor, it's the flavor of berries you'd find while "traipsing through the woods." Monin's Wildberry Syrup, however, is more specific, noting that the flavor is a combination of raspberries, blackberries, and blueberries. Looking at the packaging for the Sparkling Wild Berry Jell-O, this seems accurate regarding the flavor.
If you miss this Jell-O, you're in luck. According to The Impulsive Buy, Skittles now makes a Wild Berry gelatin. Add club soda or seltzer to it instead of water, and you may have a very similar flavor to the original. It's worth a shot!
Strawberry Kiwi and Peach Passion Fruit Jell-O
Nineties babies, you'll remember these flavors. Jell-O launched a line of tropical blends in 1996, according to Mid Century Menu. One of them, Island Pineapple, is still available. They also now have a Mango flavor, though neither is sold under the "Tropical Blends" name. The other two — Strawberry Kiwi and Peach Passion Fruit — are no longer in production.
Perhaps the most interesting discovery we made about the Tropical Blends line is this commercial for Strawberry Kiwi from 1996. Rather than being marketed toward kids, it seems that the strawberry kiwi flavor was marketed toward adults. The commercial starts with animal sounds and then cuts to a couple on the beach. As the couple dips their toes in the water, the voiceover announces that "The secret to a good relationship can be found in new Strawberry Kiwi Jell-O." That's quite a claim!
To get your strawberry kiwi fix, try the Kool-Aid Gels version. Unfortunately, we can't find a comparable product for the Peach Passion Fruit flavor — yet.