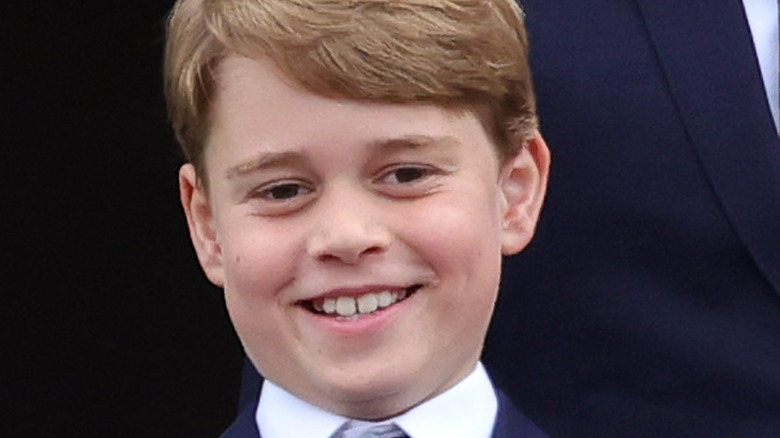 It's no secret that the royal family spares no expense — from lavish home renovations to the jewels present on every occasion to the outfits and the carriages, it truly does seem as though royal life is the epitome of the silver spoon. When it comes to education, however, the royal family hasn't always followed a strict path.
As noted by the royal family's official website, Queen Elizabeth was educated at home by a variety of governesses — a typical education a girl had access to in her days. When it became clear that she would one day take the throne, Elizabeth studied history and law, learning under her father as well as Henry Marten, the vice-provost of Eton College. Still, Elizabeth did not have the standard education that many would assume she did, partially due to her gender and generation. With time, education within the royal family has taken different forms, and we are watching the schooling of the young Prince George — who is now second in line to the throne — play out in real time.
The royals have a long history with boarding school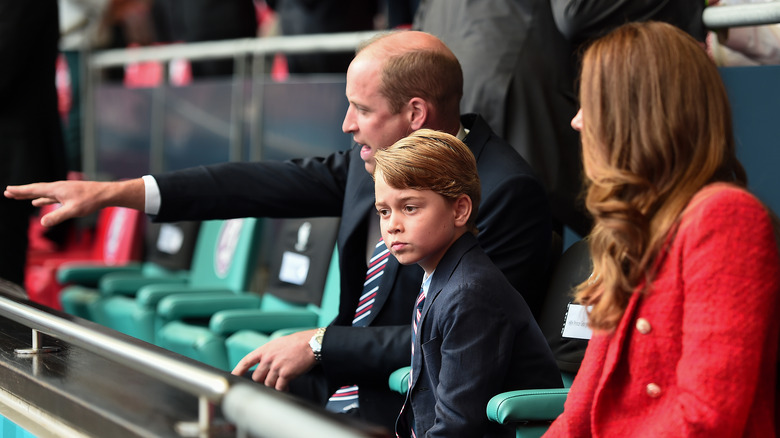 Boarding school has long been a staple of royal education. As Princess Anne told Vanity Fair, she went to boarding school in her youth and was a big fan of the experience. She liked it so much that she sent her own children to boarding school, and is involved with the Royal National Children's SpringBoard Foundation, working to put children from difficult backgrounds into a boarding school setting.
"I was ready to go to school. I had a governess and two friends and that was never going to be enough, really, so I was only too pleased to be sent off somewhere else," Anne said. "I think boarding school has been demonized by some when in fact it's a very important aspect to have available and many children actually thrive in it."
Not every royal was such a fan of the boarding school experience, however. Vanity Fair separately noted that King Charles III had a dreadful time at boarding school, preferring his "own company" given that he was relentlessly teased. As he was made fun of for his larger ears and build, Charles did not look at his school days fondly. With that said, however, it was his late ex-wife, Diana Spencer, who insisted on a different type of education for their sons, Princes William and Harry (via Hello! magazine).
Diana Spencer changed royal education forever
Diana Spencer, the late Princess of Wales, made it clear that she would be doing things her way while a member of the royal family. The soft-spoken 20-year-old who married then-Prince Charles transformed into a force overnight, and she made it clear when raising her two sons — Princes William and Harry — that she would be doing things differently.
As noted by Hello! magazine, William attended Mrs. Mynors' nursery school in Notting Hill, England, in 1985. This marked the first time that a future king of England entered the public school system. After his stint there, William attended Wetherby Prep School, and then the independent boarding school, Ludgrove School. Diana, by guiding William's education accordingly, did everything in her power to give her son as normal of a life as possible, including where he went to school.
Of her approach to normalcy and prioritizing the wellbeing of her sons, her former press secretary Patrick Jephson told ABC News, "She made sure that they experienced things like going to the cinema, queuing up to buy a McDonalds, going to amusement parks, those sorts of things that were experiences that they could share with their friends." From the looks of Prince George's education, then, we're confident that Diana's approach impacted William's own choices as a father.
Prince George attended nursery school near Anmer Hall
Prince George was just 2 years old when he started attending nursery school and, unlike many of the royals who came before him, George went to an ordinary school that was located close to his family's home in Norfolk. On his first day of school, Princess Catherine was photographed arriving with her son at Westacre Montessori school nursery, just a stone's throw away from Anmer Hall and Queen Elizabeth II's Sandringham estate (via The Guardian). Dressed in blue and carrying a little backpack, George was the picture of all things adorable, and it became clear in that moment that his schooling would look very different from that of the royal family's children.
The Guardian noted that George's attendance at nursery school was contingent on the family's location, as they were splitting their time between Anmer Hall and Kensington Palace in London. Nevertheless, George's nursery school days were beyond adorable, and to add an even better layer of relatability, his schooling days at Westacre were incredibly normal. As it turns out, the school cost about £5.50 an hour to attend, meaning that George was right alongside local kiddos in his early educational days. However, his education wouldn't remain that affordable.
Prince George and Princess Charlotte attended the same school as Princes William and Harry
After attending nursery school at Westacre, Prince George moved up in the academic world (as all little kids do eventually) and started to attend Thomas's School, located in Battersea, South West London. Given that his family had moved into Apartment 1A in Kensington Palace, the location of George's second academic institution made sense — not to mention the school's famous reputation of excellence.
As noted by MyLondon, George wasn't at Thomas's School long before his little sister, Princess Charlotte joined him. Both royal children in attendance at Thomas's School not only brought a new layer of academic opportunity to their lives, but also a royal pedigree. As it turns out, Prince William and Prince Harry both attended Thomas's School, as did Prince William of Gloucester and the Duke of Kent. Talk about living up to royal expectations!
This is, however, where George's schooling starts to wade into lavish territory. MyLondon further noted that the school — founded by King Henry VI all the way back in 1440 — costs £48,501 a year, which is about $56,000. Times that by two to include Charlotte, and you've got a hefty educational price tag that few can afford.
Rumblings about boarding school surrounded the prince when he was about 8 years old
As Prince George got older, questions about his future as a potential boarding school student started floating around the headlines. As noted by Express, his father, Prince William, started boarding school at 8 years old. Once George turned the age himself, experts started to weigh in about his academic path and if the Prince and Princess of Wales would decide to send him away just as many royal children before him. And while boarding school could be in George's future at some point, royal expert Duncan Larcombe expressed his doubt that 8-year-old George would experience such an academic journey so young.
"It's my understanding [that] for some time, possibly even before George was even born, was that William was quite keen that any child he had wouldn't be packed off to boarding school," Larcombe told Ok! magazine (via Express). "[Boarding school] for William and Harry wasn't an unhappy time, apart from the fact it was when their mother died, which means William doesn't blame the school or the experience of boarding. But he's never intended to have his kids as full-time boarders and if George does go to a school that offers it, he'll likely be a day boarder."
George was given a 'trial day' at a new school to see how he'd settle in to a new environment
When the topic of a potential new school came up for Prince George, it was important for the Prince and Princess of Wales to be confident in their choice for their young son. After all, King Charles III was said to have a terrible time as a youngster in school, and no parent wants to see their kid go through such relentless teasing — especially if it has to do with their status within the royal family. So, with that in mind, Prince William and Princess Catherine set up a "trial day" for George at an undisclosed school, and teachers reportedly made a point to establish an "in-style trial class" for him, according to Express.
While the name of the school was not announced at the time of the trial day, Express noted that William and Catherine had visited the institution at least six times to get a feel for the school. To the surprise, and comfort, of the school's staff, the children in attendance didn't really understand who George was or what his connection was to the crown — he was simply George, coming to shadow class for a day. Those children, mind you, were likely used to high-profile people around them. Express noted that the school was home to the children of "wealthy European and Russian families" — rubbing shoulders with a royal, then, is par for the course.
An expert weighed in George's boarding school future
As the Prince and Princess of Wales made it clear that 8-year-old George would not be attending boarding school — at least at that age — like his father did, a royal expert weighed in as to when we could expect to see George sent off to school. As noted by Express, royal commentator Christine Ross estimated that given the family's move to Adelaide Cottage at Windsor Castle, and the closeness of the family, George would likely be quite a bit older before attending boarding school.
"Where traditionally you started boarding at age 8 or 9 and George has just turned 9, I can't imagine sending my 8-year-old to … I just think that would be so difficult," she said, tugging at the heartstrings of any parent even considering sending their kid to live at school full-time. "But I think because they've moved to Windsor — because they're such a tight-knit family — they're clearly so close and enjoy spending time together," Ross continued. "I would not expect George to board until he was a bit older, and I wouldn't be surprised if he did start [boarding school] when he turned 12."
Prince George and his siblings switched schools in September 2022
The Prince and Princess of Wales's multiple visits and the trial day of school clearly panned out for the best, as it was announced in summer 2022 that Prince George, Princess Charlotte, and Prince Louis would all be attending the Lambrook School, located in Berkshire, Town & Country noted. As the young family of five had just made Windsor Castle their home base, the children changing schools to be in closer proximity to the castle was an unsurprising move, and the royal family was spotted shortly thereafter walking to school for the children's first day.
"The Duke and Duchess of Cambridge have today announced that Prince George, Princess Charlotte and Prince Louis will attend Lambrook School in Berkshire from September 2022," Kensington Palace released in a statement at the time (via Town & Country). "Their Royal Highnesses are hugely grateful to Thomas's Battersea where George and Charlotte have had a happy start to their education since 2017 and 2019 respectively and are pleased to have found a school for all three of their children which shares a similar ethos and values to Thomas's." According to The Sun, tuition fees range from £4,389 ($5,083) to £6,999 ($8,105) per term, per student.
A palace source further explained that the royal kids changing schools was in part to serve the purpose laid out by Diana Spencer all those years prior — creating as normal of a life as possible. Prince William and Princess Catherine made it clear that living in the busy city of London only offered so much solace as a family, and the move to Windsor — and a change in schools — was the natural next step for their budding family.
Prince George's first full day at Lambrook was marred by tragedy
On September 7, pictures surfaced of Prince William and Princess Catherine accompanying Prince George, Princess Charlotte, and Prince Louis to their new school for the first time for "a 'settling-in' afternoon," according to the Daily Mail. The family of five looked happy and incredibly normal (especially for royals), and we loved seeing the ease that came with their kids' new transition. Sadly, though, tradegy followed the next day.
On September 8, Queen Elizabeth II was placed under medical watch and, in what felt like a blink of an eye, died. The news of her death sent the royal family, Great Britain, and the Commonwealth into mourning, and the members of her family were quick to travel to Balmoral to be with her and each other in her final moments. However, Catherine stayed behind initially.
"The Duchess of Cambridge has remained in Windsor as Prince George, Princess Charlotte and Prince Louis are on their first full day at their new school," Kensington Palace explained in a statement (via Daily Mail). Catherine was spotted picking up George, Charlotte, and Louis from school, and made it a priority to tell them the news of the great-grandmother's passing herself.
George will likely attend Lambrook for four years
While Prince George's first few days at Lambrook School were sadly disrupted by the news of Queen Elizabeth II's death, he will undoubtedly thrive in his new academic environment. Making his time at Lambrook even more heartwarming is that his siblings are attending with him — though anyone who went to school with their brothers and sisters can likely tell you that some teasing and prank-pulling took place. So what's next for the second in line to the throne? Well, as noted by Hello! Magazine, George will likely stay at the prestigious institution, which educates just over 600 students at a time, for the next four years. Lambrook educates students up until the age of 13, preparing them for the next steps in their academic plans. For George, this will likely be senior school.
When it was his father's turn to go to senior school — equivalent to high school in the United States — he went to Eton College, a boarding school for boys, where he attended from the age of 13 to 18. This schooling will most likely prepare George to take his A-level exams and GCSEs, and we wouldn't be at all surprised if George attended his father's alma mater. Making it an even better option for George, Eton is just a stone's throw away from Windsor Castle, where his family has just moved to (via Hello!).
Could George follow in his parents' university footsteps?
Prince George is only 9 years old, as of publication, so there will be quite a lot of stepping stones along his academic path. After Lambrook School, George will likely attend senior school, and then it would be time for university if he so chooses. Will he follow in his parents' famous footsteps? Well, it's anyone's guess — although this does give us a little bit of an excuse to gush over university-era William and Kate, who were a young couple living with friends while attending the University of St. Andrews in Scotland. As noted by Vogue, the two bonded over a shared breakfast order, and they quickly caught each other's eye over time.
"It just sort of blossomed from there, really. We just saw more of each other and, you know, hung out a bit more," William said of Catherine, further opening up about her on his 21st birthday. "If I fancy a girl and I really like her and she fancies me back, which is rare, I ask her out," he told BBC News of his dating life back in 2003.
Of course, the married duo are now the Prince and Princess of Wales, and have taken on the life-altering task of modernizing the royal family. So will George follow suit and attend St. Andrews? Or will he carve out his own educational path? Time will tell.