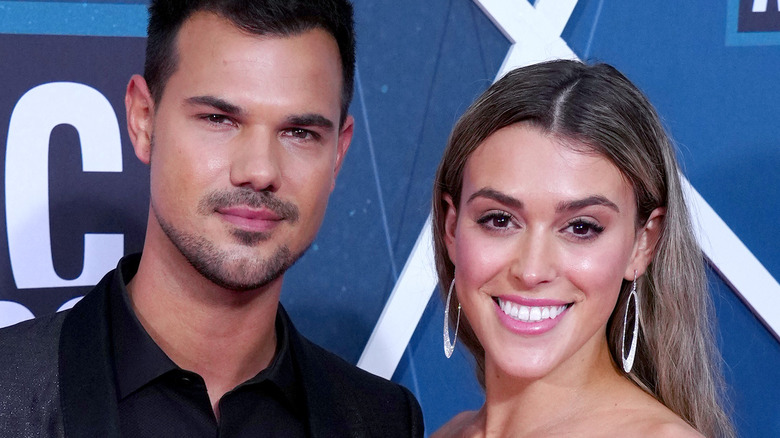 Taylor Lautner's fiancée, Taylor (or Tay) Dome, is living the teenage dream of Twi-hards everywhere. If you don't know, Twi-hard was the name given to ultra-fans of the "Twilight" series. Lautner played the werewolf heartthrob Jacob Black.
If you're wondering who Dome is, you won't find an IMDb filmography online or remember her in any recent TV series or movie. That's because she's not a Hollywood star unlike Lautner's previous high-profile relationships with pop star Taylor Swift and actress Billie Lourd, daughter of the late Carrie Fisher of "Star Wars" fame.
Lautner met Dome while on an acting hiatus, as he told People. Dome was a friend of his sister, Makena. It evolved naturally from there. The low-key couple made things Instagram official in 2018 with a photo of the two wearing matching "Space Jam" costumes for Halloween. They got engaged three years later, in 2021, as seen on Instagram. Though she was never in the public eye before Lautner, Dome has shared many successes of her own, working in a hospital setting during the COVID-19 pandemic before moving to the wellness space as an influencer and nonprofit founder. Here's everything you need to know about Lautner's fiancée, Tay Dome.
They were set up by Taylor Lautner's sister
Taylor Lautner and Tay Dome didn't meet at a Hollywood studio or red carpet premiere. Their meet-cute wasn't written in a movie or TV show script, although it seemed to have been inspired by a rom-com. Lautner met his future fiancée through his sister while on an acting break. "I wanted to take a step back and enjoy life and spend some time with my family and friends," Lautner told People – and along came Dome.
He recalled to the outlet how the introduction came about. His sister called him one day and told the actor he had to meet her friend. "'Dude, I found your future wife,'" Lautner recalled his matchmaking sister telling him about Dome.
While appearing on "The Kelly Clarkson Show," Lautner revealed that his sister always thought she'd be the one to introduce him to his wife. She was also the brains behind their meet-cute. Lautner told host Clarkson that his sister had the idea of Lautner hosting a game night at his house and inviting everyone, Dome included, so there wouldn't be any pressure. And the rest, like they say, is history.
She's from California
Tay Dome is a California native. According to an Instagram post from 2018, it appears that Dome lived in Malibu during her childhood, though it's not clear for how long. In the post, she shared a scenic photo of the beach with a caption addressing the 2018 wildfires.
"This place. A place where I have some of my first memories, to some of my favorite memories. From having the ocean as my papa's backyard, to date nights with the man of my dreams," she wrote in the caption, adding, "This place has given me some of the most amazing memories that I'll remember for the rest of my life. Malibu, you have such a special place in my heart."
She lives in the Los Angeles area with Taylor Lautner and their two dogs. According to Dirt, Lautner bought a Spanish-style mansion in a gated neighborhood in Agoura Hills, part of Los Angeles County, in April 2022. It's unclear whether or not the two reside in this property as of this writing. They previously resided in a modern mansion in the same neighborhood (per OK!). Seems like the two are living the high-life as low-key as they can.
Taylor Dome was a nursing student when they met
Taylor Lautner's fiancée didn't play a nurse on TV or in film; Tay Dome was a real-life registered nurse in the state of California. She graduated from the College of the Canyons in 2019.
She posted a video on Instagram of her walking across the stage during graduation. The caption read: "Yesterday was the end to a chapter of my life which has been the most challenging yet so rewarding. Not only have I grown as a nurse but as a young woman …" She thanked her nursing program, classmates, and support system, who, she wrote, "stuck by me."
It's right to assume Lautner was part of that support system. He was honored by his future fiancée in an Instagram post all his own. The first photo showed Lautner and Dome embracing post-graduation, and the second one was a photo of Dome smiling at the actor. "Where to even begin … Thank you for encouraging me when I felt like quitting. Thank you for all the meals you'd make me when I was too busy studying. Thank you for quizzing me and trying to pronounce medical terms and abbreviations," she wrote in the caption. Now that's true love.
She's a self-care influencer
Tay Dome paused her nursing career to fully develop her career in the wellness influencer space. She's the face behind LEMONS by tay, a mental health and self-care nonprofit named after the citrus fruit. She promoted the launch of her organization with a photo on Instagram in early 2022.
"My biggest hope for LEMONS by tay is to help you realize how important it is to prioritize your mental health, even if you have never struggled with it before. And above all, to know that you are not alone," she wrote in the caption.
The website is meant to serve as a hub for mental health resources, according to Dome, who confessed on the "Okay-Ish With Maryellen Dance" podcast that she didn't think she'd ever start a nonprofit. Once she made it a goal, however, she was all in, and even left her job in nursing. "I want to build Lemons to be a brand that's like, you see our little lemon brain logo you think of mental health," she said, adding, "I want to make mental health cool and relevant and fun to talk about for everyone."
She struggles with anxiety
Tay Dome has seen and experienced her share of mental health struggles. Growing up, she had family members struggle with addiction, from alcohol to drugs, which was her introduction into mental health at a young age, as she shared on the "Okay Sis" podcast. She said her cousin, who was like a brother to her, almost overdosed twice. Dome was nine around this time, and remembered visiting him at the hospital. She couldn't understand why he couldn't just stop taking drugs.
"That was the first time I ever felt pain," she said, adding, "I remember my chest hurting … but not knowing how to like comprehend anything because I was so young." She also lost her best guy friend to suicide following a manic episode with bipolar disorder.
Dome dealt with her own mental health struggles, primarily anxiety and depression, following graduation from nursing school in 2019 and working as a nurse at the height of the COVID-19 pandemic in 2020. "I was totally dissociating myself from life. I now have depression and anxiety from it," she shared on the podcast, which prompted her to quit her nursing job and pursue Lemons by Tay.
Her Twilight crush is not who you'd think
Taylor Dome was a major Twi-hard fan growing up, but, as it turns out, she was rooting for the wrong team.
In a hilarious Instagram video, Dome responded to the prompt, "Show your childhood crush and then the person you ended up with." Photos of Edward Cullen, played by Robert Pattinson in the "Twilight" movies, appeared, so it's safe to say Dome was originally on Team Edward. Then a photo of her beau Taylor Lautner, who played werewolf heartthrob Jacob Black in the series, appeared. Unbeknownst to a young Dome, she would go on to become the biggest Team Jacob fan. Funny how life plays out!
To show fans just how into "Twilight" she was when she was younger, Dome posted a throwback photo on Instagram of her posing with friends and wearing a "Twilight" sweatshirt. The caption read: "#tbt #twilightforever." Lautner shared with "Today" how his fiancée "came clean" about her past allegiance to Team Edward: "… At one point, I think she did just tell me that she was on the other side, but (that was) back then," he told the outlet, adding, "I was fine with it as long as I converted her now."
She was speechless when Taylor Lautner proposed
Tay Dome said yes to Team Jacob and a life with Taylor Lautner, but according to the actor, his fiancée was speechless to his proposal … at first. "It actually did take her a little longer than expected to say yes because she was weeping so hard," he shared with "Access."
The actor proposed to the former nurse in November 2021, as seen in a photo Dome shared on Instagram of Lautner in the proposal stance in front of a gorgeous fireplace with "Lautner" in a neon sign. The proposal scene was straight out of a movie, fit with red roses and lit candles. In the Instagram caption, Dome wrote: "My absolute best friend. I CANNOT WAIT TO SPEND FOREVER WITH YOU."
It's safe to say Lautner knocked it out of the park with his proposal, which was actually in their kitchen, but you couldn't tell from the photos shared by the couple on social media. Lautner explained to "Access" that Dome didn't want a big proposal, and just wanted it to be at home in their kitchen, their favorite place to spend time together. "So I did it big in the kitchen," he said.
She's taking his last name
Tay Dome is taking her fiancé's last name, which may lead to some confusion for fans. "We already share one name, so it's gonna be extra complicated," actor Taylor Lautner shared on "The Kelly Clarkson Show" following his proposal to Taylor Dome in November 2021, who goes by the name Tay to avoid confusion, as she has a lifestyle brand called Lemons by Tay. Host Clarkson couldn't contain her laughter when she realized that they would have the same first and last name. Lautner added: "We're literally gonna be the same person," he said, before calling it "ridiculous."
Dome got in on the fun and posted a selfie of the two on Instagram with the caption, "boy tay girl tay," in case anyone needed a clarification.
They're far from the only couple to deal with this name conundrum. Take a look at celebrity Paris Hilton, who once was engaged to another Paris (per E! News), and Lauren Bush, granddaughter of the late George H.W. Bush, who married David Lauren, making her name Lauren Bush Lauren, according to CBS News. Dome and Lautner are now part of an elite group, it seems.
She's a dog mom
Tay Dome is a proud dog momma. She shares two female rescue dogs, Remi and Lily, with fiancé Taylor Lautner. Dome is so enamored by her dogs that they even have their own Instagram account with over 6,000 followers. It looks like Dome is never far from her two dogs and loves taking them on road trips and snuggling with them on the couch.
Dome and Lautner adopted Lily before adopting Remi, a Belgian Malinois mix, who was part of a litter of eight puppies rescued in a field along with their mom, per The Dodo. At the time, the couple was looking for a second dog to add to their family. "It was a no-brainer for me," Lautner told The Dodo, adding, "Tay sent photos of [Remi] and her story about being abandoned and I knew I had to get her right now. It's been the best year of our lives — she's a dream dog."
Lautner shared with People that they hope to incorporate the pups into their upcoming wedding nuptials. And while they don't know the details of their involvement yet, Lautner told the magazine they'll find a way because the dogs are "family."