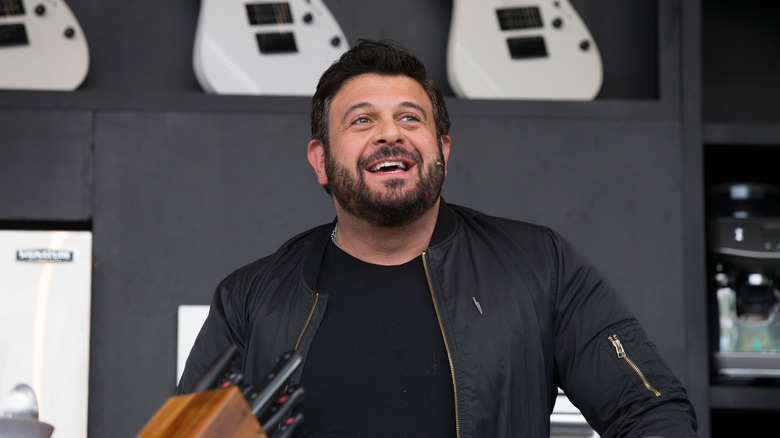 In the world of food television programs, few shows are quite as polarizing as "Man v. Food." Food television icons Alton Brown and Anthony Bourdain both slammed the show for being gluttonous and wasteful, but the show's original host Adam Richman pointed out how the program has helped shine a light on small mom and pop businesses that would not otherwise reach a nationwide audience (via Twitter).
No matter what you might think about the show, which centers around its host tackling various food challenges (often featuring disproportionately large portion sizes), "Man v. Food" spent years highlighting various restaurants around the country, visiting a few in different cities or regions each episode. While Adam Richman finished his tenure with "Man v. Food" after four seasons, he packed in quite a number of larger-than-life food items during that time (via IMDb).
Running a restaurant can be a challenge, and sometimes it can take much more than a television appearance to stay in operation. Despite some of the restaurants being local treasures, there are a number of locations that have shut their doors for good after appearing on the show. Today, we are running through 12 restaurants that were featured on the program that no longer exist in their original form. Some of these restaurants have closed completely, while others have been reimagined in the years that followed.
Dixson Bar-B-Q
Adam Richman stopped in Knoxville, Tennessee towards the end of the third season to try out some signature barbecue dishes. The main challenge of the episode took place at Sweet P's Barbecue and Soul House, where Richman tackled the El Gigante Comida Challenge, which involved a whopping five-pound barbecue burrito (via Rotten Tomatoes). But before that challenge, Richman visited the first bygone restaurant on our list: Dixson Bar-B-Q. While at Dixson Bar-B-Q, Richman tried the Pigburger, per TV Food Maps. The burger was made with only a few key ingredients: pork patties made from rib trimmings, steamed onions, and a mixture of Dixson's signature hot and sweet barbecue sauces, according to the Cooking Channel.
Dixson Bar-B-Q was a restaurant people would often recommend to those looking for some great local Knoxville places, according to one Redditor. Despite the restaurant's stellar reputation, another comment confirmed that the location no longer exists. According to that comment, the restaurant was shut down after a fire. A quick Google search will reveal that the location is indeed closed, as you will see when visiting the restaurant's Yelp page.
East Coast Grill & Raw Bar
Early in the tenure of "Man v. Food," Adam Richman visited Boston, Massachusetts in Season 1, Episode 8. There, he stopped by East Coast Grill & Raw Bar in Cambridge to try its signature spicy feast known as "Hell Night." On three nights each year, the restaurant transformed its menu with a spicy collection of ingredients designed to test even the toughest heat-lovers. While attending Hell Night, Richman tried the Blistering Pasta From Hell, which was made with black pepper fettuccine and a sausage ragu that contained three ghost chile peppers (via Cooking Channel). After Hell Night, the episode ultimately brought Richman to Eagle's Deli and Restaurant, where he would tackle the Eagle's Challenge, which included five pounds of beef, 20 slices of cheese, and 20 slices of bacon (via Boston.com).
The Boston episode aired in 2009, and East Coast Grill & Raw Bar enjoyed continued business for an additional seven years. In 2016, the restaurant would ultimately close after a 30-year history in Cambridge (via Boston Globe). According to Whim, if you visit the location today, you will come across a new business called Highland Fried.
Hominy Grill
In Season 2, Episode 3, Adam Richman found himself in Charleston, South Carolina for a taste of Lowcountry dining. One of his stops during his tour of Charleston was the Hominy Grill, which served up authentic Southern comfort food. Customers at Hominy Grill raved over the restaurant's shrimp and grits, so Richman took a visit to the kitchen to try them out himself. Afterward, he was given a fried chicken sandwich with cheese and sausage gravy on a biscuit called The Big Nasty (via Cooking Channel). The episode was ultimately a win for Richman, who stopped by Bushido and beat the restaurant's Spicy Tuna Roll Challenge (via Charleston City Paper). But today, we are here to talk about Hominy Grill.
Hominy Grill unfortunately closed in 2019 after a nearly 24-year-long residency in Charleston, according to ABC News 4. The restaurant shared a statement with its loyal customers, saying that the team considered its customers to be family. While the restaurant is permanently closed, its website is still up and running with an online shop where fans can order branded coffee mugs and 2-pound bags of grits.
The Black Sheep
Adam Richman stopped in Richmond, Virginia in Season 3 of "Man v. Food," where he took on the Stupid Wings Challenge at Caliente, one of the hardest challenges he said he ever faced (via Twitter). Before he ultimately conquered the challenge, he first visited The Black Sheep, a restaurant located near Virginia Commonwealth University (via RVA News) that was widely known for its larger-than-life sub sandwiches. In fact, these submarine sandwiches were so large (measuring in at 2 feet long and weighing in at 2.5 pounds), that they were affectionately known as "battleships," each one named after an actual U.S. military cruiser. Richman ordered the U.S.S. Brooklyn, which was a sub made with Jamaican jerk chicken and cabbage slaw topped with roasted banana ketchup, served on a baguette filled with peach chutney (via Cooking Channel TV). Richman seemed mighty impressed with the subs since they would eventually be featured on Travel Channel's "Adam Richman's Best Sandwich in America" (via Richmond Magazine).
Several years after the Richmond episode aired, The Black Sheep closed its doors permanently after its lease was up in 2017. This would not be the last time the Battleship sub sandwiches would make an appearance, however, as Richmond Magazine reported that the restaurant's former owners reunited in January of 2022 for a pop-up event in the city. The pop-up event featured a few of The Black Sheep's signature Battleships that fans could preorder for takeout.
Lynn's Paradise Cafe
While on a stop in Louisville, Kentucky, Adam Richman visited Lynn's Paradise Cafe for some breakfast (via Man vs Food Locations). "Man v. Food" would not be the only time the restaurant appeared on television, as it was also featured on "The Best Thing I Ever Ate" and "Throwdown! with Bobby Flay" according to one reviewer on Yelp.
While at the restaurant, Richman tried the Quadruple B French Toast, which came with homemade bread drenched in buttermilk and topped with black walnuts, blackberry sauce, and a bourbon meringue (hence the "quadruple" B's: buttermilk, black walnuts, blackberries, and bourbon). The entire dish was then treated with a blowtorch (a fifth "B," perhaps?) (via FoodiePie.com).
Outside of the "Man v. Food" universe, Lynn's Paradise Cafe abruptly closed in 2013 without any warning or explanation (via WDRB). Chief operating officer Patty Schnatter said at the time that there were four specific reasons as to why the restaurant closed, but would not provide details at the time other than it had something to do with the restaurant's workers. Fans will have to figure out how to recreate their Quadruple B French Toast at home.
NASCAR Cafe
Las Vegas, Nevada is filled with immersive themed destinations, from the famous hotels along the iconic Las Vegas Strip to numerous restaurants, shows, and attractions. The larger-than-life imagery, from the pyramid structure at the Luxor to the replica Eiffel Tower at the Paris Las Vegas, could make you think that there is something here for just about everybody. It should come as no surprise that Las Vegas was once home to a NASCAR Cafe.
Not only did this restaurant attract NASCAR fans from far and wide, but it was also a magnet for those seeking food challenges like Adam Richman. When "Man v. Food" stopped in Las Vegas, Richman visited the race car-themed restaurant at the Sahara Hotel and Casino. There, he tackled the Big B****s Burrito, which weighed in at six pounds and measured two feet long (via Las Vegas Review-Journal). Those brave enough to take on this burrito had an hour and a half to eat it in its entirety. Spoiler alert: Richman came out victorious.
NASCAR Cafe, however, would not be so lucky in the long run. Just a few years after Richman's visit, the restaurant was closed and demolished as part of a renovation at the Sahara hotel (via Las Vegas Review-Journal).
Obrycki's
As the search for food challenges continued in the show's second season, "Man v. Food" found itself in Baltimore, Maryland, where Adam Richman stopped at Obrycki's Crab House and Seafood Restaurant (via TV Foodies). While the episode focused on more steak-centric challenges, Richman noted the city's claim to fame as a go-to destination for fresh seafood (via Cooking Channel). He headed to Obrycki's, where viewers got to catch a glimpse at the restaurant's crab cakes and steamed crabs (via FoodiePie.com). Speaking to customers and staff, Richman was repeatedly sold on the restaurant's signature crab dishes.
Despite all of the high praise coming from hungry diners in the "Man v. Food" episode, the original Obrycki's would not last in the long run. According to the restaurant's website, you can still visit Obrycki's, though not in its original location. It shuttered its Fells Point restaurant and can now be found at the BWI Thurgood Marshall Airport in concourse B. Next time you fly through BWI, keep your eyes peeled for Obrycki's in between gates B7 and B9.
Ohio Deli & Restaurant
Early on in the first season of "Man v. Food," Adam Richman visited Columbus, Ohio. The challenge in this particular episode was found at Ohio Deli & Restaurant. There, Richman tackled the Dagwood Sandwich, named after the classic cartoon character Dagwood Bumstead. The sandwich weighed in at 2.5 pounds and was made with smoked turkey, ham, roast beef, and cheese (and it came served with a side of french fries). Challengers had just thirty minutes to complete the sandwich and winners of the challenge got a commemorative t-shirt that said: "I Defeated the Dagwood" (via Cooking Channel). According to Richman, only 400 of the 1,000 challengers came out victorious at the time the episode aired. Ultimately, Richman won the challenge.
The walls of Ohio Deli & Restaurant would not stand much longer, however, as the iconic location burned down in a fire in late 2014 (via WBNS 10). While the article noted that it would take time to rebuild, Ohio Deli & Restaurant is still listed as closed on Yelp and Foursquare.
Steak & Catfish Barn
Season 3 Episode 9 of "Man v. Food" was located in Oklahoma City, Oklahoma, and its surrounding suburbs, including Edmond, where Adam Richman found himself at the Steak & Catfish Barn (via The Oklahoman). There, Richman took on the Fried Catfish Challenge, which involved attempting to earn the title of "Top Cat" by eating more catfish in one hour than anyone else had before. At the time of taping, the record was 28 catfish, meaning Richman's challenge was to consume 29 catfish in 60 minutes (he succeeded) (via Cooking Channel). Edmond Life & Leisure reported on Richman's visit, noting that in the month that followed since the episode aired in 2010, the restaurant saw a surge in business. Restaurant owner Dino Smalley shared with The Oklahoman that the spike in crowds would occur every time the Oklahoma City episode was re-aired.
Though the restaurant enjoyed a bump in business immediately following the episode airing, the owners were close to retirement age and seemingly decided to end things on a high note. A few years after the "Man v. Food" episode aired, Steak & Catfish Barn closed (via The Oklahoman), and Smalley and his wife Maria Vitale moved to her homeland of Italy. Someone else took over the business, but since then, the restaurant has permanently closed.
Rockies Diner
In Season 2 of "Man v. Food," Boise, Idaho was one of the featured cities visited by the production team. The challenge of this particular episode took place at Rockies Diner, where Adam Richman had to survive the Johnny B. Goode Challenge. This challenge included the Johnny B. Goode Burger, a menu item that by itself was a challenge to eat in a reasonable amount of time. The burger was made with three half-pound burgers topped with cheese, onions, pastrami, and a hot dog, all of which came served open-faced and smothered in chili. In addition to the burger, Richman had to eat an entire plate of chili cheese fries and a milkshake.
All three items — the burger, the fries, and the milkshake — had to be consumed in less than 30 minutes. The prize for completing the challenge was a Fender guitar. As of the episode being filmed, only 30 of the 1118 challengers had come out victorious. Richman would rise to the occasion and become the 31st winner (via Cooking Channel).
Rockies Diner closed suddenly in 2019 due to a seizure of the property by the local sheriff's department. Apparently, the restaurant owed over $60,000 in unemployment taxes (via BoiseDev). The restaurant did manage to reopen for a short period of time, but the COVID-19 pandemic delivered a one-two punch that Rockies Diner ultimately could not recover from (via 107.9 Lite FM).
Tradewinds Cafe
Season 3, Episode 14 brought Adam Richman to Portland, Maine, as well as its surrounding areas. In the town of Arundel, the production team stopped by the Tradewinds Cafe to take on the Manimal Challenge. The challenge required diners to consume a number of Tradewinds Cafe's more notorious menu items, including the Ochoburger, which included eight patties, two hot dogs, french fries, a soda, and a milkshake — all of which totaled a whopping five pounds of food — in just 20 minutes (via Cooking Channel). Though the thick milkshake proved to be a tough adversary, Richman ultimately came out on top, completing the Manimal Challenge in the allotted time.
Since the airing of the Portland, Maine episode, however, Tradewinds Cafe shut its doors, according to WCYY. The restaurant's Yelp page also lists it as closed. So, if you were to seek out all of the "Man v. Food" challenges yourself, this is one you would have to recreate at home.
The Shed BBQ and Blues Joint
The last restaurant on our list was located in Ocean Springs, Mississippi. Adam Richman visited the Gulf Coast for an episode of "Man v. Food Nation," sampling unique foods in Mississippi, Alabama, and Florida. His first stop was at The Shed BBQ and Blues Joint, where he tried smoked pig that was made in a custom-built smoker called the RoboHog (via GulfLive).
The smokers used to cook the signature barbecue would ultimately be the location's demise. The Sun Herald reported that less than a year after the episode aired, The Shed burned down in a fire that was caused by a smoker. Despite the unfortunate turn of events, the restaurant notified its customers that it expected to be serving up food by the next day.
Though the original version of The Shed no longer exists, it would rise from the ashes like a barbecue-laden phoenix. Business returned soon after the fire, according to a tweet sent by The Shed, albeit not in its original structure. A visit to the website today will show that The Shed has indeed made a comeback, a fitting end for a roundup of restaurants that faced their demise following an appearance on "Man v. Food."