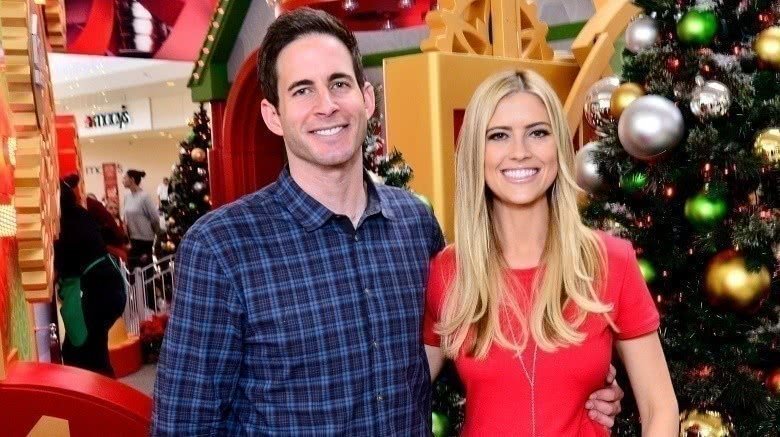 Flip or Flop stars Tarek and Christina El Moussa announced their separation in December 2016, despite putting on a united front on their hit HGTV show. What happened to this once-golden TV couple? It turns out, there may have been more problems than the public realized.
TMZ reported that Tarek filed for divorce from Christina in January 2017, citing the ever-reliable "irreconcilable differences" and requesting joint custody of their son, Brayden, and daughter, Taylor. In August 2017, Christina reportedly filed her response petition, also citing "irreconcilable differences" and joint custody, reported People. Much of the divorce agreement has remained private, but a source told TMZ that the split was "civilized, or as best it can be under the circumstances. They have to make it work if they want to continue monetizing what they do."
But questions remain about the real reasons for the divorce and about the true dynamic between the co-stars who, at the time of this writing, are still working together on their show. Check it out.
A 'massive' police presence responded to their home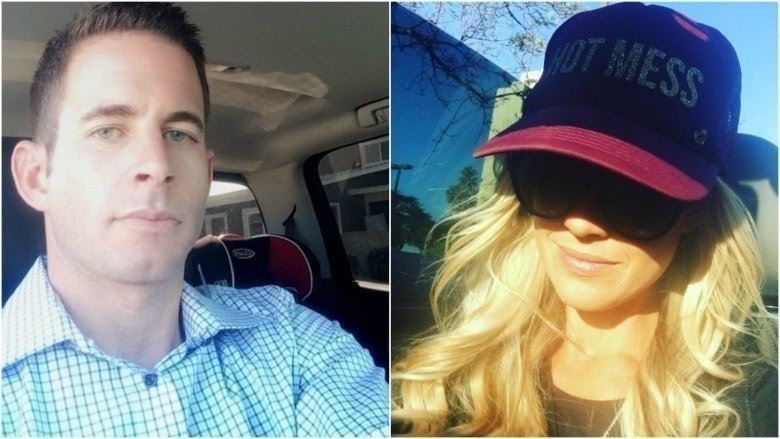 According to TMZ, police responded to a call at the El Moussas' Orange County, Calif. home in May 2016 with a "massive presence," including a helicopter and 11 deputies. Witnesses claimed Tarek took a gun from a safe and fled through the back door of the house and then down a hiking trail. Christina also reportedly left the house sobbing. The police soon located Tarek and ordered him to drop his weapon. Tarek complied with the officers' orders, insisting he didn't intend to hurt himself and just wanted to hunt rattlesnakes and mountain lions to "blow off some steam." Police seized five guns from the couple's home, reported TMZ.
After the scary incident, the El Moussas told People, "We had an unfortunate misunderstanding … and the police were called to our house in an abundance of caution. There was no violence and no charges were filed."
More money, more problems
A source told People that the Flip or Flop stars are fundamentally different. "In a lot of ways they just seemed wildly incompatible," the insider said. "She has champagne tastes, and he's a beer-from-a-can kind of guy…that was okay for a while, when all they could afford was canned beer…But the stardom from the show, and the money from the show, meant that she started to feel like she could finally have some of the finer things in life." After hitting it big, the source alleged Tarek grew uncomfortable with Christina's spending and lavish lifestyle: "He just couldn't or didn't want to keep up."
An insider told Hollywood Life the couple had plenty of financial dealings together at the time of their split: "They own multiple properties, luxury cars including a Bentley and an Escalade, tons of cash and lots of other big-ticket items too." TMZ reported that they also had a yacht, and their book, Flipping Your Life, hit shelves in March 2017 — three months after they announced their separation. "We plan to continue our professional life together by being professional, by doing our jobs well, by being prepared and by working hard," the duo told People.
Their seminars have come under fire
Tarek and Christina were both figureheads for a real estate seminar on flipping houses, but that didn't go over well with all attendees, which may have produced stress that manifested as marital strife.
InTouch reported that customers in Ohio and Iowa requested their respective Attorney General's Offices investigate the El Moussas' "Success Path" program. One Iowa resident, Laura Ingersoll, claimed the seminar "suckered her" out of more than $41,000. The Attorney General's office reportedly helped Ingersoll recoup all but $3,000 of her losses. According to a spokesperson for the Iowa Attorney General's office, "After reviewing the company's contract with the consumer … it was our position that the contract did not comply with the Iowa Door-to-Door Sales Act. The company agreed to issue a refund to the consumer." Multiple reports suggest the couple often doesn't show up at the seminars, replaced by giant posters instead.
The El Moussas have denied any shadiness. "More than 50,000 people have attended our seminars over the past three years and there have been less than 20 complaints," the couple said in a statement. "People have gone on to change their lives and achieve their dreams using our models and strategy."
Battling cancer took a toll on the marriage
Tarek reportedly tested positive for thyroid cancer in June 2013. The reality star has talked openly about the physical and emotional challenges of dealing with the disease. "Getting rid of your thyroid and being given different hormones … messes with your system," he told Pop Sugar. "And it was really hard to find the right balance. Because you get anxiety, you get really tired you get lethargic, you gain weight,…It took a long time just to get to the point where I was feeling better. And that was just medication-wise, so it was definitely a tough process."
In February 2017, Tarek revealed that thyroid cancer wasn't his only battle behind the scenes. "One month later they found out I had testicular cancer. It was very difficult on me. My hormones were way off," he told Today. "…It's been three years of hell. I was devastated when I found out. So was Christina."
While he has regained his health, Tarek told People in March 2017 that the ordeal definitely took a toll on his marriage. "We lived through a lifetime of setbacks in a short period," he said. "And we were so busy, we never slowed down to be present with each other and talk about things that were bothering us."
Fertility struggles impacted their family
When Tarek was diagnosed with thyroid cancer, he wasn't the only one who had to deal with the physical repercussions of the illness. He and Christina had reportedly planned on having a second child and had to make big adjustments to make that possible. Christina told People that they experienced two failed attempts at IVF, with one round resulting in a miscarriage, before conceiving their son, Brayden, in August 2015. "I had to be super strict," Christina told People. "I had to do one full week in bed. For 13 weeks after that, I couldn't go for a walk and couldn't lift anything over a gallon of milk … We did everything we could to make sure this one worked."
Christina admitted the couple "went through a lot in a short amount of time." She also struggled with going back to work four weeks after giving birth to Brayden. "It was too soon for me," she told People. "I was overwhelmed. The tension between me and Tarek was high." She added, "We weren't able to properly communicate anymore. It got to the point where we weren't even driving to set together."
They flipped their relationships
A source told People the El Moussas' breakup after seven years of marriage didn't happen because of the aforementioned altercation at their home or because of infidelity. Instead, insiders claimed both Christina and Tarek had flipped their relationship and started dating other people months before their public breakup announcement. According to TMZ, Christina was allegedly getting serious with contractor Gary Anderson, a friend of the couple, who was reportedly at their home the day of the domestic debacle and who served as a witness for police. Sources told the tab that Christina and Gary's relationship turned romantic after the incident.
Insiders claim Tarek also dated other people, including the couple's former nanny. According to TMZ, Tarek "hooked up with 23-year-old Alyssa Logan," who'd worked for the couple as a personal assistant and caregiver to their kids. The tab published images of Tarek and Logan claimed Tarek and Logan at an October 2016 Florida Georgia Line concert, but claimed that Tarek did not mix business and pleasure while he was still with Christina and Logan was employed by the family.
While some sources paint a rosy picture of the pair moving on, others claimed these short-lived rebounds weren't so pretty. "Tension was high with cheating charges flying," an insider told InTouch (via its Jan. 16, 2017 print edition.) "There was no saving the marriage by then."
Their happiness was a 'facade'
Rumor has it that Tarek and Christina weren't getting along for a while leading up to their separation. One source told InTouch that the marriage was a "facade" and alleged, "There were secrets, lies, allegations of cheating, spying on each other, and screaming matches. It was the ultimate house of horrors." A neighbor concurred, claiming: "They would literally fight in that house and then sit down at their computers and post everything nice for the world to see. They were living a double life. They weren't only working on a reality show — they were putting on a show."
In the Jan. 16, 2017 print issue of InTouch, a source said, "They really tried to keep up appearances, but in the end, their lies did them in. Behind closed doors, they really were a mess. No one ever got to see the real Tarek and Christina until now." That tab also reported that they allegedly fought over their own home renovations for two years. "They'd decided on a Spanish-style home and had begun the work," a source said. "Then Christina didn't like it and wanted something more modern and blingy, so they ripped out what they'd already done and started again."
They stayed together for the show
A network source claimed HGTV pressured the estranged couple to continue doing the show … or else. "Flip Or Flop just won't be the same if they're not together, so execs desperately want them to reunite to save the show. If they can't do that, the network wants to make it seem like they're getting along, at least until their contract is over," the insider told InTouch. "They were given an ultimatum: Either finish out your contracts or we'll take you to court [for breach of contract]."
Whatever the case may be, the pair continued to collaborate. In fact, the divorce drama became ratings gold for HGTV, netting up to 17 million viewers an episode. Variety reported that Season 7 — which played out in the midst of the breakup — marked the show's longest season yet. The exes even committed to keep their "house flipping business" going and "delivering fresh episodes of Flip or Flop" for the foreseeable future.
"I'm not gonna say it was easy," Tarek said in an interview with the Today show (via the New York Daily News). "We love filming, that's our job. Just trying to fight through it and do the best we can."
All bets are off when the cameras stop rolling
A source told Radar Online that the real-life dynamic between Tarek and Christina was nothing like what viewers saw on Flip or Flop, especially after news about their breakup hit the press. A source claimed Tarek "blames" Christina "for leaking information about their split and he thinks that she sabotaged their marraige, and he even seems to think that now she is trying to sabotage his chances of getting a spin-off." An insider told InTouch that Tarek called his ex-wife a "wh**e" in front of producers, adding, "Some of his bad behavior was even caught on camera [in footage that never aired]."
Tarek defended himself on Instagram: "No matter the lies, innuendo, salacious gossip and 'fake news' that is thrown at me from irresponsible media outlets via anonymous sources, I will keep my focus on what matters most, which is co-parenting our children and working hard on our business."
Tarek says the divorce made him 'a better person'
Two years after the Flip or Flop stars announced their separation, their divorce was finalized on Jan. 22, 2019 (via Entertainment Tonight). As is the social media custom, the celebs shared inspirational quotes on their respective Instagrams to mark the occasion. "I want to thank my family, friends, and supporters for all the love and kind words the past few years," Christina wrote. "Officially ready for the next chapter Life's too short to tolerate negativity … #choosehappiness." According to ET, Tarek also posted some positive platitudes and wrote that the "best way to take care of others is to first take care of yourself!!."
During an appearance on RuPaul, Tarek admitted he "wasn't expecting" his marriage to Christina to end "but you know, I've learned a lot from it. I can say I'm a much better person from going through what I went through. So I wouldn't change anything." Tarek also admitted that he's open to finding love again. "As more time goes on, the more my eyes are opening to what's out there, and I do believe there's more for me out there, and I do believe in love, like, I really believe in love, so I am hopeful," he said.
Christina has a 'full house' with her new husband
Christina is living her best life post-divorce. She wed Wheeler Dealers host Ant Anstead in December 2018. According to People, the couple held a surprise "winter wonderland" wedding that involved all their kids (Christina and Ant each have two children from their previous marriages). The newlyweds soon announced they were expecting a baby boy together. "All of the kids are so excited," Christina told People. "I love all the fun chaos and a full house. I always thought I would only have two and now I'll have five!"
Tarek has reportedly gone out of his way to express support for the blended family. "He texted both me and Ant, 'Congratulations,'" she told Us Weekly after the wedding. "I think it's really good closure for all of us and it's a fresh start for him as well." The exes also exchanged public well wishes on Mother's Day and Father's Day.
On the professional front, things appear rosy as well. Christina (who now goes by Christina Anstead) landed a Flip or Flop spin-off on HGTV called Christina on the Coast. Speaking with The Hollywood Reporter about the project, Anstead said it will "show a glimpse into a real life," which includes "trying to balance it all with kids and work."
They're still working together
Although their marriage is over, Tarek El Moussa and Christina Anstead still share a professional relationship on Flip or Flop. The series was renewed after their divorce and Christina's new marriage. HGTV is apparently banking on the new dynamic boosting the show's already-high ratings. "HGTV fans have followed Tarek and Christina through scores of house flips and supported their personal journey for years," network president Allison Page told The Hollywood Reporter. "We're eager to see how they continue to run their flipping business, co-parent their children and start new chapters in their professional and personal lives."
If you feel like this might be awkward, fear not. "I mean if only everyone could be so happy for our situation," Christina told Entertainment Tonight. "It's awesome. It's exactly how it should be. The goal is for the kids to feel happy and settled and that's what we want … So that really is how we live, and how he projects it, and that's just his personality. Trust me, it's the best possible situation for everybody."