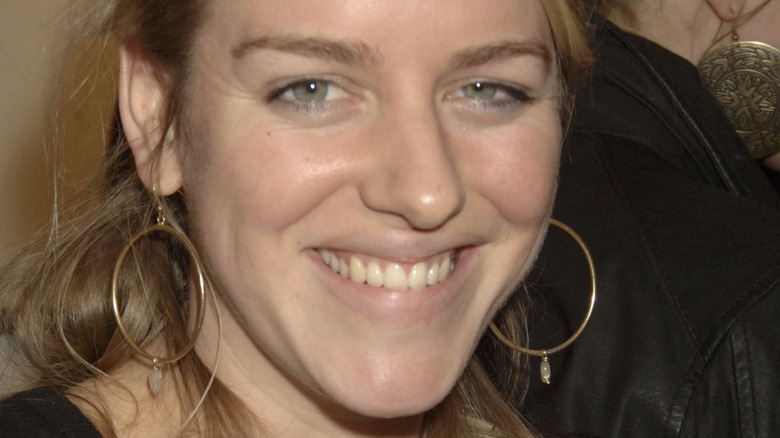 Laura Rose Lopes (née Parker Bowles) was born on January 1, 1978, as the second child and only daughter of Camilla and Andrew Parker Bowles. The Parker Bowles' married in 1973 but only after Camilla "ended" a brief but significant romantic relationship with then-Prince Charles of Wales (via Town & Country). Although it's believed Charles and Camilla did suspend their romance — at least when Charles married first wife, Lady Diana Spencer — biographers debate how long that suspension lasted. Indeed, at the time of her wedding to Charles, Diana suspected her husband-to-be was still very much involved with Camilla, at least on an emotional level. In 1986, it was officially confirmed that Camilla and Charles had resumed their romance (via Town & Country).
Mercifully, Laura was mostly left alone by the press — even when Charles and Diana separated and divorced, and even when Camilla's marriage to Andrew ended. In fact, it wasn't until King Charles III finally married Camilla, Queen Consort, in 2005 that Laura first appeared in royal family photos. Since then, Laura has managed to continue flying under the radar, despite regularly attending various royal events (via The Sun). However, Laura's transformation from aristocratic child to daughter of the queen consort and stepsister of the future king makes keeping a low profile increasingly challenging.
Laura Lopes is the younger sister of a well-known food writer
Laura Lopes is the younger sister of Tom Parker Bowles, the oldest child and only son of Camilla and Andrew Parker Bowles. Born December 18, 1974, after his parents had been married a little over one year, Tom was given King Charles III as a godfather (via Town & Country). This doesn't mean that Camilla was engaged in an extramarital affair with Charles at the time, but it certainly means that Camilla and Charles remained close long after their initial breakup. It also suggests that Charles' presence cast a shadow over the Parker Bowles family from very early on and certainly throughout Laura Lopes' entire life.
Tom and Laura grew up in a luxurious estate in Wiltshire, a county in southern England. In 1995, when their parents divorced, the two moved into a flat in Kensington, London, using some of the cash proceeds of the liquidation of their parents' marital estate (via Hello! Magazine). Tom is somewhat more in the public eye compared to his sister because he is a published author and well-known food writer and critic (per CKBK). However, he is not so famous that the media found it prudent to report on the self-described hedonistic exploits of Tom's youth (via Town & Country).
Laura didn't always get along with Prince William and his father
At the wedding of Camilla Parker Bowles and then-Prince Charles of Wales in 2005, Laura Lopes and her brother, Tom Parker Bowles, were seen cavorting with their brand-new stepbrothers, Princes William and Harry (via Town & Country). Laura apparently gets along great with her stepbrothers, according to Town & Country. However, that was not always the case, according to royal reporter and author Katie Nicoll.
In her 2010 book, "Harry and William," Nicholl described how Laura and William had a very tense relationship, and "used to have terrible fights over who was to blame for their broken homes" (via Cosmopolitan). Apparently, William blamed Laura's mother, Camilla, for the suffering that Camilla and Charles' affair brought to William's mother, Diana, Princess of Wales. In turn, Laura would tell William that it was his father who was to blame for destroying her family (via Express).
At times, Charles was on the receiving end of Laura's outrage, according to Nicholl, particularly when Charles telephoned the Parker Bowles family home (via Marie Claire). It mattered not that she was talking to the future king of England. As far as Laura was concerned, the royal family was nothing more than a hindrance to her family's happiness.
Laura had to endure teasing at school
During the breakup of then-Prince Charles and Princess Diana's marriage, many took Diana's side. Laura Lopes found herself unwittingly thrust into the position of being the daughter of, arguably, the most famous and reviled "other woman" in the world. For Camilla, having Laura, Tom, and the rest of her family behind her (albeit not necessarily where the public could see them) was a godsend. "It was a terribly unpleasant time, and I wouldn't wish it on my worst enemy," Camilla said (via MSN). "Without my family, I wouldn't have gotten through it."
What Camilla may not have realized at the time was how much of a toll her affair with Charles might have taken on her children. As Charles and Camilla's respective marriages began crumbling right before the public's eye, both Laura and Tom were students in grade school, and, unfortunately, kids can be mean. As royal reporter and author Katie Nicholl wrote in her 2010 book, "Harry and William," both Laura and Tom were teased over their mother's affair with the prince (via Express).
She attended her mother's wedding to King Charles III
By the time King Charles III and Camilla, Queen Consort, married in a civil ceremony in 2005, their extramarital affair had not been forgotten — and almost certainly never will be. However, the fact that they were able to marry at all shows Queen Elizabeth II's acceptance of the pair, as royal marriages must be approved by the reigning monarch to be legitimate (via History). Although the late queen did not attend the ceremony for religious reasons, she did host a lavish wedding reception for the new Duke and Duchess of Cornwall at Windsor Castle.
Among the guests were Camilla's children, Laura Lopes and Tom Parker Bowles (via Express). Charles' new stepchildren were included in the official royal family portrait taken at the time. Both have also been guests at least two other major royal weddings — Prince William's to Kate Middleton (now Catherine, Princess of Wales) and Prince Harry's to Meghan Markle. In fact, Laura Lopes' daughter, Eliza, was a member of William and Catherine's wedding party (via The U.S. Sun).
Laura married a businessman and former Calvin Klein model
In 2006, one year after Laura Lopes (née Parker Bowles) attended the wedding of her mother to then-Prince Charles of Wales, she herself got married. Charles and Camilla, as well as Princes William and Harry, attended Laura's wedding to Harry Marcus George Lopes (pronounced "LOW-pez"). Harry is a chartered accountant (comparable to a CPA in the U.S.), according to Mirror Online. Harry, who reportedly modeled underwear for Calvin Klein in his youth, is descended from the wealthy and prominent Astor family through his mother's side. He is also a descendant of the 2nd Baron Roborough, Massey Henry Edgecumbe Lopes, through his father's side, according to The Peerage.
Some speculate that Laura's husband stands to inherit the title of baron, which would mean that Laura would become a baroness, that is unlikely – Harry's late uncle inherited the title upon the death of the 2nd Baron. Nevertheless, Harry is a successful accountant as well as a businessman. He is the CEO of the solar company Eden Renewables.
Laura and Harry Lopes have three children
After tying the knot in 2006, Laura and Harry Lopes went on to have three children. Eliza was born in January 2008, according to People. As 2009 drew to a close, Laura gave birth to twins, Gus and Louis, according to Town & Country. The twins are believed to be fraternal, as opposed to identical (via Pure Wow). It is unknown if Eliza was named after Queen Elizabeth II. What is known, however, is that Eliza was a bridesmaid for Catherine, Princess of Wales, in her 2011 wedding to Prince William (via Cosmopolitan).
Eliza, dressed in her white bridesmaid's dress and floral headpiece, could be seen on the balcony of Buckingham Palace. There, she was held by her step-grandfather, King Charles III, and accompanied by her grandmother and other members of the royal family. Eliza was just three at the time — the same age as her fellow bridesmaid, Grace van Cutsem, who famously covered her ears when the royal planes flew overhead.
While Eliza is not in the news often, she did make headlines again in 2018. She was rushed to a hospital via airbus, according to Mirror Online, although it's not clear why.
She won't have a royal title
When King Charles III married Camilla, Queen Consort, Laura Lopes was not only right there by her mother's side, but she was also seen happily interacting with members of the royal family in numerous photos from the day's festivities. In an official wedding portrait, she was pictured along with the late Queen Elizabeth II and Prince Philip as well as her royal stepbrothers. Nevertheless, Laura will not be given a royal title or otherwise styled as a member of the royal family, despite her mother being queen consort, according to Page Six.
The reason is not personal to Laura. Rather, royal titles are bestowed only upon members of the royal family and their spouses, according to Thomas Mace-Archer-Mills, founder of the British Monarchists Society (via iNews). While Camilla is a royal spouse, Laura Lopes is not. In addition, Laura and her family will not be assigned Scotland Yard royal protection officers. Security is assigned to senior members of the royal family as a matter of course. For less prominent members of the royal family, security is assigned on an as-needed basis (via Page Six).
Laura is still a part of the family
Laura Lopes cannot receive a royal title, but it's not as if she has ever shown any particular interest in becoming a peer of the British monarch, according to Thomas Mace-Archer-Mills, founder of the British Monarchists Society (via iNews). Indeed, if Laura had been interested in raising her profile via her relationship to the Crown, she might have succeeded in doing so, according to Professor Judith Rowbotham, an expert on royal affairs. However, that apparently was not her desire.
Nevertheless, Laura and her family may end up becoming more visible now at royal events. Laura has made numerous appearances with her mother over the years; however, her presence had not been of much interest to the public until her mother became queen consort (via The Sun).
In any case, the absence of a royal title isn't indicative of a lack of warm feelings between Laura and her stepfamily. In fact, as the managing editor of Majesty magazine told Page Six, "There has long been a close friendship between Charles and his stepchildren and step-grandchildren. There is definitely a bond there." Reportedly, the king and queen consort see Eliza, Louis, and Gus regularly.
She was present when her mom became a Royal Lady of the Order of the Garter
Among the various appearances that the queen consort's daughter has made at important royal events, one of the most significant was on June 13, 2022. There, her mother received the Royal Order of the Garter. According to Cambridgeshire Live, Queen Elizabeth II installed the then-Duchess of Cornwall as a Royal Lady of the Order of the Garter, at a service at St. George's Chapel, near Windsor Castle. This title is bestowed on individuals for their acts of public service, according to the royal family's official website.
Hello! Magazine reported that Laura Lopes arrived looking lovely in a bright blue dress and deep blue fascinator. Also in attendance at the Garter Day were Catherine, now the Princess of Wales, who could be seen riding in a carriage with Camilla, as well as with Prince William and then-Prince Charles, both of whom are Knights of the Order. Presumably, Catherine will likewise be installed as a Lady of the Order, at some future date (via Express).