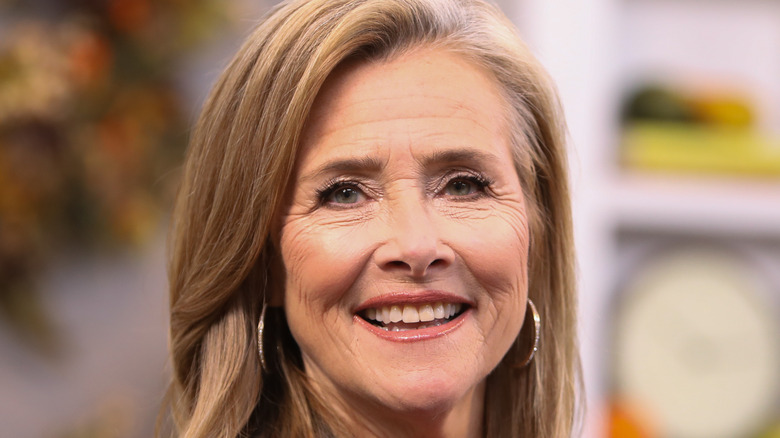 Whether you like to watch breaking news, daytime talk shows, or game shows, chances are you've seen Emmy award-winning television personality Meredith Vieira. Over the course of her career, she's hosted all sorts of popular series, such as the "Today" show, "Who Wants to Be a Millionaire," "60 Minutes," and "The View."
For two seasons, she even opened up her life to audiences everywhere with her very own daytime talk show, "The Meredith Vieira Show." "It's a combination of all the skills that I've acquired through almost 40 years in the business," she explained on "Good Morning America."
Vieira has since become such a recognizable host that she's even been spoofed on "Saturday Night Live." Though it's just a joke to most, it was a true honor for the humble journalist. "I loved it," she later admitted on "The View."
Through all those years, there's a lot we've learned about Vieira. However, there are still a few things you never knew about this successful television host.
She showed up to her first news job wearing overalls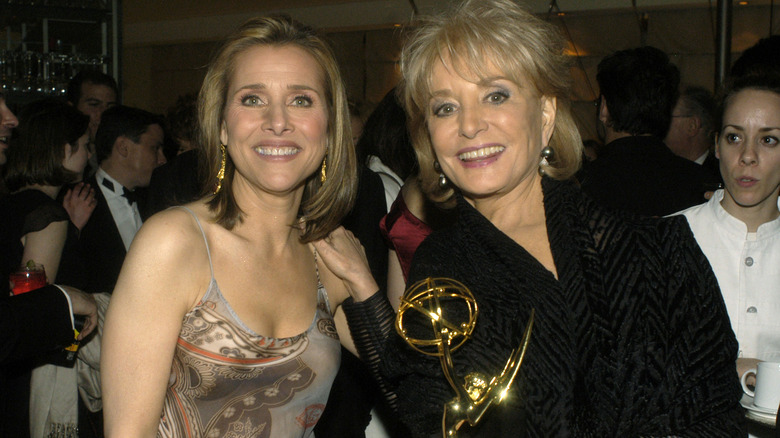 The first job Meredith Vieira ever had in the entertainment industry was working wires for a local radio station — and it was a big deal. Now that she had broken into broadcast journalism, she wanted to make sure she was wearing the perfect outfit for her first day. Seeing as she was going to be connecting wires all day, "I went out, and I bought the cutest pair of overalls," she reminisced to The Wall Street Journal. "Because I thought, you know, 'That's going to be cute.'"
As it turned out, Vieira's assumptions about working in a radio station had been totally wrong. Instead of manually connecting wires, she was working the wire and receiving copies of breaking news behind a desk. Needless to say, her manager was less than impressed with how she was dressed. "He looked at me like, 'Why do you have overalls on?'" Vieira laughed. "It didn't look professional."
It was at that moment that the young journalist realized she needed to work extra hard in order to prove herself. "I think that they found me enduring. They decided, well, 'We're going to give her a chance,'" she said. "And they did."
She considers herself a very shy person
For someone who has spent a majority of her life on our television screens talking to all sorts of interesting people, it took Meredith Vieira a long time before she finally felt comfortable speaking in front of such a large audience. "It's funny that I'm a very shy person, believe it or not," she admitted on the podcast "Really Famous with Kara Mayer Robinson."
Growing up, Vieira was an extremely shy child. Even after entering the television industry, she was writing news stories that focused on other people, so the attention was never on herself. Yet, when she began interviewing, she started speaking up more and asking the difficult questions that audiences everywhere wanted to hear. Doing interviews "almost became therapeutic, in the sense that it got me out of my shell," Vieira explained.
Throughout her career in news, she loved telling other people's stories from safely behind the scenes. "I didn't have to be showcased. I didn't want to be," she said. "And then 'The View' came along." As the first moderator of the daily show, Vieira was able to express herself and her opinions, opening herself up to audiences in a way she had never done before.
Meredith Vieira is not a morning person
Breaking news happens at all hours of the day, but it's the early hours that Meredith Vieira isn't ever excited about. "I'm not a morning person," she said on "Today with Hoda & Jenna."
In fact, this was the reason she eventually left her hosting position at the "Today" show after four years of waking up to an early alarm clock. "I was going to bed at 11:00 at night, and getting up at 2," she said. Eventually, Vieira was so exhausted each day that she decided the best solution was to search for a job with later hours — even though the "Today" show paycheck wasn't so bad. "I felt so torn about it and really tired," she admitted. "And I realized, if I signed up again, I'd be signing up for the paycheck … and I didn't want to do that."
Even so, Vieira has still appeared every so often as a guest host on the national morning show.
She hosted a game show in her basement during the pandemic
When the COVID-19 pandemic halted production everywhere, Meredith Vieira wanted to keep her game show "25 Words or Less" on the air. In order to do so, she needed to find a place where she could safely film, so she searched for a spot in her basement. "One room had a pool table in it and a couple of high tops," she explained in a behind-the-scenes video – and that's where she decided she would host the game show for the time being.
Her technical director set up monitors on top of her pool table, and the hair and makeup department used the high-top tables to get Vieira glammed and ready to go. Her storage room also turned into a wardrobe department, where she was able to try on outfits for each episode.
Though Vieira has admitted that she missed filming the season in front of a live studio audience, there's been something special about having a television set in her basement: She was able to spend a lot more time with her spouse. "Being home with my husband I think was really important," she told TV Line.
Meredith Vieira had no aspiration to end up on TV
Though Meredith Vieira has been considered one of the most recognized television personalities of our time, "I never intended to become a broadcaster," she admitted during a graduation speech for Boston University, Time reported.
While attending Tufts University, Vieira studied English, but had no clue what kind of work she eventually wanted to do. For fun, she decided to enroll in a radio reporting class during her final semester. It was then that she began to stand out.
One day, a producer from CBS News decided to stop by and see what the local students were up to. As soon as he heard Vieira's voiceover project, he told her she had a bright future in broadcast journalism and insisted she intern for him. "For whatever reason, mostly because no one had ever told me something like that before, I said, 'Yeah, okay,'" Vieira explained. "I took that first step, albeit blindly, and it put me on the path to where I am today."
She brings a stuffed animal with her on every airplane ride
Meredith Vieira may have traveled all over, reporting on the biggest stories across the globe, but she isn't a fan of flying. In fact, she's truly terrified of traveling by plane. Whenever she's required to travel by air, there's one thing she always makes sure to include in her carry-on. "I never travel without my stuffed Sylvester Puddy Tat," she told The Boston Globe. The stuffed feline has been flying with Vieira on every airplane ride for the last 40 years. "My mom gave me him when I started working for CBS News in the 1980s because of my fear of flying," the journalist explained.
Fun fact: Vieira always chooses a window seat whenever she's flying with her stuffed cat by her side. "He has definitely seen the world," she said — and the two of them still have a lot more places to see.
Her husband talked her into auditioning for The View
The success of the daytime talk show "The View" would be nothing without Meredith Vieira. As the original moderator of the show, she was able to speak her mind in a way she never could while working in journalism. At first, "it was scary, because as a reporter, I never gave opinions," she told The Wall Street Journal. Crazy enough, Vieira didn't even want to audition for the show in the first place. "I auditioned because Richard, my husband, suggested I do it," she admitted. "I wasn't going to."
At that time in her life, Vieira had been searching for a job on television that didn't require her to travel. She had three small children at home and wanted to spend as much time with them as she could. After a pep talk from her husband, Vieira decided that auditioning for "The View" might not be a bad idea. Though she doubted she would be able to secure the job, she thought the experience might eventually lead to something else.
After her audition in a hotel room, Vieira told her husband something she never expected to say. "I came home that night and said, 'I can't believe this. I actually had a great time,'" she reminisced. Shortly after, she landed the job.
Meredith says she's addicted to The Bachelor
Meredith Vieira may have a busy schedule, but she always makes time to catch the newest episodes of "The Bachelor." "I am addicted," she admitted one day on her talk show.
Throughout the time that "The Meredith Vieira Show" was still on the air, she interviewed various stars who talked about their experience on "The Bachelor." Vieira also often dished with other celebrity guests about how much she loved the show. "I love the kissing, I love the crying, the collapsing into a heap," she gushed during an interview with the former host of "The Bachelor" Chris Harrison. "I cannot get enough of that."
In 2016, Vieira even created her own edition of a dating show on the set of her talk show. In the episode, she chose two eligible bachelors who competed for the chance to win a date with comedian Yamaneika Saunders.
She has a secret to getting a great interview
Over the course of her career, Meredith Vieira has interviewed some of the world's most sought-after names. She's delivered hard news stories that audiences everywhere needed to hear — and she says there's a secret to becoming a successful interviewer. "You want to be someone's friend and confidante, so they feel comfortable really sharing themselves with you as best they can," she shared on the podcast "Really Famous with Kara Mayer Robinson."
Still, that is only part of what it takes to create an intriguing interview. Both people have to be willing to talk — just as the interviewee has to open up, Vieira said she had to open up as well. "And if the other person has barriers up, it's tough," she said. "You have to sort of chip away at those walls — and, you know, you're not always successful."
Meredith Vieira doesn't like to cook
If there's one thing Meredith Vieira doesn't enjoy doing after a busy day, it's cooking a meal in her own kitchen. However, she never thought she was bad at it until her own children called her out about it on national television. "Now, I actually get a little angry," Vieira admitted on her talk show. "I get a little angry, because I don't actually think I'm that bad."
Yet, this exchange is what inspired some of Vieira's content moving forward. Shortly after receiving her own talk show, she introduced a new segment called "My Mom Can't Cook!" where she, along with a celebrity chef, taught women how to make tasty meals.
During many episodes, this special segment turned into a cooking lesson for Vieira, too. "I don't like to cook, but I always thought I was a good cook," she said. "But, apparently, one of my kids doesn't agree."
She once recreated a music video with Flo Rida
Throughout the two-season run of "The Meredith Vieira Show," Vieira sat down and interviewed all sorts of incredible guests. During one specific episode in 2015, the journalist was joined by none other than famed rapper Flo Rida, who taught her a whole lot about the world of rap music. In addition to his interview, he explained exactly what went into making one of his music videos – from the dance moves, to the meaning of his lyrics, to all the props he uses — and he even got Vieira involved in recreating one.
Later in that same episode, Vieira surprised viewers everywhere when she accompanied Flo Rida in shooting a second music video for his hit song "Going Down For Real." In it, the journalist wears gold chains, chugs champagne, and throws around dollar bills from the back of a personal watercraft. "I could get very used to this," she laughed during the segment. "I like this."
Meredith's favorite vacation spot is Cape Cod
Out of all the amazing places where Meredith Vieira has traveled, there's one quaint and cozy location that will always be her favorite vacation spot in the world: Cape Cod. "The minute I cross the Bourne Bridge, my whole body relaxes," she told The Boston Globe.
Though Vieira grew up on the East Coast, she was first introduced to Cape Cod while visiting her in-laws' summer home by the beach. She instantly fell in love with the area and eventually purchased her own vacation home there with her husband.
Cape Cod has always been a nice place to escape whenever this television personality has had enough of the big city. "I like the Cape because it's scruffy," Vieira told Parade. "I would love to be refined, but I'm not. I wouldn't fit in in the Hamptons. I fit in here; it just feels comfortable."
Her talk show set was modeled after her living room
When Meredith Vieira signed up to host her very own talk show, she wanted to put as much of herself into it as possible — in fact, she hoped to shoot it in her living room. However, "my husband nixed that immediately," she said on "Good Morning America."
To make it still feel like she was working from home, "The Meredith Vieira Show" crew put the perfect plan into action. "So what they did is they made a set that looks almost exactly like our family room," Vieira explained. "And I brought in some of my furniture."
The chair that the journalist is seated in during every episode, for example, is one that is straight out of her living room. She has admitted that it isn't in the best shape thanks to her pets, which makes the show even more relatable to audiences watching from their own living rooms.
More than likely, Meredith Vieira will never return to the news
Reporting the evening news may be where Meredith Vieira got her start in television, but she has no plans on returning to it. "I never say never, but I'm not looking for it," she once told the Los Angeles Times. "Right now, I don't want to be part of that. I find the times right now very difficult and depressing."
Though hosting game shows may seem like the exact opposite occupation of reporting on the news, Vieira credits her experience in broadcast journalism for making her a successful host of shows like "Who Wants to Be a Millionaire?" and "25 Words or Less." "I thought what made me an effective host was the fact that I was a journalist — I knew how to draw contestants out," Vieira explained. "I knew how to relax them. I knew how to ask them questions. I knew how to listen. And all those things are important even in a show like that."
Vieira is very proud of the ability to host so many different types of shows. "The fact that I can do talk, and I can do journalism, and I can do reporting, and I can do game shows has been a blessing for me," she said on the podcast "Really Famous with Kara Mayer Robinson."