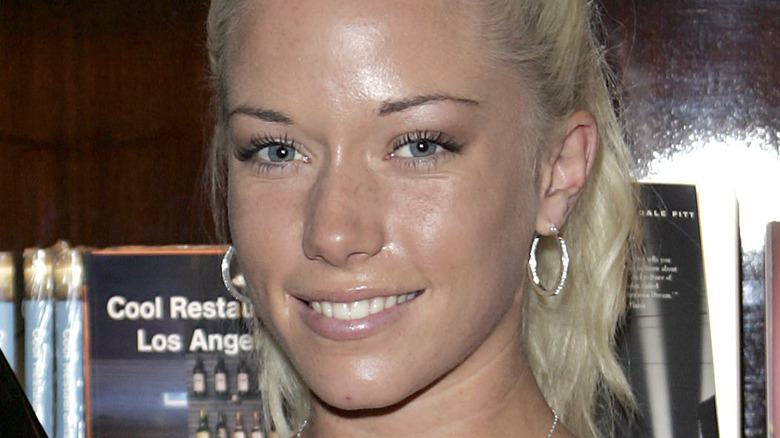 Most of the world was introduced to reality television veteran Kendra Wilkinson through her romantic connection to Playboy founder Hugh Hefner, which played out on E!'s "The Girls Next Door." The show ran for six seasons (via IMDb) and gave viewers a glimpse into Wilkinson's life in the Playboy Mansion, including her relationships with Hefner and two of his other live-in girlfriends. It also catapulted her into the spotlight and kicked off a career in reality TV, including her shows "Kendra," "Kendra on Top," and "Kendra Sells Hollywood" (via IMDb).
Although Wilkinson has publicly chronicled her life for more than a decade, fans might still be surprised at her transformation. The longtime California resident has endured much throughout her life, including a turbulent teenage period. However, the now-mom continues to reinvent herself while keeping the authenticity that drew fans to her when they first met her when she was just 19 years old.
She grew up in San Diego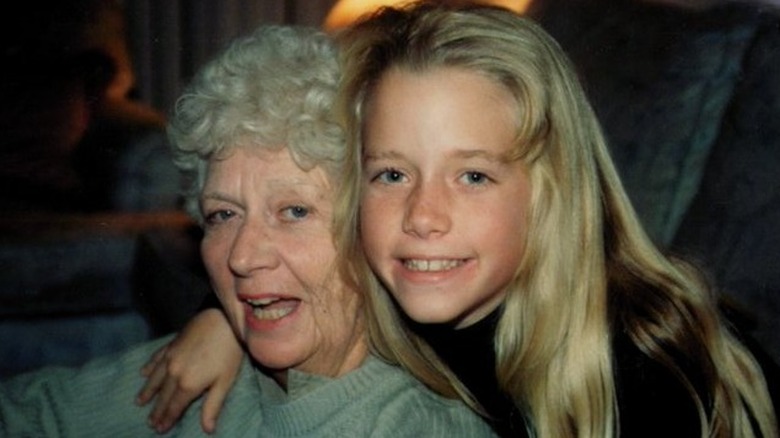 Before she became a reality TV star, Kendra Wilkinson grew up in San Diego, California, where she was born on June 12, 1985 (via Us Weekly). Wilkinson, who has Irish roots, and her younger brother, Colin, were raised by their single mother and grandmother after the future reality star's father left the family (via People). Wilkinson was close to her grandmother Mary Stotz and would later name her future daughter after her, giving her Mary as a middle name. Her mother, Patti, previously worked as a cheerleader for the Philadelphia Eagles, as noted by People.
Like her mother, Wilkinson was also athletic. As a teen, she played on her high school's softball and soccer teams and professes to still be a sports fan these days. "I'm an athlete, and that's me inside," she told PR.com in 2009. "I'm a tomboy athlete and a sports lover."
Kendra Wilkinson had a tough upbringing
Kendra Wilkinson faced some heavy times growing up. She opened up about living with depression on her show "Kendra on Top," noting that her mother placed her in a mental health facility. "When I was a teenager, I battled some severe depression," Wilkinson said in a clip of the show on People. "I attempted suicide a couple times. I went to a mental institution."
Wilkinson has been open about her struggles with drug use, which started with cocaine when she was just 13 years old, according to Yahoo! News. She also ran away from home as a teen, telling Rosie O'Donnell during an interview on "The Rosie Show," "I was sleeping from couch to couch, like under beds sometimes."
Although she's had ups and downs, Wilkinson views her experiences as lessons. "I will never forget where I come from," she told PR.com. "Everything I've learned from my childhood and my teenage life, that's who I am today."
If you or someone you know is struggling with mental health, please contact the Crisis Text Line by texting HOME to 741741, call the National Alliance on Mental Illness helpline at 1-800-950-NAMI (6264), or visit the National Institute of Mental Health website.
If you or anyone you know is having suicidal thoughts, please call the National Suicide Prevention Lifeline​ at​ 1-800-273-TALK (8255)​.
She met Playboy owner Hugh Hefner
Kendra Wilkinson's life turned in a new direction when she hesitantly decided to take a job as a "painted girl" for Playboy founder Hugh Hefner's 78th birthday party. Before taking the gig, she had gone to a car show with her then-boyfriend Zack where a photographer took her photos and later posted them online. As Wilkinson recounted in her memoir "Sliding Into Home" (excerpted by "Today"), Hefner saw the photos, which led to her gig at his party, and called Wilkinson, telling her "to consider being [his] girlfriend."
On the day of the party, Zack and Wilkinson made the two-hour drive from San Diego to the Playboy mansion in Bel Air where she was immediately stripped down and decorated with body paint. Throughout the night, Wilkinson served drinks to celebrities and mingled with Hefner.
"At the end of the night Hef came up to me, gave me a key, and asked me to stay the night," Wilkinson wrote in her book. "I gave him the key back but told him I would see him again soon. 'Will you be my girlfriend?' he asked again before I left." Wilkinson accepted and soon moved into the Playboy Mansion.
She lived in the Playboy Mansion but felt 'miserable'
When Kendra Wilkinson moved into the Playboy Mansion, she wasn't the only girlfriend there. In fact, Hefner had two other girlfriends with whom he lived with — Holly Madison and Bridget Marquardt. Although living in the well-known mansion might seem like a constant party, it wasn't what it appeared to be. According to Wilkinson, there was a 9 p.m. curfew that left her feeling "trapped," competition between the women, and pressure to keep up a specific physical appearance (via People).
"I had this whole mansion and a great life to enjoy, and all I was doing was lying around and eating," Wilkinson wrote in "Sliding Into Home." "I felt so lazy and miserable. This was supposed to be paradise, but for me, it wasn't."
Wilkinson's housemate Madison also wrote about life in the mansion. "I felt so trapped and so vulnerable to [Hefner's] criticisms," she recounted in her own memoir "Down the Rabbit Hole."
She unexpectedly became a reality star
As if moving into the Playboy Mansion and dating Hugh Hefner (along with two other women) weren't enough change for 19-year-old Kendra Wilkinson, her life would take another turn when the group was approached to film the reality show "The Girls Next Door." "I would have been an idiot not to make a good show out of people living at the mansion," executive producer Kevin Burns said on Andy Cohen's "For Real: The Story of Reality TV" (via TooFab).
Regarding getting cast on the show, Wilkinson recalled, "One day we're in the limo with Hef and Hef goes, 'We might be filming a reality TV show, girls,'" adding, "I'm like, what? No! No, I'm sorry, I'm not doing that. Just don't film us looking like skanks, I'll be good." Although Wilkinson may have been initially hesitant to film the show, "The Girls Next Door" became a hit and made her a household name. She starred on the E! show from 2005 to 2009 and even landed the spinoff "Kendra" (via IMDb).
She married football player ​​Hank Baskett
While Kendra Wilkinson still lived in the Playboy Mansion, she met then-Philadelphia Eagles Player Hank Baskett at a Playboy golf event in 2008. "I don't like to say that because I never thought I would meet my husband at a Playboy event," Wilkinson told PR.com in 2009.
As Wilkinson described, the pair became friends first and eventually their relationship blossomed into a romantic one. "It wasn't love at first sight," Wilkinson said. Apparently their relationship just moved quickly.
Wilkinson left "The Girls Next Door" when the couple got engaged and subsequently married, which was chronicled on her show "Kendra." They held the wedding at the Playboy Mansion, where Hugh Hefner attended and her co-stars Holly Madison and Bridget Marquardt were bridesmaids. "I got chills, and my eyes teared up," Marquardt told Us Weekly. "I looked over, and Hef was teary-eyed, and all of a sudden, Holly turned into a faucet."
Kendra Wilkinson became a mother
Two weeks before Kendra Wilkinson wed Hank Baskett in June 2009, the couple announced they were expecting their first child, as E! News reported. That December, Wilkinson gave birth to her son, Hank Baskett IV, in Indianapolis after her beau signed on to play for the Indianapolis Colts. "I never in my wildest dreams thought that little Hank would be born in Indianapolis," Wilkinson told the Indianapolis Star (via E! News). She also said she wanted to have a little girl "in a couple of years," and that's exactly what the couple got.
Wilkinson gave birth to her daughter, Alijah, in 2014 (via Us Weekly). The reality star opened up about her parenting style in a blog for People. "While I didn't have a father around, I did have — and what I want my children to both experience — the ability to explore, experiment and enjoy life as a kid," she wrote. While Wilkinson said she isn't a "helicopter parent," she described herself as a strong parent who wanted her kids to know "how to protect themselves and to look out for others."
She penned a candid memoir
With everything Kendra Wilkinson experienced in her life (from tumultuous teenage years to television stardom to motherhood), it seemed natural for her to tell her story. And with the candidness that made her famous, the former Playboy Mansion resident wrote and published "Sliding Into Home" in 2010, which made it to No. 4 on the New York Times Best Sellers list, according to the South Florida Sun Sentinel.
The memoir, which Wilkinson described as "therapeutic" to write, details her many ups and downs, as well as little-known thoughts and interests (like her love for Nancy Grace and fear of her belly button, according to Entertainment Weekly). She also walks readers through meeting Hugh Hefner, their subsequent relationship, and ultimately the development of her relationship with Hank Baskett while she was publicly dating Hefner (via Simon & Schuster). "I just wanted to tell my story," Wilkinson told the South Florida Sun Sentinel. "Not to be mean, not to be angry. I just wanted to tell what I was thinking during certain times."
She feuded with her Girls Next Door co-star
While "The Girls Next Door" painted life in the Playboy Mansion as a fun sisterhood, it proved to be a different story behind the scenes. "On camera, you saw us together and it was the trio," Kendra Wilkinson dished on "For Real: The Story of Reality TV" (via TooFab). "Off camera, we would just disappear into our own little world. We just never bonded. We were not friends."
That lack of chemistry continued years after the show wrapped, as Wilkinson and her co-star Holly Madison publicly went back and forth about their differing accounts in the Playboy Mansion. After Madison published her tell-all "Down the Rabbit Hole," in which asserted her time in the mansion with Hefner was a "nightmare," Wilkinson came to Hefner's defense. After the two exchanged verbal jabs in interviews and on social media, including heated (and now-deleted) tweets from Wilkinson (via People), Madison vowed to move on. "[I've] just moved forward, and I don't really want to play those games anymore," Madison told People in 2016.
She split from her husband after nearly nine years of marriage
Her "The Girls Next Door" co-star Holly Madison wasn't the only one with whom Kendra Wilkinson had troubles. In 2014, a scandal rocked the Baskett family when allegations of Hank Baskett cheating when Wilkinson was eight months pregnant surfaced (via People). A year later, Baskett and Wilkinson opened up about the allegations. "I messed up," Baskett told People. "I put myself in a bad situation. And everything through me brought pain upon this family."
While the couple seemingly worked through their marital issues, even sharing their struggles with TV viewers, Baskett and Wilkinson ultimately decided to split. In 2018, Wilkinson announced that she filed for divorce after almost nine years of marriage. In a now-deleted Instagram post, the "Kendra on Top" star wrote, "Today is the last day of my marriage to this beautiful man. I will forever love Hank and be open but for now we have chosen to go our own ways. I'm beyond sad and heartbroken because I did believe in forever, that's why I said yes but unfortunately too much fear has gotten in the way" (via People).
She tried to mend relationships with her family
Fans of Kendra Wilkinson's reality shows have not only been privy to the evolution of her relationship with her former husband, Hank Baskett, but also to her relationships with her parents. While she worked on mending her marriage, Wilkinson had an emotional reunion with her estranged father. "If it wasn't for this mess with Hank, I would have never had the courage and the strength to go to my dad," Wilkinson told People in 2014. "I hadn't seen him in 20 years, but I had no fear anymore."
By 2016, Wilkinson had reunited with her brother, Colin. The siblings' two-year feud was sparked by Wilkinson's deteriorating relationship with her mother. She had accused her mother of selling stories about her to tabloids. However, Colin and Wilkinson reconciled after the passing of their grandmother Mary. "I must say that everything that me and my brother have gone through went out the window," Wilkinson said in a "Kendra on Top" interview. "He really stepped up and he really became a true man. He just really put his feelings aside and knew what my grandma would want — that really meant a lot to me" (via People).
She had to adjust to co-parenting
The reality television star became a single mother when her divorce was finalized in 2019. "I am doing it all," Kendra Wilkinson told Us Weekly about parenting during the 2021 pandemic without the help of nannies or housekeeping services. "I think it shows them that their mom is strong and can do it all. I also think it's a great way to have them pitch in and help."
Wilkinson also adjusted to co-parenting with ex Hank Baskett and has opened up about the difficulty of being away from her two children, whom she shares custody of with her ex. "It was a rough start for me to get used to co-parenting," Wilkinson told People. "I didn't know how to not have my kids. And then the guilt would set in." While Wilkinson admitted that not having her children around can be tough, she also made a point to not feel guilty about her newfound time alone. "I have a right to actually enjoy my time," she told Us Weekly.
Kendra Wilkinson launched a career in real estate
After years of being on television and in movies in projects like "The House Bunny" and "Dancing with the Stars," Kendra Wilkinson took a step back out of the public eye. "It's been years since I filmed any reality TV," Wilkinson told MediaVillage in 2021. "Honestly, I didn't think it was in the cards anymore, so I'd started preparing for life off-camera." Part of that life away from the cameras included a transition to real estate, which Wilkinson had always been interested in, even during her time in the Playboy Mansion, as she told The List.
Although she had an interest in the housing market, Wilkinson didn't immediately know what she wanted to do professionally. "It was a couple years of trying to figure out my life," Wilkinson said in an interview with HollywoodLife. Now, she's documenting her journey as a Los Angeles real estate agent on the discovery+ show "Kendra Sells Hollywood," which she says is different from her previous TV appearances. "Before my job was to film a reality show but now I actually have a job," Wilkinson said. "My show documents me entering the business, learning the business, learning who my partners are, and getting to know my new life."