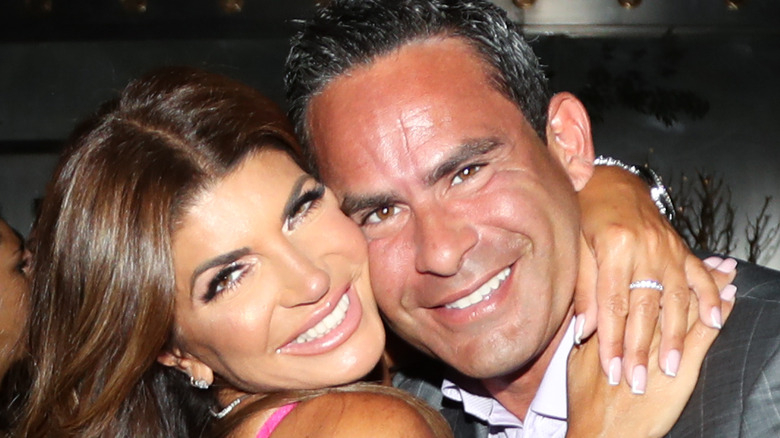 Teresa Giudice, star of "The Real Housewives of New Jersey," is in a new relationship after serving a term in prison for conspiracy to commit wire fraud and bankruptcy fraud and later divorcing her husband of nearly 20 years, Joe Giudice. Joe Giudice also served time for the crimes and was deported to his native country of Italy after his release. It appears the marriage couldn't survive the stress of the prison time, the years apart, and the distance, which led to the couple calling it quits. By the end of 2020, Giudice was divorced and back on the market for romance — and it wasn't long before she found it.
During an interview with Extra, the reality star said, "I'm really, really happy. I'm in a really good place … 2021 is going to be my year — it is!" She went on to describe how she met new love Luis "Louie" Ruelas. "We met, believe it or not, at the Jersey Shore. I was walking and that's how I met him, exercising." Admitting that he had caught her eye even before they spoke, Ruelas, the co-founder of a company called Digital Media Solutions, finally approached Giudice and handed both her and her friend one of his business cards. Giudice said that she ended up calling him that night and that they were on the phone "for hours."
So, just what is there to know about their romance? Here's the truth about Teresa Giudice's relationship with Louie Ruelas.
The couple was Instagram official by the end of 2020
After their meet-cute at the Jersey Shore — where Teresa Giudice once prayed to her late parents to send her a nice man – the couple treaded lightly, as Giudice's primary focus was still on her four daughters. During a November 2020 interview on "Watch What Happens Live," she spoke about her new romance, telling host Andy Cohen (via Us Weekly), "It's fairly new, so I'm taking things slow and we'll see where it goes from there."
It wasn't long, however, until the romance was in full bloom and she was ready to go public. She did so with an affectionate post on Instagram that December. The photo features the two of them sitting closely and Louie Ruelas' arm is wrapped tightly around her. She captioned the photo, "The BEST thing that came out of 2020." Ruelas returned the sentiment about a month later on his Instagram account. His pic featured them in bathing suits on the sands of Laguna Beach, California along with the caption, "Grateful 4 this amazing woman."
Since debuting each other on their grids, the couple has shared many appreciation posts dedicated to each other along with glimpses into their life together. In one of Ruelas' posts, he professed his love and called her an "amazing mother." Giudice's castmates Dolores Catania and Jennifer Aydin both chimed in with compliments in the comments section.
She is very protective of her man when it comes to RHONJ
Like all new Housewife romances, Teresa Giudice's relationship with Louie Ruelas has come under the intense scrutiny of her co-stars. Though she says that Ruelas doesn't have any interest in the spotlight, some of her friends are suspicious of him, his past, and his motives. Giudice is quick to come to his defense, however. In an interview with ET, she talked about just how protective she feels when it comes to Ruelas' exposure on the show. She said, in part, "Trust me, from being in the spotlight, it's not fun. … That's why I'm very overprotective of him. Obviously, I love him. It's not something he signed up for. He loves me. And that's it."
People's recap of a February 2022 "RHONJ" episode noted fellow Housewife Margaret Josephs' concerns about Ruelas. She said, "I want to like Louie. I want to give him the benefit of the doubt, but the jury's out right now." Giudice doesn't appreciate everyone's skepticism and shared her opinion in a confessional: "Luis didn't sign up for this — to be antagonized, to be questioned. … He's the love of my life. Like, I want to protect him."
Giudice, who famously flipped a table on Season 1, will surely go to great lengths to defend herself and her man.
Teresa Giudice has defended Louie Ruelas against gossip
Salacious gossip regarding Louie Ruelas' sex drive has come into public view since the two began dating, but Teresa Giudice isn't giving it much credence. During a video clip of the 2021 reunion shared by The U.S. Sun, host Andy Cohen brought up Ruelas' supposed insatiable desire for sex. Giudice laughed it off, saying, "Obviously you can't believe everything you read, but I have found my match."
Several women, however, reportedly weren't as enthusiastic about his expectations in the bedroom. According to Page Six, Ruelas' ex-fiancee Vanessa Reiser said in legal documents, "He demanded that I be available for sex whenever he wanted. If I objected to his demands, Luis Ruelas would punish me. He would be nasty, withdraw from me, and blame me for what happened." A source told the publication that he and ex Paula Sanchez also argued over his alleged constant desire for sex.
Giudice has insisted several times that she's not focused on the past, but a source warned, "He knows how to make everyone fall in love with him, and then he'll punish her behind the scenes and then she will look like the villain." Teresa has yet to buy into the scuttlebutt, saying, "His exes that are doing this. I mean, these girls are so thirsty."
Louie Ruelas' odd 'Warrior Camp' video doesn't bother Teresa Giudice
The latest season of "The Real Housewives of New Jersey" debuted with whispers about a peculiar video of Luis "Louie" Ruelas that had surfaced and been viewed by fellow cast members. Its strange content — reportedly recorded at a "warrior camp" — had several of them "concerned" and wanting to address it with Teresa Giudice. The video, which features Ruelas and several other men outside and shirtless, has him speaking directly to the camera with intense emotion. He apologizes profusely and makes promises to an unnamed woman he's trying to impress. He says, "I feel your pain!" and states, "I'm sorry I made mistakes and held myself back and held my truth inside!" He begs for forgiveness as he is cheered on by the other men in the background.
When asked about it by Margaret Josephs, Giudice blew up, responding (via Page Six), "Listen, that's part of his past, so he doesn't owe anybody an explanation about anything." She noted, "I have a past. He has a past. I don't care, and I want everybody to do the right thing because this is my home," she said. "Give me the respect, give him the respect. If not, I'm not going to be good."
She's convinced that some people want to sabotage their relationship
Teresa Giudice thinks that people are out to destroy her relationship, but she's making sure everyone knows that it's not going to happen. When her need to defend herself to her castmates on camera became apparent while filming a February 2022 "Real Housewives of New Jersey" episode, Giudice walked away. During a subsequent chat with one of the show's producers (via Page Six), she said regarding the cast, "They're not happy for us." Margaret Josephs, who has been extremely vocal about her concerns, has wondered about the gossip she's heard about Ruelas (via People): "People said his family doesn't like him. They also said that eventually, it's going to come out he does illegal things and that he could serve jail time."
In several interviews, Giudice has insisted that Ruelas is not interested in being in the public eye and is not used to all the judgment that has come along with dating her. As such, she has been advising him on how to handle the negative attention. She told ET, "Anybody that's negative, just please leave us alone. Because first of all, they're never going to destroy our happiness, just leave it at that. It's never going to happen."
Whether their relationship survives the drama remains to be seen, but Giudice isn't giving the time of day to anyone who isn't supportive. She told Andy Cohen on "Watch What Happens Live" (via People), "I really feel like he's my soulmate."
Teresa Giudice says that Louie Ruelas is the 'love of [her] life'
In a confessional for "The Real Housewives of New Jersey" (via People), Teresa Giudice said that Louie Ruelas is the "love of [her] life," and her Instagram posts only confirm her deep affection. Photos of the couple appear frequently accompanied with captions like, "Loving you gives meaning to my heart," and, "You are my heart, my soul & my treasure." A source close to the couple shared details of how Giudice's relationship is going to In Touch. "She says meeting Luis was a gift from God and she feels like the luckiest girl in the world," the source said, noting that the New Jersey native is "crazy in love."
Giudice, who entered her new relationship with what could be described as cautious optimism, has shared her feelings about dating again during her confessionals on the show. Acknowledging that someone who's fresh out of a 20-year marriage comes with some baggage, she admitted to being nervous about dipping her toes back into the dating pool. Ruelas, who was her first serious post-divorce romance, made an impression at the end of their third date when he gave her a kiss. "I was like, 'Mmm that was nice.' I got butterflies," she said.
"I love that Louie gets me, and I have always wanted that," said Giudice. "And it's so crazy because I don't know what the future holds, but this is the best I've felt in a really long time."
The couple had a romantic engagement in Greece
"I sobbed like a baby …" is how bestie Dina Cantin began her congratulatory Instagram post to Teresa Giudice and Louie Ruelas upon witnessing his romantic proposal, which took place at a resort in Porto Heli, Greece. People reported that Giudice was "completely surprised" when Ruelas got down on one knee in a spot decorated with roses, fireworks, and a huge "Marry Me" sign. She told ET, "It was absolutely amazing. I was in awe. I just didn't know where to look first. It was just so magical."
After saying yes, Giudice herself shared the news on Instagram with a loving tribute to her new fiance, saying, "I love everything about you especially your heart and the way you treat me and my daughters … I am so lucky to have found you. Thank you for coming into my life."
Giudice shared many photos of the event, including some with her dazzling new hardware. Page Six called on some diamond experts to analyze Giudice's engagement ring. One estimated the rock to be eight carats and worth $300,000, while a second thought it might be closer to 10 carats and could have set Ruelas back as much as $1 million.
They're enjoying the support of friends and family
Viewers of "The Real Housewives of New Jersey" are well aware of the long-standing tension that exists between Teresa Giudice, brother Joe Gorga, and his wife, Melissa. Though their relationship still appears strained, he told Us Weekly that he was "so happy" and that he had cried when he heard his sister and Louie Ruelas were engaged. He said, "She needed that Superman to come in and take her life and fix it, and that's what he's doing. I always said she needed a beast of a man, and he is one of them." Co-stars Jennifer Aydin and Melissa Gorga also wished the couple well upon hearing the news.
One friend who has been especially supportive of the pair is series alum and good friend Dina Cantin, who was present for the couple's engagement. Manzo shared a glowing Instagram post about the pair's relationship, saying in part, "I see two people who bring out the best in each other. A couple that is willing to grow with each other spiritually and emotionally."
Hollywood Life quoted an insider who summed up the feelings of many: "Teresa truly feels that Luis was brought into her life for a reason and is madly in love with him. From what her friends can tell he feels the same, but everyone is a little wary because of her fame."
The couple had a lavish engagement party
Unfortunately, fans of "The Real Housewives of New Jersey" will not be treated to an episode featuring the couple's engagement party because filming for the season had already concluded by the time the celebration happened. Page Six reported that the intimate event was held at an Italian restaurant in New York called Bice Cucina and was attended by 40 to 50 guests, including the couple's six children. According to Bravo, Louie Ruelas' immediate family and a couple current cast members also made the guest list.
The decor was romantic and featured candles and red roses. The guests were treated to a huge selection of food, lots of tequila, and a three-tiered cake that was fit for a wedding. A source described the event to Page Six as, "Love and happiness mixed with holiday cheer was definitely the vibe."
The following day, she shared a photo on Instagram of her with her girls, standing together in their party attire along with a caption that read, "All 4 of you make me so proud each and [every] day. It's an absolute honor to be your mother while watching you grow into the women you are becoming."
Teresa Giudice and Louie Ruelas have moved their families into a mansion together
Along with all the other changes in their lives, the couple has moved in together. According to the Daily Mail, Teresa Giudice sold the home she built with her ex for $2.25 million after it sat on the market for several months. She was able to keep all the proceeds because she had paid off her ex-husband's debt. Built in 2006 and located just a few doors down from the home she sold, Giudice's new residence, known as "Clarence Manor," was purchased for $3.35 million by Louie Ruelas as a business investment.
An insider described the home, which is located in Montville, to Page Six as a "Beverly Hills-style mansion in New Jersey." Reportedly set on over five and a half acres, the home is over 7,700 square-feet. It has seven bedrooms and seven and a half bathrooms. It also boasts additional luxuries including a swimming pool and a movie theater.
Though the family is excited about the move, the Giudice ladies are going to have to make some adjustments. Daughter Gabriella stated in a Bravo Insider clip, "It's not like it's not gonna change at all. We're gonna be living with two men. We haven't lived with men in six years."
Teresa Giudice's daughters are happy for their mom
When it comes to her daughters, Teresa Giudice is extremely devoted and protective. During a "Real Housewives of New Jersey" reunion episode (via People), she talked about how the girls were handling the hurdles that the family had faced over the last several years. She noted that while Audriana and Gabriela were adjusting to her divorce more easily, Gia had sought counseling and she expected that Milania would be doing so as well. It'd appear that Giuidice made sure her daughters were comfortable with Ruelas, and Hollywood Life reported that Ruelas received the girls' blessings to marry their mom.
A source told Hollywood Life the girls "are very happy for Teresa and Louie" and that, in addition to getting along well with their future stepfather, they are "very, very happy for their mother to have found love and happiness again." The same article quoted another insider who said, "Louie understandably was nervous when he first started dating Teresa because he wanted to make a good impression for the girls, but ultimately he knew he had to just be himself and let the cards fall as they may."
According to Bravo, when Milania Giudice, who is very close to her father, was asked about moving the families in together, her response was, "I mean obviously if I didn't like Louie, we would not be moving in with him."
Teresa Giudice is already feeling overwhelmed by wedding planning
Teresa Giudice told People she expected to be proposed to in Italy, but plans changed because of the pandemic. "Everything he planned was going to be in Capri," she said. Having missed the opportunity to get engaged on the Italian island, however, inspired the idea of hosting a destination wedding there. That said, the star isn't sure where to begin. "I don't know places in Capri where to get married, so I had to find someone that does all wedding planning out there. I just feel a little overwhelmed," she shared.
That said, the reality star said that getting married in her home state isn't off the table yet. According to E! News, Giudice stated, "So if I find a place that I fall in love with around here, New Jersey or New York, yeah. Otherwise then I'm just gonna do what I wanna do and do it abroad." She said that, while she doesn't think she wants to have bridal parties, she does want all of their children involved in the ceremony. Despite her uncertainty, ET reports that she is sure of one thing: She doesn't want her wedding filmed for "The Real Housewives of New Jersey."
The couple would invite her ex-husband to their destination wedding
Louie Ruelas impressed Teresa Giudice when he reached out to her ex, Joe Giudice, about meeting face to face. Prior to traveling to The Bahamas to pick up Teresa's youngest daughter (Joe relocated to the islands), Ruelas, who had previously spoken with Joe on the phone, inquired about having dinner together while they were there. Teresa told "Watch What Happens Live" (via Us Weekly), "He just wanted to talk to him and let him know that he's not trying to take his place or anything. But he just wanted [Joe] to meet him because we have daughters and I just thought that was the most beautiful thing ever."
Us Weekly reported that Joe Giudice initially felt "awkward" when everyone arrived, but believed that the kids' happiness should be everyone's priority. He said, "I am genuinely happy for both Teresa and Luis and wish them the best!" Teresa was thrilled at the successful outcome and gave Ruelas all the credit for setting it up, as E! News reported.
Happy with their co-parenting strategy, Teresa confirmed that her ex would definitely be invited to their nuptials if they happened in Italy. She told E! News, "Of course, I have to invite him because our hometown is like 45 minutes from Capri." And Joe Giudice's response? "Would I go to the wedding? I mean, I don't care, why not?" he told "Housewives Nightcap."
Teresa Giudice and Louie Ruelas are extremely romantic
Teresa Giudice has said that she likes a lot of romantic attention from her partner, and Louie Ruelas has certainly made several grand gestures in their time together. Given their over-the-top proposal, lavish trips, affectionate social media posts, and excessive PDA, this couple truly seems to be in love. An episode of "Watch What Happens Live" had Ruelas giving Giudice a "freak number" of 10 on a scale of 1 to 10, as noted by NorthJersey.com, and had them naming each other's favorite body parts. His favorite is her heart (and backside!) and hers is his lips.
Though their intimate life has been portrayed as very fiery, Giudice also enjoys personal and meaningful gifts. Before she left to participate in "Real Housewives Ultimate Girls Trip," he presented her with a bracelet and a stack of eight cards — one to open each day she was gone.
Sharp-eyed fans also noticed that Ruelas may have had his love's name tattooed (along with a heart) on his wrist. Whether the ink is real remains to be seen, but one thing is certain – Giudice is all in. "I love that Louie gets me and I have always wanted that," she's said (via People). "And it's so crazy because I don't know what the future holds, but this is the best I've felt in a really long time."
Teresa and Louie tied the knot!
"It was beautiful. It was a fairy tale," is how "The Real Housewives of New Jersey" costar Dolores Catania described Teresa Giudice and Louie Ruelas' wedding (per Page Six). The lavish event occurred on August 6, 2022, in East Brunswick, New Jersey at the Park Chateau Estate & Gardens in front of 220 guests. This included Teresa's four daughters from her marriage to Joe Giudice, Louie's two sons with ex-wife Marisa DiMartino, and a host of housewives from several of Bravo's franchises, including Kenya Moore and Chanel Ayan. "The Real Housewives of New York" cast member Dorinda Medley, who was in attendance, had this to say on her Instagram post, "A beautiful wedding filled with love, friends, laughter, and happiness. Thank you for letting me be a part of this magical night."
Giudice's ceremony look was the custom creation of designer Mark Zunino. The blush-colored, mermaid-style gown was topped off with a long veil that was embroidered with the expression "sempre insieme," which means "always together" in Italian. Teresa's hairdo was also epic in that it consisted of $7,000 worth of hair extensions that required the help of 1,500 bobby pins to stay in place (per People). Created by her hairstylist Lucia Casazza, the "go big or go home" look was piled high on her head and corralled by a show-stopping tiara. Violinists played "Ave Maria" as Giudice made her way down the aisle to Ruelas, where his sister served as their officiant.
Dolores Catania and Jennifer Aydin were bridesmaids, along with Teresa's four daughters
Predictably, Teresa Giudice had several bridesmaids for the big event, including her four daughters, Gia, Gabriella, Milania, and Audriana. Two of her "The Real Housewife of New Jersey" castmates also made the cut: Dolores Catania and Jennifer Aydin were among the group of several women who donned coordinated blush-colored gowns that complemented the bride's dress. "It was epic. It was very Teresa," Catania said of the event (per Page Six).
Some photos of the wedding preparation were shared on Instagram by Aydin – and, as expected, no detail was left out. In one post, Giudice and several members of her bridal party are seen in matching robes replete with feather trim. It also goes without saying that Giudice gifted her bridal crew with all sorts of goodies. Delivered in personalized tote bags, the haul included everything from skincare and makeup to CBD products to personalized pieces of jewelry (per Heavy). Catania panned the swag in her Instagram stories as she offered gratitude to the pair for their generosity (via Heavy). "Thank you Teresa and Louie for this beautiful gift bag with all these amazing gifts that we got for being in the wedding. Just really awesome stuff."
The wedding was filmed and will eventually air as a special on Bravo (per Today).
RNONJ castmates Joe Gorga and his wife Melissa were not in attendance
One of the more surprising developments leading up to the wedding was the revelation that Teresa Giudice's brother Joe Gorga and his wife Melissa would not be attending the event. During the course of their time together as castmates on "The Real Housewives of New Jersey," the relationship between Giudice and the Gorgas has been rocky, to say the least. For more than a decade, the group has been feuding regularly, beginning with Melissa's debut on the show in Season 3. At their youngest son's christening, Gorga called his sister "garbage," and the die was cast for a future filled with gossip, accusations, innuendos, and jealousy (per People).
Though details of the latest chapter will be revealed in the next season of "RHONJ," a source told People that "Teresa betrayed them in a way that's unforgivable," adding that "they're not going to celebrate Teresa's new marriage when all she does is try to tear apart theirs." Melissa, who was unable to share many details about the fallout, reported on her podcast that "I did find out on TV that I'm not going to be in Teresa's wedding and I'm not a bridesmaid, which I'm okay with, I'm fine with" (per Heavy). For her part, Teresa said, "Everything that happened is the way it was supposed to be. Whoever wanted to be at my wedding was there" (per Page Six).
Dina Manzo and her husband weren't at the wedding
Anyone who follows Teresa Giudice and/or her former "The Real Housewives of New Jersey" castmate and bestie Dina Cantin (née Manzo) on Instagram has seen what appears to be a drama-free, genuine relationship in the years following Cantin's departure from the show. Not only were Cantin and her husband present when Louie Ruelas proposed to Giudice in Greece, but the two were on each other's feeds frequently up until a few months ago, when they celebrated Giudice's 50th birthday in Mexico. Since then, neither has appeared on the other's grid, and this has led to much speculation in light of the fact that Cantin didn't attend the nuptials.
Lots of online chatter has focused on a supposed falling-out between the two, but a source recently told Page Six that Cantin's absence was due to the fact that she didn't want to participate in filming for the show. The insider told the outlet, "Teresa respects Dina's wishes and looks forward to celebrating with her in the future." Kim DePaola, aka "Kim D," who appeared on several episodes of the franchise, weighed in on the "Behind the Velvet Rope" podcast, saying, "I heard from a family member that Dina said that her and Dave know that Louie is a shady mo-fo." Both women still follow each other and their spouses on Instagram, and it remains to be seen whether there is any more to the story.
The couple's honeymoon took them to Greece and Italy
After their wedding, Teresa Giudice and her new husband, Louie Ruelas, embarked on a whirlwind honeymoon that had them returning to Greece (where Ruelas had carried out his lavish proposal), and Italy, which is the home of Guidice's ancestors. The happy couple cavorted at numerous beach resorts in designer clothing and bathing suits — Fendi for her, Balmain for him (per Daily Mail), and the pair filmed themselves enjoying local cuisine and sights. They made frequent posts of them clinking wine glasses and enjoying the music, and Giudice is frequently seen blowing kisses at her new hubby. The lovebirds shared several shots of themselves smooching in exotic locales, including Mykonos and Positano.
The couple shared scenes from a ride on a helicopter, as well as several clips of themselves enjoying the water on jet skis and boating excursions. At one point, Giudice filmed Ruelas (clad only in orange swim trunks and flip-flops) while she exclaims, "I love you. You look so sexy. We're waiting to go into the Dior store." The pair shared countless affectionate posts, tagging each other along with heart emojis. Since returning from their adventures, they have shared lots of Instagram photos that were taken by their professional wedding photographer.
Teresa and Louie have a steamy intimate life
"I can't keep my tongue out of his mouth, he can't keep his tongue out of my mouth," is just one of the many TMI-worthy comments Teresa Guidice made when talking about her spicy love life with her new husband, Luis Ruelas, at a recent event (per Newsweek). On stage in Philadelphia, Pennsylvania with fellow housewives Dorinda Medley and Dolores Catania, Giudice spilled the tea about her and her husband's insatiable sexual desire for each other. Ruelas, whose former girlfriend claimed that "he demanded that I be available for sex whenever he wanted" seems to have met his match in Teresa, who admitted to the crowd that, while on their honeymoon, the couple had sex up to five times a day (per People).
"We're very sexual and I love it. 'Cause, like, when you love someone, you wanna be that way with him. I can't keep my hands off of him, he can't keep his hands off of me," said the "RHONJ" star. Giudice said that on average, they might have up to three encounters every day, "morning and at night. If he gets me during the day, that's three!"