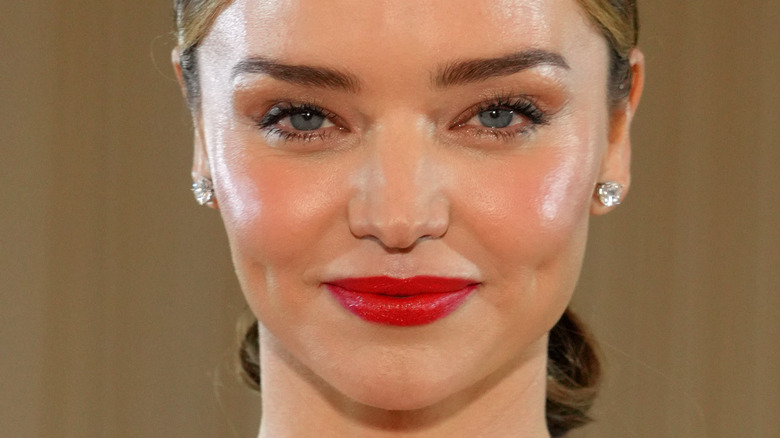 It's safe to say that Miranda Kerr is one of the most famous supermodels in the world thanks to a long and successful career that began all the way back in the early 2000s. The Australia native has achieved a lot in the industry since then, including becoming the face of major brands like Swarovski, H&M, and Reebok. She also held the coveted title of Victoria Secret Angel several times, and graced the covers of multiple high-end fashion magazines like Vogue. When it comes to her career, Kerr told Harper's Bazaar, "Modeling has given me the opportunity to travel around the world, meet incredibly creative and interesting people and invest in my own business."
In addition to running her own empire, Kerr is a hands-on mother to her three boys. Needless to say, the multi-hyphenate has a lot of plates to spin at once. Despite her days being very busy, Kerr gushed, "I feel very grateful and blessed to have three healthy sons, a wonderful husband, and that I can follow my passion for health and wellness with my company."
While Kerr has often made headlines over the years for her personal life, whether it be because of her romantic relationships with fellow celebrities or even her friendship with a certain pop star, there is so much about the self-help author that fans may not know about. So let's get to know the real woman behind the pretty face by breaking down the untold truth of Miranda Kerr.
A modeling competition changed Miranda Kerr's life
At the age of 13, a contest reshaped the trajectory of Miranda Kerr's life entirely. The future beauty mogul was raised on her grandparents' farm in the small town of Gunnedah, Australia, and led a pretty low-key childhood. "It was a very grounding thing to grow up in the country where there wasn't any pretentiousness and no one really cared what you were wearing," she told Australia's Daily Telegraph.
Things took a turn when Kerr's friend entered her in the Dolly/Impulse Covergirl Competition. The supermodel's mother recalled, "I didn't want her to be a model, so I supplied photos of Miranda that showed her crooked teeth!" Crooked teeth be darned, Kerr won anyway and was featured on the cover of Dolly magazine. "I won but we didn't really know anything about fashion," she recalled to Homes To Love. Some critics apparently felt the (totally normal) cover was inappropriate for her age, but as Kerr told The Sydney Morning Herald, "Dolly is a magazine for teenage girls, not for old men. …. They just made something out of nothing."
Kerr eventually moved to the city of Brisbane and then to New York City after high school to pursue modeling, which of course turned out to be a success. However, she dished to Vogue, "I never dreamed growing up as a little country girl that I would've had the experiences that I've had in my life."
Miranda Kerr's first boyfriend died tragically
Miranda Kerr suffered a heartbreaking loss at only 16 years old when her boyfriend died in a car crash. Kerr had dated Christopher Middlebrook for two years before his death, which understandably left her devastated. She told The Edit (via The Evening Standard), "It was really a turning point. I was depressed and went to a few therapists, but then I realized the only person who could help me was myself."
It seems Kerr did help herself by focusing on the good, writing in her book "Treasure Yourself," "Chris' death taught me that the people who touch your life are always with you." She added, "I have the choice to be grateful for the time I had with him instead of dwelling on losing him." It also probably helped that Kerr's family moved out of their hometown of Gunnedah to Brisbane shortly after. She recalled to Homes to Love, "After that happened, I didn't want to go back, because he was from Gunnedah and it was too painful." The model also shared that she's remained in contact with Middlebrook's family.
When Kerr's son, Flynn, arrived, she paid tribute to Middlebrook by giving her firstborn the middle name Christopher. Kerr explained to The Daily Telegraph (via People), "After he died, I wrote him a letter that said I hoped to name my first child after him in some way."
If you or someone you know needs help with mental health, please contact the Crisis Text Line by texting HOME to 741741, call the National Alliance on Mental Illness helpline at 1-800-950-NAMI (6264), or visit the National Institute of Mental Health website.