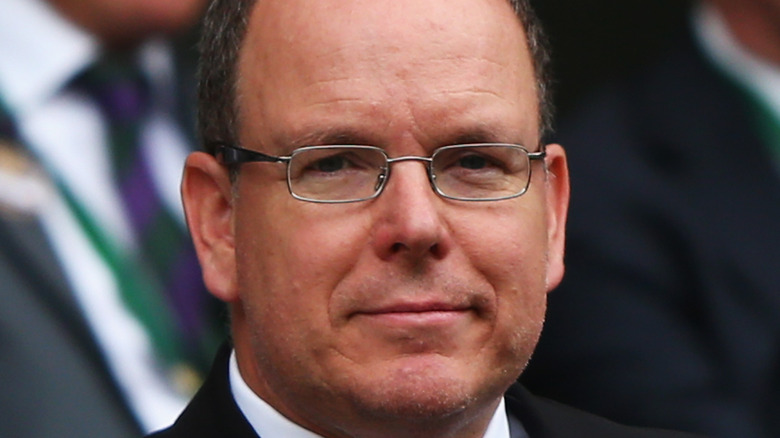 While the royal family of Monaco doesn't dominate international headlines as much as some of Europe's flashier royal clans, rest assured that they've got the lifestyle on lock. Even if you don't know much about the family, you likely recall its American connection through Grace Kelly, the Hollywood star who gave up her acting career to marry Monaco's Prince Rainier III, as noted by Biography.
Their son, Prince Albert of Monaco, is the principality's current ruler. Born to both Hollywood royalty and bloodline royalty, Albert has had big shoes to fill, especially since taking the throne in 2005 following his father's death (via NBC News). There are a lot of royals out there whose exploits could fill a book; Prince Albert's could likely fill several, if we only knew all of his secrets. Still, the ones we do know about prove that Albert has made the most of being born into a life of privilege.
Monaco's patriarchal succession laws made him heir to the throne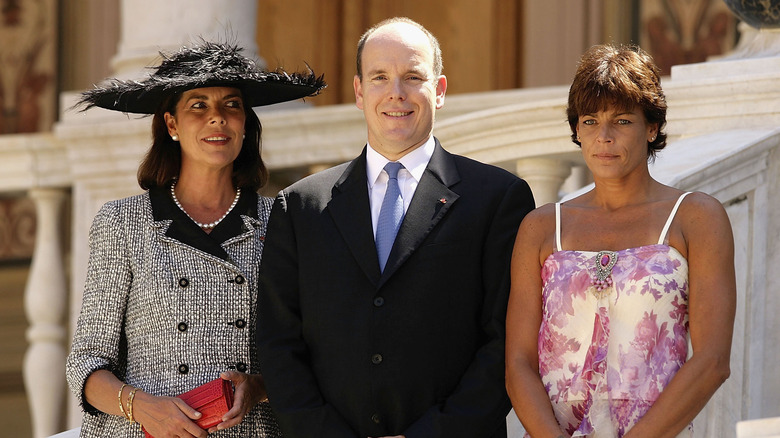 Born on March 14, 1958, Prince Albert was christened Albert Alexandre Louis Pierre Grimaldi, per Britannica. He is one of three children born to Hollywood actress Grace Kelly and her husband, Prince Rainier III, falling between his older sister, Princess Caroline, and younger sister, Princess Stéphanie. Although Albert is not the oldest child, Tatler notes that Monaco's laws of succession at the time of his birth stated that only men could sit on the throne of Monaco, making him the heir from the day he was born. While the law was later changed so that female heirs can inherit the crown, males still take precedence, per Today.
As for why Albert is a prince rather than a king even though he's the ruler of Monaco, it has to do with the small nation's history with France, which it is completely surrounds Monaco. Albert explained it on "Larry King Weekend" (via Vogue) back in 2002 when King asked why Albert's father wasn't King Rainier: "Well, because Monaco is a principality … and so, therefore, the title of prince, which was taken back in the 17th century by Prince Henry III — the II, sorry, made it so that Monaco was recognized as a principality by the king of France."
He had a close relationship with his mother
Prince Albert of Monaco shared a special relationship with his mother, Grace Kelly. In an interview with People (via the Daily Mail), Albert described the actress as a "loving and caring hands-on mom" who "was even more beautiful on the inside."
Kelly's untimely death due to a car crash in 1982 hit him hard. "It always takes a while … you recover thanks to your other family members, to your friends, to the people who are dear to you and provide comfort," Albert said on "In Depth" in 2017, decades after her death (via the Daily Mail). "It also takes years to really fully come to terms with that."
Albert has continued to honor his mother's memory after her death, notably purchasing her childhood home in Philadelphia and restoring it (per People). As Today reported, Albert is maintaining the property as a place for his family to visit, and has also made it the headquarters of the Prince Albert II of Monaco Foundation, which supports environmental issues. Albert also serves as vice chairman of the Princess Grace Foundation, which, per its website, "is dedicated to upholding the legacy of Her Serene Highness Princess Grace of Monaco, (née Grace Kelly)" as well as "elevating extraordinary emerging artists in theater, dance, and film through career-advancing grants."
Prince Albert was reportedly raised by a nanny
Prince Albert of Monaco's childhood may not have been as charming as you'd expect. While he was undoubtedly loved by his parents, their royal duties kept them busy. Albert's sister, Princess Caroline, revealed that the children didn't spend much time with their parents when they were younger. She is quoted in the book "Albert II of Monaco, The Man and The Prince" saying that their primary caregiver growing up was their nanny, Maureen Wood. "For my brother and I, Maureen was the key figure in our life," she said (via People). "When we were little, we were probably closer to our nanny than to our parents."
Caroline recalled that she and Albert would beg Wood not to leave on her summer vacation, adding that their mother would often ask the nanny to cut her vacation short because the children missed her so much.
He used to be an American citizen
Grace Kelly may have given up her acting career when she married into Monaco's royal family, but she didn't give up her American citizenship. Per the Princess Grace Foundation, she was a dual citizen of the U.S. and Monaco for the rest of her life. As such, her American citizenship was passed on to her children. Royal Central notes that Albert gave up his American citizenship when he turned 21, but it's uncertain if his sisters, Princess Caroline and Princess Stéphanie, are still dual citizens of Monaco and the United States. As neither of them is likely to inherit the throne, it's possible they would have been able to maintain dual citizenship without people questioning their loyalties.
Though Albert is no longer an American citizen, in 2018 he was granted a Medal of Honor from The Ellis Island Honors Society — an award typically only given to American citizens. Per the Ellis Island Honors Society website, the medal "is presented annually to those who have shown an outstanding commitment to serving our nation either professionally, culturally, or civically, among other criteria."
"His Highness is proof that you don't have to be born on American soil to keep America in your heart," said Ellis Island Honor Society Chairman Nasser J. Kazeminy in a speech (via the Observer). "I'm sure his ancestors dreamt of a better life for their children and children's children, and His Highness is the fulfillment of their dreams."
Prince Albert went to college in the United States
While Prince Albert of Monaco may have relinquished his American citizenship, he has still maintained close ties with the country where his mother was born — he even speaks English with an American accent. He told People that some of his earliest memories are of visiting his late mother's childhood home in Philadelphia, but his link to the U.S. goes beyond it being the home of Grace Kelly. He also attended university in the U.S., graduating from Amherst College in 1981. The political science major threw himself into college life, playing sports and even singing in a glee club.
The royal had always wanted to attend school in America, and told The Amherst Student that his college years were "an incredible experience." Prince Albert added, "I knew the States — I had visited many, many times because I am half-American. My mother was American, which gave me a different kind of opening and experience."
He had a reputation as a playboy in his younger years
Perhaps not too surprising for a young man blessed with both good looks and wealth, Prince Albert was something of a playboy in his younger years. Tatler notes that he was reluctant to settle down, although he loved the company of women. Among the many famous faces he's been linked to, notes Esquire Philippines, are model Janice Dickinson, "real housewife" Sonja Morgan, Brooke Shields, Lisa Marie Presley, and model Claudia Schiffer.
Albert's reputation for womanizing reportedly became so troublesome that his father, Prince Rainier, changed the country's law of succession to allow one of his sisters to inherit the crown if Albert died without legitimate children. "Knowing Rainier, I am convinced he was sorry not to see his son marry a young Catholic princess and have children," Claude de Kemoularia, a former employee of Monaco's royal family, told The New York Times in 2005. "He was always reluctant to give the power to his son too early because he was waiting for his son to marry and have a male heir."
After becoming the head of state in 2005, Albert got to work reforming his image — and his country's. "I've been trying to boost the attractiveness of Monaco since I took over from my father," he told the Financial Times in 2022.
Prince Albert has been married to Princess Charlene since 2011
Prince Albert finally settled down in 2011, six years after ascending to the throne. Per Tatler, he first met his bride, Olympian Charlene Wittstock, in 2000. The couple wasn't officially linked until 2006, when they first appeared in public as a couple. After a lengthy courtship, they announced their engagement in 2010.
Their wedding was lavish, even by royal standards. People noted that the four-day affair cost a jaw-dropping $70 million, a budget that included hiring the Eagles to play at the event for the couple's 800 guests.
It was a wedding to remember, but Albert insisted the couple would have been happy with a smaller ceremony. "I was glad to share it, to share the moment with a lot of people from Monaco, but [if] it would have been a private affair it would have been fine with me. And fine with Charlene, too," he said (via People).
The prince is a father of four
Prince Albert and Princess Charlene have two children together, twins Gabriella and Jacques. Born in 2014, Gabriella is two minutes older, per the South China Morning Post, but Jacques is his father's heir thanks to Monaco's patriarchal law of succession.
Gabriella and Jacques aren't Albert's only children, though. A brief fling in 1991 produced a daughter, Jazmin Grace Grimaldi, who didn't meet her father until she was 11 years old. Another relationship brought him a son, Alexandre Grimaldi-Coste, in 2003. As Jazmin and Alexandre were born out of wedlock, they are not in the line of succession, but they are still beloved members of the royal family. "We like to share family meals, have barbecues, go to the beach, everything a normal family does," Jazmin told Harper's Bazaar. "Except with heavy scheduling."
Prince Albert has faced other paternity claims over the years, but Jasmin and Alexandre are the only children born outside of his marriage to Charlene who he has acknowledged as his.
There are a lot of rumors about his marriage
Prince Albert's marriage to Princess Charlene has been plagued by rumors since day one. According to Tatler, Charlene cried on her wedding day, as many brides do, and this was enough to make people wonder if she was actually happy that she was marrying the royal. French outlet Le Journal du Dimanche claims Charlene tried to run away multiple times before the wedding, and allegedly had her passport confiscated by Albert's staff (via Honey).
Rumors of Charlene being trapped in the marriage surfaced again in 2022, after she spent several months in her home country of South Africa due to health issues. The princess shot down the gossip after returning to Monaco, saying (via Marie Claire UK), "I still find it regrettable that certain media peddle such rumors about my life, my relationship. Like everyone else, we are human beings, and like all human beings we have emotions, weaknesses … only our family is exposed to the media and the slightest weakness is relayed."
Prince Albert is one of the wealthiest royals on the planet
Monaco is a tiny country. Per Insider, it is less than one square mile in size — smaller than New York City's Central Park. It is nevertheless a wealthy country, with nearly a third of the population being millionaires who flock to the principality, which does not charge its residents income tax. This makes the country one of the richest in the world; according to the World Population Review, it had the highest GDP per capita in the world in 2021.
Even by the tax haven's high standards, Prince Albert is obscenely wealthy. Celebrity Net Worth estimates his fortune at $1 billion, making him one of the wealthiest royals in the world. According to the International Business Times, Albert's assets include a robust real estate portfolio and other moneymakers, such as the Monte Carlo Casino. He also owns an expensive car collection inherited from his father, which is on display to the public at the royal palace – a lavish structure that was first built as a fortress in 1191, making it rich in history as well as monetary value.
He's competed in the Olympics five times
Tatler reports that Prince Albert, an avid sportsman, dreamed of playing football for Monaco. While that never came to fruition, Albert is a five-time Olympian, competing in bobsledding. Per the Olympics' website, he competed in his first Olympics in 1988, just three years after discovering the sport. "I came to bobsledding quite by accident," he said in November 1987 (via UPI). "I was on a skiing holiday in St. Moritz and took a guest ride. I liked it. I thought it was a thrilling experience. It is scary. I'd be lying if I didn't say I was apprehensive at first."
Albert insisted on being treated as just another athlete at the Olympics, staying with his fellow Olympians in the Olympic Village, per UPI. "I would rather people watch me at these Games as a bobsledder — not as Prince Albert," he said.
Alas, Albert never won an Olympic medal, and he competed in his last Games in 2002. He's interested in other sports, though. Per The New York Times, he's competed in at least 16 others — albeit not at the Olympic level — and has a black belt in judo.
Prince Albert is on a mission to save the world
Prince Albert is a passionate environmentalist who is committed to combating climate change. He is the founder of the Prince Albert II of Monaco Foundation, which, per its website, is "dedicated to protecting the environment and promoting sustainable development at a local and global level."
He's been outspoken on the issue for years, ever since making a trek to the North Pole in 2006 to raise awareness about the rapidly decreasing Arctic ice cap, per Today. Three years later, he made the journey to the South Pole, making history. As the Prince Albert II of Monaco Foundation's Vice President Olivier Wenden told the Monaco Tribune, "To this day, Prince Albert II is therefore the only head of state still in office who has been to both poles. He quite happily calls himself the bipolar prince."
Prince Albert is also dedicated to protecting the world's oceans, telling "CNBC Meets: Defining Values" that "we need to find new solutions not only for ocean preservation, but to be able to prove that the ocean not only is important for all that we know already scientifically, but that it has resources that have tremendous value for us."
As noted by the Financial Times, Albert is working on making his own country more environmentally friendly. The nation is increasingly swapping its gas-powered vehicles for electric cars, and is set to achieve carbon neutrality by 2050.
He has opened up about the pressures of ruling a country
Ruling a country — even one as small as Monaco — is no easy task. While some royals might have you believe that they are unbothered by the weight of that responsibility, Prince Albert has been frank about the challenges of being his country's sovereign.
"I can't say that every day is wonderful bliss and enjoyment," he admitted in the documentary "Inside Monaco" (via Tatler). "It's not easy for anybody in a position of responsibility. There are some very unpleasant meetings. I try to think what nice things will come after my meetings are over … having a nice glass of wine."
In a 2019 interview with People, Prince Albert opened up about speaking to Prince Harry, Duke of Sussex, revealing that he could relate to the British royal, who had been harassed by the media along with his wife, Meghan Markle, Duchess of Sussex. "He has said he feels 'bullied,' and I can understand … I sympathized with him, saying, 'Just do what you have to do to ensure your privacy.'" Just a couple of months later, Prince Harry did just that, stepping down as a senior royal along with Meghan.