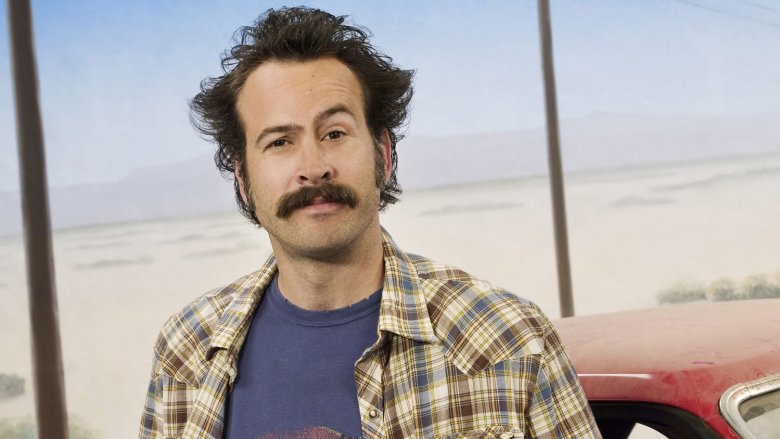 Coming from a career in professional skateboarding, Jason Lee made an unexpected mark in acting when he starred as the comedic antihero Brodie Bruce in Kevin Smith's cult 1995 hit Mallrats. Choosing to pursue a career in front of the camera, Lee quickly rose through the character actor ranks, appearing in a few of Smith's other films, including Chasing Amy, Dogma and Jay and Silent Bob Strike Back.
From the indie film world to mainstream television success, Lee's most prominent role came in the form of Earl Hickey—the middle American slacker hero in NBC's comedy hit My Name is Earl, which aired from 2005 to 2009 and garnered Lee multiple award nominations. A multi-faceted artist, Lee has maintained an actively creative lifestyle since My Name is Earl went off the air. Here's a closer look at what Jason Lee has been up to since he shaved off Earl's mustache.
A music video director in disguise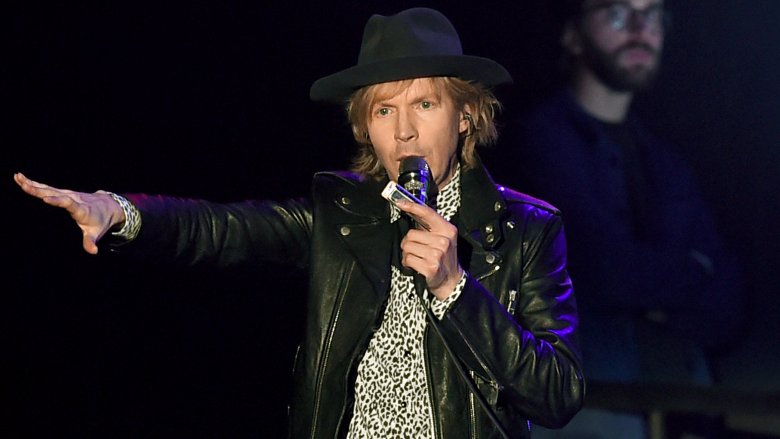 In 2003, Lee directed the music video for Beck's "Lonesome Tears." The project was a jumping off point for the Lee, giving himself the liberty to pursue a different perspective behind the camera. On his official website, he states that he wanted to "make something more 'official' with" his Bolex 16mm camera.
According to Lee, the idea explored in the Beck video led to the creation of his 2006 short film The White Door, starring Giovanni Ribisi and Beth Riesgraf. His partnership with Beck allowed Lee to not only put his directing talents to the test, it led to him helming multiple music videos for the American folk rock band, Midlake.
Scientology has affected his personal life
Jason Lee married his first wife, actress and photographer Carmen Llywelyn, in 1995. Throughout their relationship Lee did his best to keep his wife involved with the Church of Scientology, a religion the actor was deeply embedded in. The couple divorced six years later, and according to a Gawker op-ed from Llywelyn, the straw that broke the marriage's back was the powerful role Scientology played in Lee's life.
After admitting to Gay Ribisi—her talent manager, and mother of actor Giovanni Ribisi—that she read the anti-Scientology book A Piece of Blue Sky, a chain of events led to Llywelyn being cited as a "Suppressive Person," prompting her agent to drop her and Lee to begin divorce proceedings through a one-paragraph "disconnection letter."
From 2001 to 2007, Lee was romantically involved with actress Beth Jean Riesgraf. In 2003, their son Pilot Inspektor Riesgraf-Lee was born and soon, the couple became engaged. Riesgraf appeared as Natalie Duckworth opposite Lee in My Name is Earl. Ultimately, the couple never tied the knot; it was speculated that Scientology was once again the culprit for the breakup.
He's Dave in 'Alvin and the Chipmunks'
In 2007, Jason Lee took a creative detour from playing the mustache-wearing Earl Hickey to give a live-action human face to Dave Seville, the adoptive father to the three chipmunk heroes in the Alvin and the Chipmunks movie. Lee reprised the role in the accompanying video game as well.
According to Box Office Mojo the film did quite well, garnering roughly $361 million worldwide and prompting three sequels: 2009's Alvin and the Chipmunks: The Squeakquel, 2011's Alvin and the Chipmunks: Chipwrecked, and 2015's Alvin and the Chipmunks: The Road Chip.
Jason Lee, voice actor
A year before he started his stint on My Name is Earl, Lee showed up as the villainous Syndrome in Disney's The Incredibles. It was the first time the actor flexed his voiceover chops and, in the long run, this career turn proved fortuitous.
Lee has since reprised the role of Syndrome in The Incredibles video game, a video short titled Jack-Jack Attack, and the Disney Infinity video game franchise. His voice has also been regularly featured in the animated series We Bare Bears, where he plays the antagonist role of a Bigfoot by the name of Charlie.
A triumphant return to TV, stalled
Jason Lee took a different type of role after NBC brought My Name is Earl to an end. Up to that point, the actor had made a reputation playing offbeat quirky characters, but in 2010, he actor delved into procedural territory with TNT's short-lived cop drama, Memphis Beat. In the series, Lee played Dwight Hendricks, a detective for the Memphis Police Department who also moonlights as an Elvis impersonator. Unfortunately, the show was canceled after two seasons.
On the heels of this cancellation, Lee quickly moved back to NBC to play the recurring role of Kevin on the Will Arnett/Christina Applegate-led sitcom Up All Night. He appeared in only seven episodes of the show, which went on a permanent hiatus halfway into season 2 before being officially canceled by the network.
A move away from Hollywood
Jason Lee practiced Scientology for more than two decades. His involvement ran deep, affecting multiple personal relationships in the process. It was previously rumored that the actor's second wife, Ceren Alkac, left him due to his deep relationship with the church, although those rumors eventually proved unfounded. In fact, the two ended up sticking together—and leaving Scientology together.
Their disconnection, which Lee revealed in a September 2016 interview with The Dentonite, occurred around the same time the couple moved to Denton, Texas with their three children. "We're not here to buy up or change or take over Denton, put some kind of personal stamp on it," Lee said in response to rumors that they'd come to town to establish a religious beachhead. "We're just here like anyone else who wants to be a part of Denton's very cool creative community, and to be involved and perhaps help where we can."
A lost sitcom
Alyssa Milano enjoyed a 10-episode arc as Billie Cunningham, Earl Hickey's criminal wife, on My Name is Earl. Banking on the star power of Milano and Lee, a mini-Earl reunion was in the cards at CBS during the 2016-2017 season, when the network ordered a sitcom pilot titled What Goes Around, Comes Around.
Lee and Milano had plenty of potential as sitcom stars. Unfortunately, the series—from executive producers Dan Kopelman (Malcolm in the Middle, Me Myself and I) and Aaron Kaplan (The Mysteries of Laura, Life in Pieces)—never made it past the pilot stage.
A Mallrats sequel sputtered out
It's safe to say that Jason Lee owes his early career success to director, actor, and professional fanboy Kevin Smith. In 2015, Smith announced via Twitter that a sequel to his cult hit Mallrats would finally see the light of day. "20 years in the making. 113 pages fulla old friends & new jokes," Smith typed. "This is for you, Jim. Wish you were here. #MallBrats"
Lee was to reprise his role as Brodie Bruce in Smith's Mallbrats movie. However, the original plan to bring the sequel to the big screen hit a snag—getting the rights back from Universal proved to be an epic challenge—and instead of giving up, Smith retooled the project for television. While it seemed that Brodie would finally get his comeback, CinemaBlend reported the project hit another hurdle: Smith pitched the idea to six different networks, with none showing interest in picking up the series.
Staying true to his skateboarding roots
Jason Lee retired from professional skateboarding in 1995, but he's kept one very important old-school partnership. In 1992, he joined fellow professional skateboarder Chris Pastras to create their own skate brand, Stereo Skateboards.
After taking an eight-year break, Lee returned to skating and relaunched and relaunched the company with Pastras in 2003. Combining their love for record collecting, improvisational jazz, and movie-making, Stereo has since stood out from the pack with a unique brand aesthetic and quality boards.
A passion for photography and film, realized
In October 2015, Jason Lee published a handful of Polaroid and Fuji instant film photos in a special issue of Refueled Magazine. Only 500 issues were produced, and the signed copies ended up quickly selling out. After two successful photo exhibitions in Austin, Texas, Lee re-teamed with Refueled in 2017 to publish his next release, titled, "A Plain View." The project is the first for the Instagram and photography community Film Photographic, which Lee started in 2015.
More and more, Lee has diverted his attention to a variety of offscreen endeavors. As his website states, the skateboarder/actor/director/photographer has plans to bring his love of Polaroid film to life in a documentary from Greg Hunt. With an accompanying photo book in the works, and a skateboarding film currently in production, it seems Lee has found fulfillment in exploring all sides of the celluloid medium. Shifting his focus from Hollywood's glitz and glamour, he's in the spotlight far less often—but he's doing what he loves.