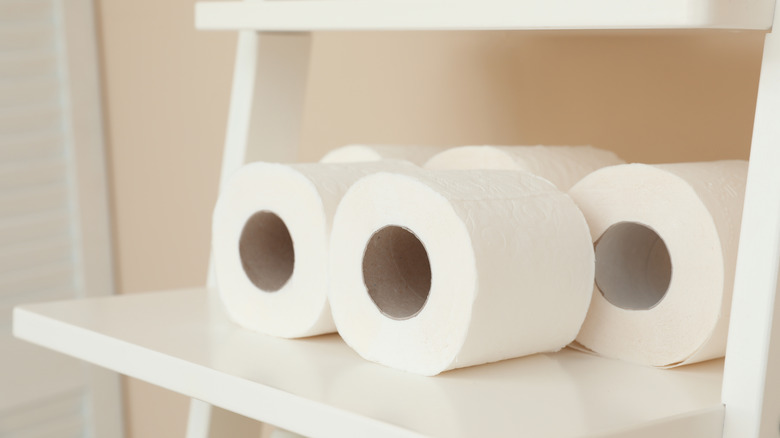 No matter the square footage of a bathroom, it can sometimes feel too small and cluttered. That's usually because bathrooms aren't designed with a whole lot of storage space in mind. In fact, more thought is often put into making sure the fixtures and plumbing align. Oftentimes, you're lucky if you have a medicine cabinet or vanity with storage. Missing a linen closet in or near the bathroom? Well, then the space is going to get pretty tight, pretty quickly.
It's important to keep your bathroom in order, however, because it's the place everyone starts and ends their day. Indeed, a messy bathroom makes showering and getting ready for work or bed a whole lot harder than it has to be. Not only that but, according to On Task Organizing, having an organized bathroom makes it easier to clean, saves you money since you're able to find all your products (before blindly buying duplicates), and simplifies routines for everyone in the household.
So, what do you do if your bathroom is in need of an organization overhaul but you're short on space? While there are plenty of bathroom storage ideas you can choose from to enhance this space, one area that's often overlooked is the blank wall above the toilet.
We've rounded up five of the easiest, over-the-toilet storage solutions you can implement in your bathroom for those extra towels, toilet paper, and toiletries. Read ahead to choose one that will work best for you.
Befriend a basket
Starting off with what's most likely the easiest solution of all, a basket could be all you need to get a bit of extra storage. A narrow container in almost any material from acrylic to wicker will work. But before you get started, source your home prior to going out to buy anything because, chances are, you already have something you can use lying around.
Through My Front Porch recommends storing similar items together, such as extra rolls of toilet paper, a matching set of washcloths, or extra bars of soap from the same packaging. This will help to reduce the visual clutter in an open basket, especially a wire one. Speaking of, wire baskets for the bathroom are also a good idea because they can be easily hung on the wall using picture hooks. But say the basket you'd like to use is just a tad too deep for the top of the toilet. If that's the case, consider affixing it to the wall just slightly above the toilet. That way, you get the same effect without bumping your back into the basket each time you sit down.
Float a few shelves
Adding bathroom shelving is one of the best ways to truly maximize your vertical space. In fact, there's most likely plenty of room on the walls between the mirror and shower for you to experiment. But, with the exception of a window being present, above the toilet bowl should be your go-to spot. That way, you can balance out the space since the mirror and shower are already reaching toward the ceiling, allowing you to create the same effect with floating shelves over the toilet.
The beauty of free-floating shelves is that they can be as long as you'd like and go as high as the ceiling allows. Find and hang ones that match the aesthetic of your bathroom, whether that be rustic, coastal, or contemporary.
As Companion Maids explains, floating shelves are an excellent way to store important bathroom items alongside some decorative touches. Similar to a basket, shelves are out in the open for everyone to see, so it's best to put some thought into what you store on them. For example, feel free to mix in a jar of makeup brushes with a vase of your favorite faux flowers or a container of cotton balls next to a couple of candles. Or, perhaps you can place a tray of your everyday facial products in front of some framed art. Get creative and organized at the same time.
Lean a ladder
If you're renting or in a temporary housing situation and don't want to make any permanent or, at the very least, semi-permanent changes but do need more room than a basket, a bathroom ladder is your magic answer. Not only will it be a standout piece in an otherwise mundane room, but it's also slim and takes up virtually zero floor space.
Before sourcing a ladder, decide if you'd like one with shelves or with rungs. Shelves are best if you'd like to comfortably place bins or trays onto them with extra bathroom essentials. However, you can get creative with rungs and hang baskets from them, as Jar of Lemons suggests, or even drape your extra bath towels over them, similar to a blanket ladder. Whichever style you choose, be sure there's enough height between the toilet tank and where the shelves or rungs begin. If you're crafty or handy, consider constructing one to fit the exact space.
Consider a cabinet
Like adding shelves, this option is more for those who don't mind putting some holes in the wall to get the benefit of potentially lots of extra storage. Wall-mounted cabinets are available in a variety of sizes and can easily hide any visual clutter since many of the options have doors. You can also look for a combination of closed or even frosted glass cabinet doors and open shelves. Some come equipped with a dowel suspended from the bottom for hanging towels.
Additionally, look for a cabinet in a style you like and with a finish that either matches your bathroom walls or pops out against it. Then, it's time to decide what exactly you'd like to store inside. From skincare bottles to shaving products or from feminine care to first aid supplies, the possibilities of organizing things inside a cabinet are endless. Abby Organizes prefers to pop back stock toilet paper in hers since it makes replacing the roll a breeze for anyone, family members and guests alike.
If you like the idea of a cabinet above the toilet but don't want to attach anything to the wall, then consider a free-standing cabinet unit. As you would with a ladder, ensure the bottom of the cabinet clears the top of the toilet.
Find a freestanding, low lining shelf
For a more minimalist look in the bathroom while also giving yourself a little extra surface space, consider a standalone shelf that sits just above the toilet tank. This will look more understated than a tall piece, such as a cabinet, ladder, or even floating shelves. One important thing to note is that you'll need to make sure there's enough space between the bottom of the shelf and the top of the tank so you can get to it and remove it quickly if need be.
Since you're going for the less-is-more aesthetic with this option, let the top of the shelf reflect that as well. Use it to store only the essentials or, as The Home Edit suggests, to show off your favorite bathroom products. You can also place a pretty tray on this spot with your perfumes or a bowl of fancy bars of backup soap. Finally, feel free to hang a simple photo or piece of wall décor above it to create balance.