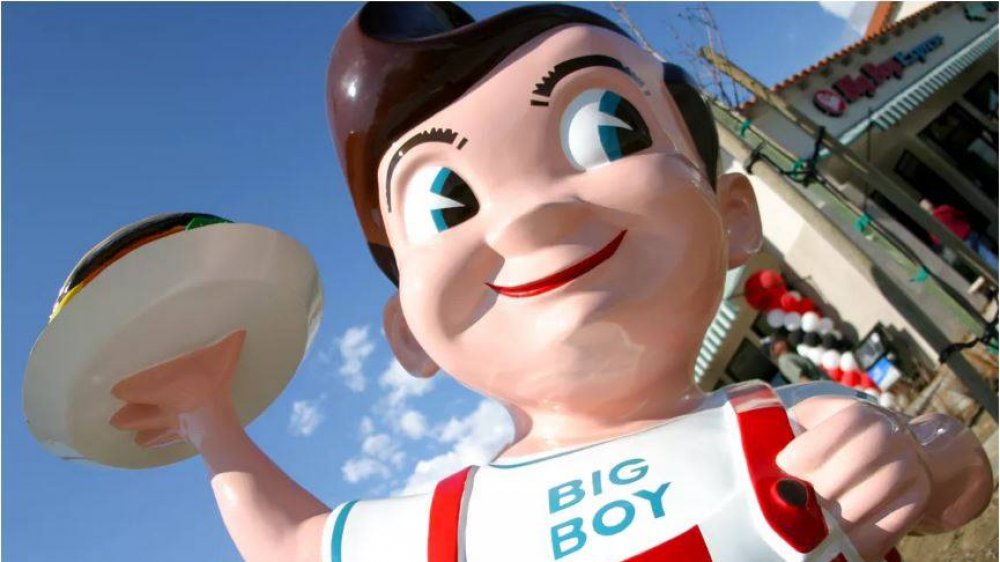 Like the Golden Arches of McDonald's or the shining bell of Taco Bell, the statues outside of Big Boy restaurants, featuring a chubby little boy in overalls holding a plate with a hamburger on it, are something of a fast food icon, with more than 70 percent national marketplace recognition, meaning that seven in 10 people know what you're talking about when you bring up Big Boy.
But what's the story behind this classic restaurant chain? What set this restaurant apart from other burger-and-fry joints?
Well, for one, it's been around in one form or another for a long time — since the 1930s. The founder of the restaurant also made a little invention that changed fast food as we know it… a little something called the double cheeseburger.
To this day, customers at Big Boy restaurants can enjoy double-deck burgers, freshly cut french fries, and milkshakes, and at some locations they can even do it while looking at the classic cars that once flooded the parking lot of the original Big Boy.
The only thing that could make your double-deck cheeseburger from Big Boy taste any better is getting an understanding of the history of the man who made it all possible, and of the company that just won't quit.
The Beatles once dined at Bob's Big Boy
Big Boy is a classic American hamburger restaurant, so much so that when The Beatles came to America in 1965 on a tour supporting their album Help!, they wound up eating at the Bob's Big Boy restaurant in Burbank, California.
The foursome was performing at the Hollywood Bowl, and were staying in Benedict Canyon in Beverly Hills. The trip was memorable for The Beatles in more than one way — they also got to meet music legend Elvis Presley.
Legend has it that the boy band wanted to have the experience of eating at a real American diner. With it's "Googie" architecture, embrace of car culture, and of course its hamburgers, Big Boy was just the place.
These days, "The Beatles Booth" within that Bob's Big Boy is itself famous. According to the restaurant, they get visitors from all around the world who come in hoping to sit at the booth, and they say the wait can be hours-long.
The Bob's Big Boy in Burbank, California is an official historical landmark
The oldest Big Boy restaurant in the country is Bob's Big Boy in Burbank, California, which was built in 1949. Some say the building's style is Coffee Shop Moderne, while others say the building, which was designed by architect Wayne McAllister, is one of the first Googie-style building in Los Angeles.
The Los Angeles Conservancy says that this Bob's Big Boy has a transitional style, and that's one of the things that makes it such a special building. In fact, its architecture, along with its 35-foot-tall neon sign, are so iconic that the Burbank Bob's Big Boy was declared an official historical landmark by the California Office of Historic Preservation in 1992.
One of the reasons why the building was granted landmark status is that many similar Googie/Moderne-style building have been torn down or otherwise renovated.
Not everyone agreed that the building should be preserved. The landowner that Big Boy leased the restaurant from wanted to tear it down to create a retail complex, but after it gained landmark status, he was unable to proceed with his plans.
If you want to get an idea of what it was like to eat at one of the original Big Boy's, you can head to this still-standing location.
The original Big Boy was opened way back in the 1930s
For a fast food restaurant, Big Boy has a long history. In fact, it's been around longer even than McDonald's, which was opened up in 1940.
The first Big Boy was opened up by founder Bob Wian in 1936. Wian was voted "least likely to succeed" in high school, but it turns out the joke was on his classmates. After high school, he worked as a dishwasher, making $12 a week. He soon realized that he was actually interested in how the restaurant was run, and began formulating a plan to open up his own restaurant one day.
Wian raised the funds to buy a diner in Glendale, California by selling his car (he could walk to the restaurant from home), saving money from his dishwashing job (he was eventually promoted to fry cook, but switched jobs to wash dishes at a different restaurant so he could build up his restaurant industry knowledge), and borrowing $50 from his father. With these funds, he bought a diner and named it Bob's Pantry.
Then, he created the Big Boy burger. It was so successful that he ended up changing the name of his restaurant to Bob's Big Boy. In 1952, Wian granted franchise rights to three brothers in Detroit, who soon opened 100 Big Boy franchise restaurants, bearing their own name instead of Bob's: Elias Brothers Big Boy. Soon, Big Boy became known around the country, not just in Southern California.
The Big Boy founder invented the double-decker hamburger
What made Big Boy such a hit when it first opened? A&W and White Castle were already open and selling burgers, as were plenty of independent diners and restaurants, so what set it apart?
What really turned Big Boy into a success was the Big Boy burger, which Bob Wian invented in 1937. One version of the story says that he was cooking one night when a group of musicians who played with Chuck Foster came into the restaurant, and told him they were craving something different.
Wian was struck with inspiration. Instead of slicing his hamburger buns in half, he sliced them into three. He layered the buns with two hamburger patties, a slice of cheese, lettuce, and red relish sauce, and the double-deck burger was born — the first of its kind.
Now, if a double-decker hamburger sounds familiar to you, there's a reason. In 1967 McDonald's franchise operator Michael James Delligatti "invented" the Big Mac, the Golden Arches' own double-deck burger. Delligatti later admitted he was inspired by Big Boy, saying "This wasn't like discovering the light bulb. The bulb was already there. All I did was screw it in the socket."
The "Big Boy" is based on a real little boy
When Wian's double-deck hamburger took off, he didn't have an official name for it yet. But inspiration struck one day, thanks to customer Richard Woodruff.
Woodruff, who was only a child at the time, apparently loved Wian's double-decker hamburgers so much, he started doing chores for the restaurant, like sweeping the floors, in exchange for free burgers.
Wian was inspired by the little boy. "He was about 6 and rolls of fat protruded where his shirt and pants were designed to meet. I was so amused by the youngster—jolly, healthy-looking and obviously a lover of good things to eat, I called him Big Boy," he said.
Eventually, Wian named his double-decker burger after Woodruff, and when the burger took off in popularity, he changed the name of his restaurant from Bob's Pantry to Bob's Big Boy.
Woodruff became something of a local legend, keeping the nickname Big Boy which suited the 6′ 6" tall, 300-pound man into adulthood.
Sadly, Woodruff passed away in 1986 at the age of 54 after a long illness.
However, as Glendale Councilwoman Ginger Bremberg said, his memory lives on. "I think he's got more immortality than the rest of us… He's going to be standing coast to coast when we're gone."
Frisch's Big Boy isn't actually a part of the Big Boy Restaurant Group anymore
If you grew up eating at Big Boy, chances are you mostly remember the burgers. But if you've ever tried to reminisce about your days at the Big Boy with someone from another part of the country, both of you probably got confused, and fast.
That's because Big Boy is operated under different names in different parts of the country. In Southern California, there's Bob's Big Boy, the original restaurant. But in other parts of the country, like the midwest, you grew up eating Frisch's Big Boy, and others may have found themselves at Abdow's Big Boy, Shoney's Big Boy, and more.
The reason for that is that the Big Boy restaurant chain has been sold several times, and most of its restaurants are franchises. But it turns out that Frisch's Big Boy isn't actually affiliated or operated by the new Big Boy Restaurants International LLC, though Frisch's was once affiliated — when they bought the rights to the Big Boy name.
These days, Frisch's Big Boy restaurants are actually an independently run group of Big Boy restaurants. Frisch's owns the rights to the Big Boy trademark and name in Kentucky and Indiana, and most of Ohio and Tennessee, and in return gave Liggett Restaurant Enterprises LLC (the owner of Big Boy Restaurants LLC) their Big Boy franchise rights in Florida, Texas, Oklahoma, and Kansas. That means Frisch's can run its own Big Boy restaurants in Kentucky, Indiana, Ohio, and Tennessee without having to answer to the Big Boy Restaurants LLC company.
The movie Heat filmed scenes at a Bob's Big Boy
Even if you didn't grow up with a Big Boy restaurant in your town, chances are you've still seen pictures or videos of the iconic Big Boy statue or restaurant. In fact, if you've seen the movie Heat, you've seen the inside of the Big Boy in Burbank, California, where scenes from the movie were filmed.
The restaurant appears in the film as the location where one of the character works as a cook, and who is later convinced by Robert De Niro to join a group of bank robbers.
Other scenes in the movie were filmed at a different Big Boy, in Downey, California.
Well, actually, those scenes were filmed in Johnie's Broiler, a diner that was torn down in 2007. The land was then acquired by Big Boy, and they rebuilt the diner almost exactly as it was, using the original building plans from 1958 and using salvaged materials from the original diner. Today, a Big Boy restaurant stands on that spot.
Heat isn't the only entertainment that was filmed at a Big Boy location. Movies including Short Cuts, Bounce, What's Love Got to Do With It, Unstrung Heroes, and Reality Bites, and an episode of the television show Mad Men, were filmed at the Big Boy in Downey, California too.
There's a car show every Friday at the Burbank Bob's Big Boy
Big Boy might be synonymous to some with double-deck burgers, but for others, the restaurant brings to mind classic cars.
That's because the chain started out as a carhop. Customers would drive into the restaurant, and waiters would come out to the car to take their order. When the food was ready, it would be brought right to the car, sort of like a reverse drive-thru.
In fact, cars and Big Boy have gone together for so long that these days, some Big Boy locations host a weekly classic car show. At Bob's Big Boy in Burbank, California, they host a weekly car show that's popular even with celebrities like Brian Wilson from the Beach Boys and former late night host Jay Leno.
On the weekends, that same Bob's Big Boy even reverts back to a carhop, so customers can relive the drive-in days of old.
Fans of burgers and classic cars can also catch cruise nights at other Southern California Big Boy locations in Northridge, Glendale, and Sun Valley on various nights of the month. It's like stepping back in time.
Stan Lee once wrote a Big Boy comic series
Stan Lee is famous for his comic book work, writing for iconic characters like Spider-Man, The Incredible Hulk, the X-Men, and… Big Boy?
Believe it or not, Lee and other comic book legends including Bill Everett, Sol Brodsky, and Dan DeCarlo all worked on The Adventures of Big Boy, which debuted in 1956.
The series features the iconic chubby Big Boy, as seen in the restaurant's logo and in its famous sculptures. The original illustration was by Ben Washam, an animator for Warner Brothers who sketched out a caricature of 6-year-old Richard Woodruff one day over lunch. That illustration was the basis for all of the restaurant memorabilia which, in turn, inspired the look of the comic series.
Kids who dined at Big Boy were given copies of the comic book, and The Adventures of Big Boy was actually a hit. It's now famous for being one of the longest-running comic book series in history, with some issues being so popular they printed out more than a million copies.
Unlike other comics that came under fire for featuring violence or that were censored by the Comics Code Authority, the Big Boy comic series was thought to be a wholesome, family-friendly option, perhaps one of the reasons why The Adventures of Big Boy comic is still being printed today.
There are more than 200 Big Boy restaurants in Japan
Big Boy may seem iconically American, but travel across the sea to Japan and you'll be able to dine at 267 Big Boy restaurants.
They're operated by Big Boy Japan Co., Ltd., and are a popular chain of family restaurants, or famiresu, in the country.
Big Boy Japan may feature the same chubby Big Boy mascot, but the restaurants are actually run independently of the Big Boy restaurants in the US, as franchises.
The menu looks a lot different, too.
While at the Big Boy restaurants stateside you can get cheeseburgers, fries, milk shakes, and other diner classics, in Japan Big Boy specializes in hamburger steaks. Hamburger steaks are basically hamburgers without a bun, and they're often served with brown gravy instead of the classic "special sauce."
They also serve things like cheese-filled hamburger patties, spaghetti, chicken steaks, pork steak, and regular steaks too. If you're craving something classic, they also have chicken nuggets and french fries.
You can also order your food as part of the "Big Boy Viking" buffet, which means your meal includes all-you-can-eat salad, soup, rice, and curry.