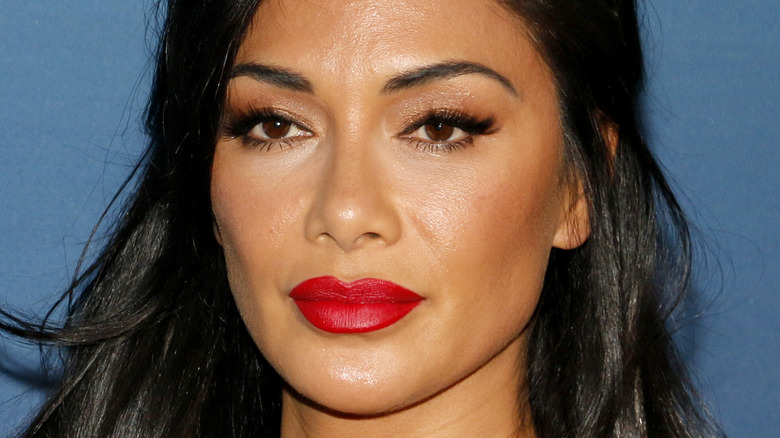 The following references disordered eating.
Nicole Scherzinger has been in the public eye since the early '00s, and she has been able to expertly transition between music and other ventures, such as reality television judging duties and stage acting. Scherzinger's career began in 2001 when she appeared on the American version of "Popstars," after which she was briefly in Eden's Crush before shooting to fame with the Pussycat Dolls and their first hit song "Don't Cha." After two albums with the Pussycat Dolls, Scherzinger went solo, but her music career has since taken a backseat to her other projects.
Scherzinger has remained a public face over the years mostly because of reality television, appearing as a host and panelist on multiple shows across multiple continents. She is also a talk show staple — her Britney Spears and Alanis Morissette impressions ensure she's always a good time — and a frequent cover model for magazines around the world. Scherzinger also acts, hawks products, and runs a fragrance business, so she is incredibly busy at virtually all times. Though she has a personal life as fascinating as her career trajectory, Scherzinger is equal parts accessible and mysterious, often divulging only the parts of herself that she wants to be seen by the public. Here is the untold truth of the extremely talented Nicole Scherzinger.
She credits her parents were her strong work ethic
Nicole Scherzinger was born in 1978 in Honolulu, Hawaii. Her biological father left early on, and per Hello!, she was adopted by her stepfather Gary Scherzinger, whose surname she adopted and made famous. The family moved to Louisville, Kentucky, when Scherzinger was a young girl, where her stepdad worked as a welder and Scherzinger's mother worked in an office. It is from them that Scherzinger has said she gets her incredible work ethic.
"I definitely have the eye of the tiger," Scherzinger said in a 2011 Marie Claire interview. "I've fought my way to where I am and will continue to do so. I'm a hard worker — I get it from my family. We only know work. Nothing was handed to us. When I believe in something, I go after it. It's very hard to tell me 'no.'" This devotion to work and success has led Scherzinger to take on multiple endeavors at once and, at one point, she even worked on three television shows — "The X Factor: Celebrity," "The Masked Singer," and "Australia's Got Talent" — on three different continents, all in the same year. In a chat with Attitude, she called herself a "work horse" and has said she loves being busy with multiple creative projects at once.
Nicole Scherzinger started performing early
Like so many musicians, Nicole Scherzinger noticed her natural gifts very early in life. She was able to cultivate her talents by attending a performing arts school, the duPont Manual High School/YPAS. According to the Fund for the Arts website, Scherzinger won a major scholarship, which she used to go on to study musical theater at Wright State University. This explains how she has so easily stepped into musical acting roles, such as playing Grizabella in "Cats" on the West End or Grace Farrell in the 2021 NBC production of "Annie," which was filmed live.
As a youngster, Scherzinger was also active in local talent shows and she became locally famous at 18 when she competed in the Coca-Cola Talent Competition hosted by the Kentucky State Fair, per Louisville.com. She sang a song from "Miss Saigon" and came out with a first runner-up title. As she shared in Marie Claire, she loved performing so much as a teenager that she even once worked as a mascot at a theme park called Kentucky Kingdom. "It was disgusting — so hot! — and the smell," she laughingly recalled to the magazine. "You couldn't get enough Febreeze." It would be only a few short years before she shot to fame after her first appearance on reality television, at age 23.
Nicole Scherzinger's long history with reality TV
Back before "American Idol," "The Voice," and most other contemporary singing competition shows, there was "Popstars," a franchise that originally began in New Zealand. "Popstars" hit America in 2001, and it lasted for only two seasons, but it was the catalyst for Nicole Scherzinger's future singing career. Scherzinger was a contestant during the first season, and she made it all the way to the end as a member of the show-formed band Eden's Crush. The girl group had only one hit single — "Get Over Yourself" — before calling it quits, which then freed Scherzinger up to join the much more successful Pussycat Dolls.
Interestingly, rather than recoil from her reality TV past, Scherzinger has embraced it by becoming a reality show judge herself. "My music is the driving engine, and The X Factor is where I can give back to the contestants — pay it forward, since I got my start on reality shows. I'm ready to take it all on," she told Marie Claire in 2011. In addition to both the UK and US versions of "The X Factor," Scherzinger has also served as a judge or panelist on "The Sing-Off," "Australia's Got Talent," and "The Masked Singer." As a contestant, she has also rejoined her reality roots on occasion, mostly notable on "I Can Do That" and "Dancing With the Stars," both of which she won.
Where she stands with the Pussycat Dolls
A lot of fans consider the Pussycat Dolls to be the Nicole Scherzinger show, given that she was always front and center, and always the one doing the vast majority of the actual singing. Well, it turns out that Scherzinger also thinks about the group as being an extension of herself, and she has referred to their music as "her" music in interviews. "I pretty much executive-produced those records. That music felt like my music," she told The Guardian, for instance. Per the Mirror, an older VH1 clip that went viral in 2020, Scherzinger stated she recorded almost all of the vocals on "PCD," the first and more successful of the group's two albums.
Scherzinger has also said that she at times put the group before her solo aspirations; she once told The Hollywood Reporter that she allowed the song "When I Grow Up" to go to the Dolls rather than land on a solo album as planned. Despite the rest of the members more or less being reduced to glorified background dancers, Scherzinger agreed to do a Pussycat Dolls reunion tour in 2020, and then later backed out. She proceeded to get into a legal battle with PCD founder Robin Antin, and the two accused one another of tanking the reunion.
She struggled with an eating disorder
According to ANAD, the National Association of Anorexia Nervosa and Associated Disorders, roughly nine percent of the population will have an eating disorder in their lifetime. The statistics are likely much higher for women in careers like music, where sexuality is used to sell products and image still reigns supreme over talent in many instances. Things were even worse in the 1990s and 2000s, when Nicole Scherzinger was an up-and-comer, and it is only in recent years that she has begun speaking about her experiences with bulimia during this time period. She first discussed her struggles in 2012, in a VH1 "Behind the Music" interview where she called bulimia her "addiction" and said she struggled with it for eight years, as reported by Entertainment Weekly.
Since her initial disclosure, Scherzinger has continued to speak about her bulimia, even sharing that she only started to face the disease head-on in her early 30s, once she was told it was distressing her vocal cords, per The Guardian. "Thinking about it I try not to well up… It is such a horrible paralysing disease and it was such a dark time for me," she told Cosmopolitan UK in a 2014 interview. "That's why I can empathise so much with people who have demons and voices in their heads, who aren't nice to themselves. It robs you of living your life." Scherzinger has also partnered with charities to promote eating disorder awareness, such as when she made a video for the Child Mind Institute's #MyYoungerSelf anti-stigma campaign.
If you are struggling with an eating disorder, or know someone who is, help is available. Visit the National Eating Disorders Association website or contact NEDA's Live Helpline at 1-800-931-2237. You can also receive 24/7 Crisis Support via text (send NEDA to 741-741).
She was raised Catholic and still attends church
The Pussycat Dolls were known for their sexualized outfits and suggestive dancing — which makes sense in that it was originally founded as a burlesque group — and their hypersexualized reputation was at times at odds with Nicole Scherzinger's strong sense of faith. As she told Wylde, she grew up Roman Catholic in a very conservative family that went to church regularly. When she first arrived at her audition for the PCD, Scherzinger was thrown by the outfits. "In the beginning, it was a massive hump for me to get over," she told The Guardian. "I was very conservative. I had really strong religious beliefs. I just wanted to make my mother proud."
In that same chat with The Guardian, Scherzinger shared she goes to church at least two times per week, and she still very strongly identifies as conservative in values. She emphasized that she has never made out with anyone in a music video, and that she frequently wore slightly — very slightly — more clothing than some of the other Pussycat Dolls. But for her and her sheltered family, it was still a lot. "I cried when I saw my first Pussycat Doll costume," she once told Marie Claire. "It was my first photo shoot, and I wasn't used to wearing clothes like that."
Nicole Scherzinger has a fragrance line
Like so many other pop stars — including everyone from Rihanna to Ariana Grande to Billie Eilish — Nicole Scherzinger has her own fragrance. In fact, she has a whole line of fragrance products, which began in 2017 with the launch of her scent Chosen. "When I do things, I really do it with care and love and I want it to fully represent me all the way," she told Hello! at the time of the release. "I wanted my first fragrance to come out and really embody me and my spirit." To ensure it represented her, Scherzinger was involved in the entire process, which included creating a bottle shape that paid homage to her home state of Hawaii.
In addition to Chosen, Scherzinger now has two other perfumes, called Night and Day. Then she also sells her own brand of body mist, which comes in scents such as "hypnotic bloom" and "caramel latte." Prior to the fragrance game, Scherzinger experimented with a fashion line when she created a 30-piece collection in 2014 for the brand Missguided, per Digital Spy. She has also done quite a few endorsements over the years, partnering with existing brands in the fashion and beauty realm, such as Herbal Essences, and in other areas, like when she became an ambassador for high-end yogurt brand Müller.
She was 'devastated' when she didn't land this movie role
Nicole Scherzinger is most famous for her music and her appearances on reality television judging panels, but she has dabbled in other ventures, including acting. In fact, Scherzinger has 46 acting credits listed on her IMDb, though that includes music videos and video shorts. Though she is not a big-time thespian, she has some notable credits like a small role in "Men in Black 3" and guest stints on shows like "How I Met Your Mother" and "Wizards of Waverly Place." Her most significant acting roles have been in TV remakes of well-known musicals. In 2017, Scherzinger appeared as Penny Rivera in the TV remake of "Dirty Dancing," and in 2021, she played Grace Farrell in "Annie Live!"
Suffice it to say, Scherzinger has yet to become a movie star, but that has not been for a lack of trying. In 2016, she discussed one of the roles that got away: C.J. Parker in the "Baywatch" film starring Dwayne "The Rock" Johnson and Zac Efron. "I started this year working out every day, motivated to get my butt in shape because I was determined I was gonna be the new Baywatch girl," she told Glamour UK. "I was hell-bent, I'm an ocean angel, I love it." Unfortunately for Scherzinger, fate had other plans, and the role ultimately went to Kelly Rohrbach. "I was devastated," the pop star said. "What is my year, what is my life, if I'm not in Baywatch?!"
Nicole Scherzinger's Cats drama
Beyond "Baywatch," Nicole Scherzinger has had other close class with screen stardom. For instance, she may have at one point been considered for a role in the film adaptation of "Cats," but could not even get an audition after falling out with Andrew Lloyd Webber. Scherzinger appeared in "Cats" in London's West End, where she played Grizabella and was nominated for an Olivier Award, per The Guardian. But after she pulled out of reprising her role on Broadway at the last minute, Webber was livid. "I'm furious because I really believe she's the most fantastically talented girl and I went out on a limb to get her for the London Palladium here, and it makes me look like an absolute twot with them all," he said on Economist Radio, as reported by The Guardian. "But never mind, there'll be another girl on Broadway and Nicole will not get her Tony award."
When the movie version was in casting, Scherzinger said casting agents would not even let her audition. "That really upset me, I won't lie about that. I was devastated," she told The Guardian. Scherzinger and Webber have since made up, and it is unclear if he was the sole reason behind her exclusion from the film or if it was a choice made by other creatives. We are not going to say that it was a blessing in disguise, but "Cats" has a mere 19 percent rating on Rotten Tomatoes and was widely panned, so it probably would not have launched Scherzinger into blockbusters anyway.
She has expensive taste and can afford it
According to Celebrity Net Worth, after two decades in show business, Nicole Scherzinger is now worth a sizable $14 million. She accumulated her wealth through her music, television jobs, and endorsement deals, and she lives a very nice life because of it. She told Glamour UK that her first indulgent purchase was a Bentley — cars that cost well into the six figures — and that she also has a thing for expensive perfumes. Beyond that, Scherzinger's social media shows she also loves designer clothing, high-end beauty products, and fancy vacations (though we assume that, like many celebs, she gets much of these for free). She even has a custom-made moisturizer that was crafted using her own blood plasma, according to an interview she did with Allure. If that does not scream "wealth," we don't know what does.
Exact details on Scherzinger's fortune are hard to come by, but there have been a few snippets of information released to the media over the years. In 2014, she reportedly inked a deal with Sony worth $4.5 million, but her solo career has not evolved the way many expected. Scherzinger has two solo albums, one from 2011 and one from 2014, and only a handful of hit singles — mostly in the UK, where she is much more popular than the US. Therefore, a lot of her money likely comes from her stints on reality TV, which have included all seven seasons of "The Masked Singer," two seasons of "The X-Factor UK," and more.
She has recorded a lot of music that was never released
Nicole Scherzinger's solo career has been somewhat of a flop, but it is certainly not because she has no material. In fact, it may be the exact opposite, in that she has so much material she could have produced a dozen albums by now. In 2014, Scherzinger admitted to Digital Spy that between debut solo effort "Killer Love" and its follow-up "Big Fat Lie," she'd cooked up dozens of songs that ultimately ended up on the cutting room floor. "Unfortunately, I don't know if those songs will ever be heard, but that's just part of it," she said. "I have probably five albums, and I wonder if the songs will ever see the light of day."
By 2019, Scherzinger said that she had amassed a catalogue of 500 songs that have never been heard by the public because of her perfectionism, per The Guardian. "My mother said when I was a little girl, if I coloured slightly outside of the lines, I would rip the page and throw it across the room," she said in the interview. "It's been for ever since I've put out music, and that's difficult for me, especially when I always set such high expectations for myself." Scherzinger did release a single, "The Drop," in 2022, but it has garnered little fanfare. In April 2022, Variety reported she was set to release an EP called "Warrior," though she is no longer signed by a label.
She has had a number of high-profile romances
Nicole Scherzinger is currently in a relationship with Thom Evans, a hunky former professional rugby player seven years her junior. Per Cosmopolitan UK, the pair have been officially dating since January 2020, but met a few months prior when Evans appeared on "The X-Factor: Celebrity," which Scherzinger judged. This is far from Scherzinger's first high-profile romance and, though she tends to keep her personal life relatively quiet, there has been a fascination with who she has dated over the years.
Scherzinger's most notable romance has been with race car driver Lewis Hamilton, whom she dated from 2007 to 2015, per The Independent. This overlaps with the heyday of the Pussycat Dolls — their second album came out in 2008 — as well as the start of Scherzinger's solo career and television ventures. Before Hamilton, Scherzinger dated rocker Nick Hexum. When they were still together, Scherzinger was offered a spot in the Black Eyed Peas but, as Will.i.am shared on BBC Radio 1Xtra years later (via Metro), Hexum apparently put the kibosh on it. Scherzinger has also been in relationships with "Laguna Beach" cast member Talan Torriero, tennis player Grigor Dimitrov, and footballer Patjim Kasami. There are also rumors that Scherzinger possibly had a fling with Harry Styles, but those have not been substantiated.
The music icons that shaped Nicole Scherzinger
Putting aside her struggles with releasing music in a timely fashion, it must be said that Nicole Scherzinger has an undeniably fantastic voice. And though she has only a couple of mid-range solo hits, Scherzinger's vocal instrument has been appreciated by many. The Pussycat Dolls had 11 songs make the Billboard Top 100 chart, with four of those entering the Top 10, per Billboard. Scherzinger's powerhouse pipes are center stage on all of these songs, much like they are in her biggest solo hit, "Don't Hold Your Breath," which is actually a very solid jam.
When it comes to her musical influences, Scherzinger once told Wylde that she's looked up to everyone from Diana Ross to Cher. Her biggest influence, however — and the name that comes up in nearly every profile she does — was the late Whitney Houston, who Scherzinger idolized growing up. In 2013, she even wrote a touching tribute to Houston for es Magazine, in a piece where current stars celebrated their idols. "Whitney showed me that singing was my destiny. When I was six I used to make collages of her on my bedroom wall. Her voice had a soul-stirring power; it was the truth," she wrote. "Even now it's hard not to cry when I think of her; there's such a deep emotional connection. Because of her I try to be honest and tell my own story when I sing." Needless to say, she's been inspired by the best of the best.