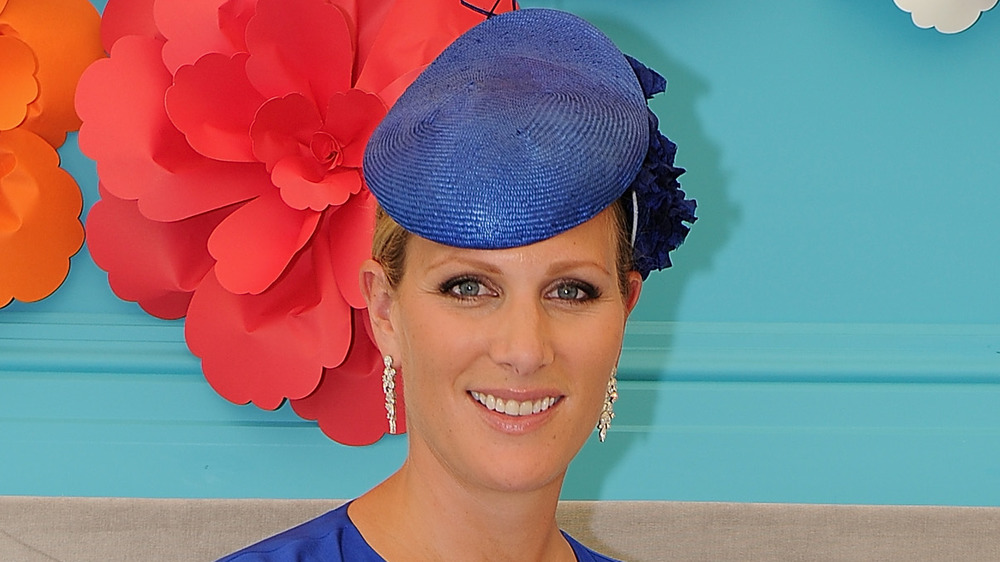 It's totally understandable if you have a hard time keeping track of all of the members of the British royal family. There are a lot of them, after all. Along with Her Majesty, Queen Elizabeth II, there are seemingly endless princes, princesses, dukes, duchesses, and many more titled and non-titled relatives of this particular noble group. Granted, the bulk of the attention from both the media and the public tends to revolve around those who are high up in the line of succession to the throne, such as Prince Charles and his son, Prince William. That's why you may not know all that much about Zara Tindall.
Born as Zara Phillips on May 15, 1981, at St Mary's Hospital in London, England, she's the daughter of Captain Mark Phillips and Princess Royal, Princess Anne, who is the Queen's daughter. That means that Zara is the Queen's grandchild. In fact, she's the second grandchild and first granddaughter of the monarch. However, her life has been somewhat different than her royal relatives.
For instance, as a child, Zara "began her studies alongside her brother [Peter Phillips] at the local primary school, and was sent to boarding school in Dorset when she was eight years old, because her mother wanted her to mix with children from ordinary local families," according to Hello! However, that's far from the only unusual and interesting thing about this member of the royal family. Read on to find out more intriguing tidbits of trivia about Zara Tindall.
Prince Charles was responsible for Zara Tindall's unusual name
Royal names are usually pretty traditional and kind of lengthy. For example, Prince Charles' full name is Charles Philip Arthur George, and his eldest son is William Arthur Philip Louis. As for Zara Tindall, she was born as Zara Anne Elizabeth Phillips and took on her current name when she married her husband, Mike Tindall. Zara's second name is obviously a nod to her mother, Princess Anne, while her third name is in honor of her grandmother, Queen Elizabeth II. As for her first name, Zara was given a "unique name, one that set the stage for future unconventional monikers in the royal family," Good Housekeeping explained while nodding to Princesses Beatrice and Eugenie, who are Zara's younger cousins and may owe their own somewhat unique names (for royals, that is) to their older relative's pioneering moniker.
However, it turns out that Zara's parents, Princess Anne and Mark Phillips, can't fully take credit for her name because they didn't come up with it. Instead, it was Princess Anne's older brother and Zara's uncle, Prince Charles, who suggested it, according to Hello! "The baby made a rather sudden and positive arrival, and my brother thought Zara (a Greek name meaning 'bright as the dawn') was an appropriate name," Princess Anne apparently explained.
Good Housekeeping also noted that the name Zara also has other meanings, such as "seed," "flower," and even "princess," which obviously "would make sense considering she's part of the royal family."
Zara Tindall was known as a 'royal rebel'
Zara Tindall may seem pretty proper these days, but she was once known as a "royal rebel," as Hello! pointed out. For instance, she got her tongue pierced, which may not be a big deal for others, but it is for a royal. While it's not technically against the rules, it certainly was somewhat eyebrow-raising considering who Zara is. That's why the "Queen's eldest granddaughter was forced to deny claims she had been straying from royal tradition after she was pictured with a tongue piercing at 17," according to The Sun.
Zara reportedly got the piercing done at "a tattoo parlor close to her boarding school — the Gordonstoun School in Moray, Scotland." She then "famously" showed off her "tongue stud" to her royal relatives while they all gathered together in 1998 in order to celebrate Prince Charles' 50th birthday. While her mother, Princess Anne, was apparently unbothered by the tongue piercing, she did ask if her daughter "was still able to speak properly." Zara, who may or may not also have a belly button piercing, noted, "At least I didn't have it coming out of my nose, or anything."
Zara also made a rather unusual move for someone in her position when she took a year off after her A-Levels and before finishing up her education in order to spend three months in Australia and New Zealand where Hello! notes that "the press picked up on the photogenic blonde out bungee-jumping and enjoying Sydney nightlife."
Her past 'tempestuous relationship' and current marriage
Zara Tindall may be settled down now, but back when she was still Zara Phillips, she found herself in an "infamously tempestuous" relationship, according to Page Six. During her time with jockey Richard Johnson, the couple sparked headlines due to their iffy behavior. For instance, the pair was spotted having "a public spat" that was so serious that it "saw them swap punches and kicks." On the other end of the shocking spectrum, they also agreed to do a Hello! magazine spread (via Daily Mail) that saw the Queen's granddaughter "[s]tretched out on a rug before a roaring fire … in the arms of … her live-in boyfriend." Yes, the fact that they were living together but not married was also somewhat scandalous.
However, Zara and Richard's relationship wasn't meant to last, and she went on to marry rugby player Mike Tindall on July 30, 2011, at Canongate Kirk in Edinburgh. According to Hello!, "the ceremony was attended by senior members of the royal family, including The Queen and Prince Philip, Prince William and Kate Middleton and, of course, the bride's mother, Princess Anne." The Advertiser claimed that Mike had "tamed" Zara after her past wild ways while a friend of the royal explained that he gave Zara "the calm reassurance of a normal bloke who is marrying her because of who she is, not what she is."
In December 2020, a source told the Daily Mail that Zara's relationship with her husband was "stronger than ever."
She has talked about both motherhood and miscarriages
Zara Tindall may be famous for being the Queen's granddaughter and Princess Anne's daughter, but she's also a mother herself. The royal and her husband, Mike Tindall, have two daughters as of writing. Their eldest, Mia Grace, was born on January 17, 2014, while their second daughter, Lena Elizabeth, made her appearance into the world on June 18, 2018. In December 2020, the couple announced that they were having a third child, per People. Mike opened up about baby #3 while chatting on The Good, The Bad & The Rugby, saying, "I'd like a boy this time. I've got two girls. … I will love it whatever, whether it's a boy or a girl, but please be a boy!"
Mike also mentioned that Zara was being "careful because of things that had happened in the past," surely referring to the fact that she has suffered miscarriages. According to the BBC, "After announcing that she had lost her baby in 2016 she said she … had been inundated with letters from people saying they had been through the same thing." As she told The Times, "We had to tell everyone … everyone knows — that's the hardest bit."
Zara has also opened up about attempting to balance being a parent and taking care of her other responsibilities away from home. "If I'm away and Mike's here I don't feel guilty, whereas if we're both away then I feel much more guilty," she explained to Now to Love (via Hello!).
Zara Tindall gets along with other royals
When it comes to how popular each member of the royal family is with the public, they tend to individually gain and lose favor from year to year. For instance, in 2019, the Queen was the favorite among the bunch, according to a YouGov poll (via Harper's Bazaar), while the Mirror noted that Kate Middleton came out on top in 2020. However, when it comes to who's popular within the royal family, it seems like the family adores Zara Tindall.
It's no secret that Zara has always had a "tight bond" with Prince William, who is close in age to his cousin, as E! noted. However, when William got together with Kate Middleton, the two women became good friends as well. The way that William and Kate feel towards Zara became clear when they made her the godmother of their first child, Prince George, in 2013. "The following year, Zara is thought to have repaid the great honor" when she welcomed her daughter, Mia, into the world, per the Express.
According to body language expert Judi James who talked to the Express in October 2020, Zara and her grandmother, the Queen, also have an "affectionate" bond. "This looks like such a joyful and even indulgent relationship between the Queen and her grandchild Zara," James noted. "It is perhaps made more relaxed because Zara is not an official member of 'The Firm' and so can see and treat the Queen purely as her grandmother, rather than also being her boss."
Does Zara Tindall have a royal title?
Although Zara Tindall "was born before her cousin Prince William … she is far behind him in the line of succession," Express explained in December 2020. Indeed, the "customs and laws surrounding royal titles means there is a stark divide between younger Royal Family members." That's why, while William has some hefty titles and is set to become king one day, Zara isn't even a princess or an HRH.
"Following the birth of her two children Peter Phillips … and Zara, Princess Anne rejected the Queen's offer of titles for them, choosing to raise them as private citizens instead." According to Hello!, "Princess Anne was adamant her two children remain without a title, believing life would be hard enough for grandchildren of a monarch." Zara herself told The Times, "I'm very lucky that both my parents decided to not use the title and we grew up and did all the things that gave us the opportunity to do."
As for Zara's spot in the line of succession, it keeps getting bumped down as her brother and cousins have children, but she's currently 18th, at the time of this writing. While it's unlikely that she'll ever be queen, she is a Member of the Most Excellent Order of the British Empire (MBE), which she earned "in 2007 for her services to equestrianism," according to Town & Country.
Zara Tindall's job isn't related to official royal duties
During Zara Tindall's younger days, she "excelled at many sporting activities and represented her schools in hockey, athletics, and gymnastics," per Married Biography. She then went on to study at the University of Exeter and specialized in Equine Physiotherapy. However, when it comes to Zara's career, she's not a physiotherapist. She also doesn't work in the family business. "While many members of the Royal Family work for the Queen, Zara does not," revealed Express. "This means [she does] not attend all royal outings or represent the monarch at events … Instead of working in the Royal Family, Zara has a slightly less public career [as] she is an equestrian."
It turns out that Zara's naturally athletic tendency is something that she inherited from her active parents. According to the royal website, Princess Anne is also a rider and "competed in the 1976 Montreal Olympic Games as a member of the British equestrian team." On top of that, Zara's "father, Captain Mark Phillips, is also an Olympian and won gold with the British team in 1972," Town & Country notes. As for Zara herself, she took home a silver medal while competing with the team representing Great Britain at the 2012 Olympics in London.
As if that wasn't enough of an accomplishment, in 2006, Zara was named the BBC Sports Personality of the Year, "35 years after her mother HRH The Princess Royal received the same accolade."
Charity work is important to Zara Tindall
Although Zara Tindall doesn't work for the royal family, she's still involved with plenty of charitable causes, just like her relatives who take on official duties. For instance, in December 2019, Zara and her husband, Mike Tindall, attended a cancer charity gala thrown in the memory of singer Ronan Keating's mother who died in 1998, two years after being diagnosed with breast cancer, according to the Daily Mail.
While that was undoubtedly a worthy cause, it certainly wasn't the only benevolent endeavor that Zara has supported in the past. Indeed, Express reported that in April 2020, she joined "other leading equestrian stars" to "raise money by engaging in a series of light-hearted tasks, while in teams," in order to supply National Health Service (NHS) workers with Personal Protective Equipment (PPE) during the COVID-19 pandemic.
Zara again teamed up with fellow well-known equestrians as well as her mother, Princess Anne, to support World Horse Welfare, which "is a charity that works to improve the lives of horses and the horse-human partnership in all of its guises." People notes that Princess Anne is President of the organization "while Zara followed in her footsteps" by becoming a patron. "She knows to her own cost, horses can get injured," CEO Roly Owers explained. Zara also knows "that you have to be very driven but you have to be mindful that you've got an equestrian partner that needs taking great care of."
Zara Tindall has faced legal issues around driving
The Queen and her family may occasionally ride around in gorgeous carriages that are drawn by stunning horses — Windsor Grey Horses, to be exact — however, Zara Tindall is the kind of royal relative who uses a car to get around during her day to day life. And yet, it turns out that she's apparently had a few serious issues when it comes to driving. In November 2019, Zara found herself in trouble with the law when she "was banned from driving for six months because she was caught speeding and had already racked up demerit points for other driving offenses," per Page Six.
While that's definitely the kind of situation that anyone and everyone should aim to avoid, things were perhaps even worse for Zara in December 2000 when she was involved in a car accident that could have had a horrible outcome. According to the BBC, "she escaped serious injury after overturning her Land-Rover near Bourton-on-the-Water." Although Zara, fortunately, survived that scary ordeal, it obviously didn't stop her from driving recklessly as her later incident proved.
On top of that, her husband, Mike Tindall, has also engaged in some dangerous behavior while behind the wheel. When the pair were still dating in January 2009, The Guardian reported that he found himself banned from operating a vehicle for three years for driving while over the legal alcohol limit. Hopefully, Zara and Mike have learned their lessons and are being much smarter on the road these days.
She lives with her mother, her brother, and his ex-wife
Zara Tindall lives with her husband, Mike Tindall, and their children at Gatcombe Park in Gloucestershire. If that royal residence sounds familiar, that may be because, as Hello! notes, the "Grade-II listed building … was originally bought for [Princess Anne] by the Queen as a wedding present when she married Captain Mark Phillips in 1977, and [she] now shares the residence with her second husband Timothy Laurence." Yes, Princess Anne still lives there, as does her son and Zara's brother, Peter Phillips, and his ex-wife, Autumn Phillips, per Hello!
Granted, there's definitely room for them all. According to Woman & Home, the residence offers the family "five main bedrooms, four secondary bedrooms, four reception rooms, a library, a billiard room, and a conservatory." The home also sits on 700-acres of gorgeous land.
While there's no doubt that plenty of people would consider themselves lucky to live in such an impressive abode, Gatcombe Park is not even close to being as big as other royal homes. Take, for instance, Buckingham Palace. According to Hello!, the Queen's residence "includes 52 royal and guest bedrooms, 188 staff bedrooms, 92 offices, 78 bathrooms, and 19 different staterooms," while The Sun notes that there's also "a number [of] 'secret rooms' that are off-limits," like "an indoor pool, cinema, and a doctor's office." That might even make Gatcombe Park seem like a typical suburban house … but not really.