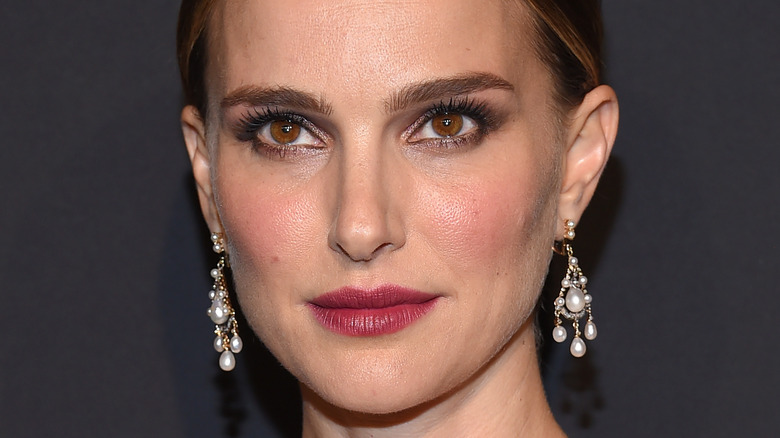 Natalie Portman is considered one of the top-ranking actors in Hollywood. Not only is she beloved by the masses for her iconic roles on the big screen, but she's also adored for her activism, beauty, and all-around kind spirit. Yet some are unaware that Portman is incredibly intelligent as well. The "Black Swan" actor attended Harvard University at the age of 18 and graduated four years later with a degree in Psychology (per Insider.) With beauty, brains, and fame, it seems as though Natalie Portman has it all. But believe it or not, the celebrity has faced a lot of turmoil throughout her long-standing career in Tinseltown. Not only was she severely bullied as a youngster for her acting career, as she admitted to Jane Magazine (via NataliePortman.com), but she was also heavily sexualized by the public when she was just a child.
As she explains in an interview with Dax Shepard on The Armchair Expert podcast, she felt the need to portray herself in a reserved light so that she wouldn't feel threatened from sexual exploitation. "I was definitely aware of the fact that I was being portrayed as this 'Lolita' figure," Portman explained to Shepard. "Being sexualized as a child, I think, took away from my own sexuality because it made me afraid.'"
There's a lot to unpack here, so without further ado, let's take a look at some of the heartbreaking details about the "Thor" star that shaped her into the strong force she is today.
Her family's history in the Holocaust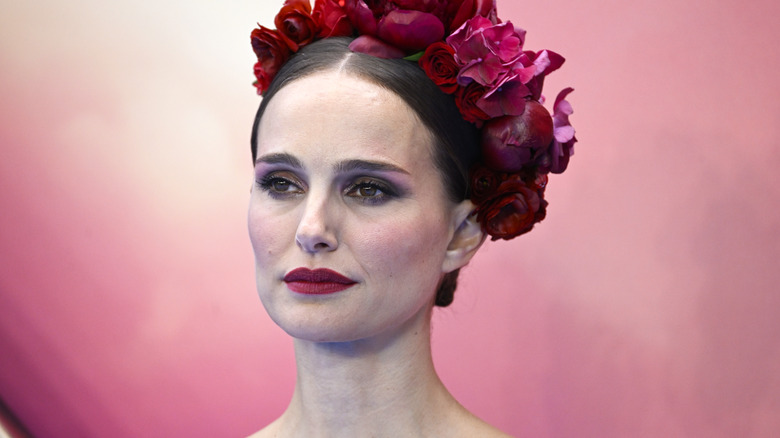 Natalie Portman is incredibly proud of her Jewish roots, yet her family has a tragic history due to their ethnicity. According to the actor, several of her family members were placed in concentration camps for their Jewish ancestry during The Holocaust. Sadly, not all of them survived. "My great-grandparents were killed in the camps, and my grandfather's younger brother was shot in Poland during the war," she revealed to Harper's Bazaar in a 2019 interview.
According to the actor, she wants to commemorate her Jewish heritage and expresses the importance of raising her children as Jewish as well (via Jewish Virtual Library.) Her husband Benjamin Millepied, who she met on the set of "Black Swan" back in 2009, had even converted to Judaism for Portman (via ABC News.) To this day, she continues to raise awareness about anti-semitism and what we can do to prevent it so that the harrowing experiences of her ancestors are not repeated.
She was sexualized as a child
Natalie Portman got her start in Hollywood at quite a young age. According to Vogue, she was discovered when she was just nine years old while at a pizza parlor. It wasn't long before she was cast in her first film role, "Leon: The Professional," only a few years later. She was only 12 years old at the time, and her innocence was stripped away from her quickly following the film's release.
"I excitedly opened my first fan mail to read a rape fantasy that a man had written me," She revealed at the 2018 Women's March per CNN. "A countdown was started on my local radio show to my 18th birthday, euphemistically the date that I would be legal to sleep with. Movie reviewers talked about my budding breasts in reviews."
The "Closer" star goes on to explain that at the start of her career, she felt objectified and exposed to the public to the point where she had to hide any traces of womanhood or sexuality. Portman wouldn't accept any film roles that involved mere kissing scenes, because she didn't want the public to regard her in a sexualized light. And in an attempt to shield herself from sexual harassment or objectification, she admits she developed a "prudish" persona. She said, "I felt the need to cover my body and to inhibit my expression and my work, in order to send my own message to the world that I'm someone worthy of safety and respect."
If you or anyone you know has been a victim of sexual assault, help is available. Visit the Rape, Abuse & Incest National Network website or contact RAINN's National Helpline at 1-800-656-HOPE (4673).
She was severely bullied as a kid
When Natalie Portman was 12 years old, she starred in the cult classic film "Leon: The Professional." Although most people would assume that becoming a movie star would make her the most popular kid in school, her stardom actually ended up having the opposite effect. According to Portman, she blocked out a lot of seventh grade because of the bullying she experienced for becoming a young starlet.
"In seventh grade, I cried every single day when I came back from shooting 'The Professional,'" she said in a 1999 interview with Jane Magazine (via NataliePortman.com.) "My friends were not my friends. They were saying, 'She thinks she's so hot now,' things like that, and it was the most painful thing I've ever gone through." She continues, saying, "I have barely any memories of that year, except that I would just cry all the time."
But despite how awful the torment she experienced at school was, it ultimately ended up doing some good for the celeb. When she was on "The Drew Barrymore Show" in 2020, the "Black Swan" star told the host that her experiences made her a better person. In fact, she says that being bullied helped her develop a better understanding of empathy because she knows how hard it is to feel like everyone is trying to drag you down.
The Closer star has to deal with public body shaming
It can be extremely uncomfortable for anyone to have unsolicited comments made about their bodies. Yet when these remarks are made for the entire public to see, it's that much more uncalled for. In 2021, Page Six made headline assumptions about Natalie Portman, assuming she was pregnant after snapping pictures of her while outside. The "V for Vendetta" star was not pregnant when the photos were snapped and was understandably upset by the assumption being made about her body. She expressed her frustration with the headline on her Instagram story.
"Hey, so I'm totally not pregnant," she wrote, according to E! News. "but apparently it's still okay in 2021 for anyone to speculate and comment on a woman's body shape whenever they want? Do better @nypost."
According to the "Vox Lux" star, she has always been insecure about public scrutiny regarding her physical appearance. When she was only 14 years old, the actor did an interview with Los Angeles Times, where she expressed her fears about being judged for something other than her professional work as an actor. She wisely stated, "The anxiety I now feel about acting has nothing to do with movies, though — it's just a part of getting older. You become aware of your body changing and of the fact that people are judging you — and you're really aware of that when you're in the public eye."
Natalie Portman struggled with depression in college
Natalie Portman has always been vocal about how much of an importance she places on education. According to the New York Post, she once reportedly said that cracking open the books is far more important to her than any form of stardom she might have. "I'd rather be smart than a movie star," she declared.
In 2003, she attended Harvard University. But despite placing such a heavy value on education, her time in college was no easy feat. Of course, no one would exactly consider attending Harvard a walk in the park, but for Portman, her struggles extended beyond the curriculum. As she revealed in her 2015 Harvard Commencement Speech, she was struggling with impostor syndrome while at school and felt as though she didn't deserve to be there. "I felt like there had been some mistake," she said. "And that every time I opened my mouth, I would have to prove that I wasn't just a dumb actress." Portman continues, saying that she felt as though she just got in because of her celebrity status as opposed to her genuine intellect.
Furthermore, the star was dealing with mental health issues throughout her college career. In Portman's speech, she reveals that she was on a particular birth control at the time, which affected her moods and caused her to be bedridden most mornings.
If you or someone you know needs help with mental health, please contact the Crisis Text Line by texting HOME to 741741, call the National Alliance on Mental Illness helpline at 1-800-950-NAMI (6264), or visit the National Institute of Mental Health website.
Her alarming experience with musician Moby
Back when she was only a teenager, Natalie Portman had an unpleasant experience with Moby, who, at the time, was 33. In his 2019 memoir titled "Then It Fell Apart," the musician recounted his fling with the young star, whom he claimed in his book was 20 years old. But Portman says she was "barely 18" at the time.
"I was surprised to hear that he characterized the very short time that I knew him as 'dating' because my recollection is a much older man being creepy with me when I just had graduated high school," she told Harper's Bazaar. She continued, saying that she was a fan of his music, and had attended his concert when she was a teen. After the show, he told her he wanted to be friends. "We only hung out a handful of times before I realized that this was an older man who was interested in me in a way that felt inappropriate."
But Moby has a totally different recollection of things. He made a response to Portman's comments in an Instagram post, where he insists they did, in fact, date. In the caption, alongside several pictures of himself with Portman, he accused the celeb of lying. "So what should I do?" he wrote, according to Buzzfeed. "What do you do when people believe lies and accusations and not actual photographs and evidence? I want to take the high road, but I honestly don't know what to do."
If you or anyone you know has been a victim of sexual assault, help is available. Visit the Rape, Abuse & Incest National Network website or contact RAINN's National Helpline at 1-800-656-HOPE (4673).
She dealt with a serious heartbreak at the age of 25
According to Natalie Portman, she had a very hard time getting over a breakup when she was in her mid-20s. "When I was 25, I had my heart broken," she told New York Magazine in 2014. "The rupture of my adolescence, the big heartbreak." She goes on to explain that she was at her mentor Mike Nichols' house, who had directed her in the movie "Closer." According to Portman, he had to send her to the doctor because she was so distraught at the time. "I was at his apartment on the floor, and he picked me up and gave me a pep talk and sent me to a doctor and straightened me out — literally peeled me off the floor."
Portman has always been adamant about keeping her personal life under the radar because she values her privacy. This is especially the case in regards to something as intimate as her romantic life. Because of this, it is uncertain who she is referring to when it comes to the initiator of her breakup. But regardless of who it was, we can all understand how grueling it is to go through your first big heartbreak. At least she is now happily married to Benjamin Millepied, her husband since 2012. According to Good Housekeeping, they have been together since 2009, and are still going strong.
She wasn't comfortable with her mentors
Because Natalie Portman has been a big-time celebrity in Hollywood since childhood, she has had a lot of help with managing her stardom through older mentors. But sadly, the actor says that all of her mentors had, at some point, been creepy to her, and tried to take advantage of their relationship. Fortunately, she had one mentor throughout the sea of alleged creeps who made her feel totally comfortable. That mentor was the late Mike Nichols, who directed her in the 2004 film "Closer." She praised Nichols in a book about the director, titled "Mike Nichols: A Life." Portman was quoted saying the director had been "the only older man who mentored me without there ever being a creepy element in it."
The "Star Wars" actor also claimed that Nichols went out of his way to make sure she was comfortable during a scene in "Closer" in which she plays a stripper. "He wants to see my bare a** [even] less than my father would," she revealed in the book.
If you or anyone you know has been a victim of sexual assault, help is available. Visit the Rape, Abuse & Incest National Network website or contact RAINN's National Helpline at 1-800-656-HOPE (4673).
She suffered physically and mentally while filming Black Swan
Natalie Portman won tremendous critical acclaim for her starring role in the 2010 film, "Black Swan." In the movie, she plays a perfectionist ballerina who struggles with severe mental health issues as well as an eating disorder. But immersing herself into such a complex role (which she ended up winning an Oscar for) took a grueling toll on her own well-being. In fact, according to Portman, she thought she was going to lose her life in the filming process. "There were some nights that I thought I literally was going to die," she revealed to Entertainment Weekly. "It was the first time I understood how you could get so wrapped up in a role that it could sort of take you down."
Due to the multiple injuries she faced during the making of the film, Portman eventually needed a medic. Vogue reports that Portman allegedly gave up her trailer while filming the movie so she could afford a medic on the film's tight budget.
If you or someone you know needs help with mental health, please contact the Crisis Text Line by texting HOME to 741741, call the National Alliance on Mental Illness helpline at 1-800-950-NAMI (6264), or visit the National Institute of Mental Health website.