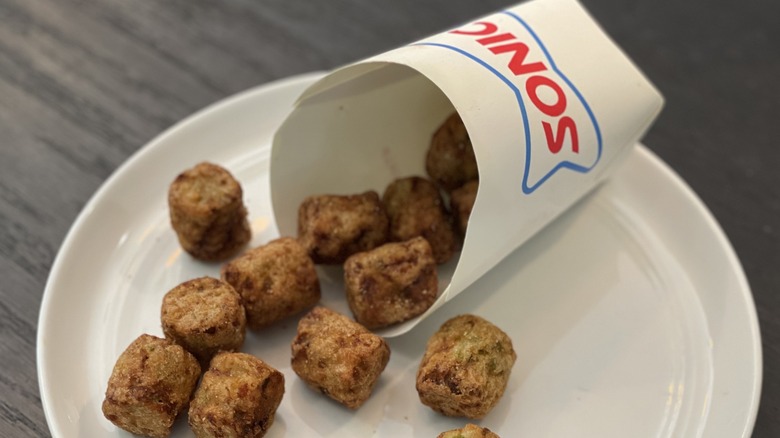 If you're looking for a perfectly healthy side to go with your Chophouse Cheeseburger, your Footlong Quarter Pound Coney, your SuperSONIC Bacon Double Cheeseburger, or your other favorite menu item from Sonic, to be honest, you probably need to look somewhere other than Sonic's Broccoli Cheddar Tots. The side just popped up on the menu (or back on the menu, as we'll discuss a bit later). Maybe consider whipping up a garden salad at home or having some, like, roasted beets? Because broccoli aside, these Sonic tots are not a health food. At all. That said, they are a bit healthier than a traditional tot, and frankly, when we're talking about fast food, we're talking primarily about taste, not nutrition.
And when it comes to taste, these tots have, in the words of the Shocking Blue song "Venus," got it. (As in: "Yeah baby, they've got it!" in case you missed the reference.) We tried them and were overall impressed, with details aplenty on why to follow. As we open this review, suffice it to say that clearly, Sonic Drive-In has learned a thing or two about sides in the nearly 70 years the chain has been around (it was founded in 1953, so it hits that 70-year mark soon). And it has learned something about drumming up customer demand and clever marketing, too, as we'll also discuss. See, these tots may seem new to you, but they're not. They are actually a re-release, that followed a careful, targeted testing period.
What's in Sonic's Broccoli Cheddar Tots?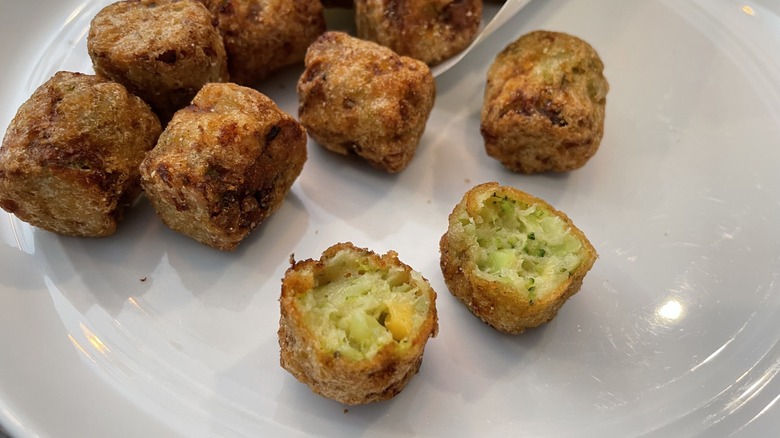 In these newly available Broccoli Cheddar Tots from Sonic Drive-In you'll find, of course, broccoli. You'll also find — you guessed it — cheddar cheese. And shredded potato. And all of that has been deep fried into totly goodness, if you'll allow us to use the word "totly" after just having made it up. The Broccoli Cheddar Tots come with a side of ranch dressing as a default, and you can also opt to add several toppings, which include bacon, chili, jalapeños, and shredded cheddar cheese — all of those will rather change the nature of these tots, pushing what comes as a consummate finger food into a sort of fork required situation, mind you.
And note also that Sonic's website offers a number of other dips and sauces that can be added to an order of these tots, those being honey mustard, ketchup, mayo, regular mustard, Signature Sauce, BBQ sauce, and salt and pepper. Our advice? Stick with ranch or mayonnaise — the other sauces would crowd out the flavor, while these creamier options complement it. And don't add salt … you really don't need to add any salt here, folks. Now maybe a bit of hot sauce, though … that we'll have to try next time!
How much do Sonic's Broccoli Cheddar Tots cost?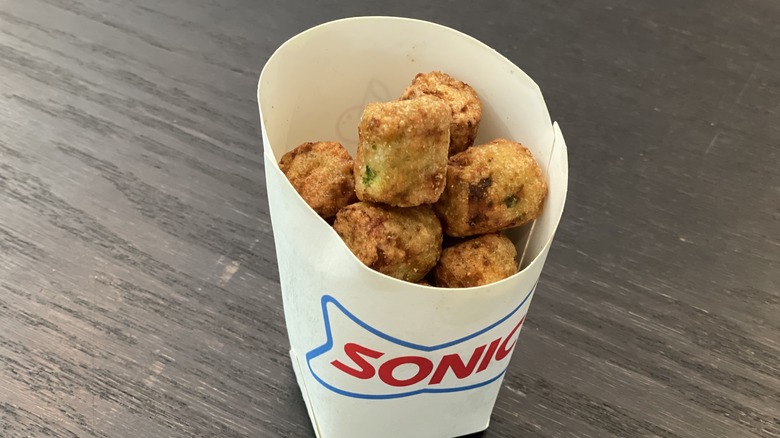 First off, we should note that you get quite a few Broccoli Cheddar Tots in that cardboard cup Sonic hands over — we counted 15 tots in our order, which is a generous enough portion to split or more than enough to fill out that meal along with your comically large hot dog or SuperSONIC Bacon Double Cheeseburger or whatnot. (We went with a more staid Crispy Chicken Sandwich to make our meal complete, in case you were wondering.) So the price we paid at our location, which was $4.39 before tax, and a total of $4.77, was well worth it. Do the math, and you'll see that's just under 32 cents per Broccoli Cheddar Tot, and that seems like a fair price to pay for a tasty bite.
(And again, in case you were wondering, when we added in the Crispy Chicken Sandwich, which costs $6.19 before tax at our location, which is on Long Island about 15 miles west of New York City, the whole meal, after tax and with our own tasty can of sparkling water brought along, the whole price was $11.49, which is a good price for a meal that left us stuffed.)
How long will the Broccoli Cheddar Tots be on the menu?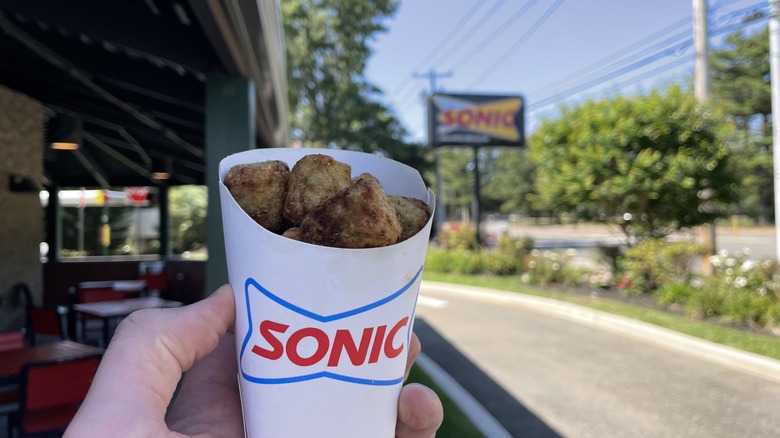 At the time of this writing, Sonic's Broccoli Cheddar Tots can only be ordered via the Sonic app, and that will be the case from 9/21/22 until 9/26/22. Starting on that latter date, Monday, September 26th, you'll be able to order Broccoli Cheddar Tots in any Sonic restaurant (or pulled up outside, ideally in an awesome 1965 Cadillac De Ville but probably in your family car, and hey, that's totally cool, too). The tots are slated to remain on the Sonic menu until just after Thanksgiving, getting pulled on November 27th. And yes, they would make a great side for your Thanksgiving Day feast, you could even pretend you made them yourself if you're the unscrupulous type when it comes to giving proper culinary credit.
Now funny enough, this timing will seem quite familiar to many Sonic watchers out there, and with good cause: it represents something of a pattern. You see, just last year, in 2021, on September 27th, Broccoli Cheddar Tots appeared on the Sonic Drive-In menu. And just like this year, last year the tots hung around for two months, disappearing again on November 28, 2021. Might Sonic be starting to train its customers into an annual Broccoli Cheddar Tot buying frenzy much like McDonald's has done with its legendary McRib sandwich? We'll have to see if these tots come back yet again in 2023. (Want to hear an educated guess? Yes, yes they will. But again, just predicting here!)
How do the Broccoli Cheddar Tots compare with other Sonic Drive-In menu items?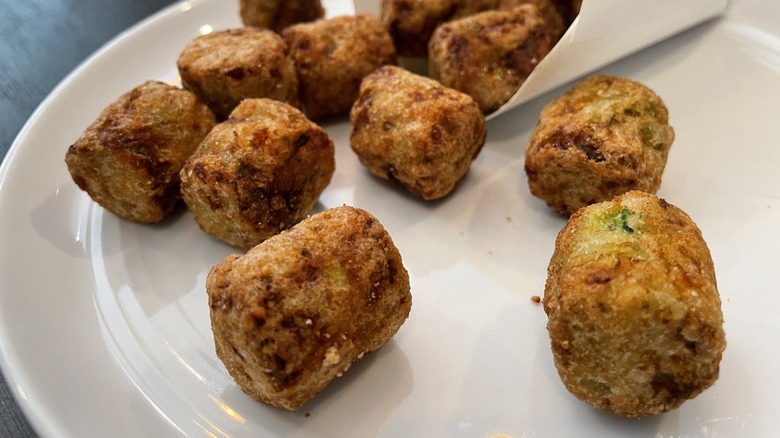 Anyone who has eaten many foods from Sonic Drive-In will say that these Broccoli Cheddar Tots fit in perfectly with the chain's other offerings, which is to say they compare favorably to Sonic's other foods. And it's really no surprise why. If you click (or tap, when you're on mobile, which you probably are, right?) on Sonic's "Snacks & Sides" portion of the menu, alongside the temporarily offered Broccoli Cheddar Tots, you'll also see regular Tots, Cheese Tots, and Chili Cheese Tots. So basically tots are a foodstuff Sonic does often. They of course also offer fries, Cheese Fries, Chili Cheese Fries, and Onion Rings, so they just do sides often and well in general.
Ultimately, though, the Sonic menu item to which the Broccoli Cheddar Tots compare the most closely are, as it happens, not tots at all. The closest comparison is the chain's Ched 'R' Poppers, which, per the company's description, are as follows: "Fried until crispy, these breaded jalapeño peppers are filled with melty cheddar cheese and served with creamy ranch dressing." A bit more spice and breading instead of potato, but overall these are the best comparison item right now. Except for one thing that's very important to note: while in flavor, ingredients, and texture there is some similarity, when it comes to calories, the Ched 'R' Poppers more than double the Broccoli Cheddar Tots, the Poppers clocking in at a hefty 710 calories per order.
What's the nutrition info for the Broccoli Cheddar Tots from Sonic?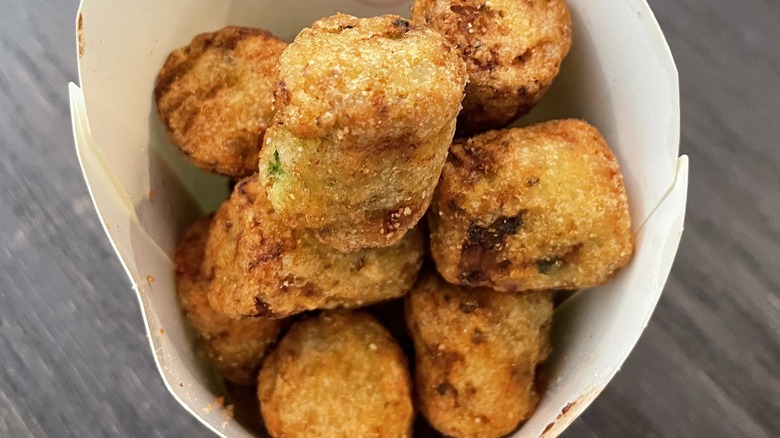 So we hate to be the ones to break it to you, but adding broccoli to a tater tot does not a health food make. Especially given that there's all that cheese in there, too. For reference, a bowl of broccoli cheddar soup has an average of around 15 grams of fat, 1,000 milligrams of sodium, and about 250 calories per cup — we got those numbers by averaging nutrition info sourced from Panera, Live Strong, and Nutrionix, by the way. So when you add the principal ingredients of that tasty but not healthy soup into a little pocket of deep fried potato, things go from not-so-healthy to best not thought about too much if you want to enjoy the meal.
But as it's part of our job to think and talk about such things, here's the breakdown on Sonic's Broccoli Cheddar Tots nutrition info, per Fast Food Nutrition: In a medium-sized order of these tots, which will have 15 tots included (in theory, that is — make sure you count and demand the full complement if you get too few and return any extras, except not actually) you'll get 21 grams of fat, including four grams of saturated fat. Of the total 330 calories, 190 calories in the Broccoli Cheddar Tots come from fat. There are 1,290 milligrams of sodium, which is a bit more than half of your daily allotment in total. There's also a bit of fiber, a bit of protein, and some vitamins C and K1 and some folate, iron, and manganese, thanks to the broccoli.
Verdict: Did we like Sonic Drive-In's Broccoli Cheddar Tots?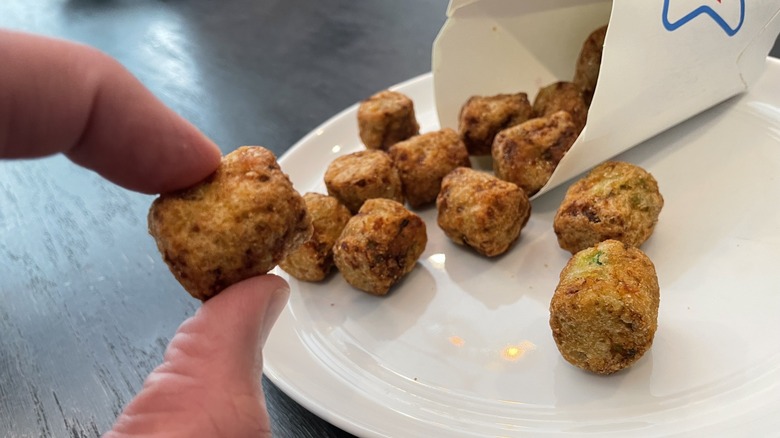 Yes! Very much so. Frankly, we enjoyed these tots much more than we expected we would, and for one reason above all others: the broccoli. Now, that might seem a silly thing to say, considering broccoli is the lead word in the name of Sonic's Broccoli Cheddar Tots, but we were worried the vegetables flavor would be far outpaced by the richer, heavier taste of cheddar cheese, and that it may also be lost among the potato and the frying of it all. As it happens, broccoli is the predominant taste here, but one that melds in with the cheese and potato rather than overpowering them. Taking a bite of a good broccoli cheddar soup, one where the cheese flavor is not too strong, and adding a regular tot to your spoon would create a good verisimilitude of the flavor here.
As noted, we were also pleased with the quantity of the tots we got in our order, especially given that price below $4.50 (yes, before tax). Truth be told, we didn't even finish all of the tots, being stuffed, as noted, with the chicken sandwich and about two-thirds of the tots provided. But we certainly didn't discard the leftover tots, which will be reheated (we're thinking in a skillet on the stove) and served beside fried eggs tomorrow morning. And if that's not a further testament to how much we liked these tots, the fact that they will work with breakfast, lunch, and dinner foods, then we're not sure what is.