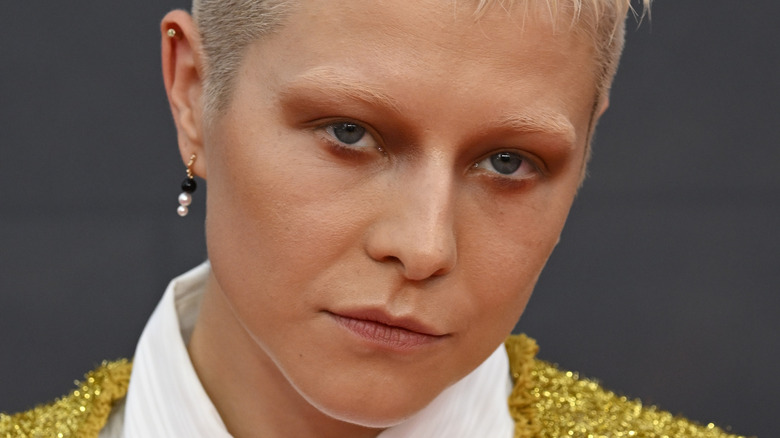 Cue the drums and dragons! In 2022, "House of the Dragon," the ultra-successful spin-off series of HBO juggernaut "Game of Thrones," garnered record-breaking numbers of viewers right away within its first few weeks of episodes.
For a fantasy universe boasting a large cast of characters, the cast themselves must come from near and far to bring the trials and tragedies of the fictional land of Westeros to life. Veterans and newbies to the universe come together in this show, and just like their made-up counterparts, these actors have secrets of their own. From leading actors to supporting roles and beyond, the behind-the-scenes tales that the cast of "House of the Dragon" can tell could fill multiple books in any maester's library.
After the colossal success of the show's premiere, "House of the Dragon" was quickly renewed for a second season. There are a few things you need to know about the "House of the Dragon" cast before continuing your journey with our Westerosi friends and foes. So hop on a fire-breather, grab your fave sword, and let's do this.
Paddy Considine's life-changing diagnosis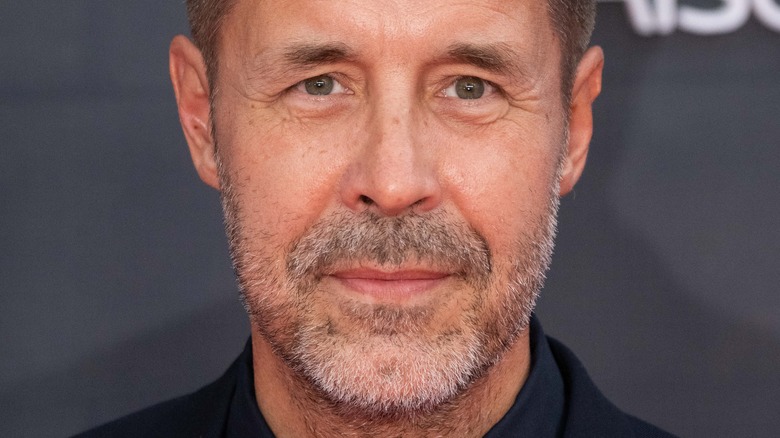 British actor and Riding the Low frontman, Paddy Considine plays the deeply troubled Targaryen patriarch King Viserys Targaryen on the HBO series. The star is a veteran performer, writer, and director previously seen starring U.K. hits like "Hot Fuzz" and "Peaky Blinders," as well as behind-the-camera in flicks like "Tyrannosaur" and "Journeyman."
After the release of "Journeyman," Considine began experiencing issues with day-to-day social norms. In 2011, he was diagnosed with Aspberger's syndrome as well as Irlen Syndrome, which is a condition that affects the brain's ability to process visual information. "When I started off acting, I was always portrayed as being angry and I wasn't angry," said Considine in an interview with The Guardian. "I was just ill, in a way. I wasn't diagnosed with this [Irlen Syndrome], I didn't know what was going on."
Considine met with a specialist – Helen Irlen herself — to find a way to treat the syndrome. That ended up including tinted eyeglasses and contact lenses to help with visual stimuli. "[The experience] was very transformative," he shared in an interview with the Independent. "By the time I walked out the room, I wasn't anxious or angry or edgy. My friend [producer Diarmid Scrimshaw] noticed the difference in me that afternoon." The actor continues to utilize these tools to help him continue his career. As he told the Independent about his symptoms becoming manageable, "It's certainly taken a massive amount of pressure off me."
Milly Alcock was a high school dropout
Australian actor Milly Alcock portrays the younger version of Princess Rhaenyra Targaryen, the eldest child of King Viserys and (at least so far) the named heir to the Iron Throne, in the HBO series. The actor's career picked up speed at a young age when Alcock dropped out of high school to star in the Australian dramedy series, "Upright." "There's a stigmatisation of people who drop out of high school" she said in an interview with The Sydney Morning Herald. "But I couldn't turn down 'Upright' for a piece of paper. That just seemed ridiculous to me and infuriating." Her depiction of a teenage runaway caught her much acclaim, including the Casting Guild of Australia Rising Star Award in 2018.
Even with such a demanding role, Alcock is only one-half of the actors portraying the dragon-riding princess. Actress Emma D'Arcy plays the older Rhaenyra later in the series, who she was initially discouraged from meeting (via Collider). As noted by Elle, Alcock was 22 when she was first seen in the role of the teenage princess (in the books, the character is 9). "I am aware that for me to continue working, I have to play young, because I don't look my age," she shared with The Sydney Morning Herald, years earlier. 'I'm just going to have to do it just to be employed. It's bitter now but I'm sure it will be sweet later." It certainly turned out that way.
Emma D'Arcy pours their gender identity into their role
British-born actor Emma D'Arcy plays the older version of Princess Rhaenyra, splitting the role with Milly Alcock. D'Arcy, who identifies as nonbinary and uses they/them pronouns, started their career during their studies at Oxford University. From there, they expanded their skillset on the London stage and in TV series like "Hanna" and "Truth Seekers."
The actor's audition for the leading lady of the HBO series was intense in numerous ways. During the COVID-19 pandemic, D'Arcy sent in multiple audition tapes that included several painstaking iterations of the infamous icy blonde locks associated with the Targaryen clan — all in an effort to really look the part. "We hot glued these hair extensions to these wig grips," they told Entertainment Weekly. "We would send photos to [showrunner] Miguel [Sapochnik], and we thought we'd cracked it. And he said, 'Can you keep trying?' We kept trying until we found something that gave me the illusion I had long hair."
D'Arcy's transformation into the Targaryen royal is in part fueled by their own perceptions of gender roles in society. "Rhaenyra has an ongoing battle with what it means to be a woman and is a fundamental outsider," the actor explained to The Hollywood Reporter. "She's terrified of getting locked into motherhood and is aware of how her position would be different if she were male. I'm a nonbinary person. I've always found myself both pulled and repelled by masculine and feminine identity and I think that plays out truthfully here."
Matt Smith was almost a soccer player
Many know the British-born actor Matt Smith as the Eleventh Doctor in the iconic BBC series, "Doctor Who," but he has also appeared in many notable series and films including "The Crown," "Last Night in Soho," and the widely-memed "Morbius." Like some of his co-stars, Smith's career began on the stage when he joined the National Youth Theater. He performed in a number of plays in London's West End, including "History Boys" at the National Theatre alongside other fellow famous Brits such as Dominic Cooper and James Corden.
Before Smith became an actor, he had his sights set on being a professional soccer player. He was captain of the Leicester City youth team until a debilitating back condition called spondylosis prompted the club to let him go. "It was very difficult for me to tell people that I had been released because … at school, I was the footballer, and suddenly I wasn't that," he shared with BBC Radio 4's "Desert Island Discs." It was this injury, and the encouragement of one of his teachers, that apparently led Smith to pursue a career in acting.
Unfortunately, injuries have plagued Smith more than once in his career. While filming a stunt in Portugal for "House of the Dragon," Smith suffered a serious neck disc injury but continued to work through it. "It's a f***ing pain in the neck — literally, physically, and metaphorically," he told The Hollywood Reporter.
Emily Carey's young heroine history
If you feel like you've seen Emily Carey before, you probably have either on screen or on stage. Carey is best known for playing the younger version of iconic female heroines, both as she began her career and now as the younger version of Alicent Hightower, best friend to Rhaenyra and eventual wife and queen to Viserys, on "House of the Dragon." Prior to her casting, Carey was most well-known as young Diana Prince in 2017's "Wonder Woman" and young Lara Croft in 2018's "Tomb Raider." On stage, Carey made her London's West End debut at age 9 in "Shrek the Musical" as young Princess Fiona — a role which made a meme-worthy comeback during "House of the Dragon."
In 2020, she landed a lead role in Netflix's "Get Even," where she played a young girl dealing with cyberbullying and body-shaming. As she wrote for Backstage, she felt honored to tackle the role. "These are issues that a lot of people experience, especially young girls," she shared. Certainly, Carey has been open about her experiences with mental illness, particularly while filming "House of the Dragon." "I took a huge dip in my mental health, during the middle of shooting," she told Glamour magazine. "I wasn't looking after myself in the way that I should have been." As for how she was able to overcome her struggles? "My best friends helped me and propped me up throughout the whole experience," she said.
Olivia Cooke didn't let rejection stop her
Olivia Cooke has made several star turns in the past few years with major roles in "Me, Earl and the Dying Girl," "Ready Player One," and the Academy Award-winning "Sound of Metal." But her career traces back to a number of spooky flicks and even a One Direction video cameo.
Cooke's career began with appearances on several series including "Doctor Who" (though not alongside her "House of the Dragon" castmate Matt Smith). From there, she starred in a number of horror thrillers including "Ouija" and the television series "Bates Motel." As she told Shock Ya! performing as an intense TV show character can be challenging but satisfying. "It's harder to keep in character like that, and not continuously delve into new roles. But you want to keep getting to know about these characters, while getting bored with them, so you have to find that balance."
Despite her many successes, her first rejection came from the prestigious Royal Academy of Dramatic Art (RADA). The world-renowned program, which boasts notable alumni including Anthony Hopkins, Phoebe Waller-Bridge, and Andrew Lincoln, turned her down for a spot in their program just before Cooke landed her first film role in "The Quiet Ones" — so not all was a loss. "I was a little bit braver back then," she told Hero. "… whereas I feel more confident in my ability now because I've learned over the years."
Rhys Ifans' penchant for trouble
Movie fans probably recognize Welsh actor Rhys Ifans from his roles in several high-profile series, including Dr. Curt Connors aka The Lizard from "The Amazing Spider-Man" and Xenophilius Lovegood in "Harry Potter and the Deathly Hallows: Part 1." The industry veteran has been known to get a bit feisty in the past and has come under fire for his actions at press events.
Per The Wrap, in 2011, the actor was arrested at San Diego Comic-Con for misdemeanor battery before making a panel experience for "The Amazing Spider-Man." In a statement, Lt. Andra Brown of the San Diego Police Department recalled the incident, sharing, "[Ifans] was abusive, belligerent, and aggressive, and shoved a female security guard aside to shove his way through. After the panel, he was cited and released." A spokesperson for the actor stated that Ifans regretted his behavior.
In 2013, he was also the subject of a contentious interview with The Times, where the Welsh star proceeded to berate interviewer, Janice Turner. She subsequently documented his antagonism in her piece. By the end, Ifans spiraled so much that he said, "I wanna end this interview now. I'm bored with you. Bored. Bored." The piece was so shocking that other outlets like The Guardian wrote their own pieces studying its merit and overall place in entertainment journalism. "Turner's piece exposes the demeaning nature of the whole mucky business," wrote Roy Greenslade. "… the episode serves to illustrate the essential worthlessness of the celebrity interview."
Steve Toussaint spoke out against racial abuse
U.K. actor Steve Toussaint is perhaps best known for his role in 2010's box-office flop, "Prince of Persia: The Sands of Time," in which his character didn't exactly fare well. He's also appeared in films like "Judge Dredd," along with a number of TV series and mini-series like "It's a Sin." Now, his role as Lord Corlys Velaryon (aka the Sea Snake) on "House of the Dragon" makes him the first person of color to play a lead on a "Game of Thrones" show.
"When I got the gig, I literally was like, 'It's just another role because I have Black friends who had small parts or recurring parts in ['Game of Thrones'],'" Toussaint shared in an interview with The Hollywood Reporter. "I didn't realize it was a bigger deal until I was racially abused on social media when it was announced."
Toussaint has faced racist remarks about his casting online since before the show's premiere. "They're happy with white hair and violet-colored eyes, but a rich Black guy? That's beyond the pale," he told Men's Health. But he isn't letting that interfere with his role. "The job is still the job, you still have to learn the lines, you still have to try and sound convincing when you say the things and you make sure you don't bump into the furniture. You try to keep hold of that."
Eve Best is a top-tier theatrical star
Eve Best is a stage and screen veteran in both her native United Kingdom and in the United States. Viewers may recognize the actor from her recurring role in "Nurse Jackie," or from her turn in the Academy Award-winning film "The King's Speech." Best is perhaps … best … known for her impressive theatrical resume, particularly for her expertise in Jacobean theatre – an era of productions taken from the reign of James I. From her first acclaimed role in John Ford's "Tis Pity She's A Whore," alongside Jude Law, she has been renowned as a force on stage.
The actor is a well-known collaborator with Shakespeare's Globe in London, where she has both starred in and directed several productions of "Macbeth" and portrayed the female leads in plays including "Much Ado About Nothing" and "Antony and Cleopatra." She has also appeared in other U.K. productions to which she received wide acclaim, including the 2005 revival of "Hedda Gabler," for which she won the Best Actress Olivier Award. Stateside, she is a two-time Tony Award nominee for her leading roles in "A Moon for the Misbegotten" and "The Homecoming."
When asked about her technique, Best is careful to not lose herself in any role. "It is never about leaving yourself behind — that is not possible," she explained in an interview with The Guardian. "It is more a stretching out — like having an elastic band on the end of your fingers and lassoing, far out, things much bigger than you."
Graham McTavish is a Scottish treasure
By all accounts, Graham McTavish is a part-time actor and a part-time fantasy traveler. No stranger to medieval fantasy, the actor has traveled to Middle Earth as dwarf Dwalin in "The Hobbit" trilogy and to "the globe" as Sigismund Dijkstra in "The Witcher." But clearly, there's no place like home. McTavish is practically a spokesperson for his native Scotland, from his beloved role(s) as Dougal and Buck MacKenzie on "Outlander" to his lucrative friendship with "Outlander" co-star Sam Heughan, resulting in a multimedia franchise focused on celebrating their homeland.
As part of that business endeavor, McTavish is a two-time New York Times best-selling author. Along with Heughan, the actor co-wrote "Clanlands: Whisky, Warfare, and a Scottish Adventure Like No Other," which was released in late 2020, and its companion piece, "The Clanlands Almanac: Seasonal Stories from Scotland," released a year later. "I've always wanted to be a writer," McTavish shared with Fandomize. "That was my ambition when I was a teenager. I kind of fell into acting by accident." The duo has also starred in "Men In Kilts: A Road Trip with Sam and Graham", a TV expansion of their writings.
In addition to his real-time and on-screen travels, McTavish is also a celebrated voice actor, known for his performances in video game franchises like "Call of Duty" and "Uncharted." He has also lent his talents to animated series including the 2017 reboot of "DuckTales," "Teenage Mutant Ninja Turtles," and "The Avengers: Earth's Mightiest Heroes."
Fabien Frankel's former Game of Thrones connection
Even from his very first on-screen role, U.K. actor Fabien Frankel has had ties to the "Game of Thrones" universe. The actor made his first appearance in 2019's "Last Christmas," starring Emilia Clarke who played Daenerys Targaryen in the original series. "I was … cut from the majority of the film," he shared in an interview with Variety. "I don't think my performance was quite up to scratch."
Still, he flexed his die-hard "Thrones" fan status by attending Clarke's birthday party. "Weirdly, a friend of mine … is old friends with Emilia, and we ended up at [her] birthday party …" he continued in his Variety interview. "And ['Thrones' executive producers] Dan [Weiss] and David [Benioff] were there and some other great 'Game of Thrones' alums."
While he partied with one Targaryen, he also got into a tussle with another of the dragon-backed clan — even if it was scripted. During rehearsals on "House of the Dragon," he revealed that co-star Matt Smith (who plays Prince Daemon Targaryen) got injured during a stunt rehearsal. "Very, very, unfortunately, his sword rebounded off my shield and hit him sort of square in the head," Frankel revealed to Variety. "He had a little, little cut, but I think he was fine. He is a brave man." Seems like Frankel is quite the jokester, too. In jest, the star insisted that he had no hand in Smith's on-set injury and that his co-star completely did it to himself.
Jefferson Hall is already a Game of Thrones veteran
U.K. actor Jefferson Hall is no stranger to Westeros. Before playing Lannister twin brothers Ser Tyland and Lord Jason Lannister on "House of the Dragon," the actor played a small role in the original "Game of Thrones" series. He appeared in the first season of the original series as Ser Hugh of the Vale, who Thrones fans may remember as the knight that Ser Gregor Clegane (aka The Mountain) absolutely demolishes in a tournament (fair warning, that scene is not for the faint of heart).
Lucky for Hall, his previous brief appearance didn't prevent him from returning to the spinoff show. "​​I'm not sure they knew I'd been in it before," he joked in an interview with Vulture. "Maybe I specialize in unremarkable performances, which might be to my benefit." On playing twins in "House of the Dragon," he joked to the outlet, "It's a nightmare. Well, I've always wanted to work with myself — I'm a big fan — so that was good. But they say never meet your heroes, so there was that."
It's not just the "GOT" universe that keeps Hall busy. The actor has been seen in a number of other major franchises throughout his career, from TV series including "Vikings," and "Taboo," to films like the 2018 reboot of "Halloween," in which he depicted a true crime podcaster investigating the crimes of Michael Myers. He has also appeared in several films helmed by director Christopher Nolan including "Tenet" and the upcoming "Oppenheimer."
You've definitely seen Sonoya Mizuno's dance moves
Audiences have seen Sonoya Mizuno in a number of major motion pictures, most notably as Araminta Lee in "Crazy Rich Asians," but the Japanese-English actor had a prior career to acting as a professional ballerina. She graduated from the Royal Ballet School and has performed with the Scottish Ballet and the National English Ballet. Her dancing skills translated to several of her first major acting roles. She and Oscar Isaac boogied down in an iconic scene in "Ex Machina," and then she appeared as one of Emma Stone's musical roommates in "La La Land."
Mizuno is also a model, having starred in campaigns for brands including Adidas by Stella McCartney and in fashion editorials for a variety of publications. "Even when I was at school, I started doing short fashion films [and] other things outside the ballet world," she shared with i-D. The talented multi-hyphenate's star is only beginning to rise. Along with her current role in "House of the Dragon," she stars as the lead in the mini-series "Devs" and made her stage debut in an Off-Broadway production of "Cat on a Hot Tin Roof" in 2022. "It's been an aim of mine for years to do a play, and it's just been really hard to get one, to be honest," she told High Snobiety. "But to be doing one in New York off-Broadway is really exciting."