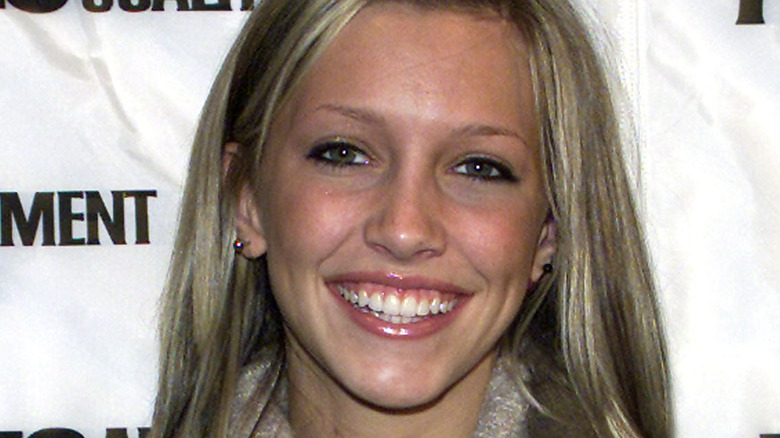 Over the past two decades, Katie Cassidy has gradually become one of the most recognizable faces on TV. After getting her start on shows like "7th Heaven" and movies like "Click," "Black Christmas," and "Taken," Cassidy began to land bigger parts (via IMDb). In "Supernatural," she played the demon Ruby. In "Melrose Place," she was junior publicist Ella Simms. In "Gossip Girl," she was Columbia student Juliet Sharp. She also landed roles in movies like "Monte Carlo" and "A Nightmare on Elm Street." In 2012, her career really took off when she was cast as Laurel (or Black Canary) in the long-running superhero show "Arrow."
Cassidy went on to star in "Arrow" for 12 years until the show ended in 2020. Since then, she has appeared in two more movies, but thanks to the pandemic, she has also slowed down and recalibrated. Even though "Arrow" may be finished, it seems Cassidy's career will only keep growing. Curious to find out how this actress became one of our favorite TV stars? Here is the stunning transformation of Katie Cassidy.
Katie Cassidy was born into an acting family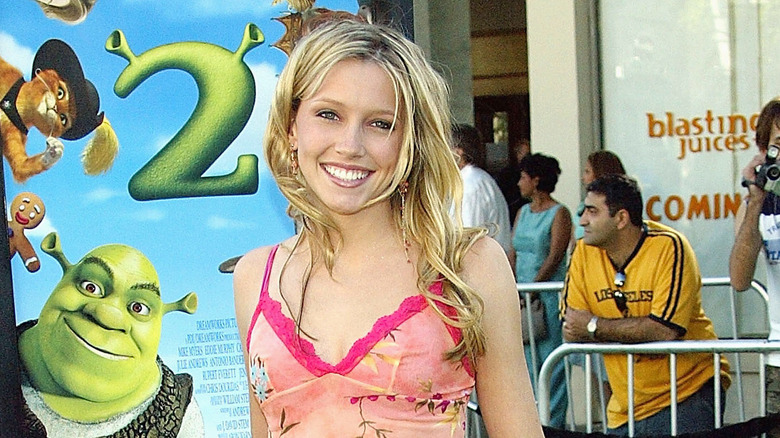 Katie Cassidy is far from the first performer in her family. In fact, she is in the third generation of actors. Her grandfather was Jack Cassidy, a stage and TV actor in the '60s and '70s. His first wife — Katie's grandmother, Evelyn Ward — was also an actress. They had a son, David, who went on to act in the '70s, too, appearing on "The Partridge Family" (via the Daily Mail). Katie didn't know her father very well growing up, but it seems acting was in her blood.
"Since I was out of the womb, I've been in this business," the actress told Horror Geek Life, adding, "I always say it was in the gene pool, I just woke up like this." However, even though Katie's family definitely had an impact on her interest in acting, she was always careful not to use her connections for her career. "I understand we have the same last name, but I didn't grow up with him," she said of her father in an interview with Interview Magazine. "I wanted to make a name for myself."
She did gymnastics as a child
Even though Katie Cassidy was obsessed with acting from an early age, it wasn't her only interest. In fact, as a child, she was also passionate about gymnastics. As the actress explained to the Daily Mail, she trained with a Russian coach from the age of 3 to 15. "It was tough, but it taught me about dedication and drive," she said. Even though Cassidy eventually gave up the sport, the training still helps her to this day. "I don't think I was ever good enough to compete seriously as it was more of a hobby, but it has definitely helped me with my stunt work because of the muscle memory I now have," she explained.
In another interview with Seventeen magazine, Cassidy revealed that while she wasn't necessarily good enough to go professional, she actually won a silver medal in one competition. "The balance beam wasn't necessarily my strongest event, but I ended up getting a silver medal in a big competition for it," she said. "I was so proud and excited. I worked really hard at it and it definitely paid off. That moment gave me a confidence boost."
Katie Cassidy got her start in community theater shows
When Katie Cassidy wasn't training in gymnastics, she was probably on stage or in rehearsal. According to the Daily Mail, her first theater performance came before she entered her teen years. She decided she wanted to perform when she was just 12. "We had just watched a production of 'Proof with Anne Heche,'" she recalled. "I turned to my mum and said, 'I have to do this.' I don't know what it was, the whole experience probably, but I knew that's what I wanted to do." Cassidy began performing whenever she could. "I was in theater when I was in elementary, middle school, and high school," she once told Interview magazine.
Even though Cassidy had her first acting experience on stage, she doesn't necessarily prefer it to screen acting. When asked about her theater days and her acting preferences, she told Horror Geek Life, "I mean, as long as I can relate to the character, there are layers there, and it's a good project, somehow it inspires me or moves me, it doesn't really matter what medium or genre it is."
She started working as a model as a child
Katie Cassidy may have been passionate about acting, but she didn't initially jump into the professional acting world. Instead, she received a few modeling opportunities, appearing in campaigns for the likes of Mervyn's and Abercrombie and Fitch when she was as young as 11.
"It was one of their catalogs," she told The Wall Street Journal. "They had 10 models do it. After that, I was like 'I am done with this. I want to have friends and go play and be done with this.'" While Cassidy didn't want to spend her time working when she was young, her first experience of work taught her about the benefits, too. "I got paid $250 and my mom was like, 'What do you want to do?'" Cassidy bought a belt and spent the rest on movie theater tickets.
Has anything changed since then? Well, according to Cassidy, not really. When asked about her best money advice, she said, "I think it would be don't spend most of your money on clothes, but I can't help myself. I'm obsessed with clothing."
The actress appeared in horror movies after leaving home
Katie Cassidy moved away from home to pursue acting professionally when she was 17. As the actress told FanSided, her decision to leave was part of a "rebellious" streak, but it did teach her a lot about being independent. "I still think back to that era," she said. "There were only one or two times that I ever actually asked my mother to buy me groceries. I had to learn things on my own."
As a young actress, Cassidy was willing to act in just about any movie. "When I first started acting, I had to work, I moved out when I was 17, so sometimes, up until 23, I was just wanting to work, get the experience, meeting people, and if there was something appealing to me in a project, I would do it and gratefully so, and pay my rent for a long time," she told Horror Geek Life. And more often than not, Cassidy found herself acting in horror movies like "When a Stranger Calls," "Black Christmas," and "Nightmare on Elm Street." "I do like the part of the horror genre with blood, guts, Tarantino-ish stuff, I think it's really cool," she added.
Katie Cassidy appeared on shows like Melrose Place and Gossip Girl
After Katie Cassidy's early days, her career began to take off. She landed roles in shows like "Melrose Place," "Gossip Girl," and "Supernatural." As she told Interview magazine about her "Melrose Place" days, "I think that was the first experience that I've had working as a lead on a television show and being on full-time, shooting 17-hour days, being this character. They are all very memorable, each in their own ways."
By the time she was cast as Juliet in "Gossip Girl," Cassidy had earned a reputation as one of the most reliable young actresses around. As casting director David Rapaport told Buzzfeed, "My process is I pre-read a bunch of actors to narrow down the field to bring to producers, but there's a small group of actors I will bring in project after project; I know them, I trust them, I know they're going to perform, and it's just a matter of finding them the right role," he said, adding that "Katie is one of those people."
As for Cassidy, working on "Gossip Girl" couldn't have gone better. "I think it was a really good experience for me," she told Interview. "They were really warm and welcoming of me into the cast."
She landed a coveted role on Arrow
Even though Katie Cassidy had a string of large roles early in her career, it wasn't until 2012 that the actress got her career-defining role. That year, she was cast as Laurel Lance, aka Black Canary, in the superhero show "Arrow," based on the Green Arrow comics. At the time, she was thrilled. "Laurel is lovely and I couldn't be happier playing her," she told the Daily Mail. "When I initially read the pilot, there were so many elements I was drawn to. I was infatuated with the depth [of Laurel's character] … She's an enormous amount of fun to play."
The character didn't just give Cassidy a big career opportunity — it also became hugely important to her on a personal level. As she told Horror Geek Life, she had just been through a tough breakup and the role came at the perfect time. "I say in a way that 'Arrow' kind of saved my life, because I was just not in a good place," she said.
The show was a hit with comic fans, who Cassidy described as "intimidating." "They're diehard fans that know all about the ['Green Arrow'] world," she told the Chicago Tribune. Apparently, she felt pretty confident thanks to the executive producer, Andrew Kreisberg, who understood the comic world and made the show the success that it was. She summed up, "I'm so happy the show has been well-received."
The actress filed for divorce from Matthew Rodgers in 2020
In 2017, Katie Cassidy tied the knot with Matthew Rodgers — a year later, they held a ceremony. However, another year after that, the pair announced their plans to divorce. According to Cassidy's divorce papers, "irreconcilable differences" were the reason for the split (via People). The divorce was eventually finalized in 2021.
As Cassidy told People, going through the divorce wasn't easy — especially as the pandemic hit at the same time. "January 2020, I moved back to L.A., filed for divorce, and then we were all in lockdown for like a year," she said. "L.A. is where I was raised, it's where I live and so I didn't have a choice. I was like, 'Okay, got to pick yourself up by your bootstraps sometimes.'"
By 2022, Cassidy revealed that she was open to dating new people, but that she wasn't actively looking. "I think if I'm supposed to meet someone, I'll meet them naturally, organically," she said. "The way the world, [the] universe wants it to be."
Katie Cassidy was sad to say goodbye to Arrow
After 12 years of playing Laurel on "Arrow," Katie Cassidy said goodbye to the show after its final season in 2020. "It was definitely sad, it still is talking about it, because I miss [the cast and crew] so much," she said to Horror Geek Life in 2022. "They all became my family, I saw them eight to 10 months of a year for years, not consecutively because I died, came back, all that."
But even though Cassidy was sad to say goodbye, she said that her journey with "Arrow" wasn't finished yet. "What's cool now is going to conventions, because I've been able to see John Barrowman, who's hilarious, I haven't seen in so long, Stephen, David Ramsay … it's like [being] reunited with your family, I really miss them," she said to Horror Geek Life. It sounds like Cassidy will always remember her days on "Arrow" fondly — and might even turn up at a few fan conventions as time goes on.
During the pandemic, Katie Cassidy suddenly had to slow down
When the COVID-19 pandemic hit, Katie Cassidy suddenly realized it was the perfect opportunity to hit the reset button on her life. After all, she had just finished a 12-year-long acting job and split from her husband, all in the same year.
"I haven't stopped working since I was 17," she told an interviewer from Reel Talker. "I started when I was 17, I literally haven't stopped, and … when you're on a show, it's just, like, go, go, go, go, go, go, go, go, all the time, even on weekends." When the lockdown began and she was forced to slow down, she said she suddenly felt like herself relaxing, while her brain told her, "You need to stop." She went on, "I had a lot of, like, growing and self-discovery [to do]." Cassidy added that the pandemic gave her the opportunity to write a pilot, something she'd always wanted to do.
She got straight back into acting with I Love Us
Even though Katie Cassidy's career hit a turning point with "Arrow," she didn't slow down for long. Soon, she was back on set with the film "I Love Us." As she told Horror Geek Life, she and the director, Danny Abeckaser, were in the same social circle and she happened to come across the script. "When I read the script, I thought it was awesome," she said. "When I talked to him, I said I'd really like to be a part of this, to help you with this, I'd really love to be a producer, and he was like, 'great, let's go!'"
In the film, Cassidy plays a widowed mother named Laura who meets a new guy who turns out to be a criminal. "There's sort of this crime/gangster/heist situation meets a romantic, funny at times love story," she said.
Katie Cassidy also signed onto a Mel Gibson movie during the pandemic
In addition to "I Love Us," Katie Cassidy has also been busy with another film: Mel Gibson's "Agent Game." "It's really cool, it's fun," she gushed to Reel Talker. "[Gibson] was great, it was awesome." Especially, she added, since it was entirely made during the pandemic.
As Cassidy explained to Elevated Magazines, the film is about military contractors working together who find out they've been duped by the CIA. "So beyond excited for this release," she said. "I shot the film in 2021. It's an action-packed suspense thriller starring Mel Gibson, Dermot Mulroney, Annie Ilonzeh, and myself."
Cassidy plays Agent Miller, who is a "tech genius with a history of violence." The opportunity to do an action movie was hugely exciting for her. "I love a good action-packed thriller film, especially if Mel Gibson and Dermot Mulroney are involved," she said. "Talk about legends! I love learning and I certainly learned a lot from the two of them."
The actress dropped an NFT in 2021
Katie Cassidy hasn't just been busy working on film projects — she's also become the first celebrity to release her own NFT [non-fungible token], called "Me.She.We." As Cassidy said to Elevated Magazine, it's "dedicated to empowering women." She first had the idea to make something to celebrate female empowerment during the pandemic after moving back to Los Angeles. "It was almost like the universe forced me to face myself and really learn how to love myself first," she said. "As cliche as it may sound, I've never been happier, and I encourage all women to prioritize themselves and learn how to love themselves first."
So, why an NFT? As Cassidy explained, she's always liked tech. "I grew up playing video games, breaking down computers and building them back up again," she said. "Once I learned about crypto and NFTs, I invested and partnered with NFT company Roji." And the rest, as they say, is history.
Katie Cassidy has big plans for the future
Katie Cassidy's days as a star of "Arrow" may be over, but in many ways, her career is just beginning. "W​​riting, producing, and directing is definitely something I will continue to focus on and feel passionate about," she said to Elevated Magazines.
In fact, she's already begun to explore these new paths. "During the pandemic, I actually got the rights to this book franchise called 'The Beauty is the Beast,' and I wrote a pilot," she told ComicBookMovie.com. However, she decided not to "shop it around" because it felt a bit too dark. So, she put it on the back burner and turned her focus to directing with a film called "Daddy Issues, which is also in the works. She also worked on a short film: "I shot and directed a short that I had written as a spoof on American politics," she said. Clearly, Cassidy has been very busy — and by the sound of things, she'll continue to focus on all of these new avenues in the future.