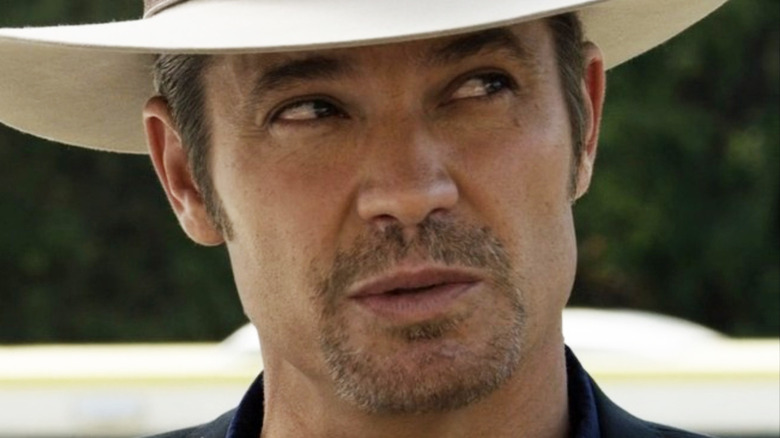 One of the modern era's most popular Western TV series is "Justified." This compelling drama ran for six seasons and featured Timothy Olyphant in one of his best TV roles. Olyphant portrays Deputy U.S. Marshal Raylan Givens, a man with a deep sense of righteousness living in crime-ridden Harlan County, Kentucky. "Justified" is known for its realistically sympathetic characters and refreshing blend of dark themes and dry wit. Although the series features plenty of on-screen violence, it also boasts many heartfelt moments, which give it some much-needed balance. No wonder "Justified" won two Primetime Emmys.
The series steadily amassed a loyal following and impressive critical praise throughout its on-air run. Today, it's still a go-to streaming choice for many viewers, some of whom go on to discover it's also an excellent re-watch. But even diehard fans might not know that the story behind "Justified" is almost as interesting as the on-screen product. To help fans appreciate the talent, dedication, and sheer luck that went into making this memorable show, we're here to explore the untold truth of "Justified."
Justified isn't Elmore Leonard's only screen adaptation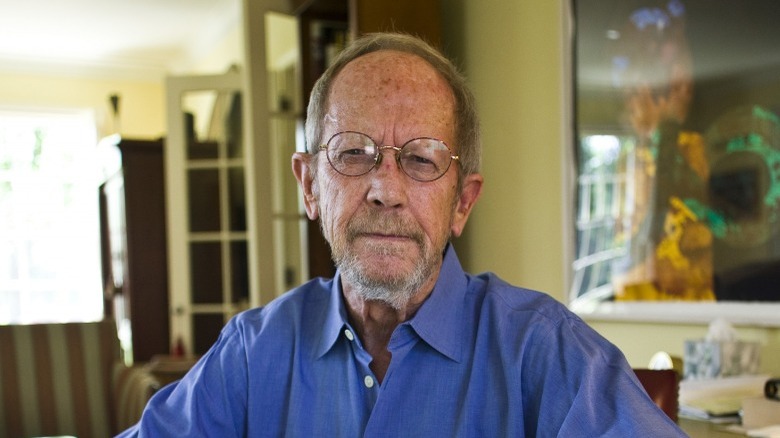 Elmore Leonard's novella "Fire In The Hole" is the inspiration for "Justified." However, the popular TV series isn't the first time Leonard's work has been adapted for the screen. Leonard's career spanned an incredible six decades and produced a wealth of novels and short stories. According to The Atlantic, the author's work has been spun into dozens of big and small screen productions. He even penned several screenplays of his own, some of which were based off his own ink-and-paper stories. Leonard succeeded as a Western writer: Early work like "3:10 To Yuma" and "The Tall T," which spawned successful 1950s film adaptations, put his name on the map. Moreover, much of what he created during this era has endured. "3:10 To Yuma," for example, was adapted once again in 2007.
But after a while spent among the cowboys and tumbleweeds, Leonard made his way into crime and suspense writing. Among the brightest examples of Leonard's crime novels are "Get Shorty" and "Rum Punch," which many people recognize from their successful movie adaptations (the latter being Quentin Tarantino's "Jackie Brown"). Though these productions are impressive, "Justified" still manages to stand out as one of the most faithful renditions of an Elmore Leonard story, and one of the absolute best. The Atlantic ascribes this success to, among other elements, the positive collaboration between Leonard and the show's creator, Graham Yost. One thing is certain: "Justified" captures Leonard's vision and flair with rare skill.
Graham Yost is a longtime Elmore Leonard fan
Screen adaptations of books often come from a director, creator, or producer's love of the original work. This is definitely the case with "Justified." In an interview with Daniel Calvisi at ActFourScreenplays.com, "Justified" creator Graham Yost and Elmore Leonard discussed the series' writing process. Both men expressed their gratitude for each other, and seemed pleased with the outcome of their partnership overall. Leonard went so far as to describe "Justified" as the first television series to successfully bring his work to life. How did Yost respond? "I will just say very simply we've gotten a lot of great reviews," the creator remarked, "but that there is the best review we've gotten on the show."
Yost's reverence for Leonard is evident throughout the interview: He is, quite simply, a fan. He makes this especially clear when he reveals the extent of his familiarity with Leonard's work. He watched several movies based on Leonard's novels for inspiration for "Justified," for one thing. Then, Yost revealed he'd been reading Leonard's fiction since the 1980s, citing the 1983 crime novel "La Brava" as his official introduction to the author's oeuvre. This extensive knowledge base undoubtedly influenced his nuanced treatment of Raylan Givens and the other characters of "Fire In The Hole," and is a major part of what makes "Justified" such a compelling series. His love for the work always shines through.
Raylan Givens predates Justified
Deputy U.S. Marshal Raylan Givens is the heart of "Justified," but the series — and the story it draws inspiration from — isn't actually the beginning of Givens' fictional existence. The lawman first appeared in Elmore Leonard's 1993 novel "Pronto," which is based in Miami (via Publishers Weekly). Givens is also featured in 1995's "Riding The Rap," the sequel to "Pronto." Then, in 1997, Raylan Givens made his first television appearance in "Pronto," a made-for-TV movie adaptation of the novel of the same name. This film strikes a refreshing balance between crime and comedy, and stars James Le Gros as Givens. Although Le Gros never got another chance to play Givens, he did get to be a part of the "Justified" universe as Wade Messer.
After "Justified" brought Raylan Givens to life once more, Leonard felt inspired to delve a little deeper into the marshal's story. The result was his 2012 novel "Raylan," which is (mostly) based on the television series' rendition of Givens' story. This is a delightfully unique state of affairs — how often does the original creator of a story love someone else's adaptation of it so much, they incorporate its innovations into their own work? As if that weren't noteworthy enough, "Raylan" also ended up being Leonard's last work of fiction, as he died in 2013.
Justified originally had a different name
Most fans would probably agree that "Justified" is a fitting name for the series. But in fact, the show's creators originally wanted to go in a different direction. In his interview with Daniel Calvisi (ActFourScreenplays.com), series creator Graham Yost revealed that he initially ran a contest among the show's staff to come up with a solid name, offering a nice chunk of change to the winner. After that fizzled, the tentative plan was to call the series "Lawman" instead. However, a Steven Seagal reality show with a similar name, "Steven Seagal: Lawman," debuted first, creating the possibility of confusion between the two series. Thus, the "Justified" team went back to the drawing board.
Yost gave an unnamed FX employee credit for coming up with the name "Justified". Apparently, they were inspired by a line from the pilot episode. Though the road was long, the destination is worth it: "Justified" sums the story up perfectly. As Yost mused, it fits the series' themes and the main characters' motivations and behaviors, especially Givens'. Givens' sense of right and wrong — and thus, what is and isn't justified — is a key part of his personality, and the show as a whole. It took Yost a while to warm up to "Justified," but in the end, he came to love it as much as the fans do.
Justified wasn't filmed in Kentucky
"Justified" takes place in rural Harlan County, Kentucky, where Raylan Givens grew up. The setting is of utmost importance to the series, deeply influencing the characters' mindsets and way of life. However, none of the episodes were actually filmed in Kentucky. According to The Pittsburgh Post-Gazette, a Pittsburgh-adjacent town served as a Kentucky stand-in for the show's pilot, while much of the rest of the series was filmed in California. Posts made by the official "Justified" Facebook page back this up with on-location photos taken at the Golden Oak Ranch in Santa Clarita, California.
Although the series wasn't filmed in Kentucky, it still manages to do an excellent job of capturing the region's overall aesthetic. Jake Blumgart at Oxford American, a magazine devoted to the American South, goes so far as to praise "Justified" for demonstrating an admirable faithfulness to its setting. Although the series does portray the region's dark side, it does so respectfully, and without relying too heavily on frustrating stereotypes. Blumgart specifically cites the series' nuanced depiction of the region's poverty as one of its strengths. "Justified" doesn't glamourize Harlan County, but it also doesn't demonize it. It simply stays true to life — an especially impressive feat, given where it was filmed.
Graham Yost, sitcom writer
"Justified" creator Graham Yost has an extensive list of television shows and films under his belt. He's generally known for compelling dramas — a descriptor that definitely fits "Justified" — but fans of Raylan Givens' story might be surprised by the range of content he's explored. For example, Yost wrote the 1994 action flick "Speed," which proved to be a major success at the box office. However, the writer-producer began his career in a very different genre: sitcoms. Among his first major Hollywood gigs was serving as a writer on the Nickelodeon series "Hey Dude," which is a far cry from the world of Raylan Givens. He also worked on several episodes of "The Powers That Be," a politically-minded sitcom produced by genre legend Norman Lear.
Though he's come a long way since then, Yost still mentions these formative years fondly. As he discussed in an interview with Emily St. James at The A.V. Club, one of his early experiences with television writing came courtesy of the hit sitcom "Full House," which he worked on for slightly over two months. He sensed that what he had to offer as a writer was not what the project needed at the time, and quit right before the head honchos could fire him. Writing for such an in-demand program was competitive, but he expressed no bitterness towards the show, or regrets about moving on to other projects.
The cast stayed true to Elmore Leonard's vision
It's clear that Graham Yost has an abiding affinity for Elmore Leonard's work. But he's not alone: That fondness also extends to the writing team and cast of "Justified." This might spring from the fact that Leonard was heavily involved in all aspects of "Justified" from the very beginning. Leonard served as an executive producer on the series, and the writers maintained a consistent focus on portraying his characters as he wanted them to appear. According to Alexandra Alter of The Wall Street Journal, wristbands printed with WWED — "What Would Elmore Do?" — were essential gear for the show's writing team. Other people involved in the show, including members of the show's cast and Yost himself, also donned the wristbands, to show their commitment to Leonard's vision. As Glenn Whipp at The Los Angeles Times noted, the bracelets were a gift from Yost himself.
This crew-wide solidarity and devotion to Leonard's vision is evident in how cohesive the moving parts of "Justified" remain throughout the series. This unity endured beyond the legendary writer's death: Yost still wore his wristband after Leonard passed away in 2013. Even without the beloved creator in his executive producer role, the crew of "Justified" continued to honor his legacy.
An actual U.S. Marshal consulted on the series
Many television series consult real-life professionals to improve the authenticity of the characters, settings, and careers they portray. "Justified" is no exception. According to Deadline, an actual U.S. Marshal made invaluable contributions to the series. His personal anecdotes — which often shocked the series' creative team — became key parts of the story, and added just the right degree of truth to the fictional proceedings.
In an interview with Mike Ayers of The Wall Street Journal, retired U.S. Marshal Charlie Almanza explained that he served the Los Angeles area for 30 years. Almanza described his unique connection to "Justified" as the product of a series of very fortunate events. His primary focus, as technical advisor for the series, was to help the writers make Raylan Givens' actions more authentic. Though he initially expected to work on set, he came to spend a lot of time in the writers room, and deeply enjoyed how open the writing team was to receiving feedback. All in all, Almanza felt that his partnership with the "Justified" team led to a genuine depiction of how U.S. Marshals conduct themselves in the line of duty.
Walton Goggins almost passed on Boyd Crowder
Boyd Crowder (Walton Goggins) is an integral part of the "Justified" universe — but he almost didn't make it past the pilot episode. Believe it or not, that's not even the most surprising thing about Boyd's origins: Although the role ultimately earned Goggins several award nominations and wins, he initially wasn't all that impressed by it.
In an interview with David Fear of Rolling Stone, Goggins revealed how audiences almost missed their chance to get to know this fan-favorite character. Hollywood often typecasts Goggins, a native of the American South, as a yokel. This can be frustrating, to the point that Goggins twice turned down the opportunity to be a part of "Justified," thinking Boyd would only be more of the same. He eventually accepted the role out of love of Olyphant and Yost's work, but what truly cemented his place in the story was the creative control he was given over Boyd's character. Instead of a hackneyed strawman, Boyd became a truly nuanced figure Goggins was proud to portray.
Dickie Bennett's DIY hair
Adaptability is necessary in the world of television, especially if a series' cast members are an unpredictable bunch. The ability to make quick changes can mean the difference between keeping a show on the rails and experiencing catastrophically costly filming delays. This brings us to Dickie Bennett (Jeremy Davies), who generated a lot of buzz among viewers when he showed up sporting a unique haircut in Season 3. As it turns out, this was the result of a surprising choice on Davies' part.
As Yost told audiences at the New York Television Festival (via Entertainment Weekly), Davies arrived on set one day with a very unexpected new coif. Apparently, he cut it himself, which is a bold choice to make when one is actively filming a popular TV show. Some creators would have reacted poorly to such a change, but Yost and the rest of the "Justified" team simply decided to run with the actor's new look. In the end, Dickie's attention-grabbing hair became a signature character feature in Season 3, and made fans excited to see what follicular surprises Dickie had in store for Season 4. A production that remains open to improvisation and on-the-fly improvements reaps many benefits, but Jeremy Davies' DIY haircut is definitely one of the modern era's most unlikely successes.
You've heard the composer's music before
The soundtrack for "Justified" was composed by Steve Porcaro, who has worked on a wide variety of TV shows and movies. However, "Justified" is arguably his most significant television project to date; his work on this series even earned him an OFTA Television Award. As Graham Yost revealed to The Hollywood Reporter, Porcaro's musical contributions were a key part of the series, and gave pivotal moments a more cohesive feel. This is impressive — but it's just a small part of the Porcaro puzzle. This multi-talented musician's credits go far beyond the world of television and film.
Long before he was working on "Justified," Porcaro was a keyboard player and a founding member of the band Toto. The band had its heyday in the '80s and '90s, but many of their most well-loved songs are still popular today. These hits include "Africa," "Hold The Line," and "Rosanna," among many other memorable creations. Porcaro's contributions are an incredibly significant part of the band's legacy: He has won three Grammys for his work with Toto, including one Album Of The Year award for their 1982 album "Toto IV."
Arlo Givens was originally a different man
Creating a believable character means creating a compelling backstory. "Justified" protagonist Raylan Givens, who has plenty of rich history for fans to appreciate, is a great example. Givens' conflicts with his father Arlo (Raymond J. Barry) are particularly fundamental to his identity as a U.S. Marshal. However, the senior Givens doesn't have as strong a presence in Elmore Leonard's original short story. In that version of events, Arlo is actually a coal miner who contracts black lung and dies much earlier in his son's life.
As Graham Yost revealed to New York Magazine, he gave Arlo Givens a richer story and a bigger profile in "Justified" to deepen the motivation behind Raylan's career choice. In the world of the television series, Arlo is a criminal with a long list of offenses that stand in stark contrast to his son's value system. Watching his father engage in a law-breaking lifestyle convinced Raylan to become a lawman. This vivid detail goes a long way towards making both men into complex characters. It also makes a huge mark on the larger story: Arlo's interactions with Raylan are at the heart of some of the best episodes of "Justified".