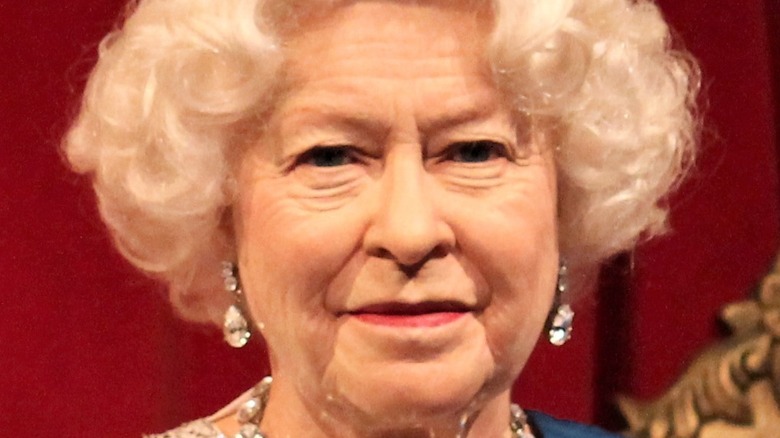 Some people want to be famous, and others would love to become part of the royal family. In many ways, royals appear to live a charmed life full of fancy events, enormous estates, and overseas travel. They are granted titles and wear tiaras, and they are (largely) adored by the public. They also get to wear gorgeous gowns and eat specially prepared cuisine on a weekly basis. But being a member of the British royal family has its setbacks — it's not all glory and glamour.
Since the royals represent the queen on many occasions, they must make sure they put on a reputable front. As a result, there are certain things they can and cannot do. They must watch how they act and what they wear. Senior royals must even ask the queen permission to do some types of activities. They are also not allowed to vote. So, if you think being part of royalty was easy, think again. Check out some of the rules they must follow below.
Public displays of affection are discouraged during work events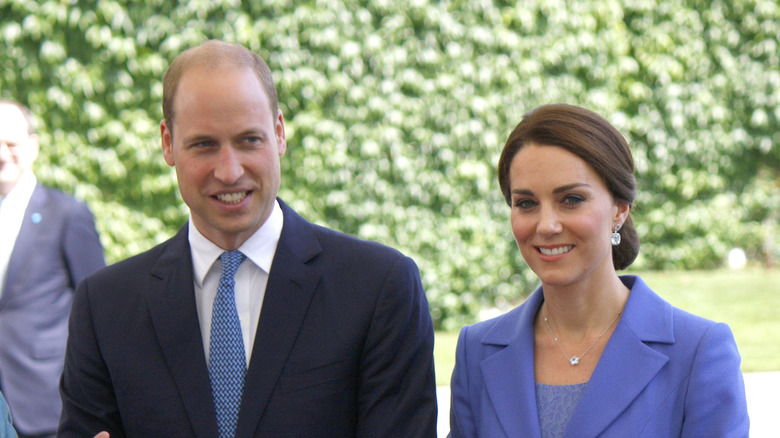 Some people are into public displays of affection — which can involve anything from holding hands to kissing — while others are not. So, how does the royal family deal with this type of behavior, and is it allowed? Myka Meier, the founder and director of Beaumont Etiquette, explained in 2018 that there are no written rules about getting a little handsy in public. However, it does require good judgment, particularly among the senior members of the family. She told People: "The royals often adjust PDA to mirror the formality of the event they are attending. At a somber or more formal event, we are less likely to see PDA than at a casual event where it would be deemed more fitting."
Meier added that there's a difference between professional events that are conducted in an official capacity as a member of the royal family versus what they do in their private time. If it doesn't involve an official royal occasion, then members such as Prince William and the Duchess of Cambridge are more likely to hold hands or be affectionate around the public. Prince Harry and Megan Markle in particular have been known to lovingly touch one another while attending events together (but not in inappropriate ways). It makes sense and really isn't different from what most people do; would you make out with your significant other at an office event?
They can't keep all the gifts they receive
Members of the British royal family are given thousands of gifts from businesses and a range of people, from national leaders to ordinary citizens who see them at public events. When members welcome a new baby or get married, they also get a lot of presents. And even though they have fairly large estates to store all these gifts, they're actually not allowed to keep them all. According to Sky News, there is a policy in place that prohibits royal members from keeping a gift if it requires an obligation from the giver. In other words, if they are expected to reciprocate, they can't keep the present.
Typically, royals don't take gifts from British commercial enterprises unless they are souvenirs from an official visit or given as presents for weddings or other special occasions. If they do receive a gift that's inappropriate to keep, it's usually sent back to the giver. They are usually allowed to accept gifts from government bodies, trade associations, guilds, civic bodies, the armed services, charities, etc. They can also accept flowers, food, and non-controversial books, but nothing that is valued at over 150 pounds (a little over $200).
British royals can accept checks for charities they represent but not for an event that they attend. Many of the official gifts they receive become part of the royal collection or end up at a registered charity.
Typically, only couples who are married can spend Christmas with the queen
Most families have holiday traditions, and the British royal family is no different. Every year, select members are invited to celebrate Christmas at Queen Elizabeth's home in Norfolk, England. The festivities are held at Sandringham estate, which is located on 20,000 acres, according to ABC News. Traditionally, Queen Elizabeth has only hosted family and in-laws who are married to her children and grandchildren. Girlfriends, boyfriends, and even fiancés and fiancées are commonly excluded. For example, when Kate Middleton was engaged to Prince William in 2010, she spent time with her family instead of his on Christmas Day.
In the past, Queen Elizabeth's granddaughter Zara Phillips attended solo without her partner Mike Tindall because they were not married at the time. That's why it was a break in tradition when Meghan Markle spent time at Sandringham with her then-fiancé Prince Harry in 2017. The couple was photographed walking to St. Mary Magdalene Church with Prince William and Princess Kate. They reportedly stayed with Prince William and the Duchess of Cambridge at their Anmer Hall home during the three-day holiday celebration.
As for Christmas gifts, the royals usually open them on Christmas Eve but eschew expensive items for funny, gag gifts instead. After attending church on December 25, they say hello to well-wishers outside and return to Sandringham for lunch. Then they watch Queen Elizabeth deliver her televised Christmas message. In the evening, the family has a buffet dinner.
The queen has the right to approve royal wedding dresses
When a woman gets married, one of the things she spends a lot of time considering is the look of her wedding dress. It's one of the central elements of the ceremony, and it can take a lot of time and research to find the perfect one. Well, what if someone had the power to veto the look on one of the most important days of your life? Queen Elizabeth has this exact power and the ability to disapprove of a particular gown if she finds it inappropriate, according to Marie Claire. Some of the more famous dresses she has approved include the Alexander McQueen gown worn by Kate Middleton and Meghan Markle's ivory Givenchy dress.
Kate, Megan, and other royal family members like Princess Eugenie most likely shared the designs of their gowns for final approval before committing to a certain design. Megan wore ivory instead of white, and according to rumors, the choice may have been influenced by the fact that it was the bride-to-be's second wedding. However, it must be noted that Queen Elizabeth wore a blush-colored dress herself on her wedding day instead of a white one, so that rumor may be just that.
Tiaras are to be worn only after 5 pm (except at weddings) and the ladies must be 18
Many little girls enjoy playing dress-up with princess gowns and tiaras, but the British royal family has actual, gem-encrusted tiaras that some members are allowed to wear for special occasions. However, they can only do so in certain circumstances. Typically, the first time a royal woman gets to wear a tiara is during her wedding day, regardless of whether she's born into the royal family or marrying into it, according to Marie Claire. Kate Middleton and Megan Markle, for example, both wore tiaras on their special days, and it was the first time they did so. Also, tiaras are typically reserved for formal evening events that start after 5 p.m. (unless it's a wedding).
The unwritten rule is that a lady must be at least 18 years old to wear a tiara. Some royal family members are given tiaras as birthday gifts, signifying that they are old enough to wear them to certain events, such as state visits, inaugurations, coronations, balls, and royal dinners. In addition, women typically don't wear tiaras when they attend events held overseas unless the queen decides it's permissible for a foreign royal wedding or diplomatic visit.
Women must wear hats to all formal royal occasions
One of the neatest things about the royal family is that they often wear hats or fascinators to certain events. While in the United States, people such as Jackie Kennedy frequently wore pillbox hats in the 1960s, it's not something most Americans do these days. Still, it's fun seeing what type of headgear the royal family chooses to don at horse events, weddings, and other functions. When Meghan Markle, an American, became engaged to Prince Harry, she too started wearing a lot of hats. According to Bustle, this is something she had not done previously.
Royal protocol dating back to the 1950s dictates that women are required to wear hats to formal royal events. The original reason was that royals and upper-class women were not supposed to show off their hair in public. According to Diana Mather, a senior tutor for The English Manner etiquette consultancy, hats are now typically worn during formal occasions. So, you will see members of the family with them or without them, depending on the event. They also align the type of hat they wear with the outfit. For example, many will match the brim width with the type of skirt.
In addition, hats are a status symbol and show that a person is a member of an elite group of people. Since it's easy to tell a good-quality hat from a cheap one, you can figure out if someone is wealthy or royal by the quality of their headgear.
Certain royals need permission from the queen to marry
While some men may ask their future fathers-in-law for permission to marry the women they love, it's not a hard and fast rule in the United States. People can pretty much marry whomever they like. Even same-sex marriage is legal in all 50 states. But if you're a member of the royal family, you need permission from Queen Elizabeth to tie the knot, according to Vogue. A blessing from her majesty is a formality and is required under the Succession to the Crown Act. It applies to the first through sixth in line to the throne, who are Charles, William, George, Charlotte, Louis, and Harry. So, when Prince William's three children decide to wed, they need the queen's permission in order to do so.
If permission is not granted, it can affect the member from being qualified as a successor. In 2018, Queen Elizabeth gave Prince Harry permission to marry Meghan Markle, so the couple was able to get engaged. However, back in 1936, King Edward VIII abdicated because he wanted to marry the American divorcee Wallis Simpson. And Princess Margaret, who was not in the line of succession, purportedly couldn't marry divorcee Peter Townsend in the 1950s because she was not allowed to do so. However, in 2005, Prince Charles was allowed to marry divorcee Camilla Parker Bowles.
Heirs to the royal throne are not supposed to fly together
If you're a royal watcher, you've probably seen Prince William and the Duchess of Cambridge traveling overseas with their children and photographs of them disembarking from the airplane together. But according to Elle, William is technically not supposed to travel on a plane with his children and his children shouldn't be traveling with one another either. The reason why is because royal protocol dictates that two royal heirs should not fly together in the same airplane. It's an unofficial rule, and it seems that William is a bit of a rule-breaker — albeit one who has been granted special permission by Queen Elizabeth.
Prince Charles is the first in line to the throne followed by Prince William, Prince George, Princess Charlotte, and Prince Louis. As a result, when William flies with his three children, four heirs to the throne are on the aircraft at the same time. When George was born in 2013, William asked Queen Elizabeth for permission to travel together with his wife and children. And it's easy to see why — it would be challenging to split everyone up while traveling. Indeed, the rule has been relaxed because flying is much safer than it was in the past, and people are much less likely to die on an airplane than they were years ago.
Royals must enter rooms in a certain order
As you know by now, when royal members attend certain events, they are required to follow protocol. They must act a certain way (no public displays of affection at official work events), wear certain clothing (hats for women at formal occasions), and make sure to be a good representation of the family. They must also enter a room based on the order of precedence — or royal rank — but only during certain occasions. Marlene Koenig, royal historian and founder of the Royal Musings blog, told Harper's Bazaar: "A true order of precedence really only takes shape at state and diplomatic events" when the rules are "much more formal."
Nevertheless, there was no order of precedence during celebrations for the 50th anniversary of Prince Charles' investiture as the Prince of Wales in 2019. Instead, Queen Elizabeth, Charles, the Duke and Duchess of Cambridge, and the Duke and Duchess of Sussex walked into a room at Buckingham Palace as a group. That's because the event was celebrating the Prince of Wales, so he entered alongside his mother.
However, at a wedding or Thanksgiving service, the queen arrives last. She will typically enter a room before the bride at a wedding. Elsewhere, during a state dinner, the queen will enter the room first, while the rest of the guests remain seated and waited for the royal family to arrive.
They can't take selfies with people or sign autographs
Members of the British royal family are known to mingle with the public, and they often shake hands with people and may pose for certain photographs on special occasions. However, they will not sign autographs, according to the Daily Express. And it doesn't matter if it's the Duchess of Cambridge or Queen Elizabeth — not a single member of the royal family will do it because there's a fear that their signatures will be forged. Prince Charles allegedly tells autograph hunters, "Sorry, they don't allow me to do that." He made an exception in 2010 by writing "Charles 2010" for a flood victim but hasn't done so since.
However, the royal family is allowed to sign official documents and visitors' books at official engagements, according to Travel + Leisure. But they never pose for selfies, so don't ask for one if you happen to get close enough to one of them. Per Smooth Radio, Jennifer Gehmair of the Yukon government's tourism department explained: ​"Turning your back to the Duke and Duchess and taking a selfie is discouraged if at all possible. I know it's fun to do, but they much would rather see your face."
They must wear black when mourning
When someone from the royal family dies, the other members are expected to wear black for a certain period. When Prince Philip died in spring 2021, the mourners — including Queen Elizabeth — had to follow a strict dress code. At that particular funeral, the men wore suits, and all the women wore black, Marie Claire reports. Typically, royals wear mourning bands to official engagements after a consort dies and up until the funeral, which may span several days. National mourning takes place over eight days, while the Royal Mourning period is 30 days, and members typically wear "somber attire" during this time.
Queen Elizabeth is known for wearing bright, colorful outfits, so it's obvious when she's in mourning because she dons black outfits instead. Queen Victoria wore black after her husband Prince Albert died in 1861, but she took it to a whole other level by wearing the shade for 40 years until she passed away. Some think she inspired others to start wearing black at funerals — a tradition that is ongoing today.
They don't vote or make public statements about political matters
Technically, the royal family is allowed to vote in elections, but they do not do so because they want to be politically neutral, according to Metro. Indeed, Article 39 of the European Union's Charter of Fundamental Rights can't stop her majesty from voting. However, according to Parliament, it's unconstitutional for the queen and her family to vote. The official royal website reports that the head of state must "remain strictly neutral with respect to political matters and is unable to stand for election or vote." In addition, the royal family avoids talking about politics in public.
According to Historian Sarah Gristwood, it's "been a policy of this queen, since her early days as head of state, to stay completely above the fray." Following a general election, the queen works with the new prime minister when dealing with state matters. So, it's probably a good idea that Queen Elizabeth doesn't voice any political opinions because what if the person she opposes is elected? That could be awkward. Since she and the prime minister discuss important issues, it seems like a good idea to stay neutral in public.
Still, when Prince Harry and Meghan Markle moved to the United States, they discussed the importance of voting during a TV special, per Time. But they are no longer senior members of the royal family after stepping away from their duties in 2020.