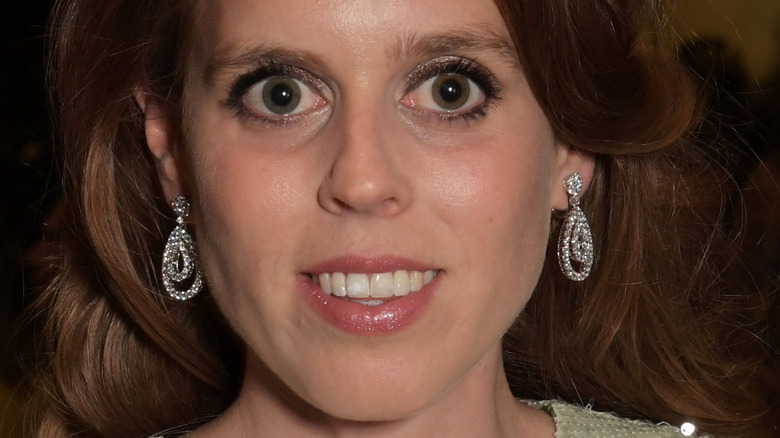 Being a royal can be challenging with all the unspoken rules and protocols that must be followed. Many of those etiquette rules govern how members of the family dress when they attend special engagements — from wearing hats and fascinators to light makeup to pantyhose. However, from time to time, a few of the royal women will be rebels and bend the rules.
While chatting with Express, image coach and personal stylist Melissa Lund spoke about the two ladies who were no strangers to challenging the queen's style rules — one of which being Princess Beatrice. Lund said that it comes as no surprise since Beatrice is young and a non-working royal, "so some of these dress code rules might seem a little outdated and irrelevant" to her.
There is no doubt that Beatrice has a more eccentric sense of style than most of her relatives. In the past, her fashion choices were quite the talking point whenever she stepped out of the house and drew attention for all the wrong reasons. While Tatler says the queen's granddaughter has since been winning when it comes to the fashion game, there have also been times when some of Princess Beatrice's outfits didn't necessarily fit the frame of royal standards. Here are some of her most memorable ones that were deemed inappropriate for one reason or another.
Princess Beatrice stood out at her sister's wedding
On October 12, 2018, Princess Eugenie and her fiancé Jack Brooksbank married. Princess Beatrice was part of the wedding party and served as her sister's maid of honor (via BBC News). Beatrice looked stunning in an electric blue dress with a matching headband (via Mirror), however, traditionally at a royal wedding, all the bridesmaid dresses are supposed to match the color of the bride's dress, per Independent. Princess Beatrice was the only one among the bridesmaids wearing a different color dress. We're sure the bride, who has the same outgoing fashion sense as her sister, didn't mind at all about the breaching of the royal dress code.
Guests attending the wedding or watching television may have been taken back a bit to see Beatrice in the unique ensemble at Princess Eugenie's wedding. According to OK! Magazine, her reasoning for setting herself apart from the rest of the wedding party probably was because she had the title of being the chief bridesmaid (via RSVP Live). Princess Beatrice broke protocol again at the wedding when she walked inside the church with her mother, Sarah Ferguson, ahead of Princess Eugenie. A royal expert spoke about the incident and told the British show "This Morning" that Beatrice most likely stayed by her mother's side so she'd have an ally, as Ferguson is considered a royal outsider (via RSVP Live).
Her accessory broke royal protocol
In March 2022, Princess Beatrice along with dignitaries and representatives from the Duke of Edinburgh's patronages and charities all gathered at Westminster Abbey to honor the life of the late Prince Philip (via Express). At the service of thanksgiving, everyone in attendance was dressed in somber attire. Princess Beatrice donned a black coat dress for the occasion. In addition to the dress, she wore an oversized headband featuring a facial veil, which is where Beatrice departed from royal dress rules.
Wearing a facial veil is considered a sign of respect for the deceased and the loved ones of the wearer. However, as far as royal tradition is concerned, black veils are only worn at funerals to honor a sovereign who has died. Philip was not a monarch, however, and this event was a special memorial service for the duke, not a funeral. So while it was a sweet way to pay respects to her grandfather, the Princess of York's choice of donning a black veil did not fall in line with royal protocol (via Express).
Princess Beatrice's legs were bare at her grandfather's funeral
As the royal family gathered on April 17, 2021, for the funeral of Prince Phillip, Princess Beatrice was spotted arriving at Windsor Castle. As reported by Express, she dressed in all black for the somber occasion to pay respects to her grandfather, the Duke of Edinburgh.
Princess Beatrice wore a long black collared coat along with a black velvet fascinator. While the royal did follow the traditional protocol for funerals by wearing all black, she was also breaking it at the same time because she wasn't wearing any pantyhose.
According to royal expert Victoria Arbiter, wearing no stockings is a huge-no-no in the royal etiquette book. "You never see a royal without their nude stockings," she told Insider. "I would say that's really the only hard, steadfast rule in terms of what the Queen requires." Undoubtedly, this was an especially bold choice for Prince Philip's funeral service.
Her Alexander McQueen ensemble was unusual for a royal
Back in 2015, Princess Beatrice attended the Alexander McQueen Beauty Fashion Gala, showing up to the event with a bold red lip while donning a black tuxedo dress by the late designer, according to the Daily Mail.
While Princess Beatrice wasn't at a royal engagement, her lipstick choice may have still been frowned upon by the Queen because one of the most essential rules to adhere to is sticking to a neutral or neutral shade. Queen Elizabeth herself doesn't always follow such a rigid routine — she is the queen after all — but everyone else is to adhere to this rule (via Marie Claire).
The Alexander Mcqueen black tuxedo gown that Princess Beatrice wore that night was sleeveless and featured a thigh-high slit. She completed her glamorous look that was reminiscent of a '50s Hollywood star with a pair of black cutout stilettos (via Daily Mail). While the high slit technically doesn't violate any rules, it is sometimes frowned upon because royals aren't known for showing so much skin. Alexandra Messervy, a royal expert told InStyle magazine, "They don't usually wear sleeveless dresses, and they usually wear clothes which are not too short in the hemline because of bending down and sitting in public" (via Stylecaster).
One of Princess Beatrice's headpieces caused quite a stir
Prince William and Kate Middleton's 2011 wedding was the talk of the town. While the Duchess of Cambridge's sparkly tiara and beautiful dress may have lit up the internet, the award for the most significant viral hit from the royal wedding hands down goes to Princess Beatrice's fascinator. As reported by Harper's Bazaar, Beatrice donned a nude Valentino Haute Couture dress and a one-of-a-kind headpiece designed by milliner Philip Treacy. Princess Beatrice was strongly criticized for wearing the unusual piece.
Her headwear was dubbed "outlandish" and "pretzel hat" by the Daily Mail. According to the outlet, Treacy was not expecting the harsh criticism. He told BBC Radio 4, "I thought I was making a little hat with a bow on it. I didn't realize that I was on American Idol or X Factor and that it was judgment day" (via Daily Mail).
The internet was so fascinated by the fascinator that someone even created a Facebook group named Princess Beatrice's Ridiculous Hat, according to The Hollywood Reporter. It gained over 130,000 followers who wrote numerous comments comparing her headpiece to a spaceship and a toilet seat. Treacy, despite all the backlash, told Hollywoodlife.com, "My inspiration was beauty and elegance" (via The Hollywood Reporter). He asserted that "Beatrice looked lovely."
She eschewed the royal family's 'social fabric' at her cousin's wedding
While Princess Beatrice was criticized for dressing too out-there at Prince William and Kate Middleton's wedding back in 2011, she was also criticized for going too far in the other direction at her other cousin's wedding.
For Prince Harry and Meghan Markle's nuptials in May 2018, Princess Beatrice may have been trying to correct her previous wedding faux pas by skipping the fascinator altogether. Instead, the Princess wore a simple headband that matched her lovely Roksanda Viola turquoise dress with sheer sleeves and hundreds of beautiful beads (via Good Housekeeping). While some fans may have been relieved to see the princess don a simple look, hats or fascinators are a must at royal weddings, meaning once again Beatrice stood out for the wrong reasons.
"Up until the 1950s ladies were very seldom seen without a hat as it was not considered 'the thing' for ladies to show their hair in public," etiquette expert Diana Mather told the BBC. "But all that has changed and hats are now reserved for more formal occasions." Additionally, Hilary Alexander, fashion director at The Daily Telegraph, told ABC News, "There has to be a hat [at royal weddings], it's part of the social fabric."
Princess Beatrice showed off her cleavage and shoulders
In August 2011, Princess Beatrice attended British heiress Petra Ecclestone's wedding to James Stunt in Rome, Italy. For the ceremony, Beatrice decided to deviate far from royal norms when she opted to wear a strapless dress that showed a decent amount of cleavage (via Daily Mail).
During an interview with Express, Jewelry Box marketing manager Daena Borrowman stated that royals are expected to dress modestly when making public appearances, and noted that "royal women are discouraged from showing off their cleavage." Once upon a time, royals didn't even show their shoulders or knees, and definitely not their cleavage. Princess Diana went to great lengths to avoid having her cleavage shown. Handbag designer Anya Hindmarch told The Telegraph, "We used to laugh when we designed what she called her 'cleavage bags,' little satin clutches which she would cover her cleavage with when she stepped out of cars" (via Good Housekeeping).
Even though cleavage is typically a no-go for the women in the royal family, some royals have bucked the tradition, including Meghan Markle and, from time to time, Kate Middleton.
Princess Beatrice rocked a scandalous number
While attending the V&A Museum summer party in London, England, in June 2017, Princess Beatrice went against the usual demure style of the royal family. Beatrice showed up to the event wearing a navy and nude dress accented with lace. The "naked" dress was certainly on trend at the time, but Beatrice's ensemble likely ruffled a few royal feathers.
To make matters worse, when Princess Beatrice arrived, she accidentally showed off her underwear as the dress lining rode up one of her thighs (via Marie Claire). This just goes to show even royals are not immune to wardrobe malfunctions. Luckily, it was brought to her attention before the entire party got a little look-see.
Still, the outfit was unfortunately not a hit. As Wonderwall claimed, her see-through dress was a "monstrosity" that "missed the high-style mark by a mile." Princess Beatrice also wasn't wearing any stockings, which the queen frowns upon since she prefers hosiery over bare legs (via Insider).
Princess Beatrice ditched royal tradition on her wedding day
In June 2020, Princess Beatrice surprised the world as news broke that she and fiancé Edoardo Mapelli Mozzi wed in an intimate secret ceremony at The Royal Chapel of All Saints, according to BBC News. For many reasons, the couple's socially distanced ceremony was definitely unlike any royal wedding. While the wedding incorporated some meaningful customs, the couple bucked tradition in numerous ways.
Customarily, royal wedding bands are made from Welsh gold, per the royal family's official website. However, Beatrice's wedding band and engagement ring are made of platinum and diamonds, which were crafted as a set by British jeweler Shaun Leane (via People). Mozzi had a hand in creating her band and chose to go with platinum over the traditional gold. Leane shared with the outlet that he and Mozzi designed the wedding ring in platinum so that it would complement her engagement ring. "The rings have been made for each other, and there's a romance in that," he said.
While Princess Beatrice's wedding dress was not immodest in any form or fashion, she did break the tradition of wearing a custom wedding gown by an esteemed designer as she walked down the aisle. Princess Beatrice instead opted to borrow one of Queen Elizabeth's vintage dresses and made a few alterations to make her bridal look complete, which her grandmother approved.
She sometimes wears mini skirts
While attending the 2016 Tommy Hilfiger women's spring fashion show in New York City, Princess Beatrice looked chic in a white and black collared blouse with a textured black mini skirt (via Daily Mail). From boutique openings to just a regular day out and about in London, Princess Beatrice sometimes shows off her figure in mini skirts. However, according to reports, the queen is not a fan of short skirts and discourages them from being worn.
The queen holds herself and the royal women to a very high standard so one could understand why she would want skirts to be worn at a modest length. Royal expert and editor-in-chief of Majesty magazine Ingrid Seward told The Sun, "It's hard to look elegant wearing a short skirt."
Harper's Bazaar asserts that skirts and dresses worn by royals should not be "more than three or four inches above her knee" (via Cosmopolitan). However, over time some royal women, including Beatrice's sister Princess Eugenie, have been embracing more modern hemlines.
Princess Beatrice wore all black to a gala
In 2018, Princess Beatrice served up some New York style while wearing an all-black outfit to a gala held at the New York Public Library (via Town & Country). However, this color palette amongst royals is typically reserved for somber or commemorative occasions like Remembrance Day or funerals (via The Sun). While her look was edgy and on trend, Princess Beatrice was breaking royal guidelines as black is not a color that royals should wear on any normal day.
Although it is not a hard rule that royals avoid black, it is common practice. "Generally it is thought that black is not usually worn unless in mourning, although Diana Princess of Wales did occasionally wear it for evening functions, and The Duchess of Cambridge has been known to do so," Alexandra Messervy, etiquette expert and chief executive of The English Manner, told InStyle (via Marie Claire).