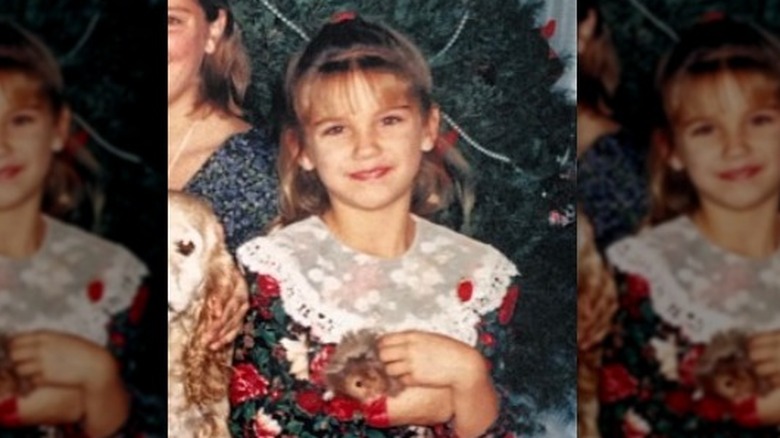 Alex Morgan is the face of United States women's soccer. She was named the U.S. Soccer Female Player of the Year and U.S. national team co-captain in 2018, and the American soccer star has a huge social media following with 9.3 million Instagram followers, as of this writing. It also doesn't hurt that she has made a name for herself outside of the sport with countless endorsements and appearances in Sports Illustrated's swimsuit issue multiple times. Just don't let her outside ventures — or her good looks — fool you. "I think maybe in the beginning, people saw her just as a pretty face who scored goals," her teammate Megan Rapinoe told The Washington Post. "But she's so much more than that."
Indeed she is. Morgan has a chance to go down as one of the greatest U.S. women's soccer players of all time. But just how did she get to this point? Here is the stunning transformation of Alex Morgan.
Alex Morgan was coached by her dad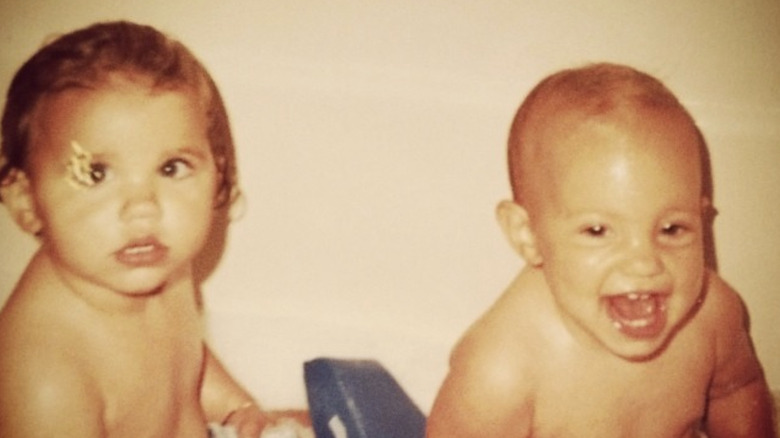 Alex Morgan realized when she was 7 years old that she had fallen in love with the game of soccer. And because the sport was important to her, it became important to her dad as well. But he had to start from scratch when it came to learning about soccer. She told The Players Tribune that her dad "didn't know the first thing about soccer" and that he took referee classes and later coaching classes. When she was 9 years old, her father became her coach. She told Soccer America that it was pretty normal for players' parents to serve as coaches during her American Youth Soccer Organization (AYSO) days in Southern California.
When Morgan was in high school, her dad worked out with her three times a week and would play goalkeeper during shooting drills. She told Soccer America that her mom was the "super positive" parent and her dad "was the thinker who wanted me to see how I could make myself better and help the team." But he knew when to back off. "When my dad wanted to talk about soccer-specific stuff and I didn't want to hear it," Morgan said, "I would tell him and he'd listen."
Alex Morgan faced a major sports injury
Things were looking good for Alex Morgan when she headed into her senior year of high school. She was called up to the Under-20 national team, according to ESPN. But everything came to a screeching halt when Morgan — then 17-years old — tore her ACL during a U-20 scrimmage with the men's junior national team. "It was a turning point in my life," Morgan told USA Today. "I struggled emotionally the most. I depended on soccer so much." She continued, "It was tough doing the same exercises, not being able to run, forgetting how to run when I was first on the treadmill."
Morgan missed some of her senior season while rehabbing, but her mom chose to look on the bright side. Pam Morgan told USA Today, "It gave her six months to understand what was taken from her and what she had to do to get it back." The soccer star would continue with rehab when she started college at the University of California at Berkeley and focus on her return to soccer.
Alex Morgan's star-making turn
Alex Morgan's profile was on the rise towards the end of her career at the University of California, Berkeley. She made her debut for the U.S. women's national team in 2010 and was selected first by the Western New York Flash in the 2011 Women's Professional Soccer draft. But it wasn't until the 2011 World Cup that she would truly shine and become a star. As noted by Sports Illustrated, Morgan scored for the U.S. in the semifinals and again in a losing effort in the final, which is all the more impressive when you consider she was the youngest member on the squad at 22 years old.
She told CNN that playing for the U.S. team was initially "intimidating to say the least." She noted, "I joined a team with women who I had looked up to for years," and she wondered, "How was I supposed to fit in with them?" Obviously, Morgan would end up fitting in just fine.
Alex Morgan became one of the world's most marketable athletes
Nothing was ever the same after Alex Morgan's introduction at the 2011 World Cup. She has since landed endorsement deals with Nike, McDonald's, Tampax, Chapstick, Panasonic, Nationwide, Coca-Cola, and Beats by Dre, among others. Her children's book series, The Kicks, made the New York Times' best seller list and was turned into a TV series for Amazon Prime. And, in what was a first for a woman's soccer player, she landed on the cover of the FIFA video game franchise's 2016 U.S. edition, along with soccer icon Lionel Messi.
It's no wonder Morgan — who makes seven figures in endorsements, according to her agent's comments in espnW — is a regular on SportsPro's annual 50 Most Marketable lists. But she claims she's selective about which companies she associates with, telling espnW, "I like to be authentic about who I am and what I promote." It's unclear just how much McDonald's an athlete like Morgan eats, but, hey, make that money!
Alex Morgan struggled with her self-confidence
Alex Morgan has long been an advocate for body positivity. She told CNN, "It's important to accept your body for what God gave you," and she echoed these sentiments in an interview with The Post Game, stating, "So whether your body is athletic, or skinny, or big-boned, it doesn't matter. You should love it no matter what." That includes loving her big calves. People make fun of them, Morgan told Shape, adding, "But it's the one body part I am proud of because it's something I was naturally gifted with."
There have been, however, moments when Morgan has felt insecure about her body. Yes, even an athlete with movie star good looks and solid abs like Morgan struggles with that sort of thing. After she posed in one of Sports Illustrated's swimsuit issues, trolls attacked her for having a small chest. "People were saying she looked like a 13-year-old boy," her sister Jeri told espnW, adding that that the comments had Morgan contemplating a boob job. Clearly everyone struggles with maintaining confidence in their appearance.
Alex Morgan found love through soccer
Alex Morgan can thank soccer for helping her find her husband. She began dating Servando Carrasco while they were playing for the women's and men's soccer teams, respectively, at University of California, Berkeley. The college sweethearts later tied the knot on New Year's Eve in 2014 (via People). Like Morgan, Carrasco plays the sport professionally, and he is a member of the Los Angeles Galaxy. He told the Seattle Times that he and Morgan give each other feedback after games and that they hold nothing back: "We definitely criticize each other. I'm not going to lie."
Because Carrasco plays in Los Angeles and Morgan plays on the opposite side of the country in Orlando, Fla., they don't get to see each other during their respective seasons as much as they'd like. Morgan wrote on Instagram that it was a challenge "living across the country from the most important person in [her] life," noting, "Sometimes the sacrifices we make for football knows no boundaries."
The story behind Alex Morgan's pink headband
There is a special reason Alex Morgan wears her trademark pink headband during matches. It's, in part, a tribute to her mother-in-law, Gloria Carrasco, who is a breast cancer survivor, according to espnW. As pink is the official color of breast cancer awareness, Morgan has been wearing the pink headband since college, around the time when Carrasco first revealed her diagnosis to her son.
But that's not the only reason for Morgan's pink headband, which, we should note, is actually kinesiology tape that trainers use to protect an athlete's skin from bandages. Morgan likes that it helps her stand out on the field. "I think my parents just could pick me out from a crowd," Morgan told Mueller Sports Wrap, adding that she also likes how the pink headband looks. "You know, pink is one of my favorite colors." And she rocks the color!
Alex Morgan embraced her good looks
Alex Morgan isn't ashamed to capitalize on her looks. And why should she be? She's beautiful, not to mention a lookalike for Girls actress Allison Williams, as has been pointed out. Morgan's pretty face has been great for her marketability, and, in her opinion, it's also good for the sport. "I've obviously done certain things, like Sports Illustrated swimsuit, that has guys interested in me not for what I put on the field," Morgan told espnW. "But at the end of the day, they're going to turn on the TV next time we have a game."
Unlike many of her teammates, Morgan, who walked the runway at New York Fashion Week in 2012, opts to wear makeup during matches. But applying makeup wasn't always a concern of hers. "I was the biggest tomboy growing up," Morgan told Shape. "Now I love playing with a full face of makeup." She added, "When I prepare for a match, it's like work, even the way I have to shower and put on my makeup."
This World Cup win was bittersweet for Alex Morgan
The U.S. women's national team bounced back from its disappointing runner-up finish in the 2011 World Cup by winning the 2015 World Cup. Five days later, the squad was honored with a ticker tape parade through the streets of New York. But the experience was bittersweet for Alex Morgan, who had been battling a knee injury throughout the tournament and would undergo surgery a week after the parade.
Morgan told espnW, "I was held back a little bit, and I didn't reach my personal expectations or goals, even though it was probably one of the best years of my career." She went on, "If I had been healthier throughout the year, consistently, I could have made a bigger impact for my club team and for my country."
Of course, the fact that her team reached the pinnacle of the sport wasn't lost on her. "But at the same time, I don't want to complain because it was a great year," Morgan said, "and a lot of things went my way and went the team's way."
Alex Morgan learned from her mistakes
Quite possibly the only blemish on Alex Morgan's squeaky clean resume took place in 2017 at Epcot of all places. Morgan and her friends were kicked out of the Disney World theme park and accused of trespassing, according to the Orlando Sentinel, which cited an Orange County Sheriff's Office incident report. The report stated that they were "impaired" and that they "were all being very loud and belligerent toward staff around guests."
Morgan posted a group photo on Instagram earlier that day with the caption, "Annual around the world in 8 hours. No big." This is a reference to the popular tradition of bar-hopping at Epcot's World Showcase. That explains the group's alleged behavior and perhaps the most memorable part of the Orange County Sheriff's report: Apparently Morgan loudly claimed that she knows the Orlando SWAT team. The things people say and do when they've been drinking…
No charges were filed, but Morgan took responsibility for the incident afterward. She tweeted, "I want to apologize for my actions that occurred over the weekend. I will learn from this [and] make sure it does not happen again. #liveandlearn."
Don't let Alex Morgan's pretty face fool you
Alex Morgan is one the world's best soccer players. The former FIFA World Player of the Year finalist won the U.S. Female Soccer Player of the Year award in 2018 and was ranked the no. 7 female player in the world by The Guardian. But those accolades are presumably just not good enough for the "super competitive" Morgan. Why? Well, her goal is to become the best women's player in the world. "I still have a way to go," Morgan told The Guardian in 2017. "I hope to get there this year or next year."
In an effort to improve her game, Morgan joined French club Lyon, which is largely considered to be the world's best women's soccer team, on a six-month loan in 2017. She figured that she needed to train with the best to become the best. In 15 games with Lyon, Morgan scored an impressive 12 goals. Très bien!
Lights! Cameras! Alex Morgan!
With her movie star good looks and huge following, Alex Morgan was bound to find herself in Hollywood at some point. In 2018, she played herself in the film Alex & Me, a movie that revolves around a 13-year-old girl who aspires to become the next Morgan on the soccer field. You'd think a super fit athlete like Morgan would have little problem finding the energy for a film shoot, but she admitted that the process was "exhausting." She told Pro Soccer USA, "I'm not used to working 10 to 12 hours a day. I'm used to my three or four hours of intense work and then getting the rest of the afternoon off."
But this probably won't be the last we see of Morgan in film and television. "I want to explore as many opportunities as I can," Morgan told Pro Soccer USA. She explained, "My soccer career's not going to last forever," adding, "For me, it's exploring what I want to do after soccer and what I'm happy with and also networking through different lines of work." You can't blame her for planning ahead.
Alex Morgan joined the fight for equal pay
Alex Morgan has no problem challenging authority. She has been vocal about the pay disparity between the U.S. men's and women's national teams and was one of many women's players to file a gender discrimination lawsuit against U.S. Soccer in 2019, appropriately enough, on International Women's Day. Morgan told Pro Soccer USA, "This isn't just about us; It's about women in all industries. Women fight for equality every single day. Our hope is that we not only set up ourselves, we set up the next generation as well."
And it's not just about pay either. The women also deal with inferior travel and lodging that the men do not, despite the fact that the women's team has won multiple World Cups while the men's team has never won a single one, as of this writing. Morgan told Good Morning America, "We have created a lot of revenue for U.S. Soccer throughout the years, and, you even saw from 2015, we had the most watched U.S. soccer game in history with the women's World Cup final."
Alex Morgan is a cover girl
Alex Morgan is a Sports Illustrated swimsuit issue veteran. She appeared inside the highly anticipated issue in 2012 and 2014. But in 2019, Morgan graced one of three Sports Illustrated swimsuit covers (Tyra Banks and Camille Kostek appear on the other two covers).
Why Morgan? Why now? Because the Women's World Cup is in 2019 and Morgan, as co-captain of the tournament favorite U.S. women's national team, figures to play a prominent role in the tournament. And, according to Sports Illustrated swimsuit editor MJ Day's comments in People, because Morgan "stands for feminine strength and power, using her voice to fight for gender discrimination and equal pay."
Morgan was joined inside the issue by teammates Megan Rapinoe, Crystal Dunn, and Abby Dahlkemper, all of whom she personally hand-picked for the shoot. "I felt like it was important to really show the diversity of this team, as well as show the youth and the experienced players," Morgan told Sports Illustrated.