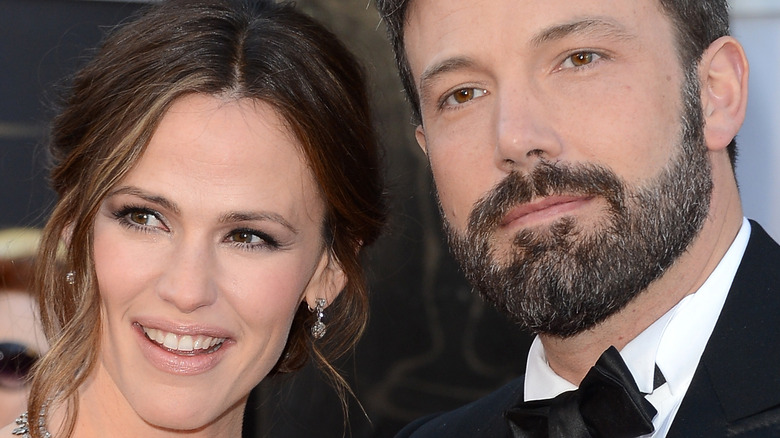 This article includes descriptions of alcohol addiction, allegations of sexual misconduct, and references to suicide.
Throughout their relationship, former Hollywood power couple Ben Affleck and Jennifer Garner dominated media headlines and weathered over a decade of non-stop paparazzi attention. They spent a little over a decade together wherein they welcomed three kids, Violet, Seraphina, and Samuel. Sadly, they ultimately filed for divorce in 2015. Per Variety, the couple released a shared statement about the decision, which read, "We go forward with love and friendship for one another and a commitment to co-parenting our children." Notably, they also requested privacy for themselves and their children.
The two Hollywood stars rose together, attaining fame and fortune. Their meteoric rise made the fall back down to earth much more dramatic, with the tabloids capturing every moment. The famous Hollywood duo has been open about the effect the spotlight had on their family and marriage — something which only became heightened when Affleck's often public experiences with alcohol addiction became a focal point for the paparazzi. Like many fractured relationships, Ben Affleck and Jennifer Garner's divorce can't quite be pinpointed to one event, but we finally understand why this pair simply wasn't meant to be.
If you or anyone you know needs help with addiction issues, help is available. Visit the Substance Abuse and Mental Health Services Administration website or contact SAMHSA's National Helpline at 1-800-662-HELP (4357).
A match made in Hollywood heaven
Ben Affleck and Jennifer Garner first met in 2001 while filming "Pearl Harbor." But it wasn't until the 2003 Marvel flop, "Daredevil" that they fell in love. In 2017, Affleck admitted to Playboy that the romance helped him to appreciate that there may be bright sides to failure. "We fell in love on 'Daredevil,'" he said. "… The Rotten Tomatoes rating is not in direct proportion to how important a life experience a movie was." And honestly who wouldn't fall in love with Garner portraying a sword-yielding superhero assassin? Have you seen her in those leather pants? While both films hardly set Hollywood alight, sparks flew for the two actors off-screen. The pair went public with their romance in 2004, looking adorable while snuggling up together at the World Series (per Insider).
While they kept their relationship mostly under wraps for months amidst the prying paparazzi, the pair eloped the following year in a low-key four-person ceremony according to Entertainment Weekly. Affleck credits his then-wife for getting him through a dark period in his career after he felt he wasn't being taken seriously as an artist. "Getting to know her, falling in love with her, and being connected with her gave me a foundation to reach out and say, Okay, I'm going to do 'Hollywoodland,' I'm going to direct 'Gone Baby Gone,'" Affleck told Playboy about Garner's support. "She is by leaps and bounds the most important person to me in that respect."
They were already in relationships when they fell in love
It's no secret that Ben Affleck and Jennifer Garner were romantically involved with other people when they first fell in love. Affleck was famously engaged to Jennifer Lopez in one of the most highly-profiled relationships in Hollywood history ('Bennifer' anyone?). The two first met while filming the romantic comedy "Gigli" in 2001, and dated amidst such a rabid tabloid frenzy that they subsequently called off their wedding. "Due to the excessive media attention surrounding our wedding, we have decided to postpone the date," Lopez and Affleck said in a joint statement at the time (via ABC News). Shortly after, in January 2004, Bennifer called it quits. Six months later, the "Let's Get Loud Singer" moved on and married her longtime friend, Mark Anthony, welcoming a set of twins together in 2008, per People.
As for Garner, she was married to actor Scott Foley when she and Affleck starred opposite each other in "Daredevil." According to Us Weekly, the couple met in 1998 while filming "Felicity," and they were married just two years later. After four years of marriage, the two parted ways. However, Foley insisted there was no foul play. "There was no other relationship, there was no infidelity, nothing. People get divorced, you know?" he told TV Guide at the time (via Entertainment Weekly).