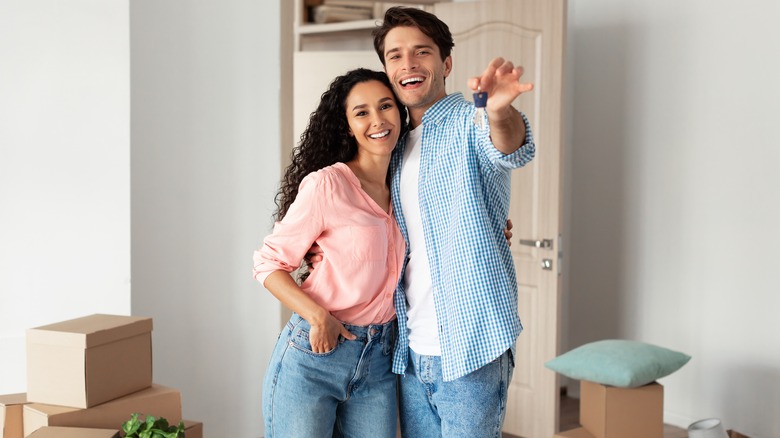 Purchasing a new home can be a daunting task. Homebuyers are faced with a vast library of new and unique terms and conditions when it comes to searching through the market and making an offer on a property they love. The whole experience can be a whirlwind of sorts, and getting familiar with some of the terminology can be a challenge, especially for those with a busy work and home schedule to maintain.
In reality, every homebuyer should work to acquaint themselves with a certain set of essential terms surrounding the purchase of a home, and fortunately, many of the key aspects of this transaction are quite simple to understand. Purchasing a house is a complex feat, but these key terms don't have to be. Taking the time to understand these five crucial aspects of the home buying process can help make your experience much more pleasant and rewarding.
The New York Times notes that purchasing a home is a straightforward process, even if it doesn't feel that way at times. With these terms in mind, you can tackle the job of browsing for, visiting, and purchasing a property with more confidence and greater ease.
Market value
Market value is a financial measurement of your property's general value on the open market (the same feature can be found in all commodity trading spaces, according to IG). The market value can fluctuate with the introduction of a number of important factors. For one thing, in neighborhoods with lots of properties for sale, the competition among sellers might drive it down in any individual home listing. This is because scarcity makes a home more valuable for a seller. As well, renovations and modernization projects can play a significant role in increasing a home's value on the market.
In simple terms, the market value acts as a sort of guide for a fair price of any particular real estate asset that you might be considering buying. This means that new homebuyers should look to market value figures as a sort of measuring stick when browsing through home listings. This can help you find properties that sit within your budget and give you a rough estimate of where your potential bidding on a property should stop.
Days on the market (DOM)
Days on the market is a figure that represents exactly what it sounds like: the amount of time a home has been listed for sale (via Bankrate). Anyone in the market for a new house should take careful note of how many days a property has been listed on the market. A new home is likely to see significant levels of interest, whereas a house that's been listed for weeks or even months may have become stale and lose momentum when it comes to driving interest to the asset. This can reduce the asking price or even the inclusion of new home upgrades or amenities to sweeten the deal for potential buyers.
Taking note of the number of days a property has been listed on the market can give you some insight into how desperate a seller might be as well. A home that's been listed for a long time may be owned by a seller who is willing to take a cut rate to move out and start the next chapter of their life. On the other hand, a newly listed property is likely one that prospective buyers won't be able to throw in a lowball offer for. Of course, every seller is unique, and their ability to continue weathering market conditions can be hard to read. But days on the market are a good indicator of the remaining patience that a seller might possess.
Stale listing
In line with the days on the market figure, a stale listing means that a home has been waiting to be sold for a considerable amount of time, often more than three months, according to Quicken Loans. This can be a great opportunity for a real estate investor because these houses may have already seen a reduction in the asking price or are maybe headed quickly in that direction, allowing them to get a great deal on a new asset in an effort to boost profits.
However, it's important to note that a stale listing might have reached this designation, not as a result of buyer sentiment surrounding the entire market but rather a minimal buyer interest in the particular asset due to some defect or condition of the home itself. Therefore, when viewing a stale listing, it's important to take considerable notes about the specifics of the property. These homes haven't sold for a reason, and it could be due to market conditions or the consequence of a severe issue in the property. Therefore, cautiously approaching a stale listing is always advisable, even for the most seasoned homebuyer or real estate investor.
Contingency
A contingency typically comes into play during the offer stage of a home purchase. A buyer might like what they see in a property and make an offer to the seller. But typically, buyers include a contingency in their offer surrounding a inspection or some type of agreed-upon home improvement (via Investopedia). Simply put, a buyer offers to purchase the home with an additional stipulation that must be met. When it comes to a home inspection, for instance, a buyer might offer the asking price with the caveat that nothing severe is found in the process of a third-party check. If the report comes back listing glaring issues with some aspect of the house, the offering party is not obligated to purchase the home or surrender any down payment funds that may have already exchanged hands.
Inspections continue to remain an important part of a homebuyer's approach to the market. However, even those who have bought and sold many properties don't have the necessary expertise to survey an entire place and identify substantial weaknesses that may exist in various spaces of the property. As a result, making an offer with the contingency of a passed home inspection is commonplace in the real estate market.
For sale by owner (FSBO)
Lastly, a property listed as "for sale by owner" is one that has been placed on the market without the help of the real estate agent. A seller might list their property in this way in order to cut down on the costs of the transaction. Statista reports that a typical commissioner of just under 6% is typical when working with real estate agents, and so this can substantially alter the profits that a homeowner stands to make when selling their property.
A home sold in this way will still be subject to fees due to the buyer's agent, but cutting these costs in half can go a long way to making both parties in the transaction much happier. Furthermore, Homelight reports that only about 7% of sales in 2020 were conducted as a for sale by owner transaction, but even so, it's important to understand what this means for a buyer who may be looking at one or more properties listed as FSBO.