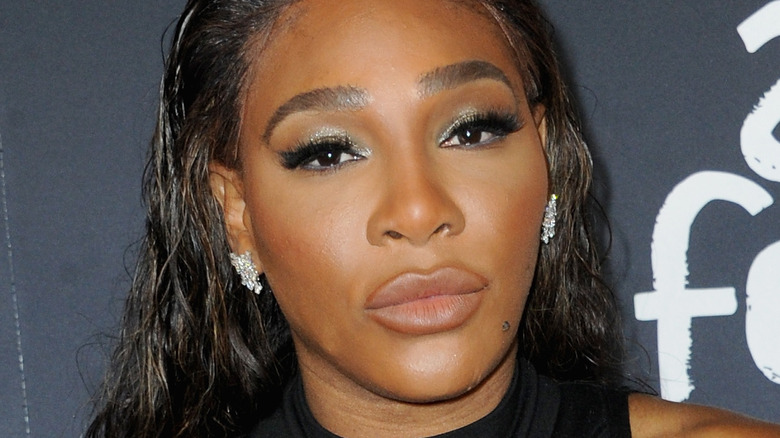 There are tennis players. Then there are the best-ever tennis players. Then, there's Serena Williams. Frankly, no-one's ever played the game like Williams, with her unstoppable legacy including 23 Grand Slam wins, 73 individual singles titles, earnings of almost $100 million in prize money, and more weeks as the No. 1 tennis player in the world than most of us have had hot meals, as per the Women's Tennis Association (WTA). We mean, where do you even begin with that level of success?
With a legacy like that, we'd say that Williams more than deserves to enjoy her time spent off-court in style. And as one of the most fashionable players in the game, it's little wonder that when it came to her property, the superlative player opted to create a home that's as unique as she is. Her utterly gorgeous celebrity home, located in Florida and shared with husband Alexis and daughter Olympia, is a Spanish Mediterranean-style property that positively oozes charm, style, and elegance (via YouTube). And after one look at the house, we just knew we had to take our readers inside as well. Let's take a look at this jaw-dropping home.
1. Serena Williams is no stranger to luxury property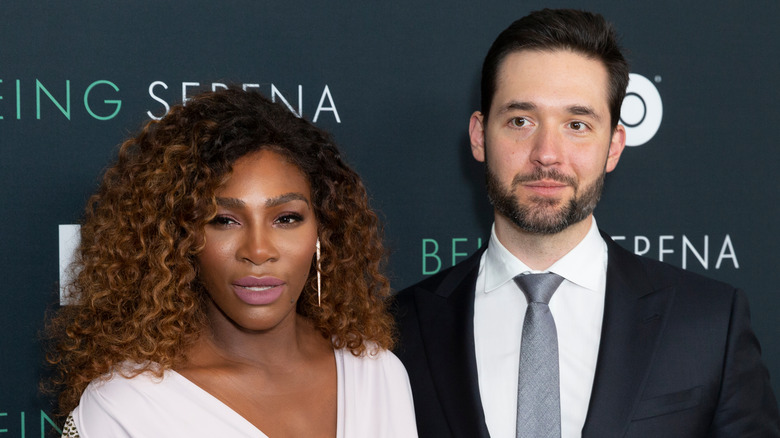 Williams' current property is a masterclass in luxurious taste, but she's been perfecting the art of choosing and finessing high-end real estate to her liking for a while now, with an extensive property portfolio. Such is to be expected from a player worth well over $200 million, we guess. Among Williams' homes are multiple properties across the U.S., with a Spanish-style property in Bel Air and former homes in the Palm Beach area, one of which she shared with her sister Venus, according to The Sun. Williams is no stranger to the European way of living, too, owning a luxury two-bed apartment in the heart of Paris, overlooking the Eiffel Tower.
Williams clearly understands the power of mixing things up with her properties, too, both from a keeping-things-fresh perspective and on a financial level. Her former Los Angeles mansion, which she purchased in 2006 for $6.62 million, was sold in 2019 for $8.1 million, gaining her a hefty profit (via Mansion Global). Thankfully, her Florida property represents a pretty good upgrade in space from the 6,101-square-foot L.A. home, being more than double the size with 14,500 square feet of space.
2. For her Florida home, Williams kept it local
Despite her international jet-setting lifestyle on the WTA tour, when it comes to home, Serena Williams likes to stick to what she knows. So when it was time to move, she stayed put in Florida, where she formerly lived in a $2.8 million West Palm Beach property purchased in 2015, as per Dirt. The home, a five-bedroom, 5.5 bathroom villa-style home, was replaced in Williams' portfolio by buying the waterfront estate that she currently presides in, based in Jupiter (the town, not the planet), for a cool $8 million (via The Real Deal).
And as it turns out, when it came to buying the riverfront property, Williams kept it in the sports world by purchasing the estate from none other than St. Louis Cardinals catcher Yadier Molina. Following the purchase, Williams also gained approval to perform renovation work on the property, which can now be seen in her stunning home.
3. It was a family affair to design her property
No person is an island, and tennis players know that as well as anyone else. Despite heading it up solo on the court on big match days, the team that a tennis player builds around them can be their very key to success. The same can be said for other aspects of their lives, and for Williams, when designing her Florida home, she applied the same principles. She brought in someone she knows better than anyone else, her sister Venus, to help her shape her dream home with the help of her design firm, V Starr.
Venus and her company's work on the property are displayed to stunning effect on V Starr's website, where the elegant neutral aesthetic of the property is spiked with pops of color, hinting at Venus' understanding of Serena's personality and tastes. Venus' design of the property was doubly meaningful given that, before Serena lived with husband Alexis Ohanian and daughter Olympia, the sisters lived together as adults for two decades (via People). Doubtless, Venus wanted to give Serena the home of her dreams –- and we'd say she succeeded.
4. The home is a minimalist's dream
The style of the homes where we hang our hats at the end of the day is deeply personal, influenced hugely by our personalities and tastes. So as a tennis player who's famed for her precision and laser-sharp instincts, it's little surprise that Serena Williams' home has a focused, clean aesthetic to it that's catnip to minimalist architecture lovers. The house is built with order in mind, with straight lines guiding the property's architecture, creating an interior of high ceilings and towering windows. You can see this in action in a video on Williams' Instagram, in which she takes part in an adorable lightsaber battle with her daughter Olympia. (It looks like she's got mom's world-class hand-eye coordination!)
The home's color palette is organized in a similarly sleek style, with white walls contrasting with black frames to create a pleasing monochromatic effect. Natural hardwood floors run throughout the property, ushering in a sense of confluence throughout the sprawling space and accentuating the more colorful aspects of the property.
5. The exterior spaces make the most of the Florida landscape
What's a celeb home without a premium outside space? On this front, Williams does not disappoint. Her Florida home embraces the state's native landscape. The property flows almost seamlessly from indoor to outdoor, with an enclosed patio offering Serena and her guests space to relax when it starts to look a little overcast (or for her to chill on her own, as she's seen doing in an Instagram post). The patio overlooks the water flowing by Williams' house and is styled in the same combination of whites, blacks, and muted neutrals that the rest of the home favors, with elegant deck furniture in grays and light woods.
If you thought that a simple patio would be the end of outdoor features in this property, you'd be mistaken. In addition to the generous green space the estate has, there's also a stunning infinity pool, with a raised spa in the middle, set in deep blue tones. Within the pool are sunken sun loungers, allowing Williams to sunbathe while she soaks, and alongside it, an angular stone deck provides the perfect place to relax after a long day on the court.
6. Her Florida home is an open-plan haven
Williams was never going to do things like everyone else, and when it came to the design of her house, she banished a sense of separation between rooms. Instead, her home embraces an open-plan sensibility, seen from the very moment that Williams opens her door in her Architectural Digest home tour. The spaces in the property blend seamlessly into one another as Williams walks through the area, with the art gallery becoming the library becoming the music space. Despite this, Williams still understands the value of isolating certain rooms to maintain function. That includes her office, a cozy nook adorned with posters from her magazine shoots, and with pops of bright pink in the office furniture.
While the idea of open-plan living might seem like a daunting prospect, you can create the aesthetic for yourself with a few simple tips. The most important thing to remember is that any space you create will eventually need to be lived in, so design with you and your family's day-to-day living experience in mind (via LoveProperty).
7. The kitchen combines neutrals with statement shades
Sure, a kitchen is one of the most functional spaces in your house, but why shouldn't it also be the classiest darn space you can muster? This is a belief we hold dear to our heart, and we're frankly deeply gratified that Williams appears to agree. Her home's kitchen marries utility and luxury effortlessly. The kitchen continues the home's running aesthetic of clean neutral colors, with a white center island and chairs nestled against darker wooden furniture, shown in a photo on daughter Olympia's Instagram. The hardwood flooring that runs throughout the rest of the house serves here to create a sense of comfort and homeliness in the space.
What we love about this kitchen, however, is the vibrant, confident use of gold. From the backsplash to the tap spouts, gold is everywhere, drawing a feeling of luxury and excitement into Williams' cooking area. If you're looking for your own revamp, don't be shy when using golds in your kitchen, particularly if it's already kitted out in dark neutrals. "In terms of material pairing, a metallic accent works so well in darker kitchens. For example, polished handles or gleaming pendant lighting will reinforce the intense color of the cabinetry," design director Tom Howley tells The Independent.
8. The home is full of one-of-a-kind features
When it comes to the design choices of her Florida home, Williams wanted things to stand out. And stand out they certainly do, with her house filled with unique decor choices that speak to her personality and taste. Strolling through the property, it's hard not to see some of the design decisions as artistic statements in themselves, with elements like her sleek, recessed fireplace providing function while offering a focal point for her and her guests to enjoy (seen via Instagram).
Elsewhere, Williams goes bold with her aesthetic, like in the case of her dining room, in which the eye is immediately drawn to the light fixtures hanging above the stylish table. They're a collection of pendant lamps, which somehow, despite being a multitude of different styles, all work together to create one stunning piece. Focusing light fixtures as the central design moment in a room is bang-on-trend for 2022, says Smart Lighting Industries design expert Valentina Gori, who encourages people to be brave. "Thoughtfully placed, cleverly designed, and carefully crafted ceiling lights will transform rooms. Lighting will become a starting point for design rather than being left until last. Don't be afraid to go bold with your ceiling lighting," she tells Homes & Gardens. It looks like Williams has thoroughly embraced this ethos!
9. There's plenty of dedicated space for daughter Olympia
When Williams moved herself and her young family into her home, she knew that her daughter Olympia needed a pretty special room. And wow, did mom deliver on that front. Williams and her husband Ohanian worked together to create a space for Olympia that was one of a kind. With a pink custom-designed castle bed, the end result is truly worthy of royalty, as per Architectural Digest.
Williams and Ohanian (who stepped in to spearhead Olympia's room design, while Williams took charge of the rest of the property's design choices) also ensured there was room for artistry in the bedroom, with a bespoke blown-glass chandelier by artist Josh Fradis. However, the stand-out moment in the room probably isn't the lighting choices, but the literal built-in slide that the castle bed came equipped with. "She goes down the slide every night while we're thinking, man, we shouldn't have done that, because now at bedtime, she just wants to slide," says Williams, speaking with the knowledge that only someone who's ever tried to put a child to bed at night possesses. "But whatever makes her happy makes me happy."
10. The home isn't just about aesthetics — it's also about philosophy
It's all too easy to assume that when it comes to celebrity homes, the choices are just made for the people living there. But as Williams' house shows, celebrity houses are most successful when they consider the philosophy of the person living there. For Williams, there is a clear emphasis on the home as a space to live in and a space to be inspired by, as is clear from her decision to remove her formal living room. As seen in her home tour, rather than seeing a comfy sofa when you walk in, you're greeted by pieces of one-of-a-kind art.
The same philosophy for active creation exists in her media/club room, where she's abandoned the classic celeb vibe of a built-in movie theater. "I didn't want a movie theater room, cos I'm like, I just don't want to sit and watch movies. But I wanted something that was super functional," she said during the tour. The result is a vibrant, active space full of color and prints. It has its very own stage upon which Williams and daughter Olympia perform karaoke together.
11. The home is chock-full of interesting spaces
With a home as sprawling as Williams', it's perhaps not surprising that you'll find some pretty unique decor gems dotted throughout. Take a look at her wine cellar, for example, seen on V Starr's website. Instead of just a classic rectangular wine rack, Williams has opted to mix things up with unique geometric shelving to create a design moment. The subtle overhead recessed lights work with the room's dark wood and gold aesthetic to make a mood as mature and elegant as a glass of vintage Merlot.
Or, for a different feel entirely, check out Williams' walk-in closet, seen via V Starr. To avoid the space feeling anonymous and clinical, Serena and Venus kept sterile whites mainly at bay, and instead chose to kit the space out in welcoming wooden tones for the drawers, shelves, and floors. They also included classy gold pulls and subtle lighting. The result is a closet in which you could happily spend hours trying on clothes.
12. The house has its very own art gallery
In most houses, you're doing well if you've managed to get a single piece of art in somewhere. However, Williams went to the next level by putting an art gallery in her house. Yep. There's a reason why she's the greatest of all time, folks.
Williams' art gallery, which can be seen the moment you enter the property, is a space lovingly curated by the tennis superstar, and reflects her sources of inspiration. Among the works displayed is "Astro Black" by Atlanta-based artist Radcliffe Bailey, a mixed-media piece that contains a piece of lunar rock in the canvas, according to Culture Type. The "Monument for a Promise," another piece of work by Bailey, is placed near Brooklyn-based artist Leonardo Drew's piece "Number 184," an abstract piece created in black wood. Alongside these stunning pieces of work is an object of a different kind: A clear Plexiglass piano, which Williams sought out with the help of V Starr for daughter Olympia to play. Williams clearly has her own fun with it, as seen via Instagram, where she contrasts the "Instagram" expectation of playing "Für Elise" flawlessly with the "reality" of playing "Do Re Mi" note-by-note. We're not sure we could do much better, to be honest!
13. Williams' tennis career is firmly on display
So, spoiler alert: Williams has won a lot of trophies. Like, a lot. And when you've won almost two dozen Grand Slams, you're gonna need somewhere to put them all. That's why Williams elected to build her very own trophy room in the property, displaying "some of" her plaudits, as she shows in her home tour. The room has two separate racks opposite each other, with the gentle black frames of the racks and minimalist design choices showcasing the highlights from her career.
Among the things displayed is a unique Wheaties box with a picture of Williams celebrating a win, and more Grand Slam awards than most people will ever see in their lives, despite Williams claiming otherwise in her home tour. "There's a U.S. Open Trophy. Okay. Here's one. That's 2002 … okay. That was a while ago. This looks like one … I am so bad with trophies," she proclaims as she works backward, discovering yet more wins that she'd forgotten were there. After the career she's had, we can see why it's hard to keep track!
14. Serena Williams' bathroom has to be seen to be believed
While all of Williams' home is frankly gorgeous, there's one room that we simply couldn't ignore. Her bathroom is a piece of pure design elegance, a vision in whites and metallic tones, as seen via V Starr's website. The floor has a subtle diamond tile effect, shifting to larger squares in the walk-in washing section. Inside the washing space, dual shower heads in gold tones sit opposite the almost absurdly classy freestanding tub, a bright white affair with gold accents. The whole space is delineated by huge plate-glass windows, with a gold trim running around them.
Light pours into the space from widescreen windows placed high-up to preserve privacy, through which hints of greenery peek through. The washing space is completed by a white and gray marble wall, with gold staining its top edges. Honestly, this is bathing in pure style.