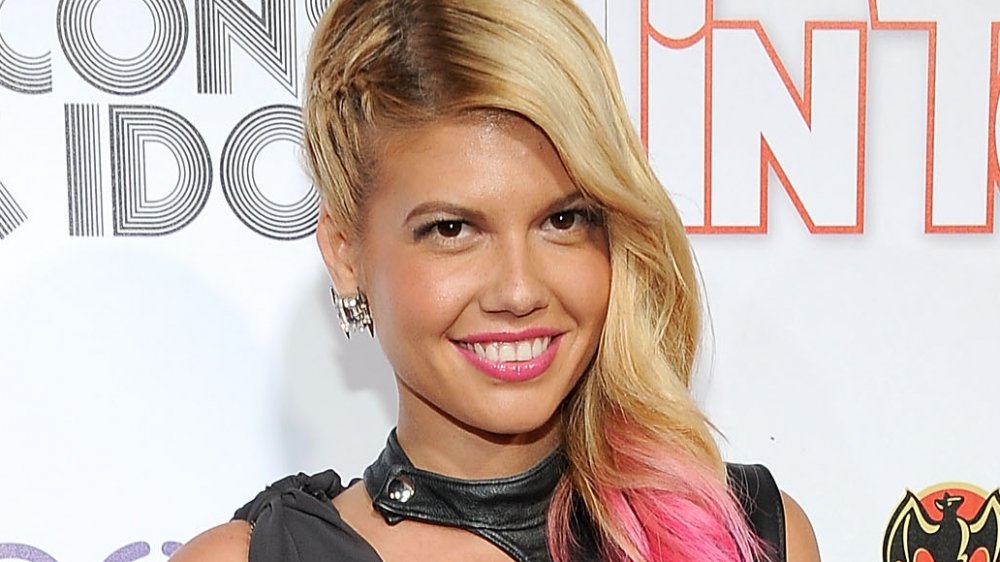 MTV maven Chanel West Coast (real name Chelsea Chanel Dudley) is a familiar face to those who regularly watch the once-music-centric-now-reality-TV channel. Rising to fame as Rob Dyrdek's bubbly secretary on Rob Dyrdek's Fantasy Factory, West Coast formed a close friendship with the former skateboarder, taking her infectious laugh with her to co-host another one of Dyrdek's MTV endeavors, his comedy clip show, Ridiculousness.
Throughout her climb to the top of the reality TV A-list, West Coast has remained passionate about her first love: rap. As it turns out, the blonde starlet has always had dreams of becoming a rapper, something that she's been actively pushing towards. She was once even signed to Lil Wayne's Young Money label — although things didn't really go according to plan. As she detailed to LA Weekly, West Coast felt like she was cast aside when other white females such as Iggy Azalea started dominating the charts: "When I first started rapping, I was, like, 'I'm gonna be, like, the female Eminem.' So to see somebody blowing up in my position … it was the hardest … I've been doing this since I was 14 years old."
As time goes on, the starlet is undoubtedly keeping busy, and it shows — with her ridiculous amount of dough. That being said, the "Sharon Stoned" rapper wasn't always a money-making machine. Here is the stunning transformation of Chanel West Coast.
Chanel West Coast's dad brought on her love of music
Chanel West Coast grew up with glitzy dreams, in part due to spending time with her father, who was a DJ, in New York. According to her website, while she wasn't with her mother in North Hollywood, her dad would "bring his then eight-year-old-daughter" with him as he DJ'd local clubs. "I've always been around music," West Coast wrote on her website. "I knew it's what I'd do for the rest of my life. I didn't have a choice." She shed even more light in an interview with The Trend, explaining her ultimate goal: "I remember just dreaming of one day, my dad pulling out my record to play."
The time the MTV darling spent with her mother was unconventional, too. According to LA Weekly, her mom would grow marijuana "to help pay the bills." By age 11, she was immersed in a specific culture and "started listening to hip-hop and smoking weed."
It looks like now that West Coast is raking in the big bucks, all she ultimately wants to do is make her folks proud. "I make all of my music, because I want to be successful and make [my mom] proud," the Ridiculousness starlet dished to The Trend, then joked, "She's proud that I'm able to help her out with the bills and stuff."
Her unexpected hobby
Along with her affinity for rap, Chanel West Coast also picked up an unexpected hobby growing up — one that would connect her to a certain celeb later on in her career. As the bio on her website states, the starlet immersed herself "in hip-hop, and [picked] up skateboarding in the process." Wait, what, Chanel on a skateboard?
As it turns out, the Ridiculousness star's hobby came in handy when she met former skateboarding pro, Rob Dyrdek, on MySpace — marking the start of their professional and personal friendship. West Coast once dished to No Jumper on how she met Dyrdek and got her MTV start on Fantasy Factory. "Rob met me and realized I'm very authentic and real … I was just funny and kind of fit the mold perfectly," she explained, adding, "And then that, I don't know how that led to Ridiculousness. That's a whole other story."
In the end, it looks like knowing Dyrdek also meant that West Coast got to showcase her hobby on camera, such as making an appearance at 2013's ESPN X Games to both host and do some shredding herself. However, while the starlet knows the basics of skateboarding, she's also had her fair share of faceplants. Don't worry, we're hoping that clip made it onto Ridiculousness, too.
Chanel West Coast's TV debut as a receptionist
Chanel West Coast is pretty lucky to have Rob Dyrdek in her corner — especially when she's known to have so many haters. As the aspiring rapper slowly started becoming friends with the former pro skateboarder through MySpace, he suddenly offered her a role in his new MTV reality show, Rob Dyrdek's Fantasy Factory. "She had, again on Myspace, talked to my cousins and they were like, 'She's so dumb, she thinks she's a rapper.' And then when I met her, I was like … 'She's actually good at it,'" Dyrdek revealed to Medium. "I just asked her, 'Do you want to be a rapping receptionist at the Fantasy Factory?'"
However, it turned out Dyrdek's "rapping receptionist" did have some hesitations. "The first thing that crossed my head was, 'Is this going to ruin my chances of being taken seriously as an artist,'" West Coast told LA Weekly years later. Ultimately, what pushed the starlet in the MTV direction was simple: she was broke. "I never wanted to do reality TV," the Ridiculousness host dished No Jumper. "The day that Rob asked me, I remember I literally had like a little pile of change I scrounged up to go to In-N-Out." Truth be told, that's enough reason for anybody.
Nonetheless, this early MTV period saw a much more shy West Coast on TV, yet still led to some hilarious moments such as the time she rapped for John Mayer on the show.
Climbing the success ladder
Thanks to Rob Dyrdek's Fantasy Factory, Chanel West Coast suddenly found herself as a celebrity, with opportunities falling into her lap the more she began rubbing elbows with A-listers. Because of her MTV fame, the reality TV star also lent her voice to the character Flipz on a skateboarding-themed animated series, Wild Grinders (which was, you guessed it, produced by Dyrdek himself), and appeared in an episode of The Hard Times of RJ Berger.
Soon enough, West Coast's popularity rose, due to her unique laugh and bubbly persona. However, as the "Karl" rapper mused to LA Weekly, she still has moments where she wonders if going the reality TV route ruined her chances of rap superstardom. "I have a tendency to say ditzy, stupid things on TV, but part of that is because I'm high. I say other funny s**t that's not stupid, but they use more of the stupid stuff." Critical of the TV channel that gave her a shot on the A-list, West Coast went on, "I've been on MTV for so many years. They're so stupid and, like, disrespectful and rude," adding that she was once forced to sit with "Snooki and the Teen Moms" instead of the rap label she was a part of during a Video Music Awards show.
Nevertheless, things weren't going bad for West Coast at all, and, along with her MTV fame, she was also growing her online roster of endorsement deals through her YouTube channel and Instagram.
The start of Chanel West Coast's rap career
Over the years, Chanel West Coast has made it very clear that she had an initial hesitation about getting into the reality TV industry. Nevertheless, it looks like MTV merely put her on the map, as she still got the chance to sign to Lil Wayne's label, Young Money, in 2013.
As West Coast told Billboard that same year, "I have so much music that I've made in the past two years. We already have so much music done and ready to go … I always say that I want to be like 2Pac. If I were to die tomorrow, I want to know that I have enough music to put out for my fans for years to come." Adding that she "lives in the studio," it must mean the Ridiculousness star's music career was en route to thriving, right?
Well, think again. Although West Coast's debut album was supposed to come out in 2014, the deal never panned out. As per TMZ, Lil Wayne reportedly never actually had a deal with the blonde starlet on his label, as his creative partner, Birdman, "refused to give the official sign off" — leaving West Coast in musical purgatory. "It's actually, like, really annoying," she told LA Weekly in 2014. "I feel like the red-headed stepchild of Young Money."
Disturbing the peace in 2015
Chanel West Coast found herself in her own ridiculous situation when Rob Dyrdek's Fantasy Factory came to a close in 2015 and after her failed stint with Lil Wayne's Young Money record label.
In August of that year, TMZ suddenly broke the news that the MTV maven had been arrested outside of 1 OAK nightclub in West Hollywood. Along with the headline, the goss rag also posted a video of what appeared to be an intoxicated West Coast already cuffed after allegedly "punching and kicking a cop." Um … what? According to the outlet, one of the arresting officers was initially going to release her with a warning — until she reportedly got physical with him.
So, what exactly was the cause of the supposed scuffle? According to E! News, the reality TV starlet was allegedly fighting with another club-going girl — which then snowballed into the cop debacle. After getting released from her citizen's arrest, West Coast denied any previous altercation outside of 1 OAK, taking to Twitter to, instead, blame the police: "I was violently held by 2 huge men cops last night for nothing and have bruises all over my arms." According to the plethora of responses to the tweet, fans were not buying West Coast's "ridiculousness."
Chanel West Coast and the rise of Ridiculousness
Although Rob Dyrdek's Fantasy Factory was over, Rob Dyrdek himself was already onto his next MTV money-making machine, Ridiculousness. The viral comedy clip show first aired in 2011, and, at the time of this writing, is still going strong, with both Dyrdek and Chanel West Coast serving as co-hosts.
While many fans flocked to West Coast's bubbly persona, she, of course, had some naysayers, as well. In one particularly heated episode of Ridiculousness, the co-host found herself in a live TV argument with radio personality, Charlamagne Tha God, after he called her a "wack rapper." The result? West Coast immediately retorting with, "You can have opinions, but it doesn't mean they're right though," before adding, "Lil Wayne, who co-signed Drake and Nicki Minaj, is the same person that co-signed me. I won a BET award with Young Money. I got songs with French Montana, YG, Ty Dolla Sign, Snoop Dogg." While Charlamagne laughed, West Coast continued to flail, and the clip, of course, went viral.
A few days later, it surprisingly looked like the spat was all water under the bridge. "I feel fine, it's all love," West Coast dished to TMZ, adding, "We all get a little upset sometimes, a little insecure, and sometimes we lash out because of that … It's all love, he's a funny guy, and, you know, he just boosted my views and followers."
Partying with Paris
As Chanel West Coast climbed the celebrity success ladder, her entourage of pals also grew. "I have a ton of celebrity friends. I don't really have a posse, I really hang out with my real true friends that I've been friends with since I was a little girl the most, more than anybody," she began in a chat with Go To Whitney, before adding, "But, I have a lot of celebrity friends. I mean, I partied here with Paris Hilton, my girl Christina Milian, I saw Amber Rose was up on the screen, that's my girl, too. I got a lot of celebrity friends. We're all really busy with our own lives so, you know, we all kick it when we can."
Although some may have brushed off West Coast's name dropping as, well, exactly that, it's not the only time she's gushed about Miss Hilton. "Paris always throws the sickest parties," the "Anchors" singer once told LA Weekly. "She's literally the most down-to-earth, coolest person ever." Considering both girls have a mutual affinity of having a good time, this celeb friendship doesn't really surprise us.
Sure enough, the pair have been photographed together on various occasions, with West Coast hanging out in Hilton's booths during her DJ performances. The heiress even did her pal a solid and had West Coast open for her at Ibiza's Foam And Diamonds party at Amnesia in 2017, when she was still reportedly the highest-paid female DJ in the world.
Chanel West Coast's Sharon Stone scandal
Although her long-lasting gig with MTV shows no signs of stopping, Chanel West Coast is still trying to make it as a rapper — without the help of Lil Wayne. For the most part, the starlet has been releasing her music on her YouTube channel without much controversy … until 2019.
In April of that year, West Coast released her new song, "Sharon Stoned" (get the joke?), yet found herself being sued by none other than Sharon Stone herself. According to court documents obtained by The Hollywood Reporter, "The song gratuitously and repeatedly uses the name 'Sharon Stone' in its lyrics." As the suit goes on, "During the Song, Defendant Dudley gratuitously repeats the name 'Sharon Stone' thirty-three times and the name 'Sharon' ninety-nine times," which to be honest, if you haven't listened to the song, sounds pretty hilarious. Along with drilling the actress' name into all our heads during the song's length, the rapper also recreates some of Stone's most iconic movie scenes, such as this one from Basic Instinct.
West Coast fought back, and according to Page Six, claimed Stone was in "cooperation" with her to create the song and video. As she went on, she explained that the pair had meetings, conversations, and "even had [Stone's] own ideas that she shared with [West Coast] and [her] team for the collaborative on the video." At the time of this writing, the two are still working toward a settlement.
Chanel West Coast's swanky digs
Throughout all of her career highs and lows, it looks like Chanel West Coast is finally living comfortably in the spoils of her successes — a far cry from her bankruptcy in 2014.
In 2019, Variety revealed that the starlet was nestled on (surprise, surprise) the west coast, having purchased a $1.65 million Hollywood Hills pad that November. Coming in at 2,600 square feet, the outlet notes that "while the .18-acre lot isn't particularly big, the property has a terraced, fully landscaped backyard perfect for entertaining or alfresco dining." The Ridiculousness starlet's home may not be considered expansive by celeb standards, but taking into consideration West Coast's past, it's definitely a step up.
"[People] don't know the hardships I've had to deal with, they don't know the struggle, they don't know my life," West Coast explained to No Jumper. "I think they see me and, you know, I've got kind of like a Taylor Swift look, maybe they imagine I've got a mom and dad happily holding hands with a golden retriever and I grew up in this nice big house, or something. I know my looks might come off like that, but that's not me." With West Coast's MTV fame showing no signs of stopping, it's almost certain that her success can only grow from here.
Is Chanel West Coast slowly transitioning into pop?
Although most of Chanel West Coast's interviews see the starlet talk about her love of rap, she's also hinted at being a crossover artist, too. Speaking about Gwen Stefani's crossover success from her beginnings in No Doubt to being a solo artist, West Coast dished to The Trend, "It's something I'd love to do. I love all types of music, I'd rather start with hip-hop and then maybe cross over into more pop-rock. I really aspire to be an artist like that that can basically do anything."
In August 2019, West Coast premiered a new song and video on her YouTube channel, "Anchors." Viewers and fans immediately noticed the higher production value, and most importantly, the starlet's transition into more radio-friendly pop. Her fans immediately wondered why the crooner wasn't turning to singing more in her tracks, so she addressed the goss in an Instagram post. "For those who always ask why I Rap and not sing more….well….I can write raps by myself in my d**n sleep lol. I cannot write singing songs as well. At least not melodies that truly show off my vocal range. So I teamed up with @kaydence & she helped me get MY feelings and MY story out by co-writing this amazing song with me."
Considering the feedback of her new musical style has been positive, maybe West Coast should just keep doing whatever it is she's doing now?