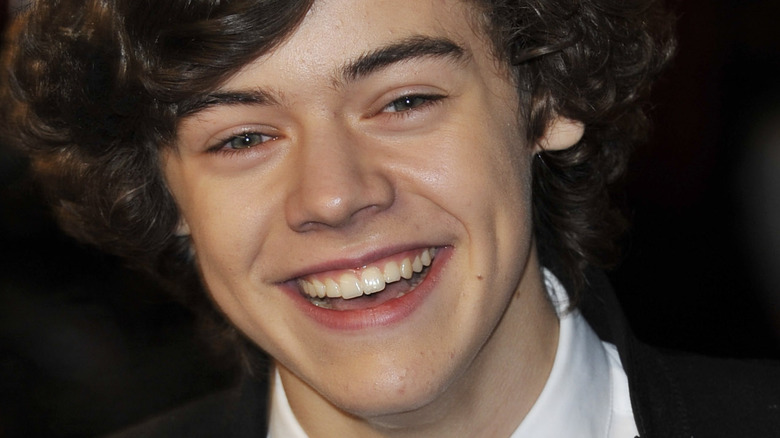 Few stars have had as many reincarnations as Harry Styles. The singer began his career as a teenage heartthrob in the group One Direction. After the band shot to fame on the show "The X Factor" in 2011, Styles went on to forge a solo career. His debut solo album, called simply "Harry Styles," was released in 2017. That same year, Styles turned his focus to acting with a role in the widely acclaimed film "Dunkirk."
Since then, Styles has proven himself to be one of the most exciting young artists around. His second album, "Fine Line," earned him three Grammy nominations and one win in 2020. That same year, Styles was confirmed as the star of the thriller "Don't Worry Darling," according to E! News. And in 2021, Styles was reported to be starring in another film called "My Policeman" (via Deadline). It seems this artist has no plans for slowing things down any time soon. In fact, we can't wait to see what he ends up doing next.
Curious to find out more about his journey? Here is the stunning transformation of Harry Styles.
Harry Styles grew up in Northern England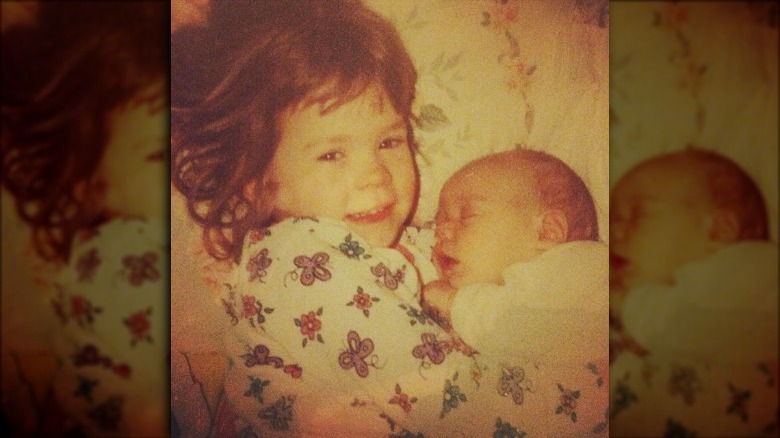 Harry Styles, born February 1, 1994, was raised in the village of Holmes Chapel in the North of England with his sister, Gemma Styles (via The Guardian). His mother was always a big influence on the children. As Gemma told Vogue, "My mum loved to dress us up. I always hated it, and Harry was always quite into it." Harry added, "As a kid I definitely liked fancy dress."
In addition to dressing up at home, Harry also became interested in style in children's plays. When he played a mouse, he got to wear tights for the first time. "I remember it was crazy to me that I was wearing a pair of tights," he recalled. "And that was maybe where it all kicked off!" he said, referring to his love of androgynous fashion.
As far as Harry's temperament as a child, Gemma wrote for Another Man, "He was very loud." She recalled that, as a kid, Harry was "never scared of attracting attention … Even then he had that sort of magnetism that made people just want to watch him." It sounds like Harry showed signs of being destined for stardom even as a toddler.
Harry Styles' dad left when he was young
Although Harry Styles' upbringing sounds pretty idyllic, it wasn't always easy. When Harry was just 7 years old, his father left. "I sat them down and told them I was leaving," his father, Des Styles told the Daily Record. "Everybody was in tears." He went on to explain that Harry didn't cry much as a child. However, the news of his parents' divorce was clearly heartbreaking. Des went on to explain that he's still in touch with Harry and he still gives him advice.
Harry's mother later remarried, and his stepfather, John Cox, became a second father to him. As Cox told the Mirror, he was around for Harry's first-ever singing performance when he was just 9. However, Cox and Harry's mother split after six years and Cox and Harry fell out of touch.
Because Harry has never had a steady father figure in his life, he was raised primarily by his mother. In 2014, he posted an image on Instagram that read, "Sometimes the king is a woman," and he captioned it, "Hi mum." It's pretty clear that his mum became his rock as a child.
Harry Styles got into music thanks to his grandparents
Harry Styles has been interested in music ever since he was a child. As the star explained in an interview with Rolling Stone, his love of music stems from his grandparents. "When I was little," he said, "we got a karaoke machine and I sang Elvis, because that's what my grandparents listened to. I made my grandfather a tape of me doing Elvis songs on one side and all Eminem on the other side." In an interview with Vogue, Harry Styles' sister, Gemma Styles, recalled that her brother's singing voice as a child borrowed a lot from Elvis. "He used to do quite a good sort of Elvis warble," she said.
It's clear that Harry's grandfather's influence had a big impact on him. And when his grandfather got Parkinson's disease, he became an excellent caretaker. As Styles' mother told the Express, he was "absolutely brilliant." "They [Harry and Gemma] love him to death and he is so proud of them," she gushed.
He had dreams of being a physiotherapist as a child
Long before Harry Styles became a musician, he had some very different plans for his future. As a child, he had dreams of becoming a physiotherapist. As he once said in an interview, "​​I wanted to be a physiotherapist. When we had a career day at school, I was told there [weren't] very many jobs in physiotherapy, so I became a singer." In another interview, he added that he had also considered becoming a florist. "Maybe a little flower shop or coffee bar in the back," he told SiriusXM of his old dreams (via Capital FM).
Even though Styles turned his attention to music after a career day at his school, he still planned on attending college after high school. In fact, at his "X Factor" audition in 2010, he revealed that he planned to study law, sociology, or business (via The Things).
Harry Styles started a band called White Eskimo before One Direction
While we all know Harry Styles as the lead singer of One Direction, he actually began his music career with another band. As a teen, Styles and his friends were in a band called White Eskimo. According to the Manchester Evening News, the band played punk-pop music and Styles was their lead singer. He lost touch with his bandmates from White Eskimo after he joined One Direction — however, the band is still going strong. "I know that if just three or four times he said 'listen to my old band,' it would give us exposure to millions of people," said Will Sweeny, Styles' old friend and bandmate. "We have asked him. I last spoke to him a year ago. He doesn't see me anymore."
As Styles told the Rolling Stone, he still remembers his time with White Eskimo. "We wrote a couple of songs. One was called 'Gone In A Week' and was about luggage," he said.
Harry Styles' life changed when he auditioned for The X Factor at 16 years old
Harry Styles had been interested in singing as a child, but it wasn't until he was 16 that his career really began. It all started when his mother took him down to London to audition for the talent competition "The X Factor." As he recalled to Vogue, "I went to the audition to find out if I could sing or if my mum was just being nice to me."
At the time, Styles expressed his enthusiasm for the competition. "I've always wanted to do it and my mum's always wanted me to do it," he revealed in a backstage interview. "This is the first year that I'm old enough to do it so I thought I'd give it a whirl." He added, "If I was to get through it would just be everything … it's everything that I want to do." Luckily, Styles was chosen to go through, and the rest is history.
Even though Styles was later eliminated, the judges of the show brought him and four other contestants back: Niall Horan, Liam Payne, Louis Tomlinson, and Zayn Malik. They formed a new boy band called One Direction.
Harry Styles shot to fame as part of One Direction and moved to London
As a member of One Direction, Harry Styles quickly shot to fame. In fact, the band became one of the most popular musical acts of its time. They even racked up six Guinness World Records before they broke up in 2016. One Direction's records included the record for music group with the most Twitter followers, most popular dance track, and most subscribers on a YouTube channel for a band (via the Daily Mail). As Styles told Vogue, he has no regrets about being in the band. "I loved my time in it," he gushed. "It was all new to me, and I was trying to learn as much as I could. I wanted to soak it in. … I think that's probably why I like traveling now — soaking stuff up."
For Styles, being a part of One Direction taught him about being a professional in the music industry; it also gave him a small fortune. When Styles was just 18 years old, he bought his own house in London. As he told Vogue, when he finally moved into his home, he cried. "Because I just felt like I had somewhere," he added.
Harry Styles learned a lot dating Taylor Swift
Harry Styles has had several major relationships in his life, but his time dating Taylor Swift captured plenty of fans' attention. The pair got together in 2012 just as One Direction was blowing up around the world. While the relationship was relatively short-lived, lasting only a few months, it made a big impact on Styles' artistic sensibilities. As he told Rolling Stone, "In writing songs about stuff like that, I like tipping a hat to the time together. You're celebrating the fact it was powerful and made you feel something, rather than 'this didn't work out, and that's bad.'" He added, "I'm lucky if everything [we went] through helped create those songs."
In an interview with The Howard Stern Show, Styles explained that he would always support Swift if she wanted to write about him. "I think it's, like, flattering," he shared. "Even if the song isn't that flattering, you still spent time on it and ultimately, using Taylor as an example, she's a great songwriter. So they're good songs."
Harry Styles released his first solo album in 2017
After singing in the One Direction boy band for years, Harry Styles finally went solo in 2017 with his self-titled debut album. For Styles, a solo album felt like the natural career progression at the time. In fact, he'd been writing and recording his own music while still in the band. "After a show you'd go in a hotel room and put down some vocals," he recalled in an interview with Vogue. When Styles finally got to make his own music, he said, he "really fell in love with being in the studio."
In another interview with USA Today, Styles said that this first album was all about musical experimentation. "I was very much working out what I wanted the album to be until picking the track listing, and I wanted people to go through that with me when listening to that, instead of picking a sound and writing ten of the same things," he explained.
Harry Styles became a pescatarian and developed a very healthy lifestyle
In 2017, Harry Styles made another major life change: he gave up meat and became a pescatarian. As he told Vogue, the transition was inspired by his vegan band members. "My body definitely feels better for it," he revealed. In addition to cutting meat out of his diet, Styles also took up a variety of wellness habits, including Pilates, meditation, and even the occasional juice cleanse.
In an interview on BBC Radio 1 in 2017, Styles opened up about his pescatarian lifestyle in a little more detail. Apparently, Brussels sprouts are one of his favorite foods. "I think sprouts is gonna be like the new kale," he joked. And in another interview with NPR in 2020, Styles once again spoke about his diet. While he stated that he didn't eat meat, he also confessed that he definitely wasn't going vegan any time soon thanks to his love for cheese.
Harry Styles has become a film star
As if Harry Styles wasn't already talented enough, in 2017 he made his professional acting debut in the feature film "Dunkirk." Since then, he's been cast in two more feature films: "Don't Worry Darling" and "My Policeman" (via IMDb).
For Styles, acting is a passion. As he told Today, starring in "Dunkirk" was "one of the best experiences" he'd ever had. And, as the singer told Another Man, acting was actually something he'd been passionate about for years. "I did acting at school," he recalled. "It's something I've always wanted to explore but I was busy with the band so I never felt like I had time to do it the right way." Styles went on to explain how his first day on the set of "Dunkirk" was "one of the hardest days of work" he'd ever done.
It seems that Styles has a real talent. As his girlfriend and "Don't Worry Darling" director wrote in a post on Instagram, "He infused every scene with a nuanced sense of humanity. He didn't have to join our circus, but he jumped on board with humility and grace, and blew us away every day with his talent, warmth, and ability to drive backwards."
Harry Styles has become an icon of gender neutral fashion
As any fans of Harry Styles will know, he's become an icon of androgynous style over the years. His daring, controversial outfits defy gender stereotypes and almost always become a talking point. In an interview with L'Officiel, Styles said, "A lot of borders are falling, in fashion but also in music, movies, art … I don't think people are still looking for this gender differentiation." Styles went on to explain that his stylist, Alessandro Michele, is a collaborator who helps him find clothes that he likes, regardless of which gender they were designed for.
In May of 2019, Styles co-hosted the Met Gala in a blouse and a pearl earring. As he later told The Guardian, "What women wear. What men wear. For me it's not a question of that. If I see a nice shirt and get told, 'But it's for ladies.' I think: 'Okaaaay? Doesn't make me want to wear it less though.'"
He launched a nail polish line
In 2021, Harry Styles launched a beauty brand called Pleasing that specializes in nail polish. As Styles explained to Dazed & Confused, the brand began when Styles was inspired during lockdown. "It's starting with nail polish, because that was kind of the birth of what it was for," Styles said. "Me seeing a color on a flower or a wallpaper or something and thinking, 'Oh, I wanna put that on my nails.'" He went on, "I really think that the essence of Pleasing is finding those little moments of joy and showing them to people."
Apparently, Styles and his team have big plans to expand the brand to include skincare and makeup using eco-friendly ingredients and materials. Ultimately, Styles explained, the brand is a gift for his fans. "Pleasing is really for them," he said. "That feeling of community is kind of what we would like Pleasing to (reflect)."
Harry Styles continued to develop his musical style with the album Fine Line
Harry Styles released his second album entitled "Fine Line" in 2020. As he told NPR, he'd changed a lot as an artist since making his first album. For one thing, Styles had stopped caring so much about what other people thought. "I think if you're making what you want to make," he shared, "then ultimately no one can tell you you're unsuccessful, because you're doing what makes you happy." He went on to explain that his favorite bit of being a musician isn't the performance — it's the practicing. "Those are the moments that kind of mean the most because it's real," he continued. "And when everything else about being in music goes away, that's the stuff that I think you end up telling your grandkids."
Styles also revealed how this second album had taken a lot of inspiration from 1970s musical styles. "There's a freedom in the music that is so inspiring," he added. "If you go back and listen to so much of that music … they sound so fresh."
Harry Styles claimed that therapy and meditation were life-changing
Harry Styles, like many of today's big stars, has embraced wellness culture. As he explained to Vogue, meditation has become an important practice for him. "It changed my life," he said simply. "Meditation brings a stillness that has been really beneficial, I think, for my mental health."
In fact, meditation has become so important to Styles that he even read a bedtime story for the app Calm. As he told Capital FM, "Sleep and meditation are a huge part of my routine, whether I'm at home, in the studio, or out on the road." The balance of work and taking time to rest, Styles said, "has been endlessly beneficial to both my physical and mental health."
In an interview with Zane Lowe, Styles also said he resisted going to therapy for a while. "I think with the therapy thing, I just realized I was getting in my own way," he revealed. Since starting therapy, he hasn't looked back.
Harry Styles has learned about how to be a good partner
Over the years, as Harry Styles has matured, he's learned a lot about love. One of his biggest influences is the writer Alain de Botton. As he told Vogue, de Botton's novel "The Course of Love" changed the way he viewed romance. "When it comes to relationships," he said, "you just expect yourself to be good at it." But Styles has since learned that "being in a real relationship with someone is a skill."
Styles reportedly began dating the actress Olivia Wilde early in 2021 (via Harper's Bazaar) and the pair are still reportedly going strong (via E! News). Whether or not Wilde will prove to be "the one" for Styles, it's clear that he's making his relationships a priority. As he revealed on The Howard Stern Show, getting married is "definitely what I would like to do" (via People). Based on Styles' mature comments about viewing being in a relationship as a "skill," we're sure his future wife will enjoy a happy, healthy relationship.
Harry Styles used quarantine to learn new skills
In 2020, the world shut down as the COVID-19 pandemic swept across the globe. For Harry Styles, this meant taking a hiatus from his typically fast-paced routine. In an interview with 1Xtra radio, Styles opened up about how his life changed. He explained that he spent his time with friends in a "little safe self-isolation pod." He went on, "We're just being careful, listening to music, playing games, doing some face masks, you know, the classic quarantine stuff" (via Elle).
Styles also shared that he'd used the time off to pick up a few new things. "Now is the perfect time to learn a new skill or try a new hobby or something, right?" he continued. "We have nothing but time. I was learning Italian, and I was doing some sign language classes." Wow, we're impressed!
Of course, Styles had to get back to work pretty quickly. In May of 2021, he was spotted in the English countryside filming his new movie "My Policeman" alongside Emma Corrin from "The Crown" (via Capital FM).
Harry Styles had his first experience of being a leading man
In "Don't Worry Darling," Harry Styles took on his first leading role. Previously, he had only appeared in "Dunkirk" in a small role. "It felt like an opportunity to play someone who is incredibly complex, caught between love and obsession," Styles told Variety of the role. "There were always two sides of the character to play with. It's fun to play someone that you feel like you're trying to work out the whole time."
Because it was Styles' first big acting role, he didn't always feel comfortable in front of the camera. "Music I've done a little bit longer, so that feeling is a little more comfortable, but what I like about acting is I feel like I have no idea what I'm doing," Styles confessed during the "Don't Worry Darling" press conference in Venice (via ET Canada).
Harry Styles began a relationship with Olivia Wilde while on set
In 2021, Harry Styles entered a new era of his love life. While filming "Don't Worry Darling," the singer began a relationship with the film's director, Olivia Wilde. The pair were first linked in 2021 when they were spotted holding hands at a friend's wedding in California. "They were affectionate around their friends, held hands, and looked very happy. They have dated for a few weeks," a source told People at the time. Another source told Entertainment Tonight, "[Olivia] wouldn't let a romantic relationship get in the way of a professional one, so anything they're doing is being done thoughtfully." A few months later, the two were seen kissing on vacation in Italy (via Page Six).
Throughout their relationship, Styles has chosen to keep details private. "I've never talked about my life away from work publicly and found that it's benefited me positively … If someone takes a picture of you with someone, it doesn't mean you're choosing to have a public relationship or something," he explained to Rolling Stone. Wilde did the same. "We both go out of our way to protect our relationship," she told Variety. "I think it's out of experience, but also just out of deep love."
He expanded his acting experience with My Policeman
Shortly after filming "Don't Worry Darling," Harry Styles took on another leading role in the film "My Policeman." For Styles, the role was a chance to explore the complexities of love and sexuality. "I think everyone, including myself, has your own journey with figuring out sexuality and getting more comfortable with it," he told Rolling Stone. "It's not like, 'This is a gay story about these guys being gay.' It's about love and about wasted time to me."
Styles went on to explain that the sex scenes in "My Policeman" aimed to show the "tenderness" of gay love. Of course, for Styles, filming these intimate scenes was a new experience. Luckily, he felt comfortable on set. "Above anything that's happening … we're doing this together, and we trust each other. … we can stop whenever, and all that kind of stuff. … I'd never done that before — on camera, at least," he told Capital FM.
According to one critic from WhyNow, with "Don't Worry Darling" and "My Policeman" under his belt, Styles is well on his way to becoming one of Hollywood's biggest stars.
Harry Styles joined the MCU in The Eternals
As of 2022, Harry Styles' acting career appears to be on the brink of skyrocketing. In 2021, he appeared briefly in "The Eternals" as Eros. As the director Chloe Zhao told Empire, Eros is set to be a huge character in future Marvel movies. "He's an Eternal, and he was stationed on Titan — 10 of them were, just like the 10 Eternals on Earth, assuming Titan is also a host planet at some point," she explained. And, as Marvel boss Kevin Feige told MTV News, "Yes, the adventures of Eros and Pip is something that is very exciting for us."
Styles also confirmed that his role in the MCU would be bigger than just one cameo in "The Eternals." "It'd be funny if that was it, wouldn't it?" he joked to Rolling Stone. It sounds like we can look forward to seeing more of Styles in the MCU soon.