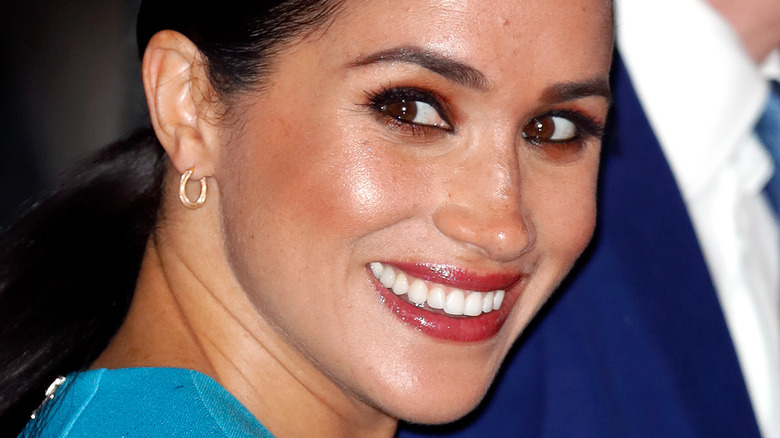 The following article includes brief refences to mental health issues and suicidal ideation.
Meghan Markle is the first American to marry into the royal family since King Edward VIII married American socialite Wallis Simpson after their scandalous romance led him to abdicate the thrown. But it has been Markle's poise and elegance in her royal role — not to mention, her ability to consistently shake up the status quo of The Firm — that has captured the world's attention.
Her catapult into the royal family was unexpected, even though she grew up around the entertainment business. Woodland Hills, a suburb in Los Angeles, was Markle's hometown, and her upbringing was far from conventional. From an early age, Markle seemed to understand her purpose as a global citizen. She was always focused on how she could help her community. By 15, she was already volunteering in soup kitchens. Along the way, she became a powerful advocate for women and the poor. Once she became an A-list actor, she used her celebrity status to bring even more attention to the causes she cared about.
When she became the Duchess of Sussex, Markle's humanitarian work didn't stop, but her life became harder as she dealt with cruel British tabloids that seemed to make it a priority to demonize her. Of course, we all know how she and Prince Harry decided to deal with that. But let's rewind, all the way back to the beginning, and take a look at her evolution, from toddler to tiara.
An early lesson about race shaped Meghan Markle's views
In this picture, Meghan Markle is a toddler, pictured with her father, Thomas Markle. According to Inside Edition, the adorable, curly-haired kid lived with him and her mother, Doria Ragland, in Woodland Hills until they divorced when she was 6.
Meghan's signature curly locks reflected her bi-racial heritage. Her father is white and her mother is Black. Her parents' background shaped her identity in a way that was sometimes confusing. In an essay for Elle, she wrote, "Being biracial paints a blurred line that is equal parts staggering and illuminating." Growing up, Meghan didn't see many people that looked like her. Woodland Hills was far from diverse, as she put it. Her mother was often mistaken for her nanny, and by middle school, the pressure to "choose" a race was further compounded when she had to fill out a census. "I didn't tick a box. I left my identity blank — a question mark, an absolute incomplete — much like how I felt," Meghan wrote.
Fortunately, Meghan's dad came through with some sage advice: "If that happens again, you draw your own box."
Meghan Markle's dad's job was cooler than yours
Here, Meghan Markle (far left) is in elementary school, pictured with some of her friends. By this time, the freckle-faced cutie was attending Immaculate Heart Catholic School, and still rocking her signature 'fro.
Her after-school experience looked a lot different than her strict classroom structure. Her dad, Thomas Markle, worked as a lighting director and director of photography for the hit show "Married… With Children." Meghan told Esquire that, for 10 years, she spent every day after school on the set with her father. That time shaped her view of the acting world. That's where Meghan was first introduced to the magic of show business. "There were a lot of times my dad would say, Meg, why don't you go and help with the craft services room over there? This is just a little off-color for your 11-year-old eyes," recounted Meghan. Her time on set gave her the chance to meet some of the era's most popular bombshells. "There were guest stars like Tia Carrere and Traci Lords and Nikki Cox. Those were the kind of women coming in every day," she shared.