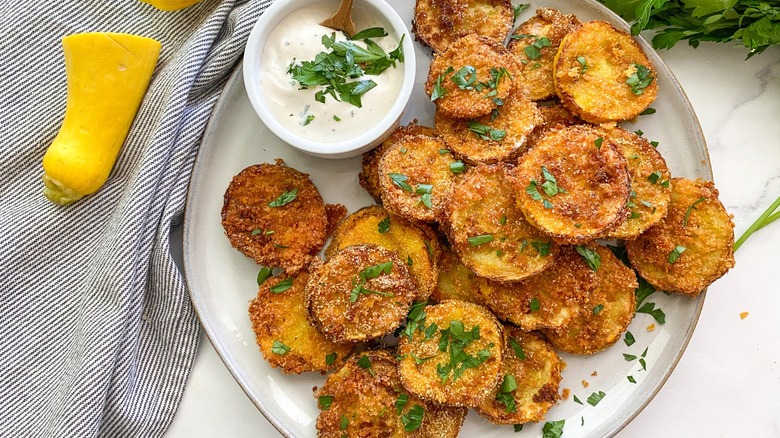 We don't know about you, but we find that veggie-filled appetizers that don't lack in flavor, are always needed. Whether it's a game-viewing party, a family gathering, or a casual lunch with friends, we always seem to need delicious starter recipes. Recipe developer and health coach, Miriam Hahn, brings us this recipe for Southern-style fried squash. Hahn agrees, noting "this is a great thing to serve for a game day or when you have a crowd coming over and want a mix of appetizers. It is similar to a fried zucchini that sports bars serve."
Hahn recommends serving this fried squash with a variety of sauces. She tells us "I like to serve it with a standard ranch, blue cheese or garlic aioli sauce. [It's] also good with buffalo sauce."
She would be remiss if she did not mention the importance of serving it alongside fresh veggies — she is a health coach, after all. "I like to pair this with a variety of fresh veggies so you can balance out the fried food with fresh," she says.
Gather your ingredients for southern-style fried squash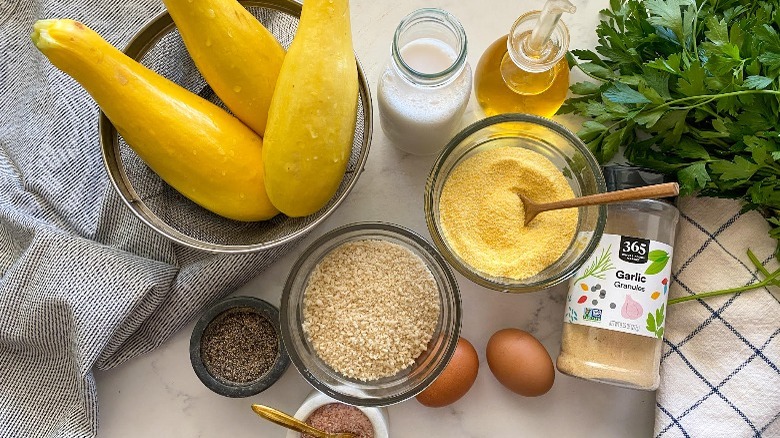 To make this Southern-style fried squash, you can start by gathering your ingredients. For this recipe, you will need yellow squash, milk, eggs, cornmeal, panko breadcrumbs, garlic granules, salt, pepper, avocado oil, and an optional garnish of parsley or cilantro. Hahn swears by "the combination of using cornmeal and panko; they offer different textures which I think is a great coating!"
Slice the squash and prepare the dredging station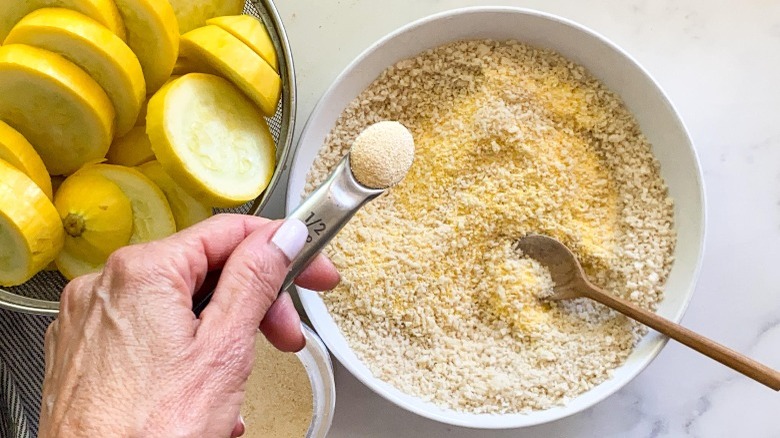 First things first, you can slice the squash into thin slices — aim for each slice to be roughly ¼-½ inch thick. Then, in a shallow bowl, add the milk and beaten eggs. In a separate shallow bowl, add the dry dredge ingredients of cornmeal, panko, garlic granules, salt, and pepper. Mix the dry ingredients well to make sure they are incorporated.
Dredge the squash slices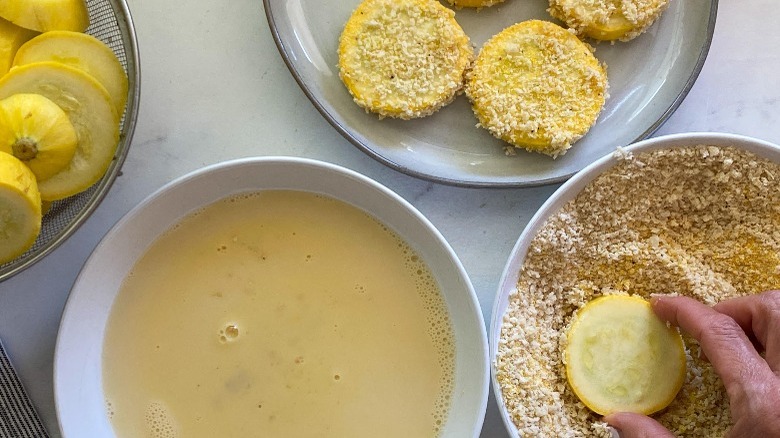 Now, begin dredging the squash in the bowls. Take each squash slice and dip both sides in the milk mixture. Then, take the wet squash and dredge both sides in the dry mixture. Repeat this step with all of the squash slices.
Fry the sliced squash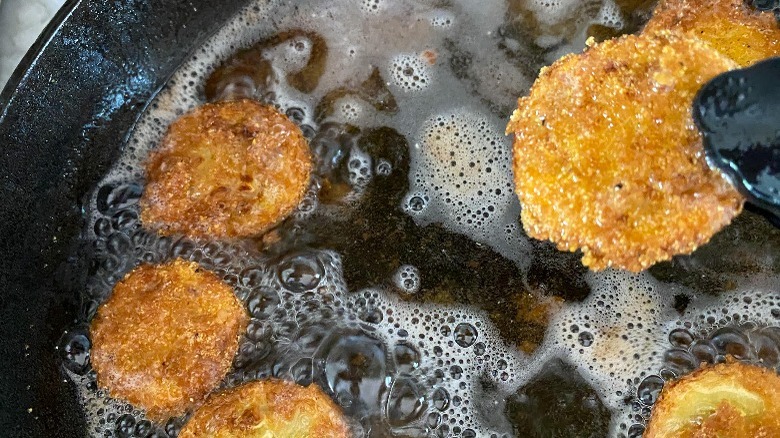 It's time to fry the squash. Heat a skillet filled with avocado oil over medium high heat. Once the oil is hot, drop in the squash slices. Allow the squash to cook for 3-5 minutes on each side. Remove the squash slices with a slotted spoon when they are golden brown. Place the fried squash on a paper towel-lined plate to help absorb the excess oil. If you are looking for a lower-fat option and have an airfryer at home, Hahn notes "if you want to make these healthier, you can use an air fryer!"
3 yellow squash
½ cup milk
2 eggs, beaten
¾ cup cornmeal
¾ cup panko or breadcrumbs
1 teaspoon garlic granules
1 teaspoon salt
½ teaspoon pepper
1 cup avocado oil
fresh parsley or cilantro, for garnish
Slice the squash into ¼-½ inch slices.
Mix the milk and eggs together in a shallow bowl.
In a separate bowl, mix the cornmeal, panko, garlic granules, salt, and pepper.
Dip each slice of squash into the milk mixture, then the cornmeal mixture.
Add the oil to a heavy skillet and heat on medium-high. When the oil is hot, drop in the squash slices and fry for 3-5 minutes per side, until they're golden brown.
Remove from the skillet and place the slices on a paper towel to drain before serving.