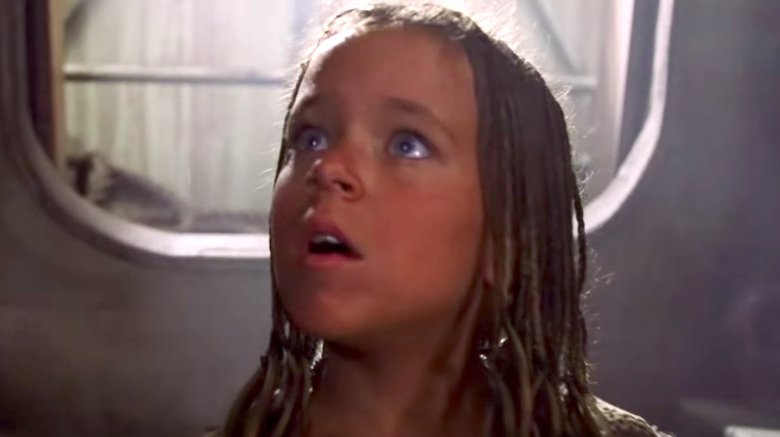 We may receive a commission on purchases made from links.
Oh, Waterworld. The 1995 Kevin Reynolds-directed film was viewed as such a massive box-office flop that The New York Times called it "the most wasteful feat of one-upmanship in Hollywood history." While reviewers were quick to dismiss it as an extravagant action movie (one that reportedly cost a ludicrous $175 million to make), one thing was certain — Tina Majorino, the little girl who played Enola, had enormous talent.
A budding child star, she rose to prominence playing the daughter of Meg Ryan's character in 1994's When a Man Loves a Woman. Her acting was so well-received that Majorino was even nominated for most promising actress at the CFCA Awards. That same year, she also starred in Corrina, Corrina, a touching comedy with Ray Liotta and Whoopi Goldberg. After a few more roles, she seemingly disappeared from Hollywood, with most people remembering her solely as a '90s child star. Never one to seem pretentious, Majorino always came across as down-to-earth. As she explained to the Los Angeles Times in 1994, "People know they have seen me somewhere, but they don't know where. … I don't tell them."
Majorino returned to the spotlight in 2004 by starring in a new hit, but many fans didn't make the connection. Let's take a dive and find out what exactly happened to the little girl who played Enola in Waterworld.
Tina Majorino took some time away from showbiz
Definitely a move that most Hollywood A-listers would gawk at, Tina Majorino decided to take time away from the limelight after her big screen success to do some soul searching. As she explained to The Daily Emerald in 2006, she "needed to find out who she was," so she left showbiz for five years — even though she was a successful child star. "I definitely was comfortable enough with myself that it wasn't going to be the end all, be all if I tried and couldn't make it back," she stated. Fortunately for Majorino, Lady Luck was on her side, and she quickly returned to movies and TV.
"I always get asked if I've made a conscious choice to just now do television and that's definitely not the case," she said. "It's just that with these roles that I've been able to play, they've just appealed to me a lot." Ultimately, she now picks projects that allow her to experience things that she never would in real life, making every day on set an entirely new adventure.
Tina Majorino stayed clear of the 2000s Hollywood party circuit
Majorino's decision to ditch the Hollywood life before it became too dicey was because she recognized the pitfalls of the dangerous side of showbiz. Leaving the scene at 13, she noted that she needed to get out to let herself grow and develop. In an interview with Stephanie DuBois (via Netscape), the Corrina, Corrina star said that she still wasn't active in the mid-2000s social circuit even when she returned to Tinseltown. Keep in mind: Starlets such as Paris Hilton, Lindsay Lohan, and Nicole Richie were making headlines for their hard-partying reputations at the time.
"There are a lot of young actresses not setting very good examples and there should be some that show us that that's not really how it's done," she said at the time. "…because of the temptations in this business you have to have some kind of reality that you can fall back on instead of just always living in this world of make-believe — because that's really what it is." Speaking to Stumped magazine, Majorino admitted she's proud she didn't succumb to the pitfalls of Hollywood. "I don't think that there was ever a moment where I could have gone Corey Feldman," she said. "I try to stay pretty true to the way I am each day because I'm my biggest critic."
Tina Majorino wasn't allowed to star in comedies as a child
Although she acted out the role of adorably awkward Deb in Napoleon Dynamite so naturally, Tina Majorino actually took on the part in the comedy cult classic because she viewed it as a challenge. As she told Rolling Stone, "…it was always a little off-putting when people would say, 'Oh no, you're too serious.' The fact that [Director Jared Hess] would even let me come in and read really appealed to me. Even if I didn't get the role, I just wanted to see what it was like to audition for a comedy, as I'd never done it before."
In an interview with MovieWeb, Majorino explained why she never had the opportunity to do comedies when she was younger. "I was always cast in very serious, dark, dramatic roles which was really great and challenging for me, but people wouldn't even see me in comedies because you do a role and you immediately get typecast by that role." Typecasting aside, her parents reportedly wouldn't even allow her to audition for comedies. According to Entertainment Weekly, Majorino's parents even offered their adult daughter their two cents about the Napoleon Dynamite script, telling her they didn't think it was funny at all.
Napoleon Dynamite reignited Tina Majorino's movie career
Bet you didn't know this fun fact: Tina Majorino played the adorably awkward character Deb in the 2004 film Napoleon Dynamite. The movie holds a very special place in her heart, too. As she gushed to Bello (via the Daily Mail), "I read Napoleon Dynamite and instantly I was like, 'I don't even care if I get it, I have to audition for this movie! I think I was 17 … and I was like, 'this is hilarious.'" She added, "That film was a huge lesson for me in following my gut. It was pure magic and 100% reignited my love of filmmaking."
The film remains one of the biggest cult classic comedies of the mid-2000s. An underdog in cinema, the movie had a budget of only $400,000, but it grossed about $44.5 million (via Box Office Mojo)! What made the film so endearing was that it was "so autobiographical," according to Jared Hess, the movie's co-writer and director. He told Rolling Stone that he based Majorino's innocent character partly on his wife, Jerusha Hess: "Her mom made her a dress when she was going to a middle school dance and she said, 'I hadn't really developed yet, so my mom overcompensated and made some very large, fluffy shoulders.' Some guy dancing with her patted the sleeves and actually said, 'I like your sleeves … they're real big.'"
Tina Majorino joined the animated version of Napoleon Dynamite
Not many people remember the animated series Napoleon Dynamite, but, lo and behold, it existed for a brief period of time. Director Jared Hess (from the original film) managed to get the entire original cast back for the short-lived series! Alas, audiences didn't receive it as well as the movie. According to The New York Times, the deadpan humor was gone in the animated rendition, replaced by the slapstick style of jokes familiar in shows like The Simpsons and Family Guy.
Although the show only lasted six episodes, Majorino still thought it was "perfect." In an interview with HitFix, she explained that she was hesitant to do a sequel to the film because fans were "nervous [they] were gonna ruin the first one." As for the cartoon, she thought it allowed the cast an opportunity to be "silly" using a different format that wouldn't detract from the film. "We can be outlandish if we want to and it doesn't matter," she said. "It's not going to tarnish the first thing that we did."
Tina Majorino nabbed a major role in Veronica Mars
After the success of Napoleon Dynamite, Majorino pivoted to TV, and 2006 saw the bubbly actress starring alongside Kristen Bell as a series regular in the teen detective series Veronica Mars. In fact, the show's writer, Rob Thomas, actually created the role of Veronica's best friend Cindy "Mac" Mackenzie just for Majorino. In fact, he first met the actress when she was 11 years old. According to Texas Monthly, she read one of his books, Rats Saw God, and contacted him to help her with a book report. During their interview, Majorino asked, "What do you want to do next?" Thomas told her he was "hoping to transition into the TV and film business." In true Majorino fashion, the pint-sized star graciously told him she'd done some film work herself. When Thomas politely asked her what movies she'd been in, Majorino finally revealed that she'd appeared in the three heavy-hitter films Waterworld, Corrina, Corrina, and When a Man Loves a Woman. Just like that, the duo made a pact that they would work together in the future.
Years later, Thomas created a role just for her. As she told Texas Monthly years later, "I was like, man, this is so cool. He's just one of the rare people in Hollywood that means it, when he tells you something."
Tina Majorino was in a Pink music video
Another easter egg of a Majorino sighting? She was in a 2011 music video for Pink's "F**kin' Perfect." The actress was a massive Pink fan before she was even approached to star in the video. "Her people just called up my manager and said, 'She has 30 minutes to give us an answer.' And I just said, 'Yes, I'll do it,'" Majorino told Access Hollywood. "I just really believe in the message of the song and I think that she's such a brave woman and that she's really super talented. And I love that she has the strength to put out messages like that, regardless of what people think. And I think it's an important subject matter."
In the music video, Majorino plays a troubled woman who reflects on past life experiences where she was told she wasn't worthwhile or good enough. A truly versatile actress, Majorino was the ideal candidate for the role. As video director Dave Meyers told PopCrush (via Access Hollywood):"Just looking at her credits … she just has that sort of indie, off-the-mainstream-path angle about her. We both got excited about her and thought Tina would be a perfect fit."
Tina Majorino led a star-studded version of Alice in Wonderland
Tina Majorino's last role before a five-year hiatus was the lead in NBC's TV movie adaptation of the Lewis Carroll classic, Alice in Wonderland. Sharing scenes with industry vets like Ben Kingsley, Gene Wilder, Whoopi Goldberg, and Robbie Coltrane, a then-14-year-old Majornio somehow wasn't starstruck at all. "I'm not threatened or intimidated by people who have won all kinds of awards. I just think of them as fellow actors and we're all trying to do a good job," she told The Morning Call.
But the experience was more than just proving her chops among Academy Award winners. For Majorino, it was a chance to explore Europe for the first time, as she lived in London for three months during the shoot.
Majorino cited longtime British character actor Robbie Coltrane as the costar with whom she connected the most, calling him "a blast" in one interview, and a "wild [man] who know[s] how to keep things light and airy" to The Morning Call. This connection to Coltrane, who later portrayed Hagrid in the Harry Potter series, possibly led to another big part of Majorino's life…
Tina Majorino is a Potterhead
Just like the rest of the world, celebs are Harry Potter fans, too. Among the likes of Ariana Grande, Selena Gomez, and Jennifer Lawrence, Tina Majorino is also a total Potterhead! The actress once revealed her adorable obsession in an interview with VH1's Kate Spencer: "I love Harry Potter so much. My 29th birthday party was Harry Potter-themed. My dad dressed up as Dumbledore." When asked who she was, she mentioned she was "obviously" a Gryffindor. With her home decorated with house flags and guests wearing school scarves, Majorino clearly proved she is a die-hard Potter fan!
Majorino also gushed about Harry Potter creator and author J.K. Rowling. "Her imagination is unbelievable and I'm so fascinated by her as an author. We all need time to escape from reality, and going to Hogwarts is and always will be one of my fantasies."
Tina Majorino is very picky about her parts
It didn't take long for Tina Majorino to become a fan-favorite playing Mac in Veronica Mars. Once the series ended, she even got an offer to play a role in the CW series iZombie, another project by Veronica Mars creator and writer Rob Thomas, but the starlet turned that one down. In an interview with Stumped Magazine, Majorino explained that she's scrupulous when picking projects. "The exciting thing for me with any project is the prospect of being challenged in some sort of way," she said. "Whether it's a big budget project or whether it's a low budget project, it doesn't really matter on what scale it is to me if it's got good character fibers. That's pretty much what I base my decisions on."
Meanwhile, Thomas still had the talented actress on his wish list in 2018. He told TVLine: "I'd love to get Tina Majorino. We did offer her one role, but it wasn't her cup of tea, which I totally got."
Tina Majorino's character met a sad fate on Grey's Anatomy
Surprise, surprise — Season 9 of Grey's Anatomy featured yet another character getting brutally killed off the show. This time it was Tina Majorino, who joined the cast as Heather "Mousey" Brooks, an intern at the hospital. Since Majorino's time on the show was so short-lived, many fans were perplexed by Brooks' lack of character development. Margaret Lyons of Vulture even called her a "nothing character." Ouch! Perhaps providing some insight years later, series star Ellen Pompeo opened up to Entertainment Tonight in 2018 about how the writers decide to kill off characters on the hit series. "You only get killed off when your behavior is bad," she said. "If you're a nice actor, you die nice." Dr. Brooks was electrocuted. Hmm…
Whatever the motivation behind that plot twist, Majorino hopped right into her next project: Legends. In an interview with TNT, she spoke about her upcoming role at the time: "What's awesome about the show is the whole question behind it that drives it is, 'Who are we really,' so it's kind of an exciting thing to me because … really anybody on the show could turn into anyone … You could start off playing one person and end up playing something very different."
Tina Majorino landed a major recurring role in Scorpion
After taking on multiple roles as highly intelligent characters, 2017 saw Majorino in yet another profound part, this time as Florence, a chemist on the final season of the CBS show Scorpion. The series followed Walter O'Brien (played by Elyes Gabel), a genius computer hacker who, along with his team, helps police combat global threats and save lives. Per TVLine, Florence moves next door to the team, initially not getting along well with the rest of the team members. When she finally does, this causes even more controversy.
Although the series had previously been met with positive reviews, CBS canceled it in 2018, meaning Majorino's run didn't last long. Although it was a brief stint, the actress who once played Enola from Waterworld still managed to form a tight bond with the cast, regularly posting photos with people involved on the show to her Instagram and sharing quirky behind-the-scenes peeks like this adorably dorky clip of her dancing.