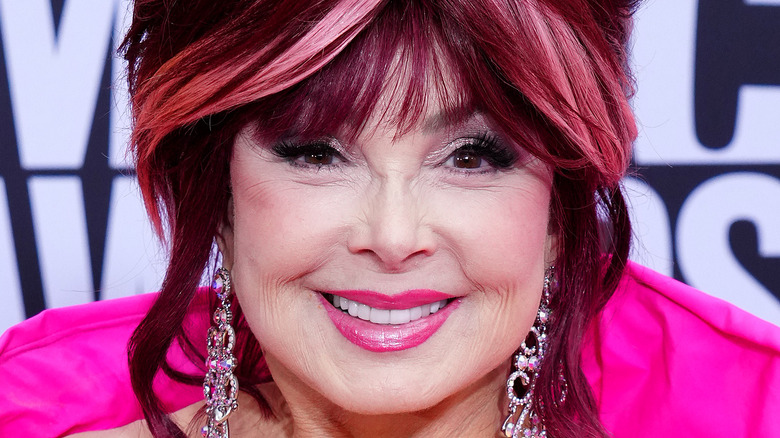 We may receive a commission on purchases made from links.
The following article includes references to child abuse, domestic violence, sexual assault, addiction, disordered eating, mental health issues, and suicidal thoughts.
They are one of country music's most enigmatic families, with another member on Hollywood's A-List, to boot. Collectively known as "The Judds," Wynonna and Naomi Judd became one of the most popular country acts of the 1980s. The living legends were even honored with an exhibit in the Country Music Hall of Fame, but all was not cowboy boots and love songs. And then there's Ashley Judd, the Golden Globe and Emmy-nominated actor who became an activist and pillar of the #MeToo movement.
The Judds' lives are an ever-evolving story of perseverance, a true testament to human strength that started long before fame. Over the years, they've shared their emotional struggle through interviews and memoirs (or, in the less fortunate cases, it was caught by the tabloids). These hardships are now being revisited following Naomi Judd's tragic death in April 2022. Though this family has been through the wringer, one thing is true: the Judds always come out the other side swinging. This is the sad, tragic story of the Judd family.
Ashley Judd's harrowing childhood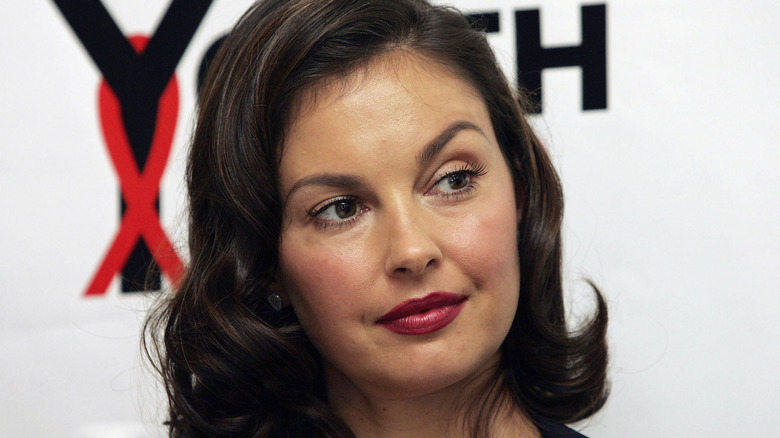 Ashley Judd opened the doors to a painful and disturbing past in her 2011 memoir "All That is Bitter and Sweet," in which she recounts numerous incidents of abuse she endured.
According to excerpts of the book published by Today, Ashley alleges that a relative sexually abused her when she was a child. She was also the victim of rape after being taken advantage of by "a creepy Frenchman" when she was pursuing a modeling career in Japan at just 15 years old. Another assault followed that experience, when "an adult male model who lived above her" tried to force himself on her until she "was able to persuade him to stop."
Ashley also alleged that her mother, Naomi Judd, and stepfather, Larry Strickland, engaged in "wildly sexually inappropriate" behavior in front of her and her sister, Wynonna Judd, when they were growing up. "I now know this situation is called covert sexual abuse," Ashley wrote. This all led to Ashley contemplating suicide in her teens. In the time since Ashley's damning revelations, both her mother and sister have confessed to being sexually abused by men in their lives, as well.
If you or someone you know may be the victim of child abuse, please contact the Childhelp National Child Abuse Hotline at 1-800-4-A-Child (1-800-422-4453) or contact their live chat services.
If you or anyone you know has been a victim of sexual assault, help is available. Visit the Rape, Abuse & Incest National Network website or contact RAINN's National Helpline at 1-800-656-HOPE (4673).
If you or anyone you know is having suicidal thoughts, please call the National Suicide Prevention Lifeline​ at​ 1-800-273-TALK (8255)​.
Ashley and Wynonna Judd: Sisters who spy
In 2013, Ashley Judd uncovered a tracking device on her car and immediately filed a police report suggesting her half-sister, Wynonna Judd, was to blame, according to ABC News. Come to find out, the device was registered to a private investigator working for Wynonna. Police reports say the device was passed off from Wynonna to her ex-husband, Arch Kelley III, who tagged the car. In a bizarre twist, the car was never driven by Ashley, but by Wynonna and Arch's then-17-year-old daughter, Grace. Ashley believed the device was planted due to an ongoing custody dispute between her and Wynonna as the girl was in Ashley's care.
According to another article by ABC News, Ashley released a statement about the family drama, saying, "The issue at hand is the illegal violation of my privacy in that a tracking device was secretly and unlawfully placed on my vehicle. For my safety and that of everyone around me, I naturally filed a police report, as any citizen would and should."
She also slammed the police department for leaking details of the report to the media. "A very fine career detective has been suspended for a moment of poor judgment for succumbing to media invasiveness [sic]," Ashley added. "It is my, and everyone's, responsibility to take routine action when any law is broken."
The shocking crime of Wynonna Judd's husband
In 2007, Wynonna Judd's life would be changed forever after learning that her second husband, D.R. Roach, was arrested on child sex assault and battery charges. At the time, the couple had only been married for four years. "My first response when it happened was, I am a mother first and foremost," Wynonna told Ladies' Home Journal (via People). Despite the news, Wynonna knew the type of man she married. She delivered a shocking confession, saying, "I knew what I was getting into and I tried to change it. I knew that both Roach and I had issues with addiction when I married him. I know my life. I know the people I chose, I know why I chose them and I really thought that I could change people through loving them enough. It doesn't work that way." Five days after Roach's arrest, Wynonna filed for divorce.
Years later in 2010, Wynonna appeared on "The Oprah Winfrey Show" and gave an update. She confessed to knowing Roach's victim and explained the healing phase had begun for his or her family. "They're in the [healing] process, and it's none of my business," she told Winfrey (via CNN). "I had to separate from it or it would have killed me. I literally had to physically, emotionally and spiritually literally place them at the feet of Jesus." She added that Roach was in recovery.
As for her personal life, Wynonna's trashed anything that reminded her of Roach's memory, explaining, "[I] haven't forgotten, but I have forgiven."
If you or someone you know may be the victim of child abuse, please contact the Childhelp National Child Abuse Hotline at 1-800-4-A-Child (1-800-422-4453) or contact their live chat services.
If you or anyone you know is struggling with addiction issues, help is available. Visit the Substance Abuse and Mental Health Services Administration website or contact SAMHSA's National Helpline at 1-800-662-HELP (4357).
Wynonna Judd didn't ask Ashley and Naomi to save the date
Important days like weddings usually call for heaps of family and fun. That wasn't the case for Wynonna Judd, who tied the knot for the third time sans her mom and sister's blessing.
According to Us Weekly, Wynonna wed Cactus Moser in June of 2012. Moser was the drummer for country music band Highway 101, so the husband and wife likely bonded over their musical backgrounds. Only Wynonna's children and her new husband's children were present at their wedding. No other family members were notified of the ceremony. What makes the situation so shocking is the close proximity the Judd family lived to one another. "Mom is at 11 o'clock, Ashley is like at 1 o'clock, and I'm at 6 o'clock," Wynonna said of their home positions on the grand family farm in Tennessee.
"I didn't want it to be about anyone but Cactus and me," Wynonna said about not inviting others. "Because to me, at the end of the day, it's the children, Cactus, and me. I was so concerned about making this feel special for them, everything fell away." She also claimed her self-esteem would have plummeted if her family were present, adding, "If know Ashley, she would have re-positioned my dress, or mom would have given me a Kleenex to stuff in my bra, or told me, I have something in my teeth. I just didn't want that. I just wanted to get married!"
Naomi Judd's debilitating mental illness
Despite all the fame and country-music glory, Naomi Judd's life wasn't easy. In 2016, the late musician opened up about dealing with depression. "What I've been through is extreme," Naomi, then 70, told "Good Morning America." "My final diagnosis was severe depression." The mental illness was so severe that no type of treatment or medication could seem to treat it, she said. "Treatment resistant because they tried me on every single thing they had in their arsenal," Naomi explained. "It really felt like, if I live through this I want someone to be able to see that they can survive."
Naomi said there were times she'd come home off the road and be confined to her house for weeks on end — neglecting the very life she worked so hard to build. "They see me in rhinestones, you know, with glitter in my hair, that really is who I am," she explained. "But then I would come home and not leave the house for three weeks, and not get out of my pajamas, and not practice normal hygiene. It was really bad."
Naomi Judd died at the age of 76 in late April 2022, and it seems that her mental health struggles played a role in her death, which has been reported as an apparent suicide. Her daughters shared a statement to social media that revealed in part: "We lost our beautiful mother to the disease of mental illness." Still, an official cause of death had not yet been released, at the time of this writing.
If you or someone you know is struggling with mental health, please contact the Crisis Text Line by texting HOME to 741741, call the National Alliance on Mental Illness helpline at 1-800-950-NAMI (6264), or visit the National Institute of Mental Health website.
If you or anyone you know is having suicidal thoughts, please call the National Suicide Prevention Lifeline​ at​ 1-800-273-TALK (8255)​.
Naomi Judd was diagnosed with hepatitis C
Long before the late Naomi Judd was a music queen with cowboy boots, she was a nurse in Nashville, Tennessee. According to an article Naomi penned for Everyday Health, she worked in the intensive care unit, ICU, for years. During that time, Naomi saw patients under dizzying circumstances and was accidentally stuck with a needle. It's unclear when exactly that incident took place, but her health began to decline in the late '80s.
Naomi said in 1989 that she began to lose steam and suffered from headaches and nausea. She chalked it up to her grueling tour schedule but later decided to see a doctor, who in 1991 diagnosed her with hepatitis C. She was given just three years to live.
After years on medication, Naomi emerged better than ever, reports the Chicago Tribune. "I'm cured," she told the newspaper in 1998. "I've not only overcome and survived, but I've thrived. … When you are told by medical authorities you have three years on this planet, that you're going to be taking a six-foot dirt nap and that this is an absolutely incurable terminal illness, the sense of entrapment is so suffocating, so claustrophobic." She owed her life to a drug called alpha-interferon, becoming one of the lucky 20% of patients "whose body is free of the hepatitis C virus after [only using this] treatment."
Wynonna Judd's food dependency
Over the years, the tabloids have ruthlessly kept tabs on Wynonna Judd's body — judging her every photo and commenting on fluctuations in her weight. But in 2003, Wynonna ran to "The Oprah Winfrey Show" in hopes of gaining control of her life and her eating habits.
"I've dedicated my life to country music, I home school my children, I worked three years on my record, I support, you know, 40 to 50 families, I have for 18 years, and I never stopped," Wynonna candidly said. "And I'm in trouble because I lost myself. I'm the woman who forgot to put herself on the list. And I'm real tired. … I don't have it together. I'm losing my way here." The country vocalist claimed her weight drama started in her childhood after her parents divorced. "I had been so alone those years of my life. … I would get so hungry, I would get panicky," she said. This followed her all the way through her teens, and she reached her heaviest point in 1998 after divorcing her first husband, Arch Kelley III.
Wynonna later described her disordered eating habits as a food addiction. By 2010, however, she managed to grab control of her life, yet again, by dropping a whopping 55 pounds, according to People. But it was two near-death experiences — a devastating car crash and a blood clot found in her lungs — that truly pushed her to prioritize her health. "My weight was a symptom and not the problem," Wynonna said. "I used food to soothe and reward and I don't do that anymore."
If you are struggling with an eating disorder, or know someone who is, help is available. Visit the National Eating Disorders Association website or contact NEDA's Live Helpline at 1-800-931-2237. You can also receive 24/7 Crisis Support via text (send NEDA to 741-741).
Being a supportive sister led Ashley Judd to rehab
Ashley Judd experienced a notably chaotic and dysfunctional childhood. She was the type of kid who went to 13 schools in 12 years and shifted around between different family caretakers. In an interview with Glamour (via People), the star admitted that she was often on high alert during her childhood, explaining that she always tried to be obedient because she was often in unsafe environments. After a lifetime, this was hard to keep up.
In 2006, Ashley checked herself into the Texas-based rehab facility Shades of Hope Treatment Center. She was seeking treatment for emotional issues like depression, isolation, and co-dependency of relationships, according to Glamour (via People). "I needed help," Ashley said frankly. "I was in so much pain."
Ashley's decision to seek treatment came in a rather peculiar way. She was visiting sister Wynonna Judd, who was getting help for food addiction, when counselors approached her about the idea. "They said, 'No one ever does an intervention on people like you. You look too good. You're too smart and together. But you [and Wynonna] come from the same family, so you come from the same wound.' No one had validated my pain before," she recalled. Ashley ended up staying for 47 days.
If you or someone you know is struggling with mental health, please contact the Crisis Text Line by texting HOME to 741741, call the National Alliance on Mental Illness helpline at 1-800-950-NAMI (6264), or visit the National Institute of Mental Health website.
Who is Wynonna Judd's father?
It's a popular opinion that no mother should ever hold secrets from her child — especially secrets that are life-altering. Naomi Judd was guilty of said action when she withheld news that Wynonna and Ashley Judd shared different fathers. Wynonna's father is Charles Jordan, according to ABC News, not Michael C. Ciminella — whom Naomi rushed to marry in 1964, the same year Wynonna was born. Michael and Naomi welcomed daughter Ashley in 1968.
"The first thing I said was, 'It's okay,'" Wynonna divulged on "The Oprah Winfrey Show" in 2003. "And of course I'm raging inside … and I've just now come to realize nine years later, I'm really angry. Being authentic and knowing who you are, not just what you do, is sacred and I'm doing it now, and all the work is painful."
Naomi opened up about her decision to keep quiet, saying, "I don't know that I thought about it every day of my life, but there were certainly very few days that I didn't live with this secret and I think it does something to a child." To make matters worse, Ashley confessed to knowing the family secret long before anyone else. "I think not knowing the truth is what has messed her up rather than having found out," Ashley told Winfrey. "I had more compassion and understanding for her because I knew. It's interesting that I didn't consider it my place to tell her."
Ashley Judd helped spark the #MeToo movement
According to The Telegraph, Ashley Judd was the first actor to publicly speak out against movie mogul Harvey Weinstein in The New York Times' bombshell report, which detailed abuse allegations from numerous women in Hollywood. Per The Telegraph's report, Ashley initially made an accusation in October 2015 about a producer harassing her in a hotel room, but she didn't name names, which means the story more or less got lost. Two years later, she revealed that the harasser was Weinstein and claimed that the producer allegedly blacklisted her for rejecting his advances.
"I lost career opportunity. I lost money. I lost status and prestige and power in my career as a direct result of having been sexually harassed and rebuffing the sexual harassment," Ashley told ABC News. "My career opportunities, after having been defamed by Harvey Weinstein, were significantly diminished. … My career was damaged because I rebuffed Mr. Weinstein's sexual advances. I know it for a fact."
The New York Times reports that Ashley filed a lawsuit against Weinstein for sexual harassment, as well as defamation, though a judge dismissed the harassment portion of the claim in January 2019, then paused the remaining portion of the suit that August until the conclusion of Weinstein's simultaneous criminal trial. An appeals court later decided that Ashley could move forward with the sexual harassment claims. In early 2020, Weinstein was convicted of third-degree rape and one count of criminal sexual act in the first degree. He was sentenced to 23 years in prison.
If you or anyone you know has been a victim of sexual assault, help is available. Visit the Rape, Abuse & Incest National Network website or contact RAINN's National Helpline at 1-800-656-HOPE (4673).
Wynonna Judd's daughter got into meth
Wynonna Judd was arrested for a DUI in 2003, and more than a decade later, her daughter fell into the same time-honored family tradition of being cuffed. According to Radar, Grace Pauline Kelley was arrested in 2015 in a Walgreens parking lot in Nashville, Tennessee for "promotion of meth manufacture" after an eyewitness found a bag Kelley threw out of the passenger's side of her car and handed it over to police. This bag allegedly contained "a torn up box of pseudoephedrine, and a receipt showing a purchase of Coleman fuel," both of which are used to make methamphetamine.
In 2016, Kelley pleaded guilty and was able to reduce her felony charge to the misdemeanor charge of meth possession. Per Radar, she was arrested later that year for being a "fugitive from justice," her probation was revoked, and her case was transferred to drug court. That's where she pleaded guilty to "meth manufacture, delivery, sale and possession with intent," as well as to evading her arrest, which landed her some jail time, an extended probation, and 180 days of court-ordered rehab. Kelley ended up leaving rehab early, which didn't bode well for the country star's daughter. She was ultimately sentenced to eight years in prison but, according to People, was released in 2019, a whopping six years early.
Wynonna Judd's husband had a horrific motorcycle crash
In 2012, Wynonna Judd and her husband-slash-drummer, Michael Scott "Cactus" Moser, endured the unthinkable: an accident that almost claimed Moser's life. According to CNN, the pair set out on a motorcycle ride before their concert in Deadwood, South Dakota. They were riding on separate bikes when Moser "collided with an oncoming vehicle," Wynonna's publicist stated on the couple's behalf. Explaining that Moser's "left leg was severed at the scene of the accident," the statement noted that he was transported to a hospital, where doctors had to amputate the rest of his "leg above the knee."
In an interview with Entertainment Tonight, Wynonna described the horrific ordeal. "I run back, and he's just laying there and I hear nothing. And then I heard the most beautiful sound on Earth, and that is him going [breathes deeply]," she said. According to Billboard, Wynonna continued her tour less than a month after the accident. About 15 months later, her husband joined her again on stage. "One day you lose your leg," she told Entertainment Tonight, "the next day you go on tour."
The Judd family just couldn't get along sometimes
Fans who watched the reality TV show "The Judds" know that Naomi and Wynonna Judd didn't always get along. The family's televised arguments showed that although the mother-daughter duo had great chemistry on stage, their real-life relationship was rocky at times. Naomi revealed the extent of her and Wynonna's strained relationship in a 2016 interview with Robin Roberts for "Good Morning America." "I love her, but there are just times we need a break from each other," Naomi said of her eldest daughter. "… We're still a little estranged from each other." Although the two weren't on speaking terms at the time, it seems that Naomi was still hopeful that Wynonna would come around. "If she sees this, and I hope she does, 'cause the smartest thing is for all of us to feel known, no matter what's goin' on. Be truthful," the mother of two continued (via People). "I think she'll say, 'Good for you, Mom, for finally being willing to talk about the bad stuff.'"
As for Ashley Judd's relationship with the family, the former actor was once distanced from her mother and sister due to their demanding careers. As previously mentioned, Ashley opened up about her troubled childhood in her memoir "All That is Bitter and Sweet," which was released in 2011. In the book, the former "Berlin Station" star explained that she often felt isolated after being left alone for long periods of time (HuffPost).
Naomi Judd had a very difficult life before fame
Naomi Judd experienced many tragedies before her career in country music took off, and the late musician was very transparent about her dark past over the years. During an appearance on Candy O'Terry's "Country Music Success Stories" podcast, Naomi revealed that she conceived her first daughter, Wynonna Judd, as a teenager. The father's reaction to the pregnancy might surprise you. "I got pregnant the first time I had sex," the late country music star said. "… Three months later, when I called him to tell him to say I thought I was pregnant, he said, 'Well, tough luck kiddo,' and he hung up the phone, and we never heard from him ever."
Judd got into another relationship at age 22, but this romance ended in heartbreak, as well. The young mom was attacked by her ex-boyfriend, who broke into her home after their breakup. "He slapped me across the face," she explained. "… He tortured me and he beat me real bad, and then he raped me, and then he shot up heroin, and when he took a second dose of heroin, he passed out, so I took the girls and went to the sheriff station."
Unfortunately, hard times didn't stop there for Naomi Judd pre-fame, as she also often struggled with finances and relied on welfare to get by.
If you or someone you know is dealing with domestic abuse, you can call the National Domestic Violence Hotline at 1−800−799−7233. You can also find more information, resources, and support at their website.
If you or anyone you know has been a victim of sexual assault, help is available. Visit the Rape, Abuse & Incest National Network website or contact RAINN's National Helpline at 1-800-656-HOPE (4673).
Have the Judds moved forward?
The Judds have clearly been through a lot over the decades. In fact, Ashley Judd was so fed up with it when she was a child that, according to The Telegraph, she wanted to get as far away from mom Naomi Judd and sister Wynonna Judd as possible. "I was ready to blow out of town and get started in the Peace Corps or bail on that and hit Hollywood, my secret dream," Ashley said. As we know, she chose the latter, but it seems like the family actually developed a tight-knit bond in more recent years.
"It's interesting how time changes things," Naomi told OWN in 2016 of her relationship with Ashley. "Our relationship is so good because she comes in the back door, she plops down on the kitchen couch, and she was telling us what all is going on … she got up and she got ready to leave, and she said, 'This is my happy place … as long as you guys are right here, this is my favorite place in the world.'"
Ashley and Wynonna also seem to be closer than ever following their mother's 2022 death. The sisters joined each other on stage to honor Naomi during the Country Music Hall of Fame induction ceremony for The Judds that May. Ashley later took to Instagram to share a series of photos of her alongside Wynonna and other family members as they continued to grieve Naomi's death. "Be free, my beautiful mother," Ashley wrote in part. "Be free."