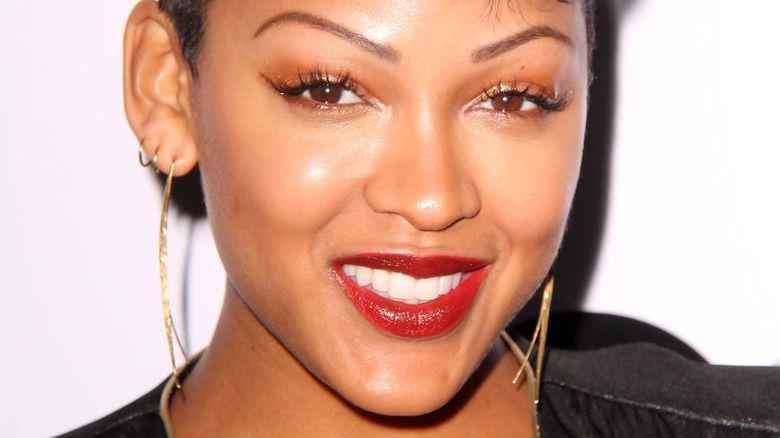 Meagan Good made a name for herself by snagging roles in projects like "Stomp The Yard," "D.E.B.S," and "My Wife and Kids," to name just a few. The "Think Like A Man" star's years-long career led her to work behind the scenes on a series of her own, and Good is an executive producer for "À La Carte." This new gig seems to be part of Good's recent lifestyle and career transformation. She split from ex-husband DeVon Franklin in 2021, and she's been vocal about revamping her life ever since. "I've learned to not be as much of a people pleaser," Good said of her recent transformation, per People. "I've learned that not everybody's going to get you or like you, and that's okay. And knowing who your tribe is and being really thankful for that, and knowing sometimes they're not your tribe — that's okay too."
In recent years, Good hasn't been afraid to share how her faith has helped her navigate Hollywood. She even opened up to The Christian Post about putting her religion first. "I like what I do for a living. I feel very fortunate that I get to do it. But at the end of the day, the reason that I'm here is to serve my Lord; to be who He has called me to be, to continue discovering what that entails."
It's clear there's more to this bombshell than her good looks, so what exactly is the untold truth of Meagan Good? Let's find out.
The actor began her career at age 4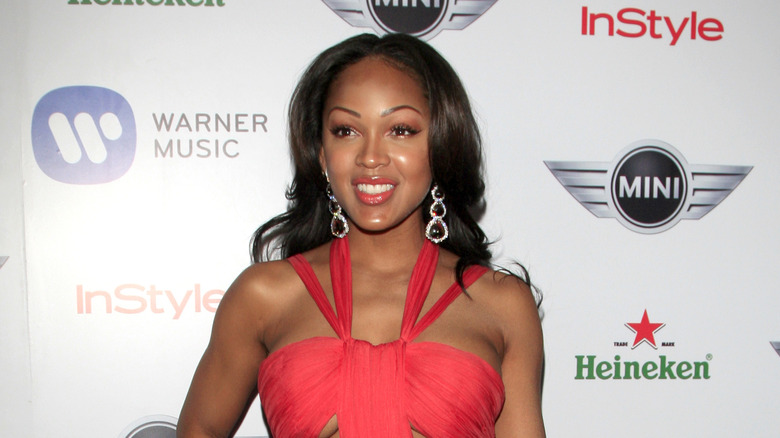 Though Meagan Good's acting career took off during her teen years, the star has been in show business since age 4. She started out as an extra on NBC's "Amen" and ABC's "Doogie Howser M.D," roles that helped Good get her foot in the door, and led to her hobby soon becoming a passion.
She spoke to OZY about her career's early days. "My mom, one of her best friends had her daughter in acting, and my mom [asked], 'So who do you work with?'" Good recalled. "'An agent or a manager?' And we went in and at first the manager actually didn't want me, they just wanted my sister. And as time went on, they decided to give me a chance. And I just did it like most kids went to ballet practice or dance class."
After working as an extra, Good booked her first role with her own lines in the 1995 movie "Friday." From there, she landed a role as Cisely Batiste in "Eve's Bayou." In an interview with Shadow And Act, the actor revealed she was originally set to play Eve in the 1997 drama, but there was a major change of plans after she aged out of the role. "When the [Eve's Bayou] script I was playing Eve because I was 10 and they didn't get the funding for it for three and a half years later," Good shared. "So I was like, I have to play Cisely."
Meagan Good admires her mother's strength and wisdom
Meagan Good has made it clear that she and her mother, Tyra Wardlow, have a strong bond. Wardlow even worked as Good's manager in the early days of her career, per the Los Angeles Sentinel.
The actor often mentions her mother's words of advice in interviews she's giving. While speaking with People, Good shared how Wardlow has helped her navigate the entertainment industry. "My mom was always very clear about being humble, about not believing your own hype and having an identity outside of being an actress," she explained.
The "D.E.B.S." actor also penned a piece about her inspiring mother for Guideposts, in which she explained why Wardlow is a hero. The article reveals that Good's mom cared for three children and continued to provide for them as a single parent after her divorce. Good explained that her brother, Colbert, was left with lasting medical issues after surviving a high fever as a child, and Wardlow helped Colbert thrive despite the challenges he faced. The "Day Shift" actor used this story as a testament to her mother's character. "Mom's well of empathy runs deep," Good said of Wardlow. "She has always been the one that people turn to when they have nowhere to go."
The star is looking forward to motherhood after her recent divorce
As previously mentioned, Meagan Good and DeVon Franklin divorced in 2021 after spending nine years together. The couple mapped out their future during those years, and even planned to have children shortly before their split. Good revealed to Romper that she decided to freeze her eggs in hopes of welcoming children with Franklin in the future. "I think everyone's different, but for me, it wasn't a nightmare at all," the actor explained, detailing her experience. "The only part that freaked me out came at the beginning, when they checked the number of eggs I had. I had around 10, and I thought, great! Ten eggs means ten kids, and the doctor said, 'No, actually, that number is very low.'" Good also shared that she wasn't entirely set on motherhood prior to meeting Franklin because she was focused on her career and didn't mind waiting to become a mom.
Halle Berry's journey to becoming a first-time mom at 41 resonated with Good and taught her that she didn't need to rush into parenthood. Thankfully, the "Death Saved My Life" actor didn't let divorce halt her hopes of becoming a mom. In 2022, she revealed that motherhood was still on her mind while speaking with Popsugar about her film, "Day Shift." In the movie, Good stars as a no-nonsense mom. The actor explained that this is the type of parent she aspires to be.
Her sultry image was too much for some to handle
Meagan Good is partially known for her often not-so-conservative attire. As a result, she began receiving criticism for her sultry image after her relationship with her preacher ex-husband, DeVon Franklin, went public. Good has shared that she's well aware that some critics find her acting roles and fashion unholy. "I know that some of the choices that I make, some of the things that I wear, some of the things I work on, not everybody in the church understands it," she told Blackprint, the Black Affinity Group at Meredith Corporation (via People). "And that's okay because, at the end of the day, it's between me and God and how I feel convicted in my spirit or don't feel convicted in my spirit."
Though it may seem that Good was able to escape the hate unscathed, the criticism actually led her to avoid attending church as often as she did in the past. During an appearance on "The D.L. Hugley Show" she revealed (via BET): "I do [go to church]. Not all the time though, because, if I'm being completely honest, my experience with some church folks has not been that positive, It's unfortunate because we're supposed to be the biggest lovers."
Despite the judgment, though, Good's ex-husband supported her career — sex scenes and all. She told D.L. Hugley that Franklin even encouraged her to ensure her steamy scenes looked real.
She had to deal with skin bleaching rumors
If you look back at pictures of Meagan Good over the years, you may notice that her skin seems to have gotten a few shades lighter. This change sparked skin bleaching rumors, but she says her skin lightening wasn't intentional. During an interview with The Shade Room, the actor explained that she began to notice her skin lightening while using products recommended by an aesthetician. Good later learned that this supposed professional was actually unlicensed and the products she recommended contained skin bleaching agents.
In the comments of an Instagram post shared to her account, Good explained to a fan why her skin tone was getting lighter and said she was on a journey to repair the damage. And in her interview with The Shade Room, she shared how the rumors made her feel. "To think there's little girls seeing this commentary and thinking it's true. It broke my heart that in a season when you have young Black men and women being murdered everywhere that someone would think for one second that I don't love my Black skin. That bothered me."
The actor has a star-studded dating history
Meagan Good is an entertainment industry veteran, so she's no stranger to the Hollywood dating game. From 50 Cent to Joseph Gordon-Levitt, Good has been romantically linked to a number of celebrities throughout her career. She confirmed her former relationship with 50 Cent during an interview for Hollywood Unlocked, and it seemed she wanted people to know she left that romance in the past. When asked about the fling, the actor shared: "I kept it under the radar intentionally because at that time in my career, I'd just come off of [the movie] Biker Boyz." She went on to explain that, although she was featured in the rapper's music video for his song "21 Questions," she didn't want their relationship to overshadow her own career and accomplishments.
It appears that Good may have had a thing for rappers, because she was also linked to Soulja Boy. According to Vibe, the actor only acknowledged the relationship after she and the "Pretty Boy Swag" rapper split. She also reportedly took to Twitter to allege that he's gay.
Like many actors, Good has also had flings with a few of her co-stars. She reportedly dated Joseph Gordon-Levitt after they starred in "Brick" in 2005, but the relationship was never confirmed. Good has also been linked to "Waist Deep" co-star Tyrese Gibson. She also had a fairly public relationship with NFL player Thomas Jones. During an interview with Essence, Jones shared "I am wherever she is."
She waited until marriage
Meagan Good and her ex-husband, DeVon Franklin, waited until marriage — and they wrote a book about it. The book, titled "The Wait: A Powerful Practice for Finding the Love of Your Life and the Life You Love," details the former couple's journey to the alter and how they remained celibate until marriage. It turns out that Good decided to give up sex in part because she wanted to escape her past. "I was a very destructive person and I struggled with that a lot," Good said of her younger years, per the New York Post. "I was always being told what to do. If I felt bad about something, I would drink. That is how I got started with smoking too."
The star's previous relationship also led her to choose celibacy. She told the New York Post that, prior to meeting Franklin, she had been cheated on. It seems that this was a turning point in the actor's life because she revealed: "I no longer wanted to be a girlfriend, I wanted a husband."
Good went on to share that it wasn't easy for her and Franklin to remain celibate. "There were moments where we would be alone and I thought, 'Man, I could really [have sex] right now,'" she told the New York Post. "When it did get too hot and heavy, I would stop and walk away. 'Let's go get lunch, let's get out of the house and do something different.'"
The star changed her habits at 40
As previously mentioned, Meagan Good had a bit of a dark past. This may explain why she's gone through a period of self-transformation in recent years. In 2021, she spoke with Yahoo! Life about why she decided it was time for a change. "This year I took a moment — [turning] 40 was about to happen," the "Video Girl" actor said in the interview. "Around April, I stopped drinking and really leaned into therapy. I got very intentional about [wellness] because I wanted to go into 40 with peace of mind, with unexplainable joy, with more sense of self and a wholeness." She also shared that she's now prioritizing self-care. For Good, this includes prayer and managing stress.
The actor also spoke about her new outlook on life during an interview with Coveteur. She revealed her transformation included healing from her past. Good shared: "I was like 'As I'm moving into 40, I wanna make sure my heart and my spirit are healed from some of the things that I experienced when I was younger, some of the things that I experienced where I grew up, some of the things I experienced from growing up in the industry, any type of trauma, anything that I need to deal with rather knowingly or unknowingly." She mentioned that therapy was an important part of her healing journey.
She became a women's health advocate after a cancer scare
Meagan Good became a woman's health advocate after she came forward about her own endometrial cancer scare. According to the Spot Her campaign from Force, Share, Black Health Matters, and Eisai Inc., the actor's doctor discovered abnormal uterus cells that could've become cancerous if they weren't removed. Luckily, Good and her doctor found the cells early on and she was able to have surgery before things progressed. Now, the star is encouraging other Black women to prioritize their health so that they can be diagnosed early as well.
Good spoke with E! News about how her faith also motivated her to get involved with the Spot Her campaign. "Part of it is when your life is aligning with the things that God's really put in your heart and who you really are as a human being," she explained. "When you're putting those things back into the world, I think things come to you. And this for me is super important, because it is a conversation that we're not having and especially within the Black community."
She also shared a startling statistic that proves her work campaign has the potential to help many women within her community. "When you look at the statistics, it's only 53 percent of Black women who are diagnosed early," Good said. "That's terrifying. For me, I just want to be a resource and a help."
The actor faced discrimination in Hollywood
Like many Black women in Hollywood, Meagan Good has been vocal about the discrimination she faced throughout her career. While speaking with Vibe, she revealed that writers often prefer to cast white women in certain roles. "When [Hollywood writers] write a fantastic script for a leading lady they don't say 'Let's get Joy Bryant or Meagan Good,'" the actor said. "They say 'Let's get Naomi Watts or Hillary [sic] Duff.' It's unfortunate but at the same token as a black woman it gives me so much to fight for." This discrimination led the star to take matters into her own hands, and she's now battling racism in Hollywood by directing her own films with strong Black leads. The actor has released a total of six projects as of this writing, per IMDb.
Good continued to call out injustice when she directed a music video with a powerful message for musician Diarra. The video was inspired by Black Lives Matter protests and the fight to end police brutality. Good spoke to People about why she took this approach with the video. "We don't want you to forget everything that's happened and everything that's continued to happen," the actor said. "We're not moving on. We have an active role that each and every one of us has to play in this time of history."
Meagan Good had an eyebrow transplant
If you've noticed Meagan Good's eyebrow transformation, you may be wondering who her makeup artist is, because the star's bold brows frame her face perfectly. However, it turns out makeup isn't responsible for Good's new look. Instead, the star took a much more permanent approach to filling in her brows: She underwent an eyebrow transplant. Good explained why she felt the surgery was necessary during an interview on "The Wendy Williams Show," (via Newsweek). "Nineties brow was pluck everything out, and then eventually it was tattooing," she said.
According to the star's segment on The Doctors, she began plucking her eyebrows at the age of 15, and by the time she reached 19, they stopped growing back. She tried to correct the damage through eyebrow tattooing and even microblading. Unfortunately, neither process yielded the results she wanted, so plastic surgery was the next step.
According to Allure, hair restoration surgeon Carlos K. Wesley explained that there are multiple sources of transplantable hairs for this procedure, but a popular area is the patient's leg hair follicles, due to their desirable growth rate. However, Good decided to have her transplant harvested from the back of her head. In April 2018, Good posted a stunning selfie and expressed her gratitude to eyebrow specialists Dr. Jason Champagne and Dr. Jason Diamond, who performed the procedure. "After destroying my eyebrows at age 19, I'm over the moon with these results thus far," she wrote in part.