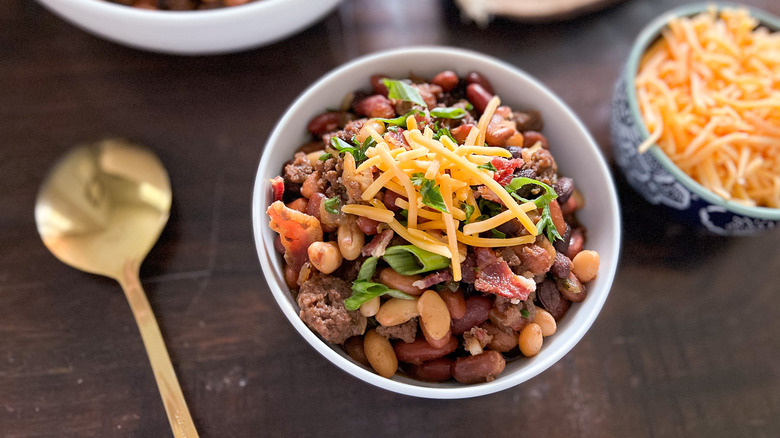 There's no doubt that the slow cooker makes everything easier. Once fall and the cooler months roll around, many people bust out their beloved crockpots to make warm meals for the family without the headache and hassle of really cooking. According to Watson Lake Inn, cowboy beans are super-popular in the southern United States and they have a fun backstory. Cowboys out on the trail would pack up beans since they were easy to transport, store, and cook. Once they arrived at their final destination, they would make a big batch to serve. But instead of just plain old beans, the cowboys spiced things up with a tangy sauce to add plenty of flavor.
Recipe developer Erin Johnson came up with this slow cooker cowboy beans recipe that totally hits the spot. "If your family likes baked beans and chili, they will love this! It's like a hybrid of the two, and it's delicious! Best of all, it's easy to make," Johnson raves. Who doesn't love a no-mess crock pot meal where you can set it and forget it?
Gather the ingredients for these slow cooker cowboy beans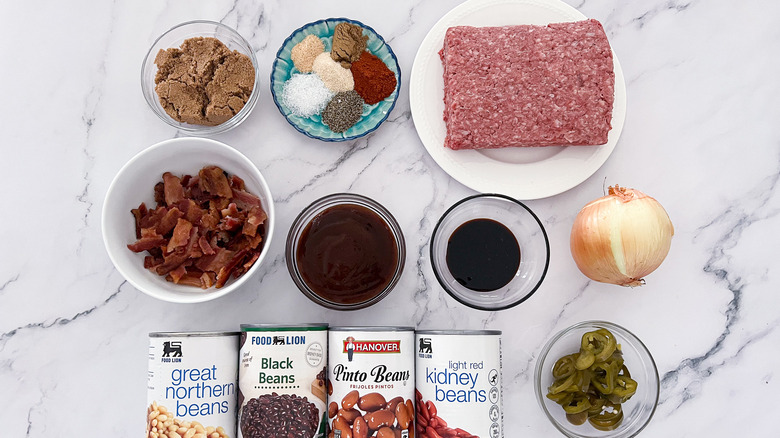 To whip up this dish, you must head to the store and grab a few ingredients. Pick up some ground beef, an onion, barbecue sauce, brown sugar, molasses, kosher salt, smoked paprika, cumin, onion powder, garlic powder, four cans of beans (you can use any type you like), pickled jalapeños, and bacon.
Once you have those items, you can make these slow cooker cowboy beans.
Brown the beef and add to the crockpot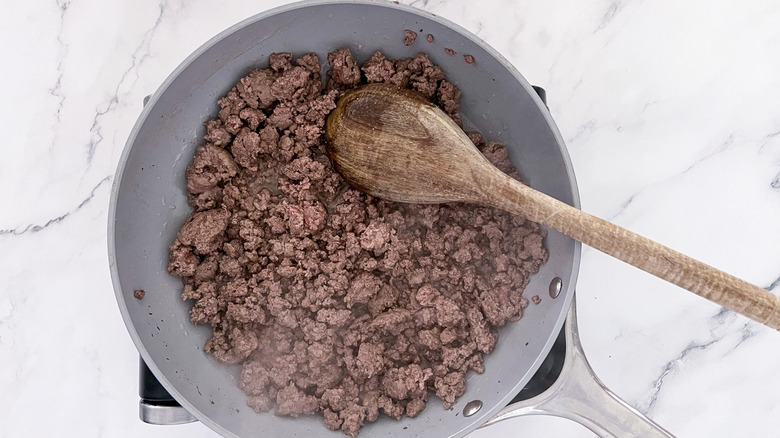 For this step, select your favorite skillet and place it on the stove. Toss in the ground beef and turn up to heat to allow the meat to cook. Then, toss in the diced onions. "I find that ground beef tastes best when browned before you add it to the slow cooker. It only adds a few minutes, and is worth it," Johnson shares.
Once browned, transfer the ground beef and onion mixture to a slow cooker.
Add the brown sugar, barbecue sauce, molasses, and seasonings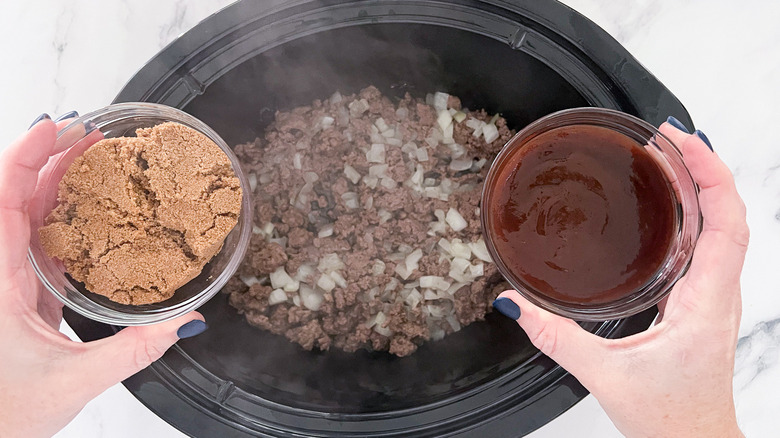 Now, you will just need to add the remaining items to the slow cooker, little by little. First, toss in the brown sugar and barbecue sauce and stir well. Next, you can add the molasses and seasonings. Again, stir well to combine the everything together.
Fold in the beans and jalapeño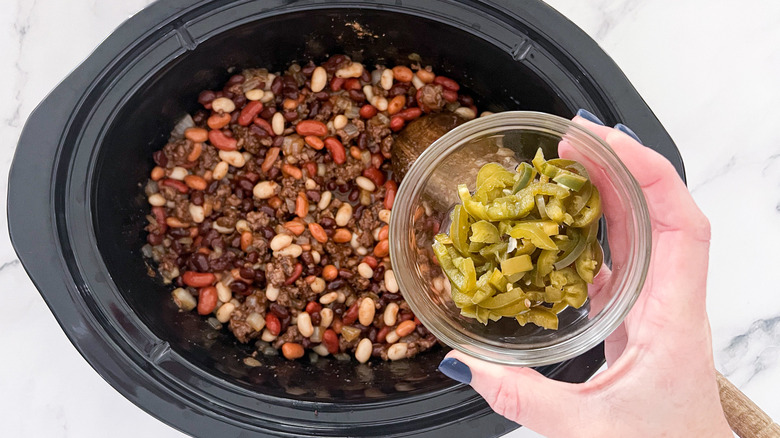 Next up are the canned beans. Dump the four cans into the slow cooker and then gently stir to incorporate. "You can use any canned beans you'd like, but I like to use a variety of the ones my family likes the best," Johnson notes.
Then, add the jalapeño, which is also happens to be the secret ingredient. "One ingredient that I add that isn't common are pickled jalapeños," Johnson shares. "The acidic heat of these really packs a punch and makes the dish!"
Add bacon and turn on crockpot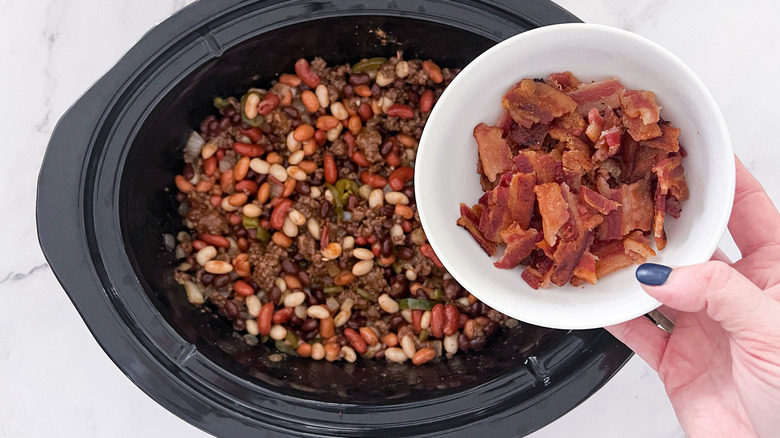 Scatter half of the cooked bacon on top of the ingredients in the crock pot. Now, that everything is loaded in and ready to go, turn on the slow cooker and cook on high for 2 ½ hours. Alternatively, you can cook on low for 4 hours.
"If you want to add cheese, you can add it to the top of the slow cooker about 20 minutes before you want to serve — or let people add it at the table," Johnson adds.
Add remaining bacon and serve
Once your timer goes off, add the remaining bacon to the top of the ingredients in the slow cooker. Then you can scoop and serve into a bowl or cup. This recipe is great as a side or a main dish. "I like to top mine with some green onions and crumbled tortilla chips, but any chili toppings would work," Johnson says.
Be sure to keep any extras! "This will keep in the fridge for up to 3 days and reheats well," Johnson notes.
1 pound ground beef
1 onion, chopped
½ cup brown sugar
½ cup barbecue sauce
2 tablespoons molasses
1 teaspoon kosher salt
1 teaspoon ground pepper
1 teaspoon smoked paprika
1 teaspoon cumin
1 teaspoon onion powder
¼ teaspoon garlic powder
4 (15-ounce) cans beans, any variety, drained and rinsed
⅓ cup pickled jalapeños
6 sliced bacon, cooked and crumbled, divided
shredded cheese, for topping
Brown the ground beef in a skillet. Add the onion, then pour into the bottom of a slow cooker/Crockpot.
Mix in the brown sugar and barbecue sauce. Stir well.
Add the molasses and seasonings. Stir well.
Add the beans and gently fold to incorporate.
Stir in the jalapeño.
Scatter half of the bacon across the top.
Cook on high for 2 ½ hours or low for 4 hours.
Top with the remaining bacon and serve.