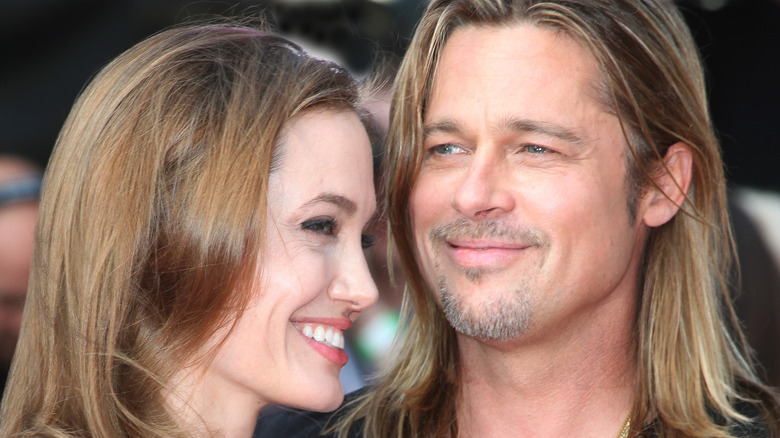 While Hollywood couples come and go — often bringing a hurricane of romance, allegations, drama, and cheating along for the ride — some pairings stand out more than others. We're talking about Blake Lively and Ryan Reynolds, John Krasinski and Emily Blunt, George and Amal Clooney. These couples clearly have talent and charisma on their side, but they've navigated the Hollywood storm and have survived to tell the tales of their romance. Some Hollywood power couples, however, aren't so lucky, and end up bowing to the pressures of life in the spotlight. One such ex-pair that consistently finds themselves in the headlines is Angelina Jolie and Brad Pitt — Brangelina to most — thanks to a messy, lengthy divorce, complete with custody battles, allegations of violence, and more eyebrow-raising details.
Brad and Angie were part of that upper echelon of Hollywood royalty for about a decade, first crossing paths in 2005 and subsequently raising six children together. While stress and strain now seem to dominate their parenting — especially in the spotlight — Brad and Angelina's kids are clearly six accomplishments they invested in together. How did their children come into their lives, and what's going on with them now? Here's the truth about Brad Pitt and Angelina Jolie's six kids.
Brad and Angelina's relationship started amid controversy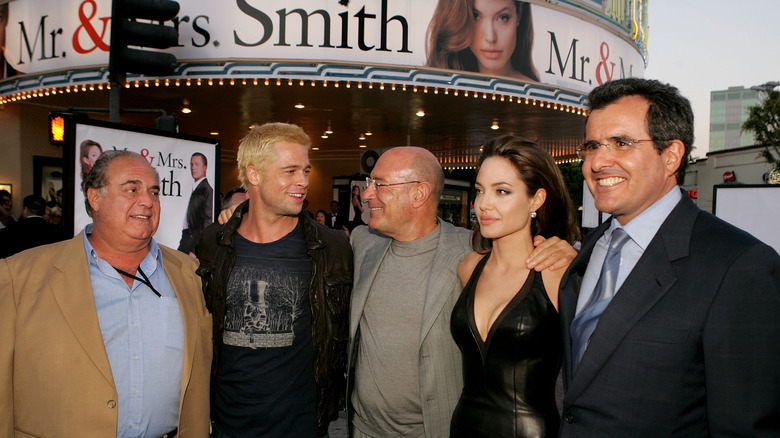 To say that Brad Pitt and Angelina Jolie are equally famous is a bit of an understatement. The two were — and have been — Hollywood royalty for decades, and when they first crossed paths in 2005, things were a bit murky. As noted by Hollywood Life, Pitt was married to "Friends" star and 1990s darling Jennifer Aniston — their romance just as high-profile thanks to the burgeoning fame of both stars. Cue Angelina Jolie, who was cast alongside Pitt in the 2005 action-packed flick "Mr. & Mrs. Smith." The two played a married couple who were trying to kill the other, bringing a sharp dynamic and animalistic romance to the screen. Things clearly translated well off-screen for the two as well: Hollywood Life notes that the time spent together on set allowed Pitt and Jolie to grow quite close to one another, and things began to get messy from there.
By the time "Mr. & Mrs. Smith" wrapped filming, rumors started to pick up steam about Pitt and Jolie's relationship, despite Pitt still being married to Aniston. Ultimately — and much to the disappointment of Pitt/Aniston fans everywhere — the early 2000s darlings got divorced, paving the way for Pitt and Jolie to pursue their relationship. Not exactly an easy start to a romance.
Angelina adopted little Maddox in 2002
When Angelina Jolie and Brad Pitt met in 2005, Jolie was already a mom to little boy Maddox, who she had adopted in 2002. As noted by E! News, Jolie was in Cambodia on location to film "Tomb Raider," and returned to the country once again with her ex-husband Billy Bob Thornton with the United Nations High Commissioner for Refugees (UNHCR). It was in Cambodia that Jolie met Maddox in an orphanage and took the steps to adopt him.
"I didn't feel a connection with any of them," Jolie said of the children she met. "They said, 'There's one more baby,'" and it was Maddox, who was being held in a box hanging from the orphanage ceiling. Jolie looked at the baby, recalling, "I cried and cried." In March 2002, Jolie officially adopted 7-month-old Maddox. She later bought a house and became a citizen of the country of Cambodia. In 2003, she founded what would transform into the Maddox Jolie-Pitt Foundation, whose goal is to further education, health, environmental issues, and infrastructure in Asian countries.
Oscar winner Loung Ung told Vanity Fair of the actress, "Angie was maternal to everybody around her, not just children, but adults included. I wanted her to adopt me. I was orphaned when I was 8 years old, and so I think, when you've gone through experiences like that, there's always a part of you that craves to have full parent figures in your life."
The couple traveled to Ethiopia to adopt baby Zahara
By the time 2005 rolled around, Angelina Jolie was mom to Maddox, and she and Brad Pitt were looking to expand their family. Ready to adopt once again, Jolie brought 6-month-old Zahara home from Awasa, Ethiopia. Zahara's start in life was not an easy one, SCMP noted. Confusion surrounding her birth parents led Jolie to confirm to journalist Ann Curry that Zahara's biological mom had succumbed to AIDS, recounting, "[Zahara's] mother died of AIDS and so, they wouldn't have had any funds to send her to school."
However, in 2017, a woman by the name of Mentewab Dawit Lebiso came forward, telling the Daily Mail that she was Zahara's biological mother and claiming that she had become pregnant following an assault, motivating her to put the baby up for adoption. "Angelina has been more of a mother to her than I have ever been," Lebiso told the Daily Mail. "She has been with her since she was a baby, but that does not mean I do not miss her."
This sparked a war between Jolie and Zahara's supposed biological mother, with the adoption agency even weighing in. The little girl's birth family was adamant that she return to Ethiopia. Tsegaye Berhe, the head of Wide Horizons for Children, told the Daily Mail that Zahara's mother had in fact died and that her father was "unknown."
Brad and Angelina announced her pregnancy in 2006
Brad Pitt and Angelina Jolie continued to dominate Hollywood with their individual star power and their dynamic relationship. And while they had yet to tie the knot — and already had two children through adoption — the couple announced in 2006 that they were pregnant with their first biological child. Jolie confirmed the pregnancy to an aid worker in Santo Domingo (per People), sending shock waves and celebration through the couple's legions of fans. When little Shiloh was born, Jolie immediately assessed that the little girl was just like her.
"Shi's so full of light and love, she's just a little honey, and very, very funny. I think I'm recognizing some of myself in that one — she's going to be a little bit of trouble," Jolie said, per People.
Shiloh herself would continue to make headlines throughout the course of her childhood due to her gender identity. Dressing in more traditionally male clothes and referring to herself as "one of the brothers," Shiloh experimented and explored gender in the safety of her parents' home.
"I would never be the kind of parent to force somebody to be something they are not," Jolie told Reuters in 2010. "I think that is just bad parenting. Children should be allowed to express themselves in whatever way they wish without anybody judging them because it is an important part of their growth."
Brad adopted Angelina's two children and changed their legal last names
Adoption is always a lengthy process, and Angelina Jolie had already adopted Maddox by the time she and Brad Pitt got together. Along came Zahara a few years later, and then the couple had their first biological child together, Shiloh. By the time they were a family of five, Pitt had taken the steps to adopt both Maddox and Zahara as his own children as well. Going through the official process, Maddox and Zahara soon became Maddox and Zahara Jolie-Pitt, the hyphenated last name reflective of the Hollywood royalty that had adopted them from Cambodia and Ethiopia, respectively.
Of her blended family, Jolie told People that she wanted both a large family and a multicultural one, explaining that the many different cultures, ways of life, and backgrounds had a beneficial impact on all her kids.
"They're pretty great people and because there's so many of them, I think they've had a very significant effect on each other. It's not like I'm the head of anything. I'm very honest with my kids. And I'm very human with my kids," Jolie said. "I am so excited about all the different stages and feelings and curiosities that they go through. Why wouldn't you be? We're supposed to help them figure out who they are. And you can't figure out who they are if you don't enthusiastically develop with them."
Little Pax was adopted by the couple in 2007
Five years after adopting her first son, Maddox, Angelina Jolie was traveling in Vietnam when she met Pax, a 4-year-old orphan. Just like that, her family was to grow once again. As noted by People, Pax was born outside of Ho Chi Minh City and was in an orphanage for the first few years of his life. Jolie shared the difficult circumstances Pax faced in his early years.
"He spent 3-½ years of his life in one place, in one room, in this one little iron bed with 20 other kids, and having no choice for himself to do things, having no freedom," Jolie shared. "And suddenly, here he is in a very free situation with new brothers and sisters and a mom and dad. He's learning English and he's so loving and he's wild and free 'cause he suddenly has freedom, so he's a little wild and crazy."
Pax was adopted by Jolie in 2007, and by Pitt in 2008. As People noted, the Vietnamese process of adoption put hurdles in the way of an unmarried couple adopting, so Jolie took the first steps to bring her second son — and fourth child — home.
Angelina was pregnant again in 2008 – with twins
Angelina Jolie and Brad Pitt were excited to expand their family once again as of 2008. Telling Entertainment Weekly (in a since-deleted article, courtesy of People) that while she was looking forward to growing her family again, Jolie said the last thing she anticipated was twins.
"We weren't expecting twins," Jolie said. "So it did shock us, and we jumped to six [children] quickly. But we like a challenge."
Of her pregnancy, Jolie shared that Pitt's mom and dad were "on standby to come out and help," and Pitt himself was doing most of the work with their four kids, given that she was growing not one little bundle of joy, but two. "We've worked out a system where Brad just lifts [the kids] to me every time they want to come up," she explained of her four kids, who were all still fairly young at the time. "I just don't bend down. I'll scream, 'Honey!' and he'll come running and lift them up." As they say, teamwork makes the dream work.
Angelina opened up about the couple's kids after the birth of her twins
In the summer of 2008, twins Knox Léon and Vivienne Marcheline entered the world, making the Jolie-Pitt crew a family of eight. At just three weeks old, the twins appeared on the cover of People in an exclusive spread, with both Brad Pitt and Angelina Jolie opening up about their growing brood and the challenges associated with having not two, not three, but six kids.
"It is chaos, but we are managing it and having a wonderful time," Jolie said, explaining that her other four kids — who were 6, 4, 3, and 2 at the time — were loving life in the couple's Provence, France home. [It's] still a cuckoo's nest," Pitt further explained.
But sibling rivalry was clearly not something the couple had to deal with. Jolie explained that both Shiloh and Zahara loved picking out outfits for the babies and helped with changing them. "It's sweet — they are little mommies," she said.
The mom of six traveled and worked with the kids in tow
Not a single soul is more organized, multi-tasking, aware, and selfless than a working mom on the move, and Angelina Jolie fit that category to a tee when she started working again after welcoming the twins. Of her still blossoming career, The New York Times documented her experience at the New York Film Festival in 2008, as her film "Changeling" — on which she worked with Clint Eastwood — was premiering. Instead of leaving the kids at home with a relative or a nanny, Jolie and Brad Pitt packed up all six kids and took them to the film festival. At ages 7, 4, 3, 2, and 3 months old, the Jolie-Pitt clan was tiny and adorable, but definitely needy. Not only that, but the family of eight had traveled to New York from Germany, where Pitt was filming "Inglourious Basterds."
"We're all a little jet-lagged," Jolie told The New York Times as they landed in the city, although the storied publication noted that the actress — who was staying at the Waldorf-Astoria with her kiddos — did not look "jet-lagged in the least." Instead, she juggled her six kids and all the luggage they had brought, clearly proving she was a working mom on the job.
The kids were involved in the couple's 2014 wedding
Brad Pitt and Angelina Jolie may have crossed paths in 2005, but it wasn't until 2014 — and six kids later — that they tied the knot. So why did they wait so long? Pitt once told Esquire that he and Jolie did not want to get married until marriage equality legislation was passed in the United States, ensuring that anyone could get married regardless of gender or sexuality. However, the couple — in what was called a "slap in the face to gay Americans" by Time – did end up getting married before marriage equality was a reality. That deserves its own article and analysis, so for the sake of brevity, we'll move on to the wedding and how the Pitt-Jolie kids were involved.
As noted by Glamour, Pitt and Jolie got married in a gorgeous ceremony in France, and their six kids played a big part in their special day. Maddox and Pax — the two eldest boys — walked Jolie down the aisle, while Zahara and Vivienne served as flower girls. As for the ring bearers, Shiloh and Knox fulfilled those duties, so to say it was a family affair is an understatement. While it seemed to be a blissful time for the family of eight, the marriage itself was rather short-lived.
Angelina filed for divorce in 2016, starting a brutal legal battle
After more than a decade together, two years married, and six children, Angelina Jolie and Brad Pitt announced their intent to divorce, commencing a brutal legal battle we've all witnessed play out over many years. As noted by Glamour, Jolie was the one who made the initial filing, citing "irreconcilable differences" as reasoning for the split. She also requested "primary custody" of all six children. Robert Offer, the attorney for both Jolie and Pitt, released a statement to Reuters in the wake of the initial filing. "This decision was made for the health of the family. She will not be commenting, and asks that the family be given its privacy at this time," he stated.
Many of us know that Jolie and Pitt have been engaged in a brutal custody battle ever since. Elle has detailed the intricacies of the case — the petitions, the challenges, and everything in between that the ex-couple have hurled at one another. In a nutshell, Jolie pursued full custody of the kids, and then Pitt challenged for joint custody. There have been issues with judges appointed to the case, judicial misconduct, and more mind-boggling details. The battle has gone on for so long that Maddox is no longer part of the custodial negotiations, as he is now a legal adult.
Disturbing details have since been released about the couple's relationship
In one of the latest updates to Angelina Jolie and Brad Pitt's legal battle — as of publication — came when an FBI report about a physical confrontation between the couple became public. As noted by NBC News in August 2022, the report detailed an altercation between Jolie and Pitt while on their private plane in 2016. Jolie accused Pitt of "ruining this family," to which Pitt had a troubling reaction. The report — in which Jolie was referenced by a pseudonym — detailed the following.
"[The woman and] her then-husband, and their children, who were all minors at the time, were traveling via private aircraft [when the] husband allegedly physically and verbally assaulted plaintiff and the children, who have 'experienced lasting physical and mental trauma as a result of the assault.'"
Sources that have been close to the ongoing legal battle between the couple told NBC News of the FBI report, "The final paragraph (…) is very clear and concise about the fact that all parties, all law enforcement agreed on the decision to not press charges. This was not like a close call. They did their investigation as they're supposed to. And the decision was made with all parties in agreement."