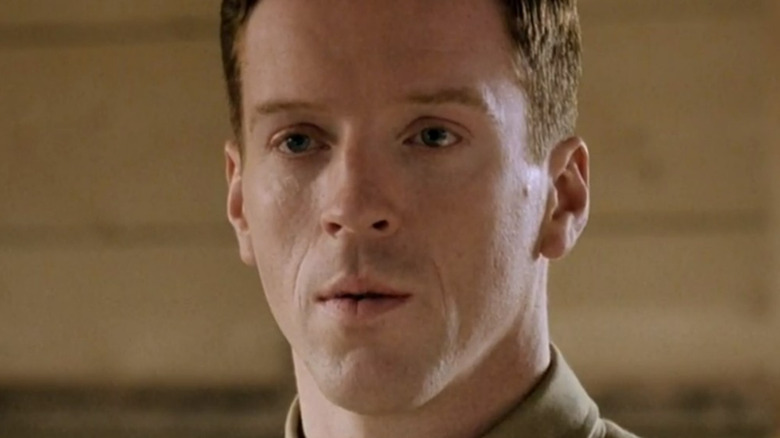 In 1998, Steven Spielberg's World War II film "Saving Private Ryan" premiered to universal acclaim, winning a whopping five Academy Awards and earning its place as one of the greatest war films ever made. Although a fictional story set around the events of D-Day and the Battle of Normandy, the film was hailed for both its historical accuracy and its realistic depiction of combat. As WW2 veteran Dominic Geraci told Time, the onscreen depiction was "100% accurate" with "no Hollywood embellishment."
Three years later, Spielberg teamed up with "Saving Private Ryan" star Tom Hanks to develop the HBO miniseries "Band of Brothers," also set around the battle of Normandy (at least in part). Unlike the fictionalized account in "Saving Private Ryan," however, "Band of Brothers" tells the true story of the paratroopers of Easy Company, pulling directly from historian Stephen Ambrose's 1992 book. With its enormous budget ($125 million, according to Smithsonian Magazine) and cast size, the series was one of the most ambitious ever filmed at the time of its release. Using firsthand accounts from Easy Company vets, soldiers' memoirs, and photos to create the most historically accurate account possible, the production brought the battles to life for future generations. In honor of the brave men of Easy Company, we're taking a closer look at the untold truth of "Band of Brothers."
Easy Company veterans signed off on the script
The production team behind "Band of Brothers" understood from their work on "Saving Private Ryan" that involving veterans in the production process was essential for preserving historical accuracy. Part of this process meant working with Dale Dye of Warriors, Inc. – a technical advisory organization that's connected Hollywood filmmakers with veterans and military experts on films like "The Thin Red Line," "Outbreak," and "Forrest Gump." The actors and consultants also worked closely with the veterans of Easy Company.
According to The New York Times, around 50 Easy Company vets were still living at the time of production. The actors stayed in touch with them via fax, phone calls, and mail through most of the production, and three vets –- Amos "Buck" Taylor, Bill Guarnere, and Ed "Babe" Heffron — even visited the set at one point during filming, giving the cast a chance to ask questions about their wartime experiences. Long after the series aired, the "Band of Brothers" cast got another chance to honor their characters' real-world counterparts at an event celebrating the 75th anniversary of D-Day.
Norman Dike continued serving after Foy
Episode 7 in the "Band of Brothers" timeline, "The Breaking Point," deals with the battle-weary Easy Company's weakened morale during the frigid winter in the Ardennes. As Lipton prepares the men to take back Foy, the frequent absence of CO First Lieutenant Dike starts to become problematic. According to Stephen Ambrose in the "Band of Brothers" book — an account supported by Guarnere, Heffron, and Post's memoir — Dike froze in the middle of the flanking mission, ordering his men to take cover despite their protests that they were like "sitting ducks." As shown in the series, the real Dike was relieved of his command and reassigned, but his controversial battlefield performance was viewed more empathetically by some.
Although several of his fellow soldiers spoke poorly of him after Foy, believing that his ineptitude and cowardice led to the failures on the battlefield, military historian Larry Alexander begs to differ. In his book "In the Footsteps of the Band of Brothers: A Return to Easy Company's Battlefields with Sgt. Forrest Guth," the author cites Clancy Lyall's firsthand account of Dike's actions, noting that he observed Dike getting shot in the shoulder as all of the men took heavy fire. According to Dike's 1989 obituary in The New York Times, he went on to serve as a commanding officer in Japan from 1950 through 1953 before resigning from the active reserve in 1957.
They used camera trickery to add more planes
"Band of Brothers" is full of iconic scenes that create a sense of the drama and scope of World War II. Some of the more memorable moments in the series involve the C-47s used to conduct the big paratrooper drop ahead of D-Day. In a Historynet interview, WW2 C-47 pilot Russell Chandler discussed the planes and their role in the op, which involved flying across the English Channel at around 500 feet before climbing to 1,500 for the big drop. According to Chandler, the 82nd Airborne included "over 430 aircraft in a very tight formation, wingtip to wingtip, for miles on end," all taking heavy flak. More than 2,000 C-47s were in use altogether, which the veteran noted the TV series depicted "fairly accurately." As Ron Livingston notes in "The Making of Band of Brothers," many of the paratroopers were dropped as low as 500 feet since the pilots "weren't trained for that amount of anti-aircraft fire."
However, HBO used only four C-47 planes to film the series (per "The Making of Band of Brothers"). To create the sense of scope in the finished take-off scene, the filmmakers used seven cameras to shoot the planes from different positions as they took off and flew by. For Operation Market Garden, where the troopers were dropped, the team used CGI to add in planes and paratroopers, creating the crowded skies that Chandler remembered from the day of the operation.
The show set a Guinness record for most artificial snow
Episode 6 of "Band of Brothers" looks at the Battle of the Bulge from the perspective of T-4 Eugene "Doc" Roe, who served as a medic with Easy Company. The famed battle marked Germany's final major offensive and took place from mid-December 1944 through late January of the following year. The offensive spanned through the Luxembourgian and Belgian regions of the Ardennes, a densely forested plateau of ridges, steep valleys, rolling hills, peat bogs, and fast-flowing rivers. While incredibly beautiful, the region was a shock for American troops, many of whom had little experience with the severe cold they endured during the Siege of Bastogne.
To create the Bastogne "snow," a company called Snow Business used massive amounts of cellulose snow made from recycled paper to blanket trees, rooftops, and the ground of an entire village. The whole project used 150 tons or about 330,000 lbs. of paper and required four weeks to install, earning the show a Guinness record for having the most artificial snow ever in a TV series.
Babe Heffron got a cameo
In addition to their essential input on the making of "Band of Brothers," a handful of the Easy Company vets appear at the beginning of every episode, recounting everything from their experiences with the controversial leg bag to the impact of battle-related trauma years down the road. But one Easy Company veteran actually got to appear briefly as an actor in the series. Philadelphia native Edward "Babe" Heffron, who would later co-author a memoir with his lifelong friend and brother-in-arms William "Wild Bill" Guarnere, has a cameo in Episode 4, "Replacements."
During the liberation of Eindhoven, heffron can be seen enjoying the celebration while seated at a table with a beer in front of him, waving a Dutch flag. Although he doesn't get a whole lot of screen time, the moment is a lovely reminder that the men of Easy Company are more than just the names behind the story.
The cast went through a mini boot camp
Although they may not have to go through the entire boot camp process, it's common for the actors who play soldiers on screen to go through serious training. John McGinley spoke of his own experiences on The Rich Eisen Show, recounting a "three-week boot camp in revolution-torn Manila" conducted for "Platoon." According to Dick Dye, for "Band of Brothers," the Warriors, Inc. team "had to raise, build, and train a unit that could operate independently," aiming for a "real Band of Brothers" with the ability to "operate effectively and independently on camera just as the men they were portraying did in combat."
To bring that vision to life, the training team of five NCOs and two Warriors officers worked with the British Ministry of Defense to develop a camp with three barracks and a mess hall. The actors trained by running, completing obstacle courses, and practicing with guns and mortars before finishing their jump training with a 60-foot wire descent. Besides training the U.S. military actors, the Warriors team also trained their German enemies, with a special focus on the Wehrmacht fighting techniques. Damian Lewis, who plays Major Richard Winters in the series, kept a detailed diary of his boot camp experience, in which he mused, "I'm so immersed by now, believing that I'm in 1942 and that I'm Dick Winters, that I go and hand out the biggest roasting in military history to my men." The intensity of the boot camp experience can also be seen in Ron Livingston's video diary.
Several actors were nearly doppelgängers for the men they played
The casting process for "Band of Brothers" was quite intensive, with casting director Meg Liberman calling the gig "touched by fairy dust" in a CNN interview. Due to the scope of the war story, the casting director was tasked with bringing on an ensemble cast of dozens to portray the men of Easy Company. Speaking on the Ross Owen Show, Damian Lewis described the lengthy audition process and explained that rather than having people read for specific roles, the casting agents saw large groups of actors before deciding which parts they were best suited for.
The real soldiers of Easy Company can be seen in their wartime days in the HBO documentary "We Stand Alone Together: The Men of Easy Company," which features interviews with the surviving veterans around the time "Band of Brothers" was filmed. Matching up the cast with real images of the soldiers they portray reveals just how much effort the casting director put into selecting actors who strongly resembled their real-world counterparts. For example, Damian Lewis bears a similar facial structure and overall look to a young Dick Winters, even if he wouldn't necessarily be able to pass as his twin. Other examples include Donnie Wahlberg as Carwood Lipton, Shane Taylor as Doc Roe, and Frank John Hughes as Bill Guarnere, just to name a few.
Neal McDonough busted his mouth on a rifle in boot camp
Given the huge cast and many battle scenes in "Band of Brothers," it should come as no surprise that the production yielded more than a few on-set injuries. Ron Livingston chronicled some of these in his video diary, noting that by the time boot camp got into full swing, many cast members were "banged up." At one point, the insurance team threatened to shut the boot camp down. Of course, it was around that time that Neal McDonough got smacked across the mouth with a rifle so hard he required stitches.
What made McDonough's injury memorable wasn't just the object that caused it, but the way he handled the aftermath. In a radio interview with Ross Owen commemorating the show's 10-year anniversary, McDonough recounted the injury, explaining that he and his comrades were attempting to take a house when it happened. Whether in the interest of method acting or to dodge the warning they'd received about on-set injuries, Shane Taylor, who plays Doc Roe in the series, was asked to handle the stitching.
According to McDonough, Taylor stitched him up without novocaine, "horribly suturing up my lip." Two days later, when infection had set in, McDonough had no choice but to visit a hospital. Realizing that the cast couldn't risk a report that might get people in trouble," McDonough gave the name "Lynn Compton" instead of his own. To keep things as authentic as possible, he requested no novocaine for the second procedure as well.
Jimmy Fallon had to fake driving the jeep
One of the more unexpected cameos in "Band of Brothers" is the brief appearance by Jimmy Fallon as 2nd Lieutenant George C. Rice in "Crossroads" (Episode 5). The episode finds Easy Company facing unbelievably difficult conditions during the Battle of the Bulge. Disastrously low on everything including ammunition, the men are exceedingly grateful when Rice drives up with a Jeep full of ammo and a warning about a Panzer division's plan to "cut the road south."
Years after his appearance as the good-natured soldier, Fallon reflected on his role during a conversation with Julianna Margulies on "The Tonight Show." "I was so nervous," he said in reference to his audition. Fallon revealed that he was excited about the role up until learning he would have to drive after dark. As a New Yorker, the comedian was ill-equipped to drive anything, let alone an authentic World War II jeep.
After Fallon's first attempt at shooting the scene yielded comically bad results, he confessed to Tom Hanks, "I have no idea how to drive a stick shift. I don't know how to drive." The quick-thinking Hanks directed Fallon to press down on the clutch so that two crew members could push the Jeep from behind, making it appear as though the actor were driving.
The series features loads of now-famous faces
Anyone who hasn't seen "Band of Brothers" in a while will likely be surprised at how many familiar faces they recognize. Between cameos from well-known actors like Jimmy Fallon, David Schwimmer, and series co-producer Tom Hanks, the show is brimming with actors who went on to have big careers. Irish star Michael Fassbender made his on-camera debut on the show (per Yahoo! Movies). The series also features Tom Hardy, who's since become one of the biggest stars in Hollywood. Simon Pegg appears in the role of William Evans, and even Tom Hanks' son Colin has a part.
Kirk Acevedo filmed "Band of Brothers" between seasons of HBO's "Oz," where he played Miguel Alvarez. He went on to have significant roles on "Fringe," "12 Monkeys," and "Arrow," among other shows. Fans of "The Orville" will recognize their favorite Planetary Union pilot Scott Grimes in his younger days as Donald G. Malarkey. Rick Gomez, who plays George Luz, went on to star in "Justified" as Assistant U.S. Attorney David Vasquez, and fans of "Homeland" or "Billions" will know Damian Lewis well. Other recognizable faces include Richard Speight Jr. ("Supernatural"), Ron Livingston ("Office Space"), Frank John Woods ("24"), Donnie Wahlberg ("Blue Bloods"), Neal McDonough ("Desperate Housewives"), Michael Cudlitz ("The Walking Dead"), Doug Allen ("EastEnders"), Jamie Bamber ("Battlestar Galactica"), Dominic Cooper ("Preacher"), Andrew Scott ("Sherlock"), Jason O'Mara ("Agents of S.H.I.E.L.D."), and James McAvoy ("His Dark Materials"), among others.
The note about Blithe's death is incorrect
Like all of Easy Company, Private Albert Blithe (Marc Warren) finds himself in unimaginably difficult circumstances after the big drop. In the series, Blithe is depicted as struggling badly to process those circumstances, making it that much more triumphant when he comes into his own on the battlefield and snipes a German soldier from across the field. But the victory is short-lived, as Blithe is shot in the neck before he can truly prove himself in action.
Blithe is last seen lying in a hospital bed. A card at the end of the episode explains that he later died due to complications from his wound, as reported in Ambrose's book. Blithe's stunned family was quick to object, however, noting that he actually recovered and went on to fight in the Korean War. According to interviews conducted with Blithe's son for D-Day, Normandy and Beyond – a website that chronicles the lives and wartime experiences of WW2 soldiers — Blithe's injury was actually in his shoulder, rather than in his neck as shown in the series. He was on active duty in Germany in 1967 when he was hospitalized and later died from complications due to a perforated ulcer. Although Ambrose's book was later corrected, the incorrect card still remains in the series.
Captain Sobel really was that bad, but there's more to the story
Played by "Friends" star David Schwimmer, Captain Herbert Sobel first appears in the first episode of "Band of Brothers" as Easy Company's notoriously strict drill instructor. The portrayal of Sobel as an equally vindictive and despised officer comes from author Stephen Ambrose in his "Band of Brothers" book. Just like the on-screen Sobel, the real-life instructor was reassigned to Chilton Foliat after commanding Easy Company through boot camp. While both the book and the series depict Sobel as intolerably petty and inept in real combat scenarios, many who knew him understood a more nuanced version of his story.
In Marcus Brotherton's book "We Who Are Alive and Remain: Untold Stories from the Band of Brothers," which featured interviews with the veterans of Easy Company, Sergeant Forrest Guth spoke highly of Sobel, praising the CO's strict disciplinarian approach. "As far as I'm concerned, Sobel was the one who made Easy Company tough," Guth said. Easy Company machine gunner Bill Wingett agreed with this assessment, writing, "I'll argue hands down with anybody who says Sobel is the SOB they often say he is." According to Wingett, Sobel may have been notoriously tough, but he could also be a reasonable officer. Wingett also downplayed the emphasis on Sobel's poor map-reading skills, observing that this is hardly a rare condition in the military and that many officers rely on sergeants to help out.
The Dead Eyes podcast deals with Connor Ratliff's firing from the show
These days, podcasts and after-shows dissecting and analyzing TV dramas are fairly common. And with a series as epic as "Band of Brothers," it stands to reason that someone would eventually create a show looking into the production. Actor and comedian Connor Ratliff's "Dead Eyes" podcast hilariously analyzes one very specific aspect of "Band of Brothers" -– why Tom Hanks allegedly fired him from the show for having "dead eyes" on his audition tape.
Over the course of the series, Ratliff comically recounts his experience of getting hired for a minor role in a Hanks-directed episode and reading a scene with Hanks halfway through his dramatic, bearded weight loss effort for "Cast Away," only to learn shortly after that he had been fired. The series somehow managed to stretch to a whopping 31 episodes in length, culminating with Hanks himself appearing on the show in 2022. The Hollywood icon apologized to Ratliff, but he also claimed that he couldn't even remember making the "dead eyes" remark at all. "These are not dead eyes," Hanks said apologetically in reference to Ratliff, thus seemingly ending the beef once and for all (via EW).